Disclosure:
Just to be open and honest the buttons and links you click on in the website will in most cases take you to another website where you can purchase the products I am reviewing. As an Amazon Associate I earn from qualifying purchases.
November 25, 2019
K-E Outfitters Fly Combo and Wild Water Deluxe Fly Combos – Comparison Review
Combos, outfits, kits, packages, call them whichever name, whether you have tight loop skills or still at the baby steps, you will need one. You are not limited to only owning one, any number two, three, ten, twenty, or forty, as long as they do justice to your angling.
Fly fishers can save lots of money by purchasing fly gear in combo packs. They not only include the magic rod, but also a reel, fly line, and backing.
These are the basics for any combo like in the Wild Water Deluxe 5/6 9ft fly Fishing Combo and the K&E Outfitters Fly Fishing Combo. Some throw in either a rod sock, rod tube, or both and accessories.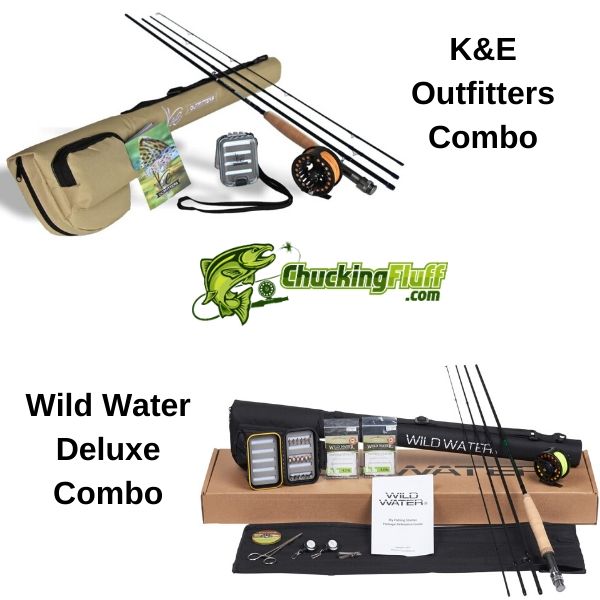 Pull up a seat and let's tell you more…
Long ago, most fly fishing outfits came with gear that wasn't of top-notch quality. We can't call them the bad old days since they made what we currently have in the fly fishing industry.
If you know or have felt a fiberglass rod, you will have an idea. That was what was used then. The fly line was terrible and the reels often fell apart once a fisherman tagged into big fish.
Goodbye to those tough days and welcome to more fun times. Can we now say that the aspects of angling are dynamic? Maybe. There has been a commendable change in times.
Nowadays, besides the fly fishing outfits sold in sporting stores, most combos come with a high-quality fly rod, and a tougher yet effective reel, and a durable fly line. This doesn't dispute the existence of junky outfits. These are sometimes used by kids to go after panfish in local ponds but usually break after a few trips.
Avid anglers can now access an excellent selection of these fly fishing outfits and combos to choose from. Don't be happy yet. There is an impending problem. With the plethora of fly fishing combos to choose from, the problem surfaces …what to buy?
If you are fresh into the the angling life, then pass by this piece and take down some notes: How to Choose a Fly Fishing Combo – Some Tips for the Beginner. Statistics show that a substantial number of purchasers of fly fishing outfits are novices. Following closely is intermediate and expert anglers.
Why take K&E Outfitters alongside Wild Water?

First, this isn't a sponsored article. We love to make product comparisons to weigh their applicability, pros, drawbacks, and features. Wild Water has a fascinating history. Through this, its primary target is novices and offers exclusively affordable and simple starter kits for all fish species. Besides combos, they stock rod cases, fly boxes, tippets, flies, and tapered leaders.
K&E Outfitters minds your experience each time you hit the waters. As it strives to make the purchasing process less daunting, it avails fly fishing gear and equipment for anglers of all levels without pricing out these aspiring anglers. If you are looking for fly fishing apparel, gift ideas, tools, accessories, rods, and reels, this manufacturer is a solid choice.
---
K&E Outfitters Fly Fishing Combo Review
We have done an in-depth article on this combo. Find it here and see if it is a combo to invest in. Meanwhile, what fascinates me and most anglers-so to think- is K&E's dedication to customer satisfaction through the availability of high-grade products at a reasonable price.

It beats my imagination how long the guides at this company take to do a product test as they continue to test as they fish through life.  Usually, companies like Orvis and Redington take between 6 and 15 months and they are done. This manufacturer's products are still top on the list of dependable gear in fly fishing.
Package Content Reveal
Releasing this one already made up and well balanced, the K&E Outfitters Fly Fishing Combo consists of a carbon rod boasting a medium-fast action, an aluminum fly reel, a fly line with tippet and backing, a waterproof fly box, and a rod tube.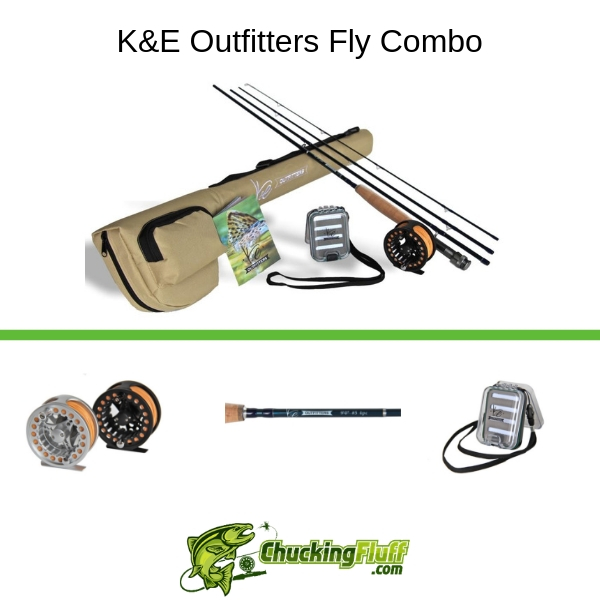 ---
Key Features of the K&E Outfitters Combo
Unlike other manufacturers, this one is working round the clock to remain among the crème brands. Including a waterproof fly box in the combo is a bonus.
If you separately purchase these fly boxes you know that the best don't come cheap. Having this transparent one from K&E saves you time and money. No fumbling to get a fly you desire from your collection.
A medium-fast action rod is impressive enough. You can change styles and techniques at will depending on the waters and fish species. While it is not as forgiving, it puts you on toes always since you need a good mastery of timing.
It boasts of a corrosion-free blank since it is made from high-grade SK Carbon. It doesn't come with environmental limitations. A little care and maintenance will go a long way towards achieving longevity.
Blending aesthetics with function, the ultra-large arbor aluminum reel is the surest match for this fly fishing combo. It comes with a removable spool for breezy cleaning and maintenance.
Adjustability is pretty smooth with the help of the drag knob which is comfy in the hands and gives a smoother action. Why shouldn't you love it?
The reel is already pre-rigged. Novices might need more practice to perfect rigging reels on their own. When we say that K&E has the fervent anglers at heart, these are some of the pointers.
The backing is 150yds and its aesthetics blend in well with aspects of Mother Nature. No worries about the honey-colored line spooking aqua life. It also comes loaded with a 4X tippet.
---
Application of the K&E Outfit
If you are free-spirited, this one will do it well for all your fly fishing needs. Whether in freshwater or saline environs, it sticks to the mission.
Thanks to the rod and reel construction that resists any kind of corrosion or rust. It might be for intermediates because of its advancements but other skilled anglers can still use it if need be.
---
Pros – What we like about the K&E Outfitters Fly Fishing Combo
Simple to use
Lightweight combination
Comes with a portable rod tube and waterproof fly box
Comes ready to use
Usable in any environment
Cons – Things that we don't like
While packages are meant to be relatively cheaper than individual gear purchases, this one is slightly on the higher side.
It doesn't come with an extra spool.
---
Wild Water Deluxe Fly Fishing Combo Review
Your experience on the water can be wild and fun with a fly fishing outfit from Wild Water. The 5/6 weight 9 feet rod and reel combo is a masterpiece that brings out the best in every starter.
We have a thorough review on the same Wild Water Deluxe Combo where you can grab something new from this brand. You can also share your questions, thoughts, and experiences in the comment section.
Otherwise if you are looking to gift a novice or purchasing this fly fishing combo for yourself, there is more to look out for. It will shape you from a starter to an intermediate angler. Don't forget to carry along tons of patience, determination, and practice sessions.
So what do I get?
This one is a whole new package. It goes to another level with the additions that Wild Water throw in.
Primary items are a 4pc 5/6wt 9ft fly rod, 5/6 Die-cast reel, a weight-forward floating line, a rod sock, a rod case, a small fly box with different flies, a retractable zinger, nipper tool, forceps, tippet, three monofilament leaders, and a reference guide. Everything you could need to get started in the sport of fly fishing.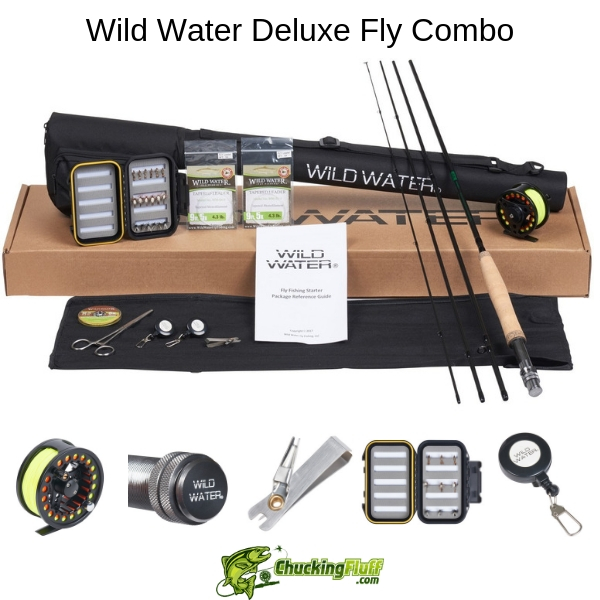 Check Deluxe Combo Amazon Price
---
Key Features of the Wild Water Deluxe Fly Combo
A reasonable rod makes starters eager to get into the depths of fly fishing. This one wins with its length, weight, pieces, and slow action. Just like babies, they learn to crawl, then run in a few more months. For short casts on streams, ponds, and shallow rivers, it is the real master.
As you can use it anywhere because of the stainless steel components, it is easy to clean and maintain your reel. Available in a left-hand retrieve, it is pretty easy to make conversions to either side.
Some more goodies make it less hectic for new shoppers. The small fly box with a collection of different flies makes fly storage and accessibility easier than you would if you dumped them in a wader pocket.
Wild Water is an ally to every novice angler and has a purpose to walk the journey with you through its reference guide. It has everything on the basics of angling that any starter needs to know prior to hitting the waters.
A few more accessories like the retractable zinger and line nipper tool are must-haves for any angler. They help you save time, maintain focus, and be proud of your catches.
---
Application of the Wild Water Deluxe Fly Fishing Outfit
Like the K&E Outfitters fly fishing outfit, this one too is a catch for any environment. The Die-cast reel comes with stainless steel components for location applicability. However, it is recommended for novices because of its simplicity in design, action, and performance. Experts might find it a little undermining expertise-wise.
---
Pros – What we like about the Wild Water Deluxe
Exclusive package with extra accessories and tools
The primary target is starters
Rod comes with a lifetime warranty
Durable rod construction
Easy to use
Cons – Things that we don't like
Not a favorite for intermediate and pro-anglers
---
Similarities of the K&E Outfitters and the Wild Water Deluxe Fly Fishing Combos
Both combos come already pre-rigged and ready to use after unboxing.
Their environmental applicability is in fresh and saline waters.
The two rods share the same length and sections.
Rod handles are made from high-grade and durable cork material.
Reels in this article have disc drag systems that control the speed of the fly line as you catch fish and prevents it from de-reeling your reel.
---
Differences between the K&E Outfitters Fly Fishing Combo and the Wild Water Deluxe Fly Fishing Combo
We decide to tabulate the differences between the two fly fishing outfits in the comparison review above for ease of reading and precision. Our primary considerations are in the combo construction. 
---
| | | |
| --- | --- | --- |
| ASPECT | WILD WATER DELUXE FLY COMBO | K&E OUTFITTERS FLY COMBO |
| Rod action | Slow | Medium-fast |
| Reel material | Die-Cast Aluminum with Stainless Steel components | Anodized Aluminum |
| Accessories | A small fly box with flies, reference guide, 3 monofilament leaders, forceps, tippet, retractable zinger, line nipper tool | Tippet, Rod tube, waterproof fly box |
| Rod usage in Water | Freshwater and Saltwater | Freshwater and Saltwater |
---
Final Verdict
The variety of fly fishing rod combos in the current market is almost bewildering. So maybe it shouldn't come as a surprise that there is a dizzying number of brands available too. We have done our job in aiding novice and intermediate anglers to find what they require at the same time countering buyers' remorse.
Pro anglers may navigate their way here. We wouldn't tell you to ignore everything that we haven't covered on our website. We keep uploading new stuff so stay locked. However, remember the junk we earlier talked about. Stay awake to avoid being swindled by lesser products.
For starters, there is no sweet pot with regards to the package price. You might find it for cheaper-this doesn't mean it is trash. Once in a while, you can land high-quality packages during sales.
For some outfits, rarely do anglers outgrow all the components. For instance, the K&E Outfitters Fly Fishing Combo and Wild Water Deluxe 5/6 9ft Fly Fishing Combo have gear that you can carry forth to your expert level days.
As you browse for the best fly fishing combo, focus on the fly reel, fly rod, and fly line in the package. The rest are bonuses and if you have the bucks to spend, then by all means get it. Still wondering what to select, see our full list of combos.