Disclosure:
Just to be open and honest the buttons and links you click on in the website will in most cases take you to another website where you can purchase the products I am reviewing. As an Amazon Associate I earn from qualifying purchases.
April 18, 2019
Loop Evotec G4 Featherweight Fly Reel Review – Silent and Powerful
Not long ago, the Loop Evotec Series Fly Fishing Reels were redesigned and updated from the previous design. The spawning after revamping saw anglers feel a fly reel that brags of all the powerful features that the Opti series reels had.
If you have come across the Loop Evotec G4 Featherweight Fly Reel, then you know that the changes were for a good course. The reel carries a Power Matrix drag System just like the Classic and Opti Series.
Loop is one of the reputable companies that the fly fishing industry gives credit to for the endless desire to innovate and manufacture high-quality fly fishing equipment.
Although most of the products are priced higher, they deserve it. Not crap at all! You definitely want value for each buck spent. So? Invest in high-quality reels and rods that will be by you each time you need to take on a trip. Back to the mighty reel.
Beneath the reel's stunning looks is the ultra-modern unshakeable Power Matrix Drag System. It is a monstrous braking system that can subdue the strongest species of fish in some of the harshest conditions you cannot imagine. It is completely waterproof and benefits from the pronounced click which clearly signals-fish on. The Evotec is totally corrosion-resistant despite the environment it is exposed to.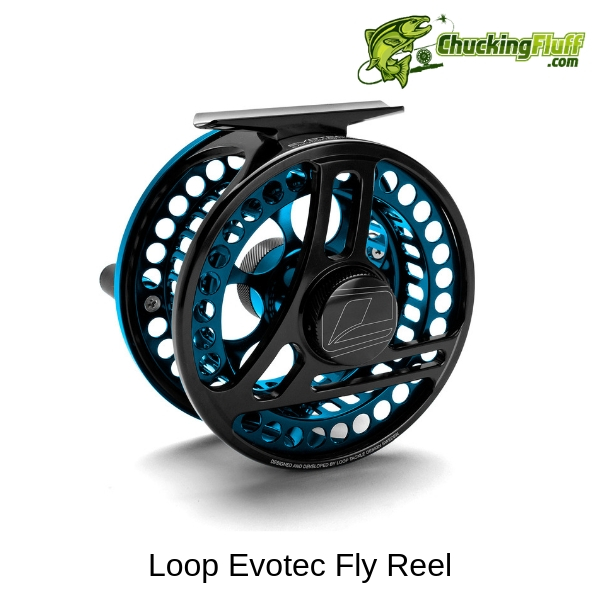 ---
---
Machined one-piece aircraft-grade aluminum isn't like the usual aluminum bars you see at the hardware. This one has the ability to withstand structural stress, resist abrasion, cutting or penetration. No matter the kind of abuse you expose it to, it stands the test of time.
That is how the Evotec G4 Featherweight reel is like. The material makes the reel corrosion resistant because of the oxide skin that is formed due to reactions with the atmosphere. Forget about effects by alkaline substances, acids, chemicals, and weathering.
Loop has been manufacturing some of the best fly reels for a long time now. Previously, the company made their reels in Sweden but moved production overseas. The drag's smoothness is reasonable.
The balance is perfect and buttery smooth resulting in a high-quality feel that can be compared to the finest wines of time, luxury cars for the money or expensive shotguns for keeps. Well, the G4 FW is slightly heavy but it isn't bad. Its maximum drag falls on the lighter side but not a problem if your interest is in small fish.
You might have to palm the drag for more pressure when battling larger and stronger fish. Its handle is terrific. It features a wide O-ring made of high-quality rubber for better grip when wet. You can easily grab it without looking since it is long and doesn't have any flare or swell towards the end.
The spool is as important as its cap in order for the reel to function fully. This one easily comes off. Be mindful if you have to remove the spool when in the field. Loop gives the Evotec a signature look with the machined L on the frame. If it is good, it definitely is good.
---
"Check out some of our other Buying Guides"
Main Features of the Loop Evotec G4 Featherweight Fly Reel
Drag System – This drag system is undeniably smooth and it is dependable in terms of performance. It is encapsulated to lock out all substances and particles that can affect stopping power. It is among the strongest systems that the fly fishing industry has seen and handles all sizes of fish. The system has low start-up energy but the control power will amaze you.
---
Housing – Evotec G4 Featherweight fly reels have their housing and spool made from one of the toughest alloys of aluminum. One-piece aircraft-grade aluminum is durable and has high impact and scratch-resistant capabilities. It can stand any whacks on hard surfaces and remains intact. This gives you a long-lasting reel.
---
Reversible Retrieve – The G4 Featherweight allows you to change the spool in order to reel from either the right-hand or left-hand side of the frame. This feature is helpful when you have a change in mind on which side you choose to reel your reel.
---
Counterbalance – When handling big fish that can take out the line from the reel, this feature becomes very important. For smaller size fish, you might not find it useful. The counterbalance counters the effects of a quickly rotating spool handle to ensure that there is added stability.
---
Spool – The reel allows for quick and easy spool removal from the frame. This is a common feature that is good to have. It gives the chance to use different fly lines on one reel. You can switch from a spool that is loaded with a sinking line to that with a floating line.
---
Use – Choose what to fly fish, this reel doesn't discriminate. The components are made from high-quality steel and anodized aluminum making them corrosion and rust resistant. This means that the reel is usable in both fresh and saltwater environs.
---
Other Aspects of the Evotec G4 Featherweight Fly Reel
Main Material – The Evotec G4 FW has the frame and spool made from one of the toughest materials. One-piece aircraft grade aluminum is stronger as an alloy is stronger than the metal itself. Having it machined guarantees you durability. Other components are made from stainless steel and anodized aluminum to make them waterproof and corrosion resistance.
---
Drag System – Power Matrix Drag systems are not common. They brag of great smoothness and good stopping power because of the encapsulation that prevents the internal parts from being affected by sand, grit and other substances in the water. It starts up with very little inertia. Built to be maintenance free, it saves you time and money.
---
Specifications – Evotec G4 FW fly reels come in different models ranging from 3-5 to 5-7. The arbor diameter ranges are 55mm-47mm. their outer diameters and inner width are the same for all models. 87mm for the diameter and 27.5mm for the inner width.
---
Handle – The handle is striking and has a wide O-ring that is made from durable rubber to ensure added grip when it gets wet.
---
Weight – Each model of the Loop Evotec G4 Featherweight Fly Reel has its weight model 3-5 weighs 138g while model 5-7and 54-6 weigh 140g.
---
Capacity – The backing capacity of each model is reasonable. Size 3-5 has a backing of WF4 + 170yards 20 lbs. Size 4-6, WF5 + 180 yards 20 lbs. and size 5-7 WF6 + 230 yards 20 lbs.
---
Warranty – The manufacturer includes a limited lifetime warranty which must be signed by the original owner of the fly reel to cater for any repairs. In case of defects in workmanship or material, it is advisable to reach the manufacturer as soon as possible for a replacement. All terms and conditions of the warranty must be adhered to.
---
Customer Thoughts on the Evotec G4 Featherweight Fly Reel
This is one of the strongest fly fishing reels of time. It survives hard knocks on rocks and doesn't have any signs of cracks or chips whatsoever. For avid anglers who fear to incur losses for easily breakable reels, this is the deal breaker.
Salt tolerant fly reels don't come cheap. In fact, those that last have to cost you a leg and an arm because the construction is excellent. When you have no time for quick rinses, there isn't much to worry about.
The drag system is powerful. One that can handle both small and big fish. How well it battles fish is beyond anyone's explanation. Could be Loop's secret maybe.
Either side retrieve is a commendable feature of this fly reel. You can choose to reel on the left-hand side or on the right-hand side.
Being able to use two different fly fishing lines on one reel is epic. It relieves you a load of having to carry two reels. A spool for each line, saves space, time and unnecessary stress.
---
---
Pros

– Things that shine on the Evotec G4 Featherweight Fly Reel
Durable construction
Silent sound when reeling in
Very good spin
Excellent counterbalance
Quick spool release
Allows for left or right-hand retrieve
Good ergonomics
Powerful drag system
Corrosion and rust resistant components
Cons

– Things that are not so cool!
Spool cap can easily come off and might get lost

Palming might be needed for larger fish since the maximum drag is slightly low

The price – not for every budget.
---
FAQ's – Questions about the Evotec G4 Featherweight Fly Reel
Q) Does it have an extra-large arbor like the Opti Series Fly Reels?
A) No, this one has a less arbor and more width that increases the backing and capacity.
Q) Are the reels heavy when using? Can a beginner use it without problems?
A) The reels are light, weighing between 4.87 oz. and 4.94 oz. you can be sure to use it all day. There are no limits to the level of expertise.
Q) Is palming required when reeling in using the Loop Evotec G4 Featherweight Fly Reel?
A) Yes. It's maximum drag doesn't allow it to handle big fish on its own so you might have to palm it.
Q) Can two fly lines be used on this fly reel?
A) Evotec G4 Featherweight fly reels have reversible spools for this. You can use a sinking and a floating line though on different spools.
Q) Does the reel allow for retrieve conversions?
A) Yes, you can choose to reel your reel on either side with ease. The spool has quick-release capabilities.
Q) Does the reel have outgoing drag sound?
A) No, this reel is totally silent and ideal for a poacher. No outgoing drag sound or retrieval sound.
Q) Is the drag knob wider and easily adjustable?
A) This one is thin and will require good grip and more energy to turn.
Q) What is the function of the full frame?
A) The Full Frame is for extra rigidity.
---
Final Verdict on the Evotec G4 Reel
The Evotec is the right definition of perfection. You know, a good-looking powerhouse that can catch any size of fish, unbreakable and high-performing. Any angler who has held it will confess how light it feels. Loop is among the leading fly reel manufactures in the world who value customer satisfaction. This led to the redesigning of this reel to ensure it suits the needs of anglers who enjoy fishing in any environment and especially, a mix of small and big fish.
From a test in its construction, you will love how tough this reel is. This adds to its durability feature. Before the advancement in technology, ancient reels were tough but not as this one made from aircraft grade aluminum. What will marvel you more is the type of components used. The stainless steel and anodized aluminum are corrosion and rust resistant giving you an easy time when it comes to maintenance. The screws chosen are durable and are further sealed with Loc-Tite.
Such a good reel sells fast because it gives more value than the price tag. This is the reason you will sport many of them by the rivers and lakes. Well, your stockist could run out of the Loop Evotec G4 Featherweight Fly Reel if you haven't pre-ordered for your next trip. That doesn't mean that you should cancel your trip. Her sister the Loop OPTi DryFly Fly Reel will serve you as much as this one will. They are similar in almost all aspects but there isn't a major difference in features. Evotec has everything you need in a fly reel.
---
---