Disclosure:
Just to be open and honest the buttons and links you click on in the website will in most cases take you to another website where you can purchase the products I am reviewing. As an Amazon Associate I earn from qualifying purchases.
December 30, 2019
Simms G4Z Mens Stockingfoot Wader Review – Upgraded ICAST Winner
''I am hell on fly fishing waders and have always been. However, despite almost a fortnight of daily exposure to abuse, the Simms M's G4Z Stockingfoot Waders held firm''
This is one of the positive remarks by a happy user on the Simms G4Z waders for men. Straight to it, the wader's construction though pretty much straightforward, is very thorough.
The Bozeman folks didn't screw or play around with these stockingfeet. It is evident even before you put it to test. Why do you think it scooped the Best of Category Technical Apparel for cold weather? This is one of the main features that helped put it at the top.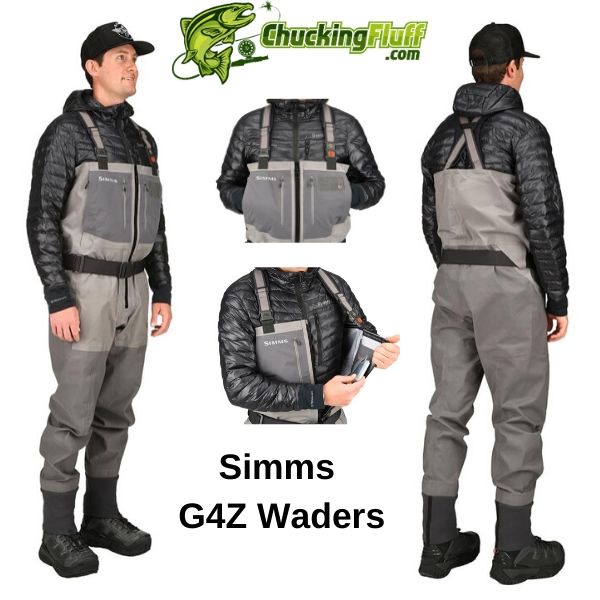 ---
---
Simms's marketing material, the three and five-layer Gore-Tex Pro Shell fabric bolsters longevity and enhances greater breathability by almost 25%. These waders feel very strong and rugged. If you happen to slip on the waders, the feeling is like being a step closer to angling invincibility. In short, you will love wearing them.
Choosing to have 3 layers of the Gore-Tex on the upper is because the region is not a high wear section. Unlike the seat and leg areas with five layers, there is dire need to ensure that as you enjoy throwing your flies, it serves you longer.
It beats the challenge in a true field test. Whether you go bear viewing, glaciers, whale watching, plane trips, boat trips, wash boarding across the old logging roads, it takes it all. As you go about the scree slopes, deeper waters with stains of tannin, it doesn't take long to discover how comfortable the pair is.
They are perfectly wearable. This a rarity among most of the high-end breathable waders which have a tendency of truly enhancing personal humidity and making for a ripe bouquet. The guides literally lived in them for days and the wades can steadily stand up to everything from peeling off on sidewalks to the wind-driven rain on kayaks.
Shoulder straps are the real deal when it comes to adjustability and comfort. They don't dig into the clavicles. You have enough room to squat, bend, set up into trucks, jump small streams, and climb over the rocks. They wear pretty well and feel good. The M's G4Z Stockingfoot Waders prove that you don't have to compromise comfort to don a good pair of waders that are heavy duty.
Breathability is crucial just like fit. The M's G4Z are warm but aren't hot. Probably this has to do with the choice of fabric during wader construction and the Gore-Tex technology that Simms employs in these waders. Most anglers expect to be quite moist at the end of the day after putting on waders.
However, once you take these ones off, they are one of the accepted 'absolutes' among fervent anglers who spend most of their time in Gore-Tex. It completely locks out water and gives a refreshing feeling in the inner side. In fact, moisture-wicking is on point. You are dry on the outer side as well as inside.
Big guys complain that many waders aren't fit-friendly. Not this one since the size chart on the manufacturer's website has several sizes from medium to extra-large with variations in between. Doing this is one of the best ideas that Simms came up with. As a user, you can bank on it when the time for testing your reels and rods comes.
If your personal measurements match those on the chart or are close, the fit will be right while allowing you space to move around. They don't ride up or bind the tailbone as most brands do.
---
Key Features of the Simms M's G4Z Stockingfoot Waders​​​
Material – Simms uses the popular Gore-Tex material in M's G4Z's waders. From its history, the material is among the oldest yet high-quality, breathable, and waterproof. The design team was tactful on matters of longevity and functionality. For this reason, they constructed the wader's upper with only three layers of the Gore-Tex Pro Shell while had four of the same on the leg and seat areas. Usually, there is more action in the lower region than in the upper. Thus, the seat and leg areas are high points of tear and wear. I hope you now understand why these waders are a major investment.
Fit – When we talk of fit, we cover so many things from the sizes to adjustability. This one is a catch. There is a wide range of sizes to choose from the manufacturer's chart. Simms has these waders in medium, medium short, medium king, large, large king, large long, and extra-large. Ensure that you match your measurements with those on the sizing chart to avoid picking a smaller or baggy wader.
Location of Use – We'd say it is neither a chooser nor a loser. The M's G4Z Stockingfoot Waders are high-quality and will serve you all year round. Even in the saline waters or rivers with stain elements, the wader doesn't bow to abuse easily. For extremely cold weather or locations, you will consider a few more layers to ensure that you maintain finger dexterity and proper health.
Zipper – No to sound somehow snobby in a snooty, 'they can eat cake' type of way, but which angler will buy waders that have no waterproof zippers if they got another option? Most do because they are ignorant of the important features to look for in breathable waders. Can you imagine the havoc you can wreak to your nether with a leaky frontal zipper? Simms advances in zipper technology with the YYK Aquaseal zippers which are fully waterproof. Of course, a dependable feature when the weather shifts from downright nasty and to borderline muggy in split seconds.
Wader Style – Stockingfoot to be precise. The M's G4Z Stockingfoot Waders have high-grade 4mm neoprene stocking feet that are anatomically engineered to keep your feet safe and healthy. They easily fit into your size of wading boots. Besides comfort, they cushion your feet and keep them warm. The upper region has an X-style suspender at the back to secure the waders and help to give a good fit. Its suspender system is made from quality mesh to ensure that you achieve optimal comfort and breathability.
Wading Belt – The wading belt has inbuilt loops to secure it in place. It is sizeable and stretchy though doesn't hurt once you add a few pounds. You can release the belt if you don't use it. Another upside is that it aids in wader conversion from chest to waist-high.
Buckles and Straps – Simms M's G4Z Stockingfoot Waders have corrosion-free buckles on the suspender system for adjustability. The straps with mesh construction ensure that you remain cool and dry when the temperatures begin to rise.
Pockets – These waders have handwarmer pockets with zippers. They can double as storage spaces for small items. Handwarmers have a micro-fleece lining that allows you to bring your icy fingers back to life when your hands are idle. Chest storage pockets are of good size and can hold your small fly boxes.
Gravel Guards – Inbuilt gravel guards have hooks to secure your waders to the boots and prevent the entry of sand, grit, and gravel that causes irritation and damages the waders and wading boots.
Seams – Simms uses its patented seams on the M's G4Z Stockingfoot Waders' font and back legs. The special seam construction is away from areas of high wear and tear to ensure effective performance and durability.
---
---
Customer Thoughts on the M's G4Z Stockingfoot Waders
The waders keep you dry for a very long time. Not unless you decide to have a swim, then we can count this among your wishes or 10 things to do with your fly fishing waders.
For hot seasons in the creeks, it manifests its breathability aspect and as long as you have them with light t-shirts, you don't have to grunt and groan because of sweat.
The only challenge which of course is common across all waders is the neoprene booties taking long to dry in the inside especially when the humidity is extremely high.
Its adjustable belt loop is yet to fail. Doesn't look that it will any time soon because of its durable construction. The belt keeps the waders where they are meant to be whether you loop in or choose not to.
There are no pinhole leaks which is a good feature making them reliable enough. They give a luxury feeling when worn. In fact, we can term them as a perfect blend of durability and comfort craftsmanship.
How much do you trust you other zippers? You can fully trust this one anytime. Unlike those that you must fumble with when you take a quick run to the thickets to drain two or three extra cups of coffee, this one is cooperative.
---
Pros

– Things that shine on the Simms M's G4Z Stockingfoot Waders​
Durable fabric construction
Waterproof zippers
Adjustable suspension system
Durable waist belt for wader conversions
Micro-fleece handwarmers
Sizeable chest pockets
Available in many sizes
Custom-fit available
Inbuilt gravel guards
Special seam construction in the front and back legs
Cons

– Things that are not so cool!
Quite difficult to remove tough and stubborn stains since Simms disapproves of using any bleach or harsh stain remover on the waders.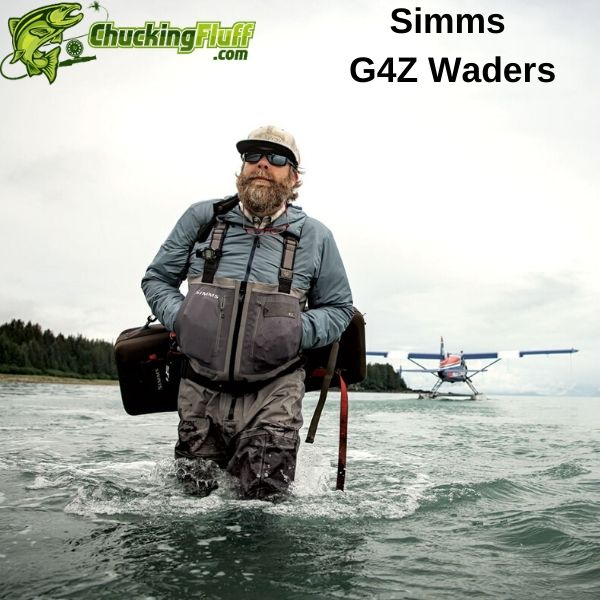 ---
FAQ's – Questions about the M's G4Z Stockingfoot Waders

Q) Are the zippers usable in flat fishing?
A) Yes. The zippers are made from durable plastic which is resistant to rust and corrosion.
Q) Any Warranties for these M's G4Z Stockingfoot Waders?
A) Sure. There are a 60 days satisfaction guarantee, one-year free wader repair and after this period, other repairs are possible at a small fee.
Q) Are there any taped or welded seams?
A) There are taped seams and for this reason, Simms forbids placing the waders in the dryer since it will damage the tape.
Q) Are the sizing measurements minus space for layering so that one can choose one size larger?
A) No. The sizes are inclusive of extra room for movement and layering so you are advised to use your exact measurements.
Q) Can you machine wash the waders?
A) If you have a front-load machine, it will work though with cold water and normal detergent for better results.
Q) How heavy is the Simms Men's G4Z Stockingfoot Waders
A) The waders weigh 51 oz.
---
Final Verdict on the M's G4Z Stockingfoot Waders

You deserve a winning wader if you'd like to win in the water. Despite it being a heavy-duty wader, it does its job as it should. It is obvious for the extra weight to come from the five layers of the Gore-Tex material. The good thing is that the weight isn't alarming as they aren't hella heavy. Solving the breathability riddle was pretty simple in these waders. With the mesh straps and technology from Simms, you need not worry.
All in all, it has proven an all-rounder for anglers. The bad boys fall in the high-end price range. When you compare what it is now and the ancient rubber things then, it is super-duper. Might be monthly mortgage cost but how long it will serve you will beat your imagination.
Of course, a worthy investment. With the fairer and more reasonable warranty, nothing should stop you from saving up for this sticker shock. It is one of the safest bet, especially with proper care and maintenance. If you don't enjoy our fishing trips in Simms M's G4Z Stockingfoot Waders, there must be a big problem with yourself and not the waders.
There are more goodies to read on the 2019 ICAST winners on the site. Head on and see what else to get your hands on. Tight lines!
---
---