Disclosure:
Just to be open and honest the buttons and links you click on in the website will in most cases take you to another website where you can purchase the products I am reviewing. As an Amazon Associate I earn from qualifying purchases.
March 15, 2021
Patagonia Spring River Chest Waders for Women Review
We love to hear from the horse's mouth. ''Designed by women for fellow women,'' these were words from Mark Harbaugh of Patagonia.
If you have been or are in the textile industry, it is obvious that there is more practicality in that phrase.
This is one of the short and punchy statements that describe the Patagonia Spring River Waders for Women.
We can't stop insisting on how much it was a challenge you to find ladies' waders that fit well and function sensibly.
Spring conditions are unpredictable. It could be sunny, cold, 60-F bliss, or snowy.
Patagonia Spring River Waders for Women Review 
The wader's color is the first striking aspect. Its shade of slate grey is nice.
We aren't judging it by its color alone. Another bonus to the color is its ability to hide most of the scuff marks from your angling adventures.
What you will appreciate next is the construction and material of the wader.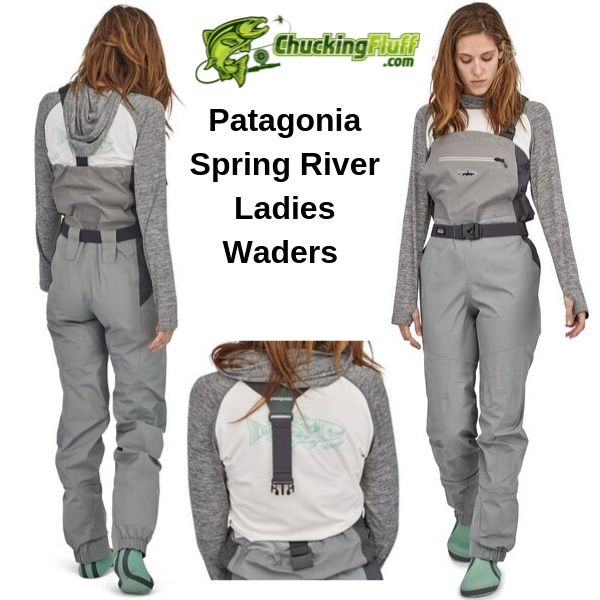 Patagonia Spring River for Women feels very durable and after keen assessment after prolonged use, it is commendable.
The wader stands up to plenty of abuse both in and out of the water. This aspect is vital for fervent anglers who tumble often in all environments.
You mustn't be blessed by having fishing holes nearby to try them out. Even as you find your way in the thickest of woods and roughest terrains, it is a loyal and unshaken companion.
Fall is cool and crisp. If you find yourself out at this time, sticking your feet in the neoprene-lined booties is appealing.
''Is the fit something to worry about? Maybe the trash bag sort of thing or dope like my usual Imogene + Willie denim jeans?'' this is a common question that needs a precise answer.
Not as a marketing strategy, but authenticity to all potential buyers. The fit is aesthetically lovely. It conforms to the shape of your body and still allows room for extra layers.
You can have a winter jacket and loose pants underneath. It doesn't have excess material in the wrong areas.
Unlike in other waders that women will often complain about sagginess in the butt, these ones are a sure deal when it comes to meeting perfection.
The chest area has elastic pulls on the two sides for customization to each woman's uniqueness.
What about comfort?
When the degrees drop, a few more layers will do justice to your body. The laymen say, better safe than sorry. Like mentioned above, the fit is superb and allows for layering.
You can have extra layers on without feeling uncomfortable. The waders aren't restrictive. You can make movements without experiencing a seam burst.
It is a difficult task to produce women's waders that are stylish, conforming, and very roomy as a package.
However, Patagonia has played its role excellently in the Spring River Regular Waders for Women.
Another notable feature that crowns comfort is stockingfeet. The feet feel comfortable in the booties lined with neoprene.
Unlike men, women's feet respond faster to weather extremities. So, they get colder quickly. Cold feet in this instance won't cut short your day of fine fishing.
Neoprene is among the best cold insulators. We give it a five star for this reason.
Check Spring River Web Availabilty
---
Key Features of the Patagonia Spring River Waders for Women
Material
The H2No performance standard shell is responsible for the rigidity of the wader. Its upper is made from four-layer pure polyester microfiber with specificity to high-grade taffeta.
The layer weighs 5.6-oz. it's lower is from four-layer pure polyester microfiber with similar specificity to that of the uppers. However, the lower is heavier by 0.2-oz.
The four-layer construction is for increased breathability, abrasion-resistance, and manageable overall weight. With extra linings like the Hydrophilic laminate and tricot lining.
Technologies
Patagonia uses its proprietary DWR treatment on the outer surface. The Durable Water Repellent finish will keep out snow and light showers. As it repels moisture, it doesn't come in the way of breathability.
Fit
Patagonia raises the bar when it comes to fit. Legs are meticulously tailored and the articulation in the knees counter bulkiness. The wader is streamlined, rather flattering, and silhouette.
It is one of the best-looking choices in the market for women who are looking for a body-cutting and trimmer cut. Check out the measurement guide from Patagonia and see the whole range of sizes.
Location of Use
In any season, you will still find the Spring River Regular Waders for Women useful. When temperatures skyrocket, tone down on the under layers.
Increasing the number of layers and being tactful about the type of material to have on in winter will make the underneath layers serve their purpose exclusively.
Zipper
All zippers are made from a material similar to bio-resin plastic. They are very durable and can be used in any environment without worrying about corrosion or rust. These zippers operate smoothly even when in a hurry.
Seams
The single-seam construction popularly known as the SCC totally does away with seams in the high-risk wear areas like inner legs, their front, and back. Doing this reduces the chances of mobility interference and abrasion while boosting durability.
Wader Style
What we will dwell on here is the major change in the stockingfeet. Initially, the Patagonia Spring River Regular Women's Waders came with 3mm wool-lined booties.
We aren't trashing wool, but are grateful to Patagonia for redesigning them. Choosing 4mm neoprene was resourceful to anglers. The material is light, easy to care for, conforms to your feet's shape well, and ensures that they fit in your choice of wading boots.
Suspender System
EZ-lock suspenders are mounted on the waist and allow for easy wader conversions from chest-high to waist-high level. You will enjoy versatility and comfort at your convenience.
The back buckle is easy to operate. Boasting a drop-seat function, you can effortlessly take off the waders and have them back on.
Belt
Elasticity in the wading belt is for adjustability. Whether you add on some pounds or lose a few more, the belt still does what it has to do. Comfort is a guarantee with this belt.
Pockets
The Patagonia Spring River Regular Waders for Women has an interior pocket that is well-welded and has a TPU waterproof coating for your phone, camera, and other water-sensitive items.
When you need to reach your tools real quick, the laser-cut Hypalon keeper will do this job. Handwarmer pockets are easy to reach through to toast your icy fingers. Your tippet, floatant, and nippers can rest in the horizontal chest pocket.
Gravel Guards
Matching the flat-panel build of the waders, the guards enhance durability by reducing the chances of abrasion, wear, and tear.
Weight
The Spring River Regular Waders for Women weighs approximately 42.23-oz. This is reasonably lightweight allowing you to have it on all day with no discomfort or feeling burdensome.
---
Check out some of our other Buying Guides
---
Pros – The Good about the Patagonia Spring River Ladies' Waders
Lightweight
Puncture-resistant fabric
Durable construction
Allows for conversions
Highly breathable
Single seam construction
Adjustable wading belt
Several spacious pockets
Articulated knees
4mm neoprene booties
Fully functional gravel guards
Cons – The Concerns though not Deal-breakers
The suspender straps aren't fully adjustable-only a section is.

The package isn't inclusive of a storage bag so you need to make a separate purchase.

Its main buckle at the back can be a problem to reach.
---
Customer Thoughts on the Patagonia Spring River Regular Women's Waders
There is so much to love in these waders. They are comfortable and very durable. For fit, Regular suits most of the ladies who are of medium size.
Spring River holds up pretty well. You will appreciate the design, which in many anglers' opinion is sleek. The quality matches that of the Spring River waders for men.
Despite the shoulder straps feeling a little cheap, especially in adjustability, the overall performance is on another level. You can only adjust a part of it not the entire thing.
The main buckle at the back should have been moved at the front for easy reachability. Women with shorter hands will have difficulty releasing the buckle when taking off the waders.
The knees are very flexible. Their articulation boosts your confidence to do the basics of fly fishing even when on your knees. It doesn't come with a wader storage bag. However, this isn't a flaw. By all means, you still have to have them on while on the water.
---
FAQ's – Questions about the Patagonia Spring River Regular Women's Waders
Q) Are the neoprene stocking feet sufficient on their own or will you require boots?
A) They aren't sufficient. You will need high-quality wading boots or feet safety.
Q) Do the waders fit over jeans?
A) Yes. You can wear jeans under the waders and still feel warm and comfortable although not recommended.
Q) How do these feel in very hot weather?
A) They are excellent. Roomy enough to allow for proper circulation and breathability. They are even more comfortable once you get on the water.
Q) Are the stocking feet waterproof?
A) Yes, they are waterproof and when you step on the water as you get on your kayak; You remain dry.
Q) To what temperature levels can you comfortably wear these waders?
A) Not precise but tested at about 55 degrees; It is still comfortable to wear.
Q) Are the waders waterproof from the feet to the chest?
A) The waders are waterproof and there have been no reports of leaking.
Q) Do the Patagonia Spring River Regular Waders for Women have a shank or an insert in the booties?
A) No, they don't.
---
Final Verdict on the Patagonia Spring River Waders for Women
Patagonia ensures that it meets the needs of any female angler who wants to effortlessly access nature.
With a bundle of unique features, it is not doubtful that its service to you will be incomparable. What catches the eye first and sticks in mind is the type of drop-down seat.
Not complicated like many think. You can take down the waders while maintaining the position of the suspenders over the shoulders.
Let us not talk about the awful pretzel twisting that ladies will experience when trying to fit in any average waders.
Release the clip that connects to the suspenders in the rear to allow the magical drop-down feature to do its abracadabra.
Though it needs some effort, not to the extent of sweating. However, with more practice, the execution will be graceful. Reattaching the clip might also be a task on its own.
Anglers are innovative. To make things easier, slide the wader suspenders off your shoulders, then drop your seat before doing the necessary.
No wrestling, since you have no belt to win. Though the suspenders are more traditional and far from standard, they still are a catch.
Remember that in angling, functionality is first before aesthetics. The suspenders can convert the chest-high waders into a waist-high level without having to take them off.
If you keep plummeting in the water, you know that waterproof pockets are life-saving and a major plus.
The inner pocket is like an Aquapac for your accessories and gadgets. The waterproof zippers ensure that you don't incur any material losses.
All these are golden pointers to prove that the Patagonia Spring River Regular Waders for Women are ideal for your outdoor water adventures.
If you'd like to sample other waders in the same category, you can choose from the Simms Freestone Women's Waders, Redington Sonic Pro Women's Waders, Simms Women's G3 Guide Waders, and Orvis Ultralight Convertible Waders for Women.
Whether in spring or not, the Spring River is a gem.