Disclosure:
Just to be open and honest the buttons and links you click on in the website will in most cases take you to another website where you can purchase the products I am reviewing. As an Amazon Associate I earn from qualifying purchases.
April 27, 2021
Simms G3 Guide Riparian Camo Stockingfoot Waders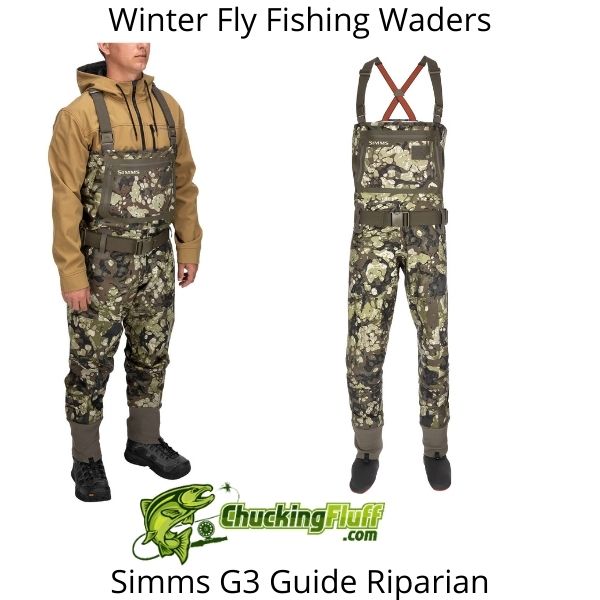 Somewhere in 2018, the legend of all times released a new addition into the G3 Guide collection.
The Simms G3 Guide Riparian Camo Stockingfoot Waders gives the first impression of style, environmental compatibility, and comfort.
These look comfortable enough like your go-for pajamas and this isn't a marketing BS.
Once you wear them, you will notice a great difference. New anglers will question the wader pattern.
Why not plain-colored like the other waders?
Welcome to our Science Lesson
Understanding the vision of fish and how these buddies view the word is another topic on its own but we will brief you on the basics to help with comprehending why Simms chose the Riparian Camo for this one.
Most water bodies are very far from being clear courtesy of dissolved substances, phytoplankton, and suspended matter.
Infertile water, green is the commonest color while reservoirs show brown.
Some lakes have plankton in moderate amounts.
These absorb violet and blue light more.
Deeper waters have yellow and green wavelengths as the dominant colors.
When waters are muddy, red wavelengths will be transmitted further deep.
Before fish can easily detect any object, there has to be a contrast between the object to be seen and its environmental background.
Flies are most easily seen when they contrast and this will be impacted by the direction in which the fish is looking.
It could be down, up, into the open water, or vegetation.
Basically, the vision aspect in fish is way more complex, and such a great deal than it sounds.
This is because water is a large determinant of the eye's anatomy and its adaptation.
Slightly into the Camo
There are over 13 patterns of Camo among them Tigerstripe, Brushstroke, duck hunter, ERDL, US Woodland, Splinter, and others.
The camouflage effect on the wader fabric is to prevent being noticed easily by fish. Simms uses this strategy to improve stealth in anglers.
The tactic has worked so well as confirmed by anglers.
Fish move closer thinking your wader is a mass of vegetation they can fetch food from-they indeed fetch food (your flies and lures) as you aim at them properly.
Areas like Patagonia and the likes with lots of thorns that are long past an inch have some of the gems to comb.
Durability will be one of the vital aspects to check in waders.
You will be crashing and cutting your way through thorny thickets.
Hiking might be part of your day's or night's activity.
You will appreciate the Gore-Tex Pro Shell fabric
The cut of the Riparian Camo waders gives the angler a perfect range of motion that is excellent for crossing and climbing over logs and boulders.
Also, you can wade safely and with ease in sketchy areas.
Your movements might take long and be vigorous, the extra breathability comes in handy to keep your temperatures regulated.
Comfort is also seen in the wider belt and shoulder straps that allow the waders to be well secured to your body.
Your fishing packs can go over them pretty well.
Chilly mornings welcome as much cold as possible and our appetite for dexterity is higher when fishing.
The micro-fleece lined handwarmer pockets will come to the rescue.
Temperatures are dynamic.
It might be cold this minute and blazing hot in the next hour.
Being able to convert these Simms G3 Guide Riparian Camo Stockingfoot Waders to waist level will be appropriate to avoid soaking in your sweat.
While some anglers spew hate about Camo waders, any angler fishing in brutal conditions will agree that they deserve more respect for how much they endure and protect you.
At ChuckingFluff, we are stunned and wouldn't rant. You are free to express your views though.
Does Camo Work?
Camo works extremely well.
The fine guys at the US military can attest to it. It isn't a fashion statement.
You don't need a Camo wader in every situation.
Neither will they help you if you dunk in all the pools at the banks.
Camo will not fix ignorance but will be the most real game changer if you know how to get closer to these water buddies, get into a proper position, and give a perfect presentation.
If you will be fishing in spots where fish are spookier and on the highest alert, Camo is the solution to stealth.
If your looks concern you as much and think you will look Silly in the Camo waders, confirm with Simms if this is available in standard gray.
Euro-nymphers and anglers looking to achieve more stealth when approaching fish, this is a pair to consider.
Check Riparian Wader Web Availability
Key Features of the G3 Guide Riparian Camo Stockingfoot Waders
Material and Fabric Construction – Simms uses the Gore-Tex Pro Shell fabric to design these waders.
The fabric technology makes the Riparian Camo waders waterproof, breathable, lightweight, comfortable, and durable.
The woven backer in the shell makes the wader to lay flat over other layers.
Riparian Camo by Veil Camo is to enhance stealth by the camouflaging effect.
The uppers of the waders are made from three layers while the lowers feature four layers for more weather protection as your lower body is the most exposed to water if you will be wading or standing in water.
---
Pockets – The frontal chest pocket is stretchy and accessed via a zipper at the top.
This one will fit several fly boxes and other small gear.
The reach-through handwarmer pockets are lined with micro-fleece and have zippers at the openings to prevent the entry of water that can wet your underneath layers.
There is a zipper for attaching a flip-out tippet tender pocket.
It has sleeves for your tippet spools and a retractor docking station.
You can agree that the pocket system is just enough for a day's packing.
If you pack heavily, you might need a sling pack or a fishing vest.
---
Suspender System – Straps on the suspender system are wider for comfort.
Their size also allows your fishing pack to lay perfectly over them.
---
Belt – The 2-inch wading belt in the Simms G3 Guide Riparian Camo Stockingfoot Waders is wider and longer than those in other waders measuring 1.5''.
It is stretchable hence gives a good fit without feeling too tight and uncomfortable.
Simms designs inbuilt low-profile loops to allow the belt to pass through.
---
Seams – All the front and back leg seams are well-done, sealed, and taped to lock out all weather elements and the reinforcement is to prevent seam bursts.
The construction adds to the articulated fit and the wearer enjoys a great range of motion.
You have enough freedom of motion to take any angling position without worrying about bursts.
Overall. The seam design improves durability.
---
Gravel Guards – The inbuilt gravel guards are abrasion-resistant to prevent puncturing your waders.
They come with boot hooks to allow you to secure your waders to the boots.
Also, the stocking feet have neoprene booties with an anti-microbial finish for moisture control, higher absorbency features, quicker wound healing properties, and healthy feet.
---
Sizing – G3 Guide Riparian Camo Stockingfoot Waders are available in small, small king, medium, medium king, large, large king, extra-large, and double extra-large.
The size variations are short, regular, and long.
Check out some of our other Buying Guides
Pros – The Good about the Simms G3 Guide Riparian Camo Stockingfoot Wader​

Lightweight
Highly breathable
Waterproof
Available in different sizes and variations
Enough storage system
Comes with a wider and slightly longer wading belt
Available in a bootfoot design
Perfect for stealth fishing when targeting spooky fish
Cons – The Concerns though not Deal-breakers
Apart from a few guys that have zero likings for Camo prints, we haven't come across any critics on the construction, performance, quality, or durability of these waders. We will give updates if there will be any in the future.

Customer Thoughts on the Simms G3 Guide Riparian Camo Waders – Stockingfeet​

We'd say that this is a highly-improved G3 Guide wader thanks to the Camo print that makes it highly effective when catching spookier species.
Fooling these guys becomes pretty easy.
I love duck hunting alongside fly fishing and I think I got the perfect waders that suit both my outdoor activities. Talk of saving over $600.
These waders are tough because of the Pro shell on the outer surface.
If your target species forces you to crawl over concrete on dams to get the best spot, these guys are unshaken.
As long as they don't meet a sharp stick that can go through the Gore-Tex, they are fine.
The Camo waders don't bring the fish to eat your fly. Add your skills to the waders' abilities and you will see a great difference when fishing in these waders.
These aren't heavy like some military Camo. They are lightweight courtesy of the Gore-Tex Pro Shell. Simms approximates the weight of these waders to be 45 Oz.
You will remain bone dry if your waders aren't punctured.
The waterproofing aspect works extremely well and for waders and duck hunters who have their lowers in water often, these are very warm.
FAQ's – Questions about the Simms G3 Guide Riparian Camo Stockingfoot Waders

Q) Does the Camo wader get stained easily?
A) Like any other wader made from Gore-Tex, staining is easy if you wade, walk or get splashed on with muddy water, rub greasy hands on them, or any kind of dirt. Stain removal is easy but its upside is that small stains mostly go unnoticed because of the Camo Print.
Q) Which bleach is advisable for these waders?
A) None at all! You are forbidden from using bleach or any product containing bleach on waders.
Q) Can I set the machine on a hot or warm setting when laundering Camo waders?
A) This isn't advisable as high heat will tamper with your seams. For the same reason, you shouldn't run them in a dryer.
Q) Can I use a top-load machine to wash my waders?
A) Simms recommends using a front-load machine but anglers who have used the top load haven't registered any complaints.
Q) Are these the same as the Simms G3 Guide Waders?
A) They take the same construction, design, and technologies but because of the inclusion of the print, they get their name Riparian Camo.
Final Verdict on the Simms G3 Riparian Camo Stockingfoot Waders
It took Simms slightly more than 2 and a half years to develop these Riparian Camo waders.
The team maintained the abrasion resistance you find in the G3 Guide Waders.
Breathability levels are higher by an extra 90% which makes it perfect for the outdoors whether you are heavily layered or have fewer layers in the summer.
We love how firm these waders stand when you are out fishing in rough streams and weather conditions.
They fully protect you against nature elements that the environment throws at you.
As it helps you improve your stealth when handling spookier species, the remaining task is for you to use your tactics and skills well to bag fish.
Simms boasts one of the best warranties in the wader industry and business.
Whether you are a pro angler or guide using the wader as your daily work-wear or a seasonal angler who steps out with a combo less in a month, you are covered.
Check with the Simms service desk for help with repairs or replacement in case your Riparian Camo waders develop a problem.
If you don't own the Simms G3 Guide Riparian Camo Stockingfoot Waders but have fished in the Simms G3 Guide waders, the performance of the former level to the latter.
Only that the Riparian Camo is a master of stealth and maintenance because of the Camouflage effect.
Owning both isn't a crime.
We anglers pride in a good collection of functional and durable waders.
If you'd like to read on more waders as you decide on your next one, check our waders buyer's guide.