Disclosure:
Just to be open and honest the buttons and links you click on in the website will in most cases take you to another website where you can purchase the products I am reviewing. As an Amazon Associate I earn from qualifying purchases.
July 27, 2022
Redington Grande Fly Reel Review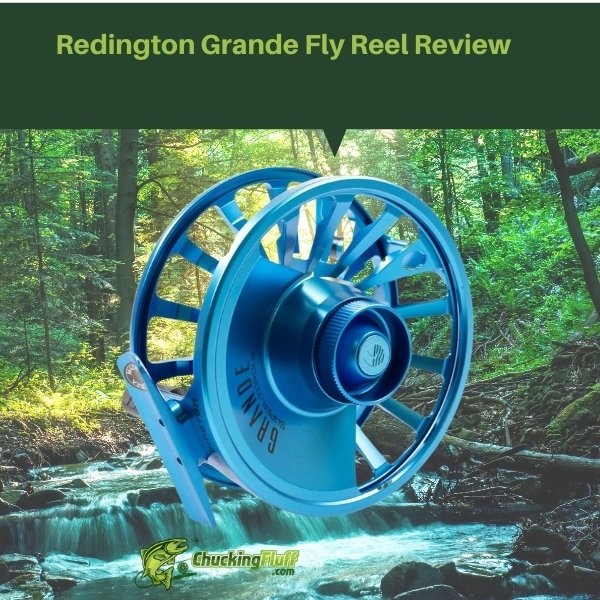 – Masculine for the Big Gamer
As a brand new fly fisher, the enthusiasm to own a section of gear is real.
Some anglers go into spending their life savings for a worthwhile fly rod.
It is a good thing to do.
However, pairing it with the wrong fly reel will be the dumbest thing you could do but didn't know.
A fly reel isn't just a fly reel. It dictates which rod to have it with and prosper and the others that you will use and feel your arms almost dislocating from their joints.
The Redington Grande Fly Reel might or mightn't be it.
Redington since 1992 has been producing fly reels that are affordable and realistic.
Trout anglers were the luckiest bunch as they could run to this brand each time they needed a wheel.
Things however changed with the launch of the Grande reel.
It wasn't the usual trout-specific fly reel.
It was a masterpiece for all anglers.
---
Redington Grande 7/8/9 Fly Reel - Black
CNC machined, anodized T-6061 aluminum construction
Fully sealed, SUPER-TORQUE, carbon fiber drag system provides smooth and powerful drag in all conditions
Optimized reel foot position for true center of gravity to prevent rod twist, and unique, rounded finish for line/leader protection when stowed
V-spool with backing canal arbor for reduced line stacking and increased backing capacity
Oversized palming rim for increased drag application and spool rigidity
---
Why the Unexpected Happening?
---
It didn't come as a blow to trout anglers but something they could exploit and try out other fish species with.
Whether heading to big lakes or the saline areas, the Grande is unbowed.
Targeting big game species now shouldn't be a problem as there is no bank breaking or rent money pilfering here.
We know that the majority of big game reels cost here than reels that can chase smallmouth bass, trout, and such like species.
Most people might trash it for a cheap inefficient reel but it does what the high-end options do.
The tag aspect makes it more reviewed than most of the reels from this brand.
---
Is Performance worth Mentioning?
---
It isn't worth mentioning.
It is worth a whole DISCUSSION!
Performance is all that matters in any big game fly reel.
A good number of anglers are drawn to reels because of the cosmetics and new technologies but all these will be useless if it doesn't do the job as it should.
Primarily, the reel's performance solemnly depends on its drag.
Does it have enough stopping power?
Can it protect your tippets when you are badly in need?
Is heat dissipation very efficient to avoid jamming the whole wheel?
You mightn't be worried about heat dissipation if you are out to catch a steelhead or a bonefish.
From our findings, it took Redington over a year to put the Grande together.
Product testing was on the Bahamas, Great Lakes, Tierra del Fuego, and Florida to hunt for steelhead, bonefish, sea-run brownies, and false albacore.
You can have it all functional even when up with a 210-pound shark and it doesn't overheat.
The drag is unshaken and is ready for everything you throw on its way.
We love how buttery smooth the drag of this reel is and how well it protects your tippets.
Another aspect of concern is start-up energy.
This one starts up well and continues to smoothly engage which is one feature that is vital when after bonefish or permit that bolt off terrifically and will need the finest and stealthiest tippets.
Getting a drag that is completely sealed and with almost zero maintenance is what you should look for.
Not all anglers are choosy. Others love the sand, mud, and other messy areas.
This will come in handy. Also, for you all lazy chaps who don't bother to give your reels a good rinse, feel relieved.
---
Main Features of the Redington Grande Fly Reel
---
Material and Technologies – The Grande's construction is from CNC Machined 6061T aluminum that undergoes full anodization.
An angler gets to enjoy all its benefits in craft and durability.
The reel boasts of great sturdiness and can highly withstand any brutality, unlike the composite reels. Anodization remains one of the processes that safeguards the fly reel from the effects of rust and corrosion.
That makes the Grande an all-water reel as functionality in environments isn't limited.
---
Drag System – Redington describes it as SUPER TORQUE.
It indeed is what it is.
With the carbon fiber drag system, the fish stopping power is immense hence its recommendation for big game fishing.
Another benefit is the complete seal on the drag that ensures it remains clean of sand, scum, particles, and mud that can affect its performance.
Owning this one means that you can sleep a night without cleaning it and not worry if it will die on you the next day.
---
Spool – The Grande was launched right after the Redington Behemoth Fly Reel.
A closer look at the two reels gives a few similarities in design.
However, the Grande's is pretty much substantial as the spool is in a V shape.
These reels have backing canal arbors to minimize line stacking.
They have more backing capacity too.
---
Arbor Size – You will spot a large arbor that increases line pickup.
Thanks to the shape of the spool, it can take up more backing to deal with monster saltwater fish.
Its V style is for line management and you shouldn't worry about your line landing on the reel as you try to bring that guy closer.
---
Rim – Its frame is stout and sturdy.
We love how extended the rim is to increase the surface area for palming to ensure that the spool remains rigid and to increase drag if need be.
---
Reel Foot – The position of the reel foot is optimized to allow you to achieve the right position for the center of gravity.
Finding the true point prevents your rod from twisting.
---
Drag Knob – Featuring a Delrin drag knob, the ergonomics offer the utmost comfort to ensure that you can fish your reel and rod combo hours and hours without feeling fatigued.
Delrin is a thermoplastic with the pliability and you can machine it as you do to aluminum.
It is different from what most of Redington's reels have even the Behemoth.
The Behemoth has a polymer-coated line-grabbing knob.
---
Retrieves – Anglers have different tastes when it comes to reeling retrieves.
Some love them towards a single side and others will go for the convertible ones like the Grande.
You can switch sides and back depending on your situation.
---
Weight – Critics on reel weights are the commonest and the Grande hasn't escaped this time.
A few buddies have complained of it being heavier especially when compared with other reels in its category.
However, an angler who goes after the big game will find the weight unnoticeable.
---
Sizes and Specifications – Redington Grande Fly Reel is available in four models.
Size 5/6/7 has a reel diameter of 3.7, weighs 6.7OZ, and has 200 yards on 20lbs backing capacity.
Size 9/10/11 has a reel diameter of 4.5, weighs 11OZ, and has 275 yards on 30lbs backing capacity.
Size 11/12/13 has a reel diameter of 4.8, weighs 12.8OZ, and has 350 yards on 30lbs backing capacity.
Size 14 has a reel diameter of 5, weighs 14OZ, and has 750 yards on 50lbs backing capacity.
The fly reel is available in black, marine, and champagne.
---
Warranty – The Grande is backed by a lifetime warranty to cater for any defects in material and artistry.
You can reach the customer help desk in case you have a problem that needs to be fixed.
---
---
Pros – The Good!
---
An all-water fly reel
Available in different sizes and colors
Has a sealed maintenance-free carbon disc drag system
Immense fish stopping power hence the best for big game fishing
Comes with a lifetime warranty
Increased backing capacity and retrieves
Convertible to either side
Top-notch ergonomics for comfort and function
Offers great line, leader, and tippet protection
Extended palming reel to achieve more drag
Minimal line stacking
Sturdy and rust-free construction
---
Cons – What Redington should look into
---
The drag isn't entirely watertight but can stand the saltwater
---
Customer Thoughts on the Grande Fly Fishing Reel
---
Aesthetically, the fly reel stands out.
Having various color options, porting in the frame, and contrasting the color of the brake hub from that of the spool and frame makes it one beauty.
The spool isn't aggressively tapered towards the inside like what you'd spot on the Behemoth.
What will interest you are the design's benefits- there is a minimal backing bounce in the retrieve and it makes spooling with backing easier.
Very few reels come in a size 14 and more.
This one holds more Dacron and for the much that it goes for, it is worth having even if you are a trout angler.
We love how well the drag system is sealed to keep out the solids.
We wished that it was watertight too considering all its other aesthetics and cosmetics match high-end options.
A fly fisher experienced some start-up inertia and resistance in the spool that comes with the loud click sound but still performed well.
Swapping out fly lines?
Worry not as the reel comes with a quick-release spool to allow you to change to a different line and fly depending on the water situation.
Surprisingly, it doesn't have any tiny hardware and screws that could get lost as you bounce on your boat or fish on the beach.
The drag makes about 1 ¾ turns from the full backed off setting to the locked down.
You have more range in the lower side of the curve and you can quickly adjust downwards or upwards.
---
FAQs – Questions about the Redington Grande Fly Reel
---
Q) On estimate, what is the spool width of the Grande 5/6/7 fly reel?
A) The spool width for this specific size is 1 3/8 inches.
Q) Could anyone have tested the maximum drag of the size 6 fly reel to know what it is like?
A) The maximum tested drag for the 5/6/7 Grande reel is about 12 pounds.
Q) In brief, can you describe how to release the spool of the reel?
A) This is a quick and easy release spool by twisting off the center cap.
Q) Are these spare spools available if you would like to change to a different line and fly without changing the reel?
A) Yes, Redington manufacturers separate spools for these reels and they go for about $130-$160 depending on where you buy them.
Q) Should I separately buy a reel pouch or the reel comes with one?
A) Redington gives a reel pouch with every Grande fly reel that you buy.
---
Conclusion
---
From the Redington reel collection, the Grande is the number one versatile fly reel that is a sure bet for big game fishing.
Throw anything at it, especially its biggest size, and it welcomes it open-armed.
The aesthetics are surprising, drag so masculine, and boast all the features that you can find in a high-end fly reel.
The reel changed the overall expectations of an angler who has a fixed mind on what affordability comes with.
Redington Grande Fly Reel redefines this and since its launch, it has been a success.
It is a masterpiece that takes up any challenge and beats others like it that cost twice or more what it goes for.
We advise that you pair it very well with the right rod action, length, and weight to ensure that you get the best out of it.
If you are a Redington die-hard, you can browse our manufacturer section up on the site and pick what you haven't tried.
We also have other angling gear and equipment from other brands that compete with Redington that you would love to sample.
---
Redington Grande 7/8/9 Fly Reel - Black
CNC machined, anodized T-6061 aluminum construction
Fully sealed, SUPER-TORQUE, carbon fiber drag system provides smooth and powerful drag in all conditions
Optimized reel foot position for true center of gravity to prevent rod twist, and unique, rounded finish for line/leader protection when stowed
V-spool with backing canal arbor for reduced line stacking and increased backing capacity
Oversized palming rim for increased drag application and spool rigidity
Last update on 2023-09-28 / Affiliate links / Images from Amazon Product Advertising API
This product presentation was made with AAWP plugin.