Disclosure:
Just to be open and honest the buttons and links you click on in the website will in most cases take you to another website where you can purchase the products I am reviewing. As an Amazon Associate I earn from qualifying purchases.
December 28, 2020
Redington Rise vs. Ross Animas Fly Reel Comparison
Evolution LTX and Behemoth are fly reels from the ROSS REELS and Redington that had an outstanding reception more than any others in their histories.
Well, there came the new Redington Rise Fly Reel and Ross Animas Fly Reel upgrade versions that are doing exceedingly well in the fly fishing market. They are perfect combinations of structure and function.
Redington and Ross Reels can't go unnoticed when it comes to reviewing brands that have built and maintained solid reputations of client satisfaction and integrity.
These companies have scooped awards in fishing trade shows like EFTTEX and IFTD. It is not surprising that rainbows get hooked with these.
The mystery of trout fishing is about to get even deeper with these two masterpieces.
To buy or not to buy?
It is a buy for us. You can't miss experiencing the goodness of each piece, each component, and how well these reels battle a monster fish.
The Animas and RISE are modern reels and with modernity comes advancements. For instance, large arbors are what most brands are looking to produce. Redington and Ross are doing it pretty well to ensure that you enjoy how quickly the retrieve is.
Ross Reels goes above and beyond our expectations and what we had envisioned when the company announced that there was going to be a new release.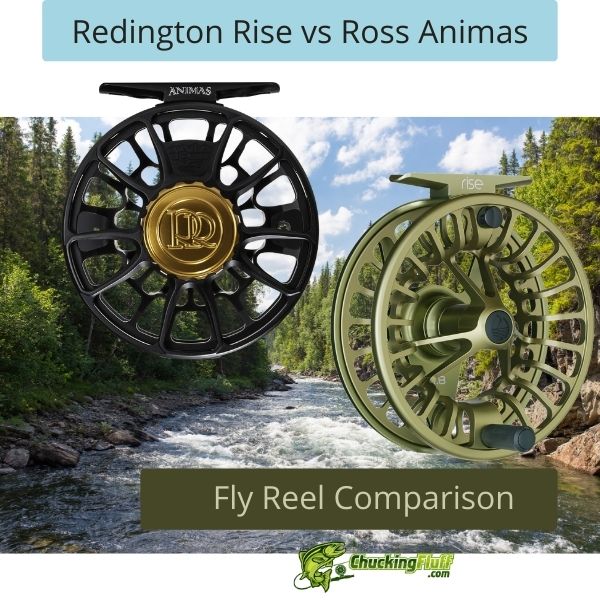 We'd say it is a fly reel for all times and places. Having one is just enough to take you to the warm springs, the salt flats, and the freshwater areas before you can think of building a collection.
For one reel to be this effective and such a multi-tasker, the construction must be excellent.
Check Rise Web Availability
Check Animas Web Availability

The Redington RISE might not be a good one for warm water fly fishing but it outdoes most of its rivals in fresh and saltwater. We appreciate the brand for such a powerhouse that comes at an affordable price.
Usually, the cost of machining an aluminum reel and anodizing it is very costly hence ridiculous tags on such reels.
That is why most manufacturers will produce a reel with excellent features but with composite frames.
If you are an angler who loves the water and hardly realizes when you sit on that guy or when it drops, avoid composite reels if you are looking for durability.
Redington saves you all this stress with the CNC machined anodized aluminum fly reel.
Goodies?
We can't insist more on the warranty. Your reel could arrive with a defect in material or workmanship.
Also, in the course of use, some parts may become faulty. Your warranty stands in the part of your spending on repairs. Both manufacturers have done exemplarily to offer warranties for these fly reels.
This is a customer reward method that other brands should copy. Even if it comes at a small fee, it is worth it.
You will love how these reels come in different models.
This is a good consideration as angler needs are different. You can easily select a fly reel size that suits your needs.
The RISE comes in three models-the 3/4, 5/6, and 7/8 with each having its weight. Ross Reels has the Animas in 4/5, 5/6, and 7/8 also weighing differently see chart below for more.
---
Redington Rise III Fly Reel Review
Redington has done great things on the substance and visuals of the Animas. If you haven't checked out the revamped reel, it is zero ounces of disappointment. It delivered a completely different appearance than what was in the previous model. The features and looks are superb. The CNC-machined 6061 aluminum reel is built with a lot of care.
We love how fantastic the finish and fit are. You will not spot sharp edges or blemishes. The generous porting system is what strikes us as a good aspect. They take open designs to lift the reel's aesthetics and make it as lightweight as possible without compromising function. If you were to crank it even now, it produces a good mellow click sound and the drag too assumes a similar tone.
Its drag system might look very compact but the amount of power it boasts will shock you when in higher settings. The drag isn't fully sealed and you might experience some bumping in the highest settings if you buy a used reel. For new users, the drag will be impressively smooth and with the right consistency since there are no contaminants.
---
Key Features of the Redington Rise Reel
Frame: Redington builds the reel with CNC-machined 6061 aluminum. The reel is sturdy and efficient in saltwater and freshwater areas. Anodization allows the reel to withstand the brutality of saline areas and ensures that the reel doesn't rust or corrode. However, to prolong its lifespan, give a quick rinse with tap water after every use.
Arbor Size: The reel comes with an ultra-large arbor to quicken line retrievals and make it easier to work with as there will minimal to no line tangles because of less reeling. Less reeling occurs because of how well the spool is held by the machined frame. It simply amplifies the aspects of a large drag system.
Drag System: It features a cork and Teflon carbon fiber drag system that is very compact. We love how smooth the drag is especially if using it for the first time. The consistency is so impressive. As you adjust the settings, it gives an impressive click sound that notifies you of the drag movement. You have to care for the drag system well to avoid any inhibitors from affecting it. Rinse it well to remove any sand, gravel, and other particles.
Conversions: You can retrieve from the left or right side and back without a problem. There are conversion instructions up on their site if you find it difficult.
Handle: Redington twin molds the handle to ensure that it fits well in your hand and you can hold onto it longer without getting blisters. The designers reduced the contours on the drag knob which was a good thing to do. It is oversize and you will love how it feels when you grip it.
Applications of the Redington Rise Reel
Despite having a semi-sealed drag system, it is built for both fresh and saltwater use. Any angler looking for a versatile reel for these two areas will find this one useful. We still insist on giving it a proper rinse after every use to maintain the drag system.
Pros – The Good about the Redington Rise Reel
Ultra-large U-shaped arbor

CNC-machined 6061 aluminum frame

Excellent conversions

Comes with a nylon reel case

Lifetime warranty at $30

Quick-release spool

Various sizes available
Cons – The Concerns though not Deal-breakers
Start-up energy slightly higher with frequent use
Semi-sealed drag system that needs frequent maintenance
---
Ross Animas Fly Reel
Ross Animas is among the reels that were wade by very conscious designers who wanted to improve drag strength first and that worked in their favor.
Very few reels can compete this one in that sector. We love how the hard stop is in the drag and will be below the limits of 2.25lbs. Another bonus of this reel is there being no startup energy.
Abel and Ross Reels are by far the leaders in sound when it comes to reels clicking after cranking. It is excellent and something that we'd recommend for anyone looking for something gentle to the ears.
The concern is in the spool design that makes the retrieve slower than most of the others in its category.
For the looks, it is a fine reel that boasts modernity, and it is easy to feel how much care the designers put into it. The handle isn't so skinny like the Waterworks-Lamson Litespeed but is one that any angler will love.
The drag knob here is HUGE and might seem strange with just a look. It is rad when you fish it and for this, Ross got it right.
---
Main Features of the Ross Animas Fly Reel
Frame: Ross Reels also makes this one from 6061 aluminum alloy and we love how sturdy and durable it is. This can be a good one for avid anglers who often pick their reels on rocks and are up and about testing various flies. The construction material is also what determines if a reel will be ideal for brutal environments and this one has proven that it is unshakable.
Drag: You will spot a composite disc drag system that is powerful and has a salmon-stopping power. It has a way of withstanding heat hence its application in warm water. It is among the few fly reels that can multi-task in any area without breaking down. It is low maintenance because of how self-lubricating it is.
Retrieve: Animas is programmed for the left hand retrieve. However, it is a good thing that you can make conversions to either side without any problem. The quick-release spool makes it easier. Check a few videos up on how you can convert the retrieve.
Arbor Size: Ross Reels designs this reel with a large arbor to ensure that it functions better than small or medium-sized ones. Large arbors are spacious to ensure that you pick up lines in chunks and this means less reeling. Also, you hardly need to detangle as there are no smaller coils that are difficult to undo.
Handle: The handle comes oversize though quite appealing than what was in the previous model. The grip is one of the best and possible even with wet hands. Don't worry because it is gentle to your palms. The huge drag knob has the construction of the reel's frame but comes with a reversed taper for more control.
Application of the Ross Animas Fly Fishing Reel
We are stunned by an all-round reel that you can carry to any location. Fly fishermen love collecting good pieces, each for their use. It will surprise you that you can own only one that is unbowed.
Animas fly reels have excellent construction and the drag system allows for use in freshwater, saltwater, and warm water without any difficulty.
For the amount that it goes for, you will be getting ten times over when it comes to versatility.
---
Pros – The Good about the Ross Animas Reel
Retrieve to any side

Versatile use

Durable reel construction

Various sizes available

No startup energy

Low maintenance drag system

Lifetime warranty
Cons – The Concerns though not Deal-breakers
Heavier than most reels in its category
Similarities of the RISE and Animas Fly Reels
Frames of both fly reels are made from 6061 aluminum and have an anodized finish.
Fly reels are applicable in both fresh and saltwater areas.
These reels come in various sizes to allow you to choose one that matches your needs.
Animas and RISE feature quick-release spools.
The two manufacturers back their products with lifetime warranties.
You can make conversions of the retrieve on both reels as you please-from left to right or vice versa.
Differences between the Redington Rise Fly Fishing Reel and Ross Animas Fly Fishing Reel
| | | |
| --- | --- | --- |
| ASPECT | REDINGTON RISE REEL | ROSS ANIMAS REEL   |
| Drag System | Cork and Teflon carbon fiber | Composite disc |
| Arbor Size | Ultra-large | Large |
| Arbor Shape | U-shaped | Bell-shaped |
| Seal | Not fully sealed | Fully sealed |
| Spool | Captive spool release | Quick spool release |
| Startup Inertia | More | No |
| Sizes | 3/4, 5/6, and 7/8 | 4/5, 5/6, and 7/8   |
| Weight | 4, 4.6, and 5.7 oz.  | 4.1, 4.43, and 4.74 oz.  |
| Handle | Twin molded | Ultra-light canvas phenolic |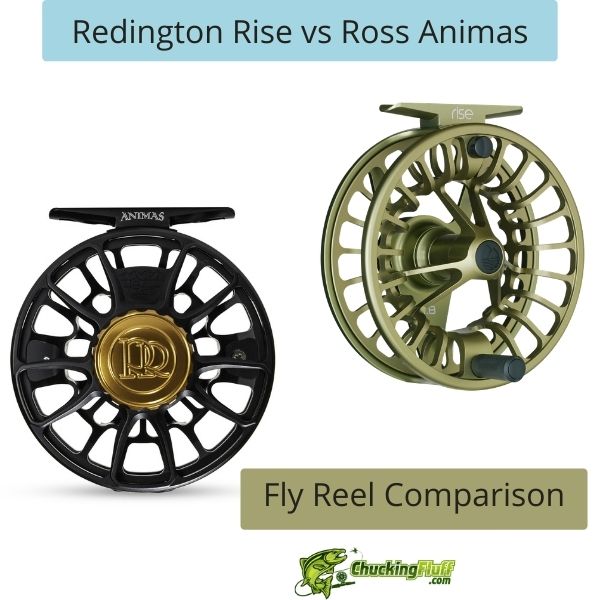 The Redington Rise fly reel and Ross Animas fly reel have time-proven features. We love how the upgrades are machined and the new highlights make the reels better.
These reels have no limitations concerning the level of skill. As long as it matches and balances well with your rod, go for it.
The construction is durable and we advise giving a thorough rinse after each use to prolong their lifespans.
Check Rise Web Availability
Check Animas Web Availability