Disclosure:
Just to be open and honest the buttons and links you click on in the website will in most cases take you to another website where you can purchase the products I am reviewing. As an Amazon Associate I earn from qualifying purchases.
July 31, 2023
Scientific Anglers Air Cel Fly Line Review – Budget with Flair
Cliché as it may sound but fishing is one of the most relaxing and fulfilling pastimes. Some anglers even bring their kids along on their weekend fishing trips, and although there were surely times when they failed to catch anything, it always proved to be a worthwhile effort.
Even when the kids get older, they can still join you on your weekend fishing trips and for many, little has changed. You still need to get up before 4 or 5 in the morning and probably pile into an old, trusty pick-up afterward.
Most experienced anglers also probably set up camp in the same spot by the same lake on their favorite fishing grounds. And many of them are using the classic Scientific Anglers Air Cel Fly Line along with their old fishing rod, just like they used many years back.
Unlike much of the new fishing lines being released on the market today, the Scientific Angler Air Cel Fly Line doesn't come with welded loops on both ends, but that doesn't make it any less reliable.
Sure, anyone loyal to the brand may have had the occasional fluke over the years where the line curls up on the reel not long after it's been stalled, as one Scientific Anglers Air Cel Fly Line Review pointed out.
However, the folks from the company were kind enough to replace it with a new line.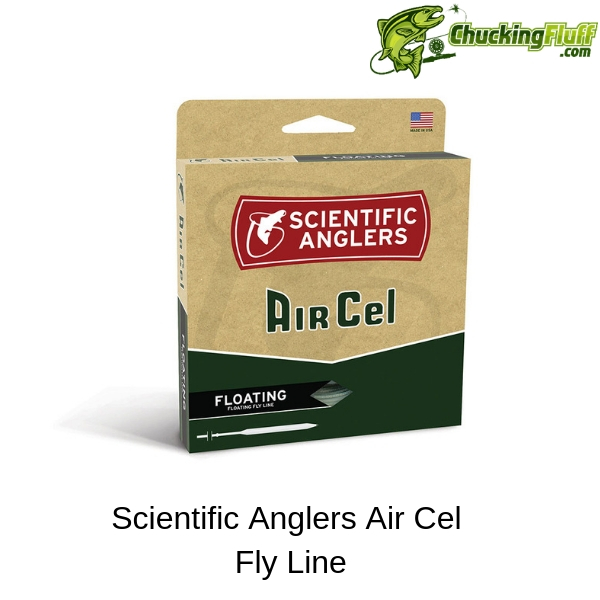 Check Fish West Air Cel Price
Fly fishing can be very confusing when you're a beginner, and purchasing a basic fly-fishing kit can be quite frustrating if you use both the rod and the line that it came with. Those with many years of experience can tell you that using the right kind of line makes a big difference in the outcome of your fishing trip.
Many of them also become a convert to the Scientific Angler brand after realizing that you need to use less effort to cast and mend the rod after installing the brand's Cel Fly Line.
The Scientific Anglers Air Cel Fly Line also has very little memory recoil and is supple enough to withstand prolonged use in chilly weather. For fishing spots that can sometimes be quite cold, fishing lines that turn rigid during such times is always a problem.
However, you will never have to deal with that when your rods were equipped with the Air Cel Fly Line. Even if you don't have to deal with the inconveniences of the cold weather, you can still appreciate the low memory recoil of this fishing line since it makes for a more flexible and supple texture to hold.
---
---
Also, while there's nothing really groundbreaking about the Air Cel Fly Line's overall structure (It's got a mid-length head instead of the extended ones on most of the new models coming out, for instance), it's still a solid choice if you need a good-quality floating line.
It's a good fit for most applications, so it can suit a variety of purposes, and it's also great for casting or shooting. The original Air Cel Fly Line isn't known for floating as high as its successor (the Air Cel Supreme 2) but given its reasonable price range, it makes it easy for amateur fly-fishers to purchase an additional Wet Tip Line to counteract that limitation.
If you are an avid fly fisher who needs to balance an entry-level paycheck with the demands of a young family, it can be quite a relief to be able to get a good-quality fishing line for a low price.
The trademark light green/yellow color of this fishing line is one feature that any angler would also appreciate since it makes it easy to look for in a toolbox full of other fishing gear, while it blends in well enough into the background when you cast it in the water.
The line also goes quiet once you've cast it onto the water, and it can remain as still as you need it to be while you wait for a bite to come along. When you're fishing around for a jumpy or suspicious catch like carp or trout, those things can make all the difference in the world.
---
If you're used to loading your rod with lesser quality fishing lines, you'll feel the difference on the first cast once you've loaded up with the Air Cel Fly Line, as more than one Scientific Anglers Air Cel Fly Line Review has pointed out.
Its unique internal lubricants help make its movements a lot slicker, so a slight flick of the wrist is all it takes to get the line moving. For this very reason, a lot of seasoned anglers have always found it especially easy and perhaps even enjoyable to shoot or cast with a length of the Air Cel Fly Line.
That buttery-smooth motion just adds to the overall enjoyment of the activity, and not having to exert as much effort to cast your line out there can make you feel even more relaxed whenever you go fishing.

The product seems to be really durable, too. One reel of the Air Cel Fly Line can last for four-five seasons with moderate use, but there are some who have reported going about six and a half seasons before changing the reel. You could even catch a 30-lb. bass with very little trouble while using this fishing line.
---
FAQ's – Questions about the Scientific Anglers Aircel Fly Line
Q) What is the length of this fly line?
A) The fly line measures 80 feet
Q) How many loops does this line have and where is it positioned?
A) The line has only one welded loop which is located at the front side.
Q) Can this line work for a 4wt?
A) Aircel is available in several sizes and for the 4wt, it will work perfectly.
Q) Is this line an all-purpose fly line?
A) Yes. This fly line is all-purpose and can be used for nymphing, streaming, dry flies, bass, and trout.
Q) How good is the core? Is it durable?
A) The braided multi-filament core is excellent and the construction makes it durable.
Q) How long is the head?
A) The head is of mid-length- 40' making it possible for general fishing solutions.
Q) What is the color of the fly line?
A) This one comes in a yellow color which is perfectly visible and easy to see strikes.
Q) How is the memory coil and its ability to withstand freezing temperatures?
A) The Aircel line has very little memory coil and can withstand very chilly weather without turning rigid.
Q) How does the line behave when cast in water?
A) The line is quiet and will remain still for as long as you want it to.
Q) Are the movements of the line something to worry about?
A) No worries at all. The movements are very slick thanks to the unique internal lubricants in the line.
Q) What sizes does this fly line come in?
A) This fly line is available from size 4 to size 9.
Q) Does this line sink at times or maybe after a few sessions of casting?
A) No. This line has been designed for floatation only and instances of sinking are very rare.
---
All in all, despite the existence of more expensive fishing lines with better-tapered heads and some sort of revolutionary finishing for better flotation and mending, there's a good reason why a lot of anglers end up going back to Scientific Angler's Air Cel fishing line anyway. There is just something about this old reliable one that makes you feel like you're in your element.
You will also love its no-frills, straightforward, and uncomplicated structure as well as its consistent reliable smoothness and durability. There are also a good number of anglers who have gotten used to its comparatively moderate length, so you would definitely find a reel of this in their toolboxes at any given time. And with that price tag, it really isn't that difficult to stock up on these reels for your next fishing session.
Last update on 2023-10-03 / Affiliate links / Images from Amazon Product Advertising API
This product presentation was made with AAWP plugin.