Disclosure:
Just to be open and honest the buttons and links you click on in the website will in most cases take you to another website where you can purchase the products I am reviewing. As an Amazon Associate I earn from qualifying purchases.
August 6, 2019
Orvis Clearwater Fly Line Review – Optimizes Floatation
Talk of Orvis when it comes to experts in the manufacture of high-end sporting and recreation goods.
Especially fly fishing. This family-owned retail business has been producing high-quality products for over 150  years and they are still in business to date.
In fact, Orvis has remained top of the list because of its high regards for customer satisfaction.
Their expertise is manifested in all products including the Clearwater Fly Line that is professionally designed using a set of special technologies that ensure its performance is incomparable.
Its features are amazing like in this Orvis Clearwater Fly Line Review.
If you love going fly fishing, you will definitely love this fly line because of its less drag and ability to cast further.
Forget about guessing because this line, among others from Orvis is quickly and easily identifiable.
The line is printed with weight, taper, and functionality. When you see Orvis, you see the quality and get value for money with every cast.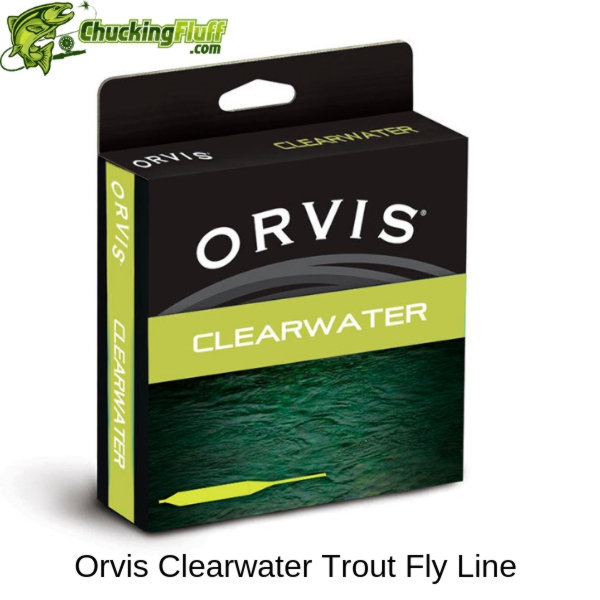 Orvis Clearwater Line Amazon Price
Main Features of the Clearwater Fly Line
• Profile – This is a fly line that is better for distant casting. Orvis' patented additive on the fly line makes the fly line very slick enabling you to cast longer distances.
• Welded Loop – Clearwater fly line has well defined, neatly folded and durable welded loop on the front end for easy and quick leader attachment as you hold the fly line. This loop makes energy transfer from the fly line to the leader very efficient resulting in smooth and better turnovers.
• Value for Money Top End Product – If you are looking for a budget fly line that is an outperformer for your fly fishing sessions if you are still an amateur, then you have found it already! Clearwater Fly lines are cheap and affordable and still as high performing like any other fly lines by other competitors that are highly-priced. It is certainly something to take home.
• Special Technologies – Orvis designed this Clearwater fly line with the micro-texture technology that greatly increases floatation abilities while minimizing on friction in joined parts making the line more efficient and a high performer with every fly fishing session. The micro-texture technology gives the line unimaginable sickness and the patented additive incorporated in the fly line allows for longer casts and ensures that the fly line remains clean. The line has a repulsive function towards algae, sand, dirt and any other particles in water that will affect floatation.
• Beginner Fly Line – The Clearwater Fly Line is perfect for new casters to improve their casting slowly with confidence. It is very user-friendly and a great help for beginners to start with and hack their entry-level. The line isn't that accurate and powerful as the technical ones but for starters, this is the real deal to sharpen your fly fishing skills. Even experts began by using this fly line from Orvis.
• Line Specifications – This line comes in fluorescent yellow and in sizes ranging from 3 to 9. You can choose any size depending on your preference. The grain weight differs with the size of each line the smallest size has a weight @30' of 111 and that of size 9 is 261. The fly line has an overall length of 90 feet. The head measures 30 feet and the middle 23.5 feet. The total length of the running line is 59.5 feet.
Dimensions of the Clearwater Fly Line
| | |
| --- | --- |
| Line Aspect | Result |
| Total Length | 90 ft |
| Head Length | 30 ft |
| Belly Length | 23.5 ft |
| Running Line Length | 59.5 ft |
| Taper Profile | Front Loading |
| Loops | Front Only |
| Sizes Available | WF3-9 |
---
Customer Thoughts on the Clearwater Fly Line
The Orvis Clearwater fly line is excellent and cast very well for distance. There weren't any instances of unnecessary occurrence of drag.
Welded loops on the line are prominent and well folded. It made leader attachment very easy and the turnovers were smooth enough. However, there was a tear at the welded area needing replacement.
The Clearwater fly line had memory problems and several line twists that needed often stretching. This greatly affected castability. Despite cleaning the line almost daily, the problem recurred.
Beginners on a budget can get this excellent fly line from Orvis to horn their fly fishing skills. It is the best in the market for starters.
After a few casts, the fly line didn't float well. The tip begins to sink with every cast making dry fly presentation difficult. It sank even in calmer water.
The line is straight, true and runs very smoothly through the guides.
Its color makes visibility great and identifying your lie while fly fishing doesn't have to make you squint.
---
Pros – Things we like about the Clearwater Fly Line
Cheap and affordable
Perfect for beginners
Welded loop for easy leader attachment
Easily visible fly line
Greatly reduced friction
Smooth turnovers
Quick and easy loading action
Excellent performance in different conditions
Great value for money
Cons

– Things not so good
Experts won't find it reliable because of their skills
With frequent use, the tip begins to sink going contrary to its floatation function
A few memory issues here and there that need stretching the line often
---
FAQ's – Questions about the Clearwater Fly Line
Q) Does the line have welded loops?
A) Yes, the line has a welded loop on the front side for leader attachment
Q) I have an Orvis rod matched with a line reel and tackle will shooting give me trouble?
A) No, in fact, the line shoots with very little effort and there are no contests at all.
Q) Is this line good for a 6 wt. Western rod?
A) No issues at all. You can choose to use the 4 wt. line and a 20 ft. tapered leader.
Q) Can it cast easily in poor light?
A) Line identification by Orvis to make this line fluorescent yellow was excellent so that it is visible at all times and from far.
Q) Does the line stick in the guides?
A) The line is supple and it flows through the guides very well.
Q) Can the line be used in freshwater for panfish and bass?
A) Yes. You can trust it to give you a catch.
Q) Are there issues with the memory?
A) Once in a while you will experience coiling and will need to stretch the line.
Q) What are the sizes available for this line? I want a size 6.
A) The fly line can be bought in different sizes ranging from 3 to 9. So size 6 is available.
Q) What is the head length for size 9?
A) Size 9 has a head length of 30 feet.
Q) Does the tip sink?
A) There have been a few complains of the tip sinking after a few uses but overall, it is a great line.
Q) How strong is the loop? Will it break after using it severally?
A) The loop is made from durable material and is neatly welded. There are no instances of breakages and you can use as many different leaders on it with different weights.
---
Final Verdict on the Clearwater Fly Line
There is everything about this Orvis Clearwater Fly Line Review that you will love.
The fact that it is a beginner fly line is exciting because amateurs do not have to feel left out. There is something for them too. The line is not costly and you will love this feature.
If you are working on a tight budget and still need a fly line that will surpass your expectations, Orvis got you sorted. Get to your nearest sports store and get this line for your next fly fishing sessions.
Orvis products are high on demand and sometimes you will find this fly line out of stock-now you understand that it is loved by many.
Do not cancel your plans because you did not find a piece or two for yourself.
You can select from Rio Mainstream Trout fly line, Airflo Forge Fly Line, Scientific Anglers Air Cel Floating Line, Cortland 444 Classic Trout All-purpose line, and Airflo River and Stream Floating fly lines which are good alternatives if you find them in the store.
These alternative lines are within the price range of the Orvis Clearwater Fly Line so you will not have to dig deeper into your pocket. Their performances are similar and are sure you will get value for your money.
Orvis Clearwater Line Amazon Price