Disclosure:
Just to be open and honest the buttons and links you click on in the website will in most cases take you to another website where you can purchase the products I am reviewing. As an Amazon Associate I earn from qualifying purchases.
July 26, 2018
Temple Fork NXT Fly Fishing Combo Review – Fish in Style
If you are a fan of fly fishing, you must have heard of the Temple Fork NXT Fly Fishing Combo Outfit. Revolutionizing the sporting industry, its mother company is among the leading producers of fly fishing gear, accessories and kits. In the outfit, the fly rod's performance depicts excellence and learning the sport for beginners is smooth, call it a less complicated combo.
Usually at medium fast, its handling is delicate and sensitive. However, not only being delicate it will load well to make it is easier when making the longest casts into an unstable wind. The rod is forest green and has composite cork handles that are very durable – ergonomically pleasing and good to hold.
Stripping guides are made of Aluminum oxide-very sturdy. Snake guides are made of stainless steel in a mixture of chromium. Reel seat from anodized aluminum makes the entire package worth getting for a memorable experience at the shores where it will be anti-corrosive to the seas salty grip. Note: Always rinse off with freshwater immediately after using on salt water.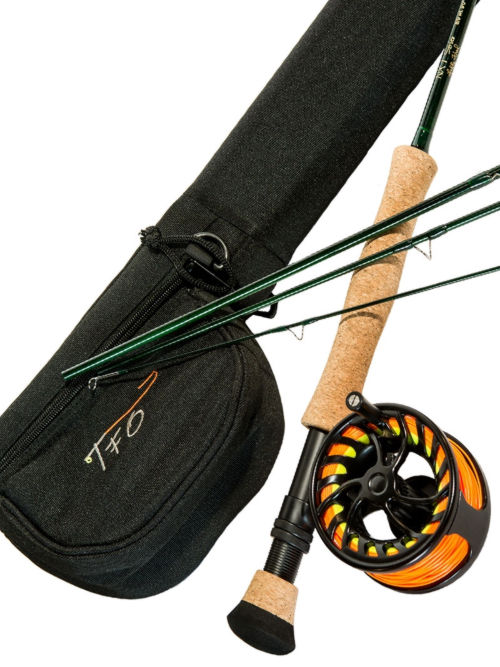 [button link="http://amzn.to/2C8GRHP" type="big" color="green"]NXT Combo Amazon Availability[/button]
Main Features of the Temple Fork NXT Combo
In this Temple Fork NXT Fly Fishing Combo Review we will explore the contents of the outfit which are a NXT LA reel, a durable floating line, backing and leader and the fly fishing rod all protected within a cordura rod tube
.
Cork handle – Engineered to work any duration by both beginners and experts, the cork handle is durable and composited to enhance its performance. The smooth finish is friendly to your palms and does not cause bruises if you go long hours of fly fishing.
Guides – These don't get ruined no matter what. Stripping guides are made of Titanium oxide which is among the strongest elements in the metal world. Snake guides are made of stainless steel impregnated with Chromium-can you compare it with those of other outfits?
Reel – Temple Fork NXT Fly Fishing Combo has a reel seat made from anodized aluminum. Designed for fly fishing in both saline and fresh waters, the aluminum had to be anodized to withstand the tough conditions in salty water. Thanks to the metal treatment, the reel never rusts.
Fly Line – The reel has been loaded with a backing line, leader and a weight forward floating line.
Drag system – Employing the disc type drag system, amount of pressure created is evenly distributed and enough to give you a striking fly fishing experience. Get a trout home and smoke it for dinner.
Environment for use- No limitations when you purchase this outfit. The whole package has been engineered to be perfectly used in both fresh and salty water. The metal treatment-anodization-is what makes this possible.
Outfit protection – When going out for fly fishing, carry your outfit in its case that accommodates the reel, rod and line preventing contact with moisture, dust, sand and grit. You wouldn't want to arrive at your fishing destination with your combo getting beat up, no problem with the protective tube.
Warranty – Don't you love a subsidization on packages you buy? This one will excite you. The company offers a free lifetime warranties on the entire outfit. This saves you on any costs on repairs and maintenance.
---
Other Aspects Materials and Treatment used
The components of the outfit are made from different material. The reel is made from cast aluminum while the snake guides are from stainless steel mixed with chromium. The stripping guides are made of aluminum oxide-anodized. The rod is made from IM6 graphite.
Reel – Reel seat is matte black in terms of finish and made from anodized aluminum. It has double up-locking rings to enhance performance. Its arbor if of perfect dimension to boost retrieval power.
Rod – IM6 graphite rod offers medium-fast action making it the best for fun fishing. The material is durable and light in weight allowing you to enjoy fishing for long hours without getting exhausted. Dissembling in four pieces translates to its compact nature making storage and mobility easy.
Rod Length – The 4/5 Wt model has a length of 8'6'' while the 5/6 Wt and 8/9 Wt have a length of 9'' The 8/9 comes with a fight butt for added strength.
Drag system – Disc drag system is what the Temple Fork NXT Fly Fishing Combo uses to create a powerful drag that outdoes other brands.
Capacity – The capacities are depending on the model- WF4F/20lb/140 yards, WF5F/20lb/120 yards, WF6F/20lb/100 yards.
Weight – 4/5 Wt model reel weighs 4.7 oz., 5/6 Wt reel weighs 4.7 oz. and 8/9 Wt reel weighs 5.3 oz.
---
What Customers Thought of the TFO NXT Combo
A satisfied owner brags about the flexibility of this outfit. Considering its cosmetics, it works perfectly in both fresh and salty water.
Best used for fly fishing and catching small fish its ability to dissemble into four pieces makes it compact and transportation easy.
The medium-fast action is accurate while casting. You certainly never miss an aim.
Mostly, this outfit is used to catch small fish and generally for fly fishing.
---
Pros – What we like
• Compact and cuts on storage space
• Easy to transport
• Flexible in all environments
• Accurate casting
• Durable outfit
• Lifetime warranty
• Reel case for protection
• Medium-fast action
• Perfect aesthetics
Cons – What we don't like
• Cannot be used for catching big fish
---
Final Verdict on the TFO NXT Fly Fishing Combo
How about a new experience with the Temple Fork NXT Fly Fishing Combo? This is the ultimate choice for anyone with an undying interest in fly fishing. In this Temple Fork NXT Fly Fishing Combo review, you can attest to the simplicity and goodies of this combo. Purchasing this outfit is making a lifetime investment because of how durable it is-incomparable!
From its looks, it depicts class and style. The black matte finish on the reel is exquisite and appealing. The manner in which it minds your health no other can. Composite handles are smooth for grip and do not cause blisters to your hands no matter how long you go fishing. The lightweight rod favors your back and does not aggravate pains. Don't you think this feature of the Temple Fork NXT Fly Fishing Combo is great?
Due to people's love for this outfit, demand can be high and your online store runs out of stock. Don't go too far. There are several outfits in this price range that you can purchase and still does the fishing like a pro. Temple Fork Pro ii, Temple Fork Signature ii and Temple Fork TFR if available, get yourself one and don't miss the fun this weekend.
The lifetime warranties on the entire outfit-oh boy! Very few companies give this offer. Your costs on repairs and replacements are bailed. Simply return the package to the manufacturer and wait for a good comeback. Fish in style!
[button link="http://amzn.to/2C8GRHP" type="big" color="green"]NXT Combo Amazon Availability[/button]
[button link="https://chuckingfluff.com/best-fly-fishing-combos/" type="big" color="purple"] Still unsure? More Combos Here![/button]