Disclosure:
Just to be open and honest the buttons and links you click on in the website will in most cases take you to another website where you can purchase the products I am reviewing. As an Amazon Associate I earn from qualifying purchases.
April 3, 2019
Redington Crosswater Combo vs. Orvis Encounter Fly Combo – Beginner and Budget Friendly
Two giants in the fly fishing industry are working effortlessly to see that anglers are loving adventure and fun in the natural world.
Orvis and Redington are doing exceptionally well in the manufacturing and supply of high-quality fly fishing gear, equipment and apparel.
Just like what is in this Redington Crosswater Combo vs. Orvis Encounter Fly Combo comparison.
Redington has been in existence since 1992 while Orvis has hit a century and over since it was founded in 1856. Both companies pride themselves in customer service and satisfaction.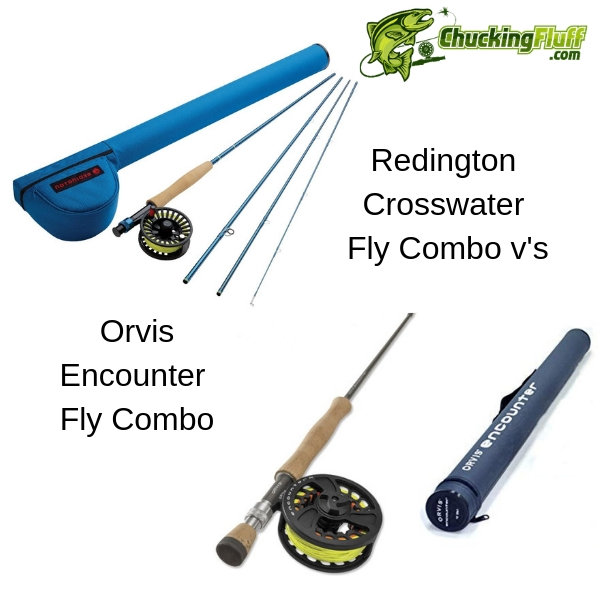 Redington Fly Fishing Combo Kit 590-4 Crosswater Outfit with Crosswater Reel 5 Wt 9-Foot 4pc
Orvis Encounter 5-Weight 9' Fly Rod Outfit
To stay in business for all this while, these companies embrace technology and customer feedback to ensure that what is released into the market is top-notch in all aspects.
If you have used a couple of reels, rods, or waders from either Orvis or Redington, you will discover a 'sister' series where the company redesigns an older version of a product, upgrades a few features and waits to see what reception the new design gives.
Never has this been a disappointment.
The two combos in this review are great in all aspects.
There are individual reviews on our website with detailed information.
We sampled the combos and made available great info that you need.
In this review, we compare the two and let you decide which one will be best for you.
Depending on what you need either of the two combos for, you will not lack an option to go home with.
Sale
Redington Fly Fishing Combo Kit 590-4 Crosswater Outfit with Crosswater Reel 5 Wt 9-Foot 4pc
MEDIUM-FAST ACTION: It is a smooth-casting, medium-fast action graphite fly rod, offering classic performance for all levels of anglers and suitable for both fresh and saltwater fishing.
VERSATILE USE: The anodized machined aluminum reel seat makes this gear piece ideal for both salt and freshwater angling.
EASY TO ASSEMBLE: The rod comes in 4 pieces that have alignment dots for easy setup.
PERFECT COMBO: The kit includes a Crosswater rod, Crosswater reel pre-spooled with RIO Mainstream WF fly line, and Cordura rod tube case.
REDINGTON WARRANTY: If your Reddington product has a defect in workmanship or materials, we will repair or replace it at once - you have 1 year from the moment of purchase to make a claim.
---
Redington Crosswater Fly Combo Review
The Redington Crosswater 4 piece 9ft 5-6 Combo is an excellent choice for anglers looking to shop on a minimal budget.
This doesn't mean that the outfit is sub-standard. In fact, it beats some of the high-end combos in performance and durability.
The combo comes as a complete package and ready to use. Tie on your favorite fly and hit the water.
The package consists of a Redington Crosswater Rod, a Crosswater Reel pre-spooled with a RIO Mainstream fly line with a tapered leader and backing, a reel case and a Cordura rod tube.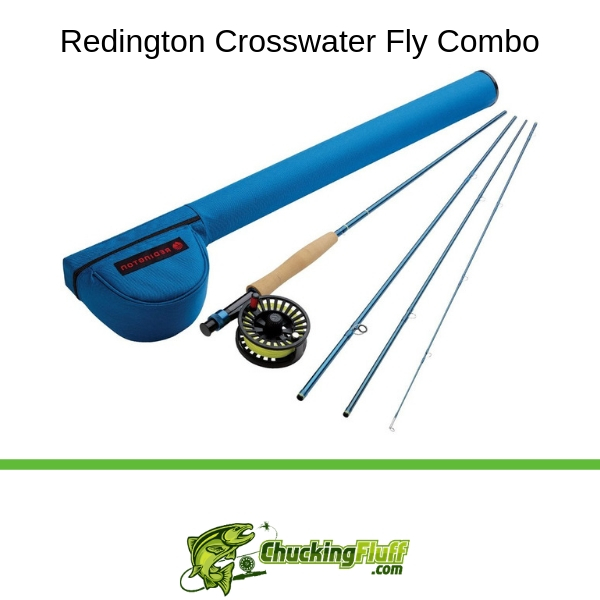 ---
Key Features of the Crosswater Fly Fishing Outfit
The Redington Crosswater rod is an all-water tool. Thanks to the anodization process, it strengthens the reel seat and the hard coating makes it corrosion and rust resistant.
Setting it up is a breeze. Redington was thoughtful to have this rod with alignment dots to save time when getting the rod pieces together.
This combo is not limited to anglers of a specific level. With a medium-fast action rod, it is efficient for both starters and intermediate anglers to use.
It has a more forgiving nature and is easy to learn new fishing techniques.
Paired with a Redington Crosswater Fly Reel, its spool is removable.
The disc drag provides more resistance to the revolving reel spool that slows down the fly line's speed as a running fish takes it off the reel.
This system allows the reel to handle different species of fish.
Whether you want to reel the reel on the right or left-hand side, this reel allows for an interchangeable retrieve.
Both reels in this Redington Crosswater Combo vs. Orvis Encounter Fly Combo share this aspect.
The retrieval rate is even quickened by the large size arbor.
For protection purposes, Redington includes a durable reel case in the package to protect it from damage when not in use.
The reel is pre-spooled with a RIO Mainstream fly line that has a neatly welded bullet-proof front loop for faster leader attachment.
It is a weight forward floating line to give an angler the best fishing experience by providing additional heft to your line for easier casting especially in the wind.
If you are using larger flies for trout, they turn over very well landing on water with excellent presentation.
---
Application of the Crosswater Combo
Most of the time the Redington Crosswater 4pc 9ft 5-6 fly combo is used for trout fishing.
Redington has an all-water rod in this combo. The polymer reel also makes it a versatile combo that you can use to fish in both fresh and saltwater environs without difficulty.
---
Pros – What we like about the Redington Crosswater Combo
Affordable combo
Comes as a complete package
Pre-spooled reel
Versatile application
Comes with a reel case and a Cordura tube
Alignment dots for quick set up
Cons – Things that we don't like
The line can work well with larger but lighter flies but not the heavier types
There is line memory especially in the cold days and will need stretching before casting.
---
Orvis Encounter Fly Fishing Combo Review
Manufacturers like Orvis love to have the needs of beginners in mind. Orvis nurtures amateurs through the Orvis Encounter Fly Fishing Combo.
It is everything you need if you are starting off. The combo comes with an Orvis Encounter Fly Rod, an Orvis Encounter Fly Reel and a Clearwater fly line from Orvis.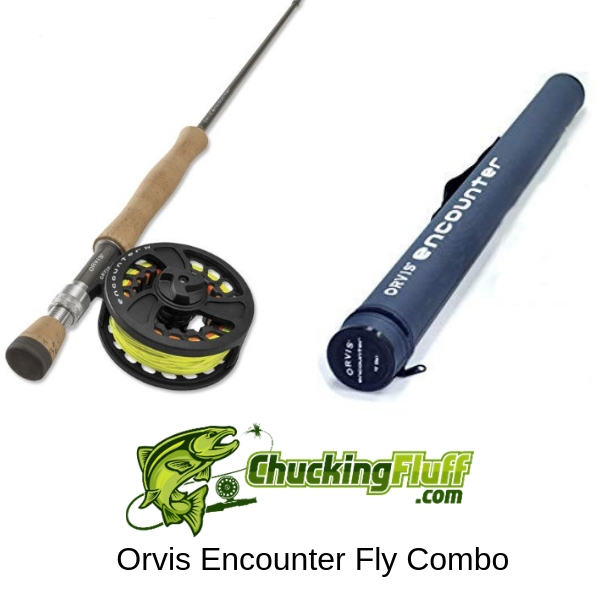 Check Amazon Encounter Price
---
Key Features of the Encounter Combo
The Orvis Encounter Fly Rod has a lot of flex and is very easy to use. As a four-piece rod, it easily disintegrates into individual pieces for secure storage into a rod tube.
This one doesn't have alignment dots but that doesn't mean it will take a long time to assemble it. Skill mastery is what you need to ensure you do it quick.
Built to have a medium-fast action, it turns out better and economical to get it compared to having different rods for different actions.
As you try different techniques, you learn how to time your casts so that it can be easier to handle rods with fast actions.
Orvis gives two reel options to choose from. There are packages with the Encounter Large Arbor IV reel and others with the Encounter Large Arbor II Reel.
All of them are high performers and have a Rulon to Stainless steel stacked disc drag system.
The combination allows an angler to stop large fish with ease and provides a very wide operating range option of drag settings.
Reels in the Redington Crosswater Combo vs. Orvis Encounter Fly Combo comparison review have large arbors for quicker line retrieval and greatly reducing line memory.
It is easy to make retrieve conversions from the right to the left-hand side and the other way round.
You can make settings that suit you using the positive click drag knob.
Orvis uses everything from its company in this combo. No outsourcing.
The reel comes pre-spooled with the Orvis Clearwater Weight forward fly fishing line which is built half-size heavy to aid in rod loading.
The line is designed to have a compact head that creates a positive leader turnover.
Orvis adds its patented additive to the fly line to minimize friction.
---
Application of the Encounter Combo
If you are looking for a full combo with a backup rod as a travelling angler or a novice in this sport, it does well on small and large lakes, rivers and fisheries.
It is an all-rounder combo and has all the performance and power that any fisherman or woman would ask to get at a good price.
You can have it for sea trout, sea bass, reservoir trout or small salmon rivers.
---
Pros – What we lie about the Encounter Combo
Budget-friendly
Beginner and intermediate combo
Lightweight
Excellent construction
Reel is pre-spooled
Cons – Things that we don't like
Comes without a case making you incur a separate cost for it
---
Similarities of the Redington Crosswater Fly Combo and the Orvis Encounter Fly Fishing Combo
Both combos in the review have fly fishing rods measuring 9 feet. However, you can get other models of the same combo if you'd like to try out different rod lengths.
The two combos have four-piece rods. They disintegrate into sections of equal dimensions for secure and easy storage in rod socks and Cordura tubes.
Both combos come as ready to use packages whose shared components are a fly rod, a fly reel pre-spooled with a fly line with leader and backing.
Both combos are lightweight to make it easier for beginners and young anglers to use for a long time without feeling exhausted.
Reels in both combos have large arbors for quicker line retrieval and reduction of line memory for anglers fishing in cold environments.
Both reels have disc drag systems to allow for easy stoppage of large fish.
Both combos are versatile and can be used in both fresh and saltwater environments because of the construction of the reel seat and reel.
---
Differences between the Redington Crosswater Fly Combo and the Orvis Encounter Fly Combo
Rods in both combos have a medium-fast action for easier switching of techniques. This means that the two combos can be used by anglers of all levels.
These combos are from different manufacturers who are doing very well.
A quick glance at the Redington Crosswater Combo and the Orvis Encounter Fly Combo gives the first difference in design and appearance.
But most anglers don't take much interest in these two aspects. Their major concern is in the features and performance.
The Redington Crosswater Combo vs. Orvis Encounter Fly Combo comparison table below distinguishes the aspects of each combo.
---
| | | |
| --- | --- | --- |
| ASPECT | REDINGTON CROSSWATER  | ORVIS ENCOUNTER  |
| Rod action | Medium-fast | Medium-fast |
| Reel seat | Anodized machine Aluminum | Aluminum with a wooden insert |
| Rod handle | Reversed Half Wells | Grade A Cork |
| Reel material | Durable Polymer | Composite Plastic |
| Accessories | Tapered leader, backing rod tube and reel case | Tapered leader, backing and rod tube |
| Alignment dots | Yes | No |
| Warranty | Limited 1 year | Limited to manufacturers defects |
| Rod usage in Water | Freshwater and Saltwater | Freshwater and Saltwater |
---
Final Verdict
If you are window shopping for an affordable yet comfortable and appropriate fly fishing combo, the Redington Crosswater and Orvis Encounter are excellent options to settle for.
The best part of everything is that you don't spend any time looking for components separately.
In fact, the manufacturers are very considerate and make these as complete packages for you to unbox and use.
Do you know the fear that comes with trying to buy each gear individually? You might get a second-hand or bogus item that is valueless.
There are many similarities in the construction of the Encounter and Crosswater outfits.
Traveling anglers will attest to how convenient it is to have a 4-piece rod when going out. It easily disassembles into the four pieces to fit in a Cordura tube and inside a backpack.
The compactness is an awesome feature that you will love in both combos.
Must you have a bin of rods for each condition? If yes, then you must be willing to spend much.
Medium-fast actions are excellent and economical. You learn both techniques using one combo. Saves on storage space as well.
Generally, the combos weigh less to allow anglers of all ages use it for a longer time while still feeling comfortable.
If you are still at the induction stage or have paced this journey for a while, these combos are ideal for you.
The action is more forgiving and just what a beginner or intermediate angler needs.
The reels are made from durable material. Even though polymers and composite plastic reels are not impact-resistant, they can serve very cautious or occasional anglers.
Reels are versatile and can be used in both fresh and saltwater environments. The fear of rust and corrosion is real if you have a metallic fly reel.
This one translates to easy care and maintenance. Once in a while give it a quick rinse to keep it clean from sand, grit, oil and scum.
From the Redington Crosswater Combo vs. Orvis Encounter Fly Combo comparison, it is evident that Redington and Orvis are striving to ensure they combine performance, affordability, durability and reliability in all combos.
Choose one that appeals to you and put it to the test.
Last update on 2023-06-01 / Affiliate links / Images from Amazon Product Advertising API
This product was presentation was made with AAWP plugin.