Disclosure:
Just to be open and honest the buttons and links you click on in the website will in most cases take you to another website where you can purchase the products I am reviewing. As an Amazon Associate I earn from qualifying purchases.
September 6, 2018
Redington Path II Outfit Fly Fishing Combo Review – Great Beginner Setup
A new model from Redington that perfectly fits your casting style-the Redington Path II Fly Fishing Outfit is what you need for the most memorable experience at the shores. The rod is sturdy and creates a moderately fast action while fly fishing. Versatility is its major highlight. You can use it to capture small trout in shallow rivers or huge trophy fish in the salty waters of the ocean.
Redington is an unbeatable brand and since its existence in the fly fishing business, it remains a top manufacturer and seller of fishing gear. This Redington Path II Fly Fishing Outfit Review gives you an in-depth view of what to expect when you purchase this package. The four-piece design is light in weight making traveling to any location with it a tireless affair. Exquisite is what to call it. Protect your kit with a rod tube that is durable and stylish as you head to the river banks. Sport like a pro!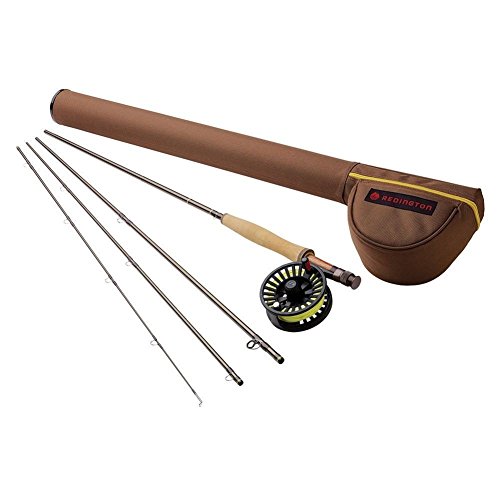 [button link="http://amzn.to/2Hr4P0p" type="small" color="red" newwindow="yes"]Path Combo Amazon Availability[/button]

NB: Hey need more info on how to choose a combo then check out or informational post on the subject.
Main Features of the Path II Combo
Designed as a four-piece the outfit consists of Redington Path Fly Rod, Rio Dacron Backing, Redington Crosswater Reel, Rio Mainstream Saltwater Fly Line, and a Rio Powerflex Leader.
Key features of the fly rod include
• An all-water rod – The rod's action is between medium and fast. Versatility allows it to be used in both freshwater streams and salty water bodies without any inconveniences.
• Warranty – Great news to the original owner of this outfit is that all repairs and replacements on the fly rod only are fully catered for a lifetime.
• Durable rod tube – Protecting your fly rod is essential to prevent it from contacting dirt, grit, dust, sand, and moisture but above all from any unwanted knocks or bumps as you head to your fishing area. The Cordura rod tube is durable enough and has carry handles for easy transportation.
• Reel seat – Aluminum is used to manufacture the reel seats on the Redington fly rods that are 7 weight and above is high grade and anodized to enhance its durability and aesthetic value. For rods that are 6 weight and below, reel seats are made from laser-etched wood and give a classy effect.
• Alignment – For quick and easy aligning, the fly rod has dots to easily set up the rod ready for casting.
---
Key features of the fly reel include
• Cloth bag – Redington cares for your fishing accessories thus having a cloth bag to carry in the reel while traveling or storing to prevent dirt, dust, and moisture from contacting the reel.
• Design – Composite design is durable and makes changing the spool quick and easy. Its complexity doesn't affect its functionality. Trust it to outperform other reels by other brands.
• Ultra-large Arbor – Basically large arbors enhance the retrieval rate of the reel and its conversion from either left or right side increasing its efficiency during fly fishing.
• Warranty – A one year warranty on the reels will sort out any major repairs or replacements. When it elapses you will have to dig deeper into your pockets in case of any damages.
• Drag system – This fly reel uses a disc drag system that is strong enough to create enough drag while stopping. It maintains a powerful stopping power.
---
Other aspects of the Redington Path II
Handles – Handles are broad enough for easy grip. The smooth finish on the wood is tender to your hands to allow you to fly fish for longer sessions.
Reel – Aluminum used to make the reel is anodized to allow it to withstand the salty waters and adding to its durability. Its large arbor increases the retrieval rate greatly.
Drag system – This Redington fly reel uses a strong disc drag system that is responsible for its incomparable stopping power.
Capacity – The reel's backing capacity is 100 yards (4/5/6) and 200 yards (7/8/9)
---
Customer thoughts of the Path II Fly Combo
The outfit is versatile and is comfortable to use in both fresh and saltwater. The anodized aluminum is responsible for this feature.
Protection was highly considered with the provision of a cloth carry bag to put in your reel while traveling to prevent contact with dirt and moisture.
Its disc drag system is efficient and provides a fast stopping power which makes fly fishing more fun.
The lifetime warranty on the rod, something rarely done by other brands make it the people's choice and a sure investment.
The combo outfit has everything you need for a perfect experience at the shores coming at a subsidized and affordable price.
The rod's action is medium-fast making it convenient to use by everyone. From beginners to experts.
One year warranty on the fly reel comes as a limitation in case major repairs happen while the reel is still in its younger ages.
---
Pros things liked
– All water outfit
– Rod has a medium-fast action
– Lifetime warranty on the fly rod
– Four-piece package
– Durable Cordura rod tube for protection
– Cloth bag for storing the reel
– Durable reel seat
– Light in weight
Cons things not so good
– The fly reel comes with a one-year warranty that makes it costly to make major repairs and replacements after the one year elapses.
---
FAQ's – Questions about the Redington Path II Outfit
Q) Is switching the reel from left to right easy? How can I do it?
A) Switching the reel is very easy. You only need to remove the bearing inside and flip it around. The fly line needs to be stripped completely off and re-spooled in the other direction.
Q) Can I have a sinking fly line on it instead of a floating line?
A) No, the combo comes already pre-loaded by the manufacturer. However, if you need it customized it can be done at a fly shop. Definitely at an additional cost.
Q) Is a leader and tippet setup inclusive in the combo?
A) No, you will have to set this up once you receive your outfit because it depends on your fishing technique and your type of fly line.
Q) Is the spool large?
A) It's a large arbor spool.
Q) Does the combo come with a Cordura rod tube and a carrying case?
A) Yes, it does, the carrying case is also the Cordura rod tube. A good idea from Redington.
Q) Does the reel have a spare spool or can they be easily purchased after?
A) The reel does not come with a spare spool but they are easily available from tackle dealers and easily switched on the reel.
Q) Does the 8 weight rod come with a fighting butt?
A) The eight weight does come with a fighting butt and makes it great for larger species and saltwater fly fishing.
Q) Is the reel made of wood?
A) The real seat – the area where you connect your reel to the rod has a wooden insert but the reel itself is anodized aluminum.
Q) Do I need registration for the warranty?
A) Not necessarily. You can choose to or not. The rod is for lifetime the reel is for one year. You can reach Redington via their contact information to have your repairs done.
Q) Is the reel in the combo of low quality?
A) No. The Crosswater reel is liked by many. It will execute the job perfectly only that the drag is a little sensitive. If you strip too much line fast, make sure you set the drag very well.
Q) Is this a 9-foot rod or a 9 inch?
A) This is a 9-foot rod
---
Final Verdict on the Redington Path II Outfit
Storm the next fly fishing session with this Redington Path II Outfit Fishing Combo and see your fly fishing buddies get envious. Its new Crosswater design is efficient in both salt and freshwater. Purchasing this outfit is a real time investment. The features discussed in this Redington Path II Outfit Fishing Combo review give you a detailed outline how each piece works giving you a clue of its performance.
New Path outfit can be bought in different configurations from a 9 foot 9wt down to a 8ft 6 foot 5wt depending on your taste and preference. Coming full in a 4-piece set, its price is greatly subsidized and affordable. Your favorite fly fishing store may have this particular one out of stock. Don't hesitate to order another outfit within the same price range. Similarly priced outfits are Redington Path II 5wt 8'6'' 4 piece outfit and Redington Path II 7wt 9' 4-piece outfit.
Have you tested the drag system? Fantastic is an understatement. The disc drag system is powerful enough to create an excellent stop when necessary. You don't have to force a drag. This could be among the reasons this fly fishing combo outfit is loved by many sports lovers.
Aesthetics are a feature of Redington Path II Outfit Fishing Combo that will excite you. Its immaculate design is classy and remains in style. Despite aluminum being a strong metal, it is light allowing mobility to be easy and less exhaustive. Sporting with it can go on for the lengthiest duration because of this incomparable feature. Nothing should stop you from trying out this combo outfit.
[button link="http://amzn.to/2Hr4P0p" type="small" color="red" newwindow="yes"]Path Combo Amazon Availability[/button]
Not totally convinced? Then check out our other combos listed here.