Disclosure:
Just to be open and honest the buttons and links you click on in the website will in most cases take you to another website where you can purchase the products I am reviewing. As an Amazon Associate I earn from qualifying purchases.
December 15, 2018
Wild Water Deluxe 5/6 9ft Fly Fishing Combo Review – Beginners Essential
Wild Water took interest in manufacturing fly fishing equipment over a decade ago. So far so good. One good thing about this manufacturer is the ability to mind starters first. There is a series of combos for starters by Wild Water. Among them is the Wild Water Deluxe 5/6 9' rod fly fishing combo that has many positive reviews from users. This is a juicy deal for any novice who is about to lose their way as they hunt for the perfect and affordable package.
While getting started can be a daunting prospect, this Deluxe 5/6 9' rod combo has everything with regards to fishing gear that a starter needs. They have been carefully selected and tested. There is every guarantee that the components will work together. For the cost, you can agree that buying a combo costs way less than buying each gear separately. In fact, it is the cheapest option without compromising on quality.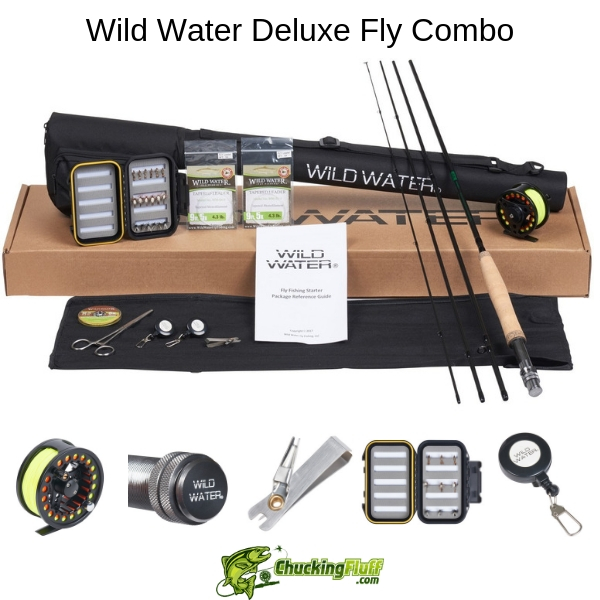 [button link="http://amzn.to/2Hv0dWP" type="small" color="green" newwindow="yes"]Check Deluxe Combo Amazon Availability[/button]

---

Main Features of the Wild Water Deluxe Fly Combo
There is no hassle here. You can unbox the combo and start fly fishing immediately. Inside is a Wild Water 9', 5/6 weight 4 piece rod, a cloth rod sock, a protective case, a small fly box with fly assortment, a Wild Water 5/6 Die Cast  Aluminum reel, a reference guide, three monofilament leaders, a tippet, forceps, nipper tool and a retractable zinger. Read more below to know the features of very component in the combo.
---
Wild Water 9' 5/6 Wt. 4pc Fly Rod Key Features
4 Piece – The 9 feet rod breaks into 4 pieces each measuring 28.75''. This disintegration makes it easy to store the rod in the cloth rod sock and further in the protective case.
Slow Action – A slow action rod allows a beginner to focus on one technique because of its forgiving nature. You can bank on it for excellent and effortless short casts. If you live near smaller rivers and streams, you are likely to find this rod an interesting one.
Hook keeper – The rod has a hook keeper made of stainless steel that ensures easy storage of the fly.
Cloth Rod Sock – For easier storage, the cloth sock is divided into equal sections for the 4-piece rod to fit in. The sock is laundered the normal way to maintain its quality and durability,
Reel Seat – The machined aluminum seat together with the sliding ring and the fixed reel hood fully secure your reel to the rod with the two lock rings to ensure they don't fall apart as you fish. 
---
Wild Water 5/6 Die Cast Aluminum Fly Reel Key Features
Large Arbor – Unlike reels with standard and mid-size arbors, this size allows for an increase in the overall line retrieve rate and improve its management.
Retrieve – 5/6 Die Cast Aluminum reel is preinstalled for left hand retrieving but you can convert to either sides at will. The manufacturer has a vivid explanation on how to do this on the website.
General Use – The reel is designed for fly fishing in both fresh water and salt water. The stainless steel components are responsible for this.
Drag System – Disc drag systems are the commonest in fly fishing reels and keeps the speed of the reel in check when you are trying to make a catch and the fish attempts to run away. 
---
Wild Water Weight Forward 5 Floating Fly Line Key Features
The Deluxe 5/6 9' Rod Fly Fishing Combo comes with the Weight Forward 5 Floating Fly Line is easily visible from a far distance and even when the weather is bad or getting darker because of its bright chartreuse color. Detecting strikes and tracking flies becomes easy. It has a weight forward taper to provide more heft to the line and allows for easier casting especially when it is windy.
The line has a total length of 90 feet. It is excellent for fishing on the surface using floating flies. The line is easy to pick up off water when casting. 
More to Carry Home – Since the manufacturer made this Wild Water Deluxe 5/6 9' Rod Fly Fishing combo an exclusive one, there are a few more components included. Of course if bought separately, it would cost you a good amount. 
Wild Water Small Fly Box – You wouldn't want your flies to get wet or damaged by water when not in use. Thanks to the waterproof seal, its contents will remain dry. To store your flies properly, put them in the foam inserts that have been customized for this purpose.
This Deluxe rod fly fishing combo comes with 18 flies all of them of size 14. You get the nymph, gold ribbed hare's ear, parachute Adams and Winged black ant. 
Reference Guide – Every starter needs someone to hold their hand throughout this journey until they can hack things on their own. Wild Water does this through the reference guide for beginners that has everything to help you get started. There are instructions on reel and rod set up and more on the knot tying techniques you need to equip yourself with as a novice. More on care and maintenance can be found in the guide.
Line Nipper Tool – Your tippet, leader and or line will need trimming at some point. This tool will come in handy together with a nail knot. To clean the hook eye, a needle will do just fine. 
Retractable Zinger – Your small tools need to be closer to you to save time and maintain your focus. The retractable zinger on which you attach your forceps and line tools is attached to your shirt, vest or wading jacket for easy access. 
---
Other Aspects of the Wild Water Deluxe Fly Combo
Main Materials – The rod is made of graphite and the reel seat from machined aluminum that has been anodized during the finishing. The reel is made from Die Cast aluminum with some parts made from stainless steel.
Handles – Handles on the rod are made from durable cork material that has been well finished to ensure comfort as you grip.
Rod Length – The rod has a total length of 90 feet and since is it a 4-piece, it breaks into four equal parts of 28.75'' for easy storage.
Drag System – Disc drag system is controls the line's speed and when you catch a fish, it doesn't run away taking the line off the reel.
Capacity – The capacity and backing of this reel is 100 yards 20lbs.
Weight – The fly rod weighs 5.7 ounces and the fly line is 6 Wt.
---
Consumer Thoughts on Wild Water Deluxe Fly Combo
Wild Water Deluxe 5/6 9' Rod Fly Fishing Combo is a durable and convenient starter pack for beginners to start off fly fishing.
The rod is very flexible and of an excellent length. There have been no problems casting. Its sectioning too makes transportation easy.
Good organization in the case as there is a fly box pocket, and room for storing your fly reel. The straps make mobility stress-free and less tiring.
The line and backing are very durable. Two years and no problems at all. The reel is durable and can withstand bumps.
One user had complaints of reel smoothness and grinding. He said he found the sound irritating and awful. There hasn't been another complain like this though.
Although flies are of the same size, they are of very good quality and the fly box makes it easier to store them.
---
Pros- Things that shine on the Wild Water Deluxe Fly Combo!
Super inclusive kit for starters
Great value keeping in mind everything in the package
Simple to use
Lifetime warranty on the fly rod
Excellent mid-flex design that greatly decreases chances of breakages
Perfect combo for horning your skills 
Cons- Things that are not so cool!
A few complaints on reel grinding
Experts will find this combo below their level of expertise
---
FAQ's – Questions about the Wild Water Deluxe Fly Combo
Q) Can I use this combo if I am left handed?
A) Yes, all reels from Wild Water are set at left hand retrieve. However, conversions to either of the sides is easy and instructions can be found on the Wild Water website. 
Q) Does the reel produce a click sound as you reel?
A) The retrieve process is silent but the click sound is produced when stripping the line. 
Q) Is it possible to buy an extra spool for this reel?
A) Yes, you can purchase extra spools from your nearest store that stocks fly fishing equipment or from an online store. 
Q) How many guides does the rod have?
A) The rod has a total of 10 guides inclusive of the tip top guide 
Q) The tip of my rod is broken. Can I be able to replace it or it is a waste of time?
A) Certainly not a waste of time. You can order for a replacement or check if the manufacturer can handle that. 
Q) Is the reel made of plastic? Can it last long for a starter who intends to go fly fishing frequently?
A) The reel is made of Die Cast Aluminum and is very durable. With proper care and maintenance it will serve you longer. 
Q) There are same products with different prices. Is there a difference in quality of the two?
A) The quality is the same and the difference comes in the extra flies included in the combo that costs higher than the other 
Q) How many spools does this combo come with? Is it one? Do I need to have more of my own?
A) The combo comes with three spools. There is one on the reel and two extras. If you feel like you need more than three you can purchase more spools. 
Q) Can the reel and the rod fall apart in the process of fishing?
A) No, the reel is secured to the fly rod by a durable reel seat, a sliding ring and a reel hood using two lock rings. 
---
Final Verdict – A Combo for Beginners but is it worth the Price?
The fear of losing makes amateurs frustrated on whether to take on fly fishing or not. You might lose your hard earned money to low quality combos. Slowly you might begin losing interest in fly fishing. It doesn't have to reach this point. As a beginner you will love every aspect of this combo. From its affordability, exclusiveness to its durability and performance. The fact that it comes ready to use will interest you more.
Performance is undoubtable because of the pretesting and combination of the components. You will love how portable the entire package is. If you are a backpacker on a fly fishing mission and do this often, the rod sock and protective case will be of importance to you. Everything is well protected from physical and environmental damage. The strap makes it more portable light to carry.
Purpose to pre-order this combo so that you do not miss out on great fly fishing adventures. Their demand is very high and you might find your store out of stock. It shouldn't make you back out. Wild Water Deluxe 5/6 9' Rod Fly Fishing combo works similar to the Wild Water 7/8 9' Rod Saltwater Fly Fishing combo, Wild Water 7/8 9' Rod Freshwater Fly Fishing combo and the Osage River Prospect Complete Fly Fishing Package. Make this an opportunity to horn your skills and have fun.
[button link="http://amzn.to/2Hv0dWP" type="small" color="green" newwindow="yes"]Check Deluxe Combo Amazon Availability[/button]
[button link="https://chuckingfluff.com/best-fly-fishing-combos/" type="big" color="teal"] Check our Combo List for more Options[/button]