Disclosure:
Just to be open and honest the buttons and links you click on in the website will in most cases take you to another website where you can purchase the products I am reviewing. As an Amazon Associate I earn from qualifying purchases.
February 19, 2020
Frogg Toggs Hellbender Breathable Stockingfoot Chest Wader Review
What exactly are entry-level waders? Some would refer to them as waders for newbie anglers while others will term them as the lowly-priced waders in the market. There is no doubt that the two parties are right. However, even the pro anglers can use entry-level waders.
Let us sample the Frogg Toggs Hellbender Breathable Stockingfoot Chest Wader and see if it is a dependable choice. Most brands will make these waders in the simplest manner, leaving out other features. Frogg Toggs doesn't do this in these waders.
In fact, for its price, it scores a 10 when it comes to construction and feature alignment. There was the first generation of these waders and not so long, the manufacturer released a second generation of the same. Much difference is in cosmetics and performance.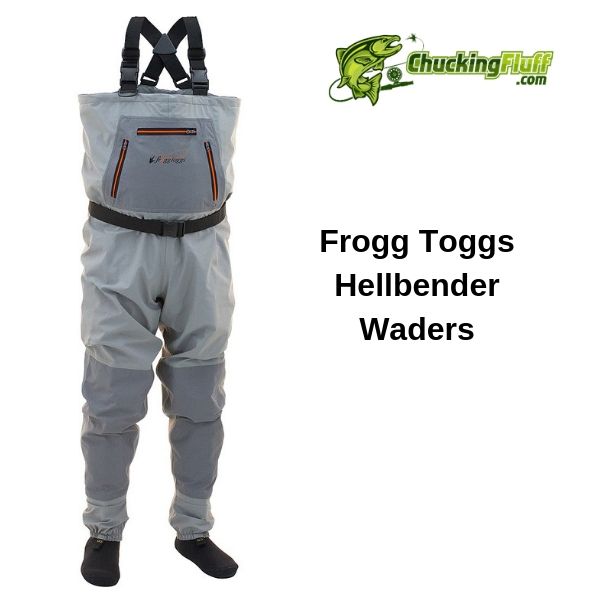 ---
Check Hellbender Amazon Availability
---
Breathable wader converts who own or have used the Hellbenders will confirm that they breathe and are very durable. For a package of less than $200, it beats the expectations of many. Regardless of the conditions you expose the waders, their tolerance is on another level.
As you head from spot to spot climbing up and down very steep banks, there was no condensation. The waders shrug off the gravels and rocks of the river. Doesn't this count on the side of durability?
As a leap and bound in the angling department, these waders allow any angler to stay comfortable and very dry for long when in or around water. It is for anglers of all experience levels and styles and comes as an essential piece of gear for their fishing needs.
First, it doesn't hurt your wallet by any means and if you aren't the type to go for high pound and professionally endorsed waders, you should stop at this review and make a purchase without second thoughts. Frogg Toggs is a successful company that has built its career on inventing and manufacturing waterproof apparel that is pocket convenient. No outdoor enthusiast should have a reason to go without waders on water.
Redesigned for 2018, it seems like the manufacturer was on a journey to design them as working-class waders. It is crowned in simplicity, functionality, durability, and affordability. They live up to the functionality expectations of avid anglers.
The previous generation being in existence for many years, until now, the new design has proven to take the same path. The reception is great thanks to the simplicity and rugged design that are majorly on expensive waders.
We see Frogg Toggs incorporating new technology in the fabric construction of the Hellbender waders. The four-ply nylon is the surest way of achieving an optimal balance between durability, breathability, and waterproofness.
There have been no reports of bunching around the arms or chest areas. Moreover, since many waders come with extra fabric around the legs, Hellbender waders don't have a gathering in these areas. You need to feel okay regardless of the intensity of the temperatures.
The microfiber shell is highly breathable and the custom cut design fits fishermen and some female anglers. It falls in the unisex category. For women who'd like a specialty wader for their gender, the Frogg Toggs Hellbender Women's Breathable Stockingfoot Chest Wader is what they should get.
Meanwhile, as you make up your mind on how soon to have your own, let's dive into the reasons why this Frogg Toggs Hellbender Breathable Stockingfoot Chest Wader deserves your consideration
---
Key Features of the Hellbender Stockingfoot Breathable Fly Fishing Waders ​​
Material – Hellbender waders are made from high-quality 4-ply breathable nylon material. 4 means the number of layers in the construction. The manufacturer combines this with the Dri-Pore Plus which enhances comfort and waterproofness. The outer layer is made from nylon shell which is lightweight, durable, breathable, supple, and abrasion resistance. The middle layers are 100 % waterproof to ensure maximum holdout of water and sensitize flexibility, lightness, and breathability. The inner layer is made from very soft, smooth, and quality micro-textured tricot fabric which greatly reduces skin contact to ensure a cool and light wearing experience.
Fit – Fitting and sizes are on point. The Frogg Toggs website has a sizing chart that allows you to identify which one will properly fit you. They are comfortable at the crotch area and with the slim cut, you don't have any annoyance from bagginess. The booties are very flexible whether you have thick socks on or not. They take the form of your feet well and offer utmost comfort in your wading boots.
Location of Use – Take it on a summer trip or have it on when the winter sets in, these waders are versatile and allow for functionality in all environments. The waders have very high persevering power and it can take as much abuse as you expose it to.
Seams – All seams are well done. If you haven't realized this if you've got your hands on a pair, these Hellbender waders have a lot of seams. Usually, the more the seams, the higher the chances of flaws that could result in leakages. They are well sealed and this is the major concern to ensure there is no compromise on durability.
Wader Style – Stockingfoot wader here! These waders are secured to your body by the durable suspender system which is very comfortable to wear for a long time without restricting movement or chaffing. The elasticity too is great and even if you bend, the suspenders don't constrict you like you are confined to a seatbelt. The 4mm neoprene waders are double-taped and have a higher density than the 2mm booties.
Belt – To secure the Frogg Toggs Hellbender Breathable Stockingfoot Chest Wader to your body, the adjustable wading belt is in place and works in conjunction with the locking buckle to ensure that they remain in place whether you want them as chest waders or need to convert them to waist-high waders.
Pockets – Storage shouldn't be an issue at all. The main front pocket can accommodate large fly boxes and a few gear. The zip pocket still at the front is great for small accessories like tippet spools and lines. Handwarmer pockets are the deal when you need to de-freeze your icy fingers. If you hardly use them, you can store more gear.
Gravel Guards – You know how important gravel guards are if you have had your waders damaged by sand and stones. Frogg Toggs includes integral lace hooks on the guards to secure your waders to the wading boots for enhanced security.
Knee Reinforcement – Knee areas are among the high wear points due to abrasion when bending. These waders have the knee section reinforced with more fabric to ensure optimum protection and durability.
---
---
Customer Thoughts on the Frogg Toggs Hellbender Breathable Stockingfoot Wader
The quality of these waders is great and the sizes fit very well. The stockingfeet have nothing to keep you off since they conform to your feet and fit in your choice of wading boots.
Forget about feeling uncomfortable and heavy when you have them on in the summer. They breathe very well and with proper care, they can serve you longer.
These Hellbenders are top notch and with more than 50 uses straight, there have been no leakages even in the deeper areas of the lake.
You get great value for money when you buy these waders. You will love how well the features work to ensure the wader is functional.
They meet the needs of any angler who isn't looking for an over-ambitious pair with special features. As long as you know what a wader should do, this one is a perfect choice.
Wearing these waders is easy. Most people don't talk about these but often, some anglers have to wrestle with the waders to either fit around the crotch or get their feet out of the booties. Great relief with the Frogg Toggs Hellbender waders.
The chest pocket though functional isn't ideal for gear that gets damaged by water. For your gadgets, getting an Aquapac for more security will save you from great losses.
---
Pros

– Things that shine on the Frogg Toggs Hellbender Stockingfoot Wader

High-quality booties
Durable and fully functional gravel guards
Reinforced knee areas
Durable fabric construction
Adjustable wading belt with durable buckles
Large chest storage pocket
Has handwarmer pockets
Good suspender system
One –year warranty for repair or wader replacement
Affordable waders
Cons

– Things that are not so cool!
Handwarmer pockets aren't waterproof
No attachment points for extra equipment and accessories
---
FAQ's – Questions about the Frogg Toggs Hellbender Breathable Wader
Q) Do these waders have knee pads or knee caps?
A) No, the knee area is reinforced with double fabric to do the work of the pads.
Q) How many sizes does the waders come in?
A) They come in about 14 to 16 sizes ranging from small to extra-large. If you wear double extra-large you might have to reach the manufacturer and ask if they deliver custom waders in these sizes.
Q) Are the waders highly packable in wading boxes?
A) Sure. They are compact enough and stow well in these boxes leaving you with more room for storing your boots and other gear.
Q) So many waders not fitting and restricting movement. Does the Frogg Toggs Hellbender Breathable Stockingfoot Chest Wader fall victim?
A) If you choose a smaller size, you will experience this but once your measurements match those on the sizing chart or are within a reasonable range, there should be no worries.
Q) Is the warranty restrictive?
A) If you refer to the terms of use, yes. The warranty doesn't cover damages, wear and tear caused by twigs, rocks, and branches or abrasions by Mother Nature.
Q) Do the waders leak?
A) No reports so far. The only critic in this direction is the handwarmer pockets which aren't waterproof.
Q) Can women wear these waders and feel comfortable?
A) Yes. However, if you'd love to get specific waders for women, the Frogg Toggs Hellbender Women's Breathable Stockingfoot Chest Wader is a good choice.
---
Final Verdict on the Hellbender Chest Waders
Well, we decided to let you figure out why it is called the Hellbender wader. Looks like you haven't. Some learning here but don't freak out. The Hellbender wader is named after a giant salamander and the largest so far in the world from North America. The beauty has a flat head and a grey skin.
It loves the riverside. Frogg Toggs loves to see you embrace the aqua as the Hellbender does. And in their Hellbender waders, you aren't very different from the giant salamander. Only that you come armed with equipment to cause distraction. Really? Something similar though.
The price is within a good range and performance is not limited whatsoever. If you are looking for the best breathable waders and aren't looking to go bankrupt and still compromise on durability and performance, don't look elsewhere.
Toggs has you sorted and in case of any defects in workmanship or material, once you receive your package, the manufacturer will make a replacement and still cater for repairs on leaking waders as long as the cause isn't Mother Nature or its inhabitants.
Take on the final step and place your order and be part of the endless discussion on the Frogg Toggs Hellbender Breathable Stockingfoot Chest Wader. Well, now that they are in high demand, you can miss them but you shouldn't miss your trip.
The Compass 360 Deadfall STFT Chest Waders, Frogg Toggs Canyon II STFT Breathable Chest Waders, 8 Fans 3-Ply Durable Men's Breathable Waders, Redington Crosswater Waders, and the Ouzong 3-Ply Breathable Unisex STFT Waders are great substitutes that you can consider.
Remember, until it is already on the bank, it isn't a fish.
---
Check Hellbender Amazon Availability
---