Disclosure:
Just to be open and honest the buttons and links you click on in the website will in most cases take you to another website where you can purchase the products I am reviewing. As an Amazon Associate I earn from qualifying purchases.
January 20, 2021
Tips on Winter Fly Fishing for Trout – Catch More Fish!
Each fly fishing season is beautiful in its own way. However, winter is proving to be a favorite for fly anglers who love to take challenges by their horns.
The winter angling world is different in that besides the extreme atmospheric conditions, an angler has to make other smart preparations to ensure that they make the best out of winter.
You will not need new skills to fish during this time. Just the same techniques but a different attitude.
New anglers might find it very unbearable to fish in the cold winter weather that could ice their reels and guides, but a steel mind remains as it is a fervent angler who will proceed regardless.
First, put aside the anxiety that comes with your first winter experience. Other crucial basics will determine whether you will last a few minutes outside or spend the entire day.
---
Your Gear is your Arsenal
Every angler needs some adjusting to extremely low weather conditions. And if you will be out for long hours, you need the right coverings to protect yourself from these weather elements.
Most trout anglers love to adventure the tailwaters in winter because they are the coldest regions and fish love to camp there.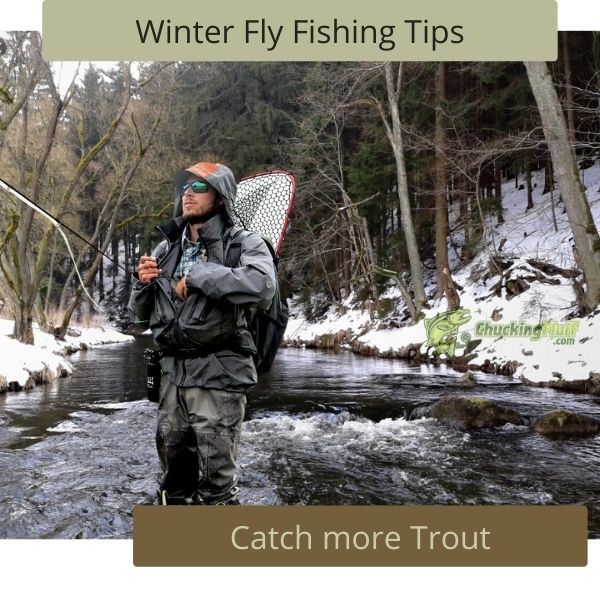 You need to adjust to fly fishing in more layers and with fly fishing gloves. Fishing in gloves gives the angler a lesser feel of the line but why would your fingers freeze when you can compromise the feel and maintain dexterity? We have an entire section on winter clothing tips that you can check out.
Another trick is to get dull-don't sulk. We mean, your gear should be in dull colors. And if possible, it should apply to all your gear from your clothes, combo, and the flies you would want to throw.
Black, brown, tan, and green flies will work well. When using weighted flies, glass and black beads are the real deal.
A Click and Pawl or a Disc Drag Reel?
While we recommend that you choose what works for you, some aspects by fly fishing guides have tried and proven to work better.
Disc drag reels are becoming common among anglers but a good number also love to fish the ancient click and pawl systems. However, the downside of the latter is the gears getting extremely cold.
Fishing these reels will need palming on the screaming runs and if you aren't wearing gloves, you might injure yourself.
---
Fish Behavior and your Choice of Tackle
Trout and most cold-water fish are most spooky in winter. Also, the clarity of the water is top-notch and with proper sunglasses, you can see what is underwater.
The surroundings are silent and swaying trees can make these chaps frightened. During winter you need to stalk trout quite differently than you would in spring or summer.
Your tackle strategy will need you to use the right tippets which should be a fluorocarbon with a smaller diameter.
What's in your Fly Box?
The type and the size of the flies will matter a lot. It is not always that small flies will do a great job.
Water conditions are among the high determinants of the size and types of flies for this season.
On some days, large streamers will outdo most flies. During winter trout are hibernating and conserving most of their energy to allow them to ace the coming seasons.
Serving these guys a meal high in calories makes it a good point to start from. They hardly resist good meals presented properly.
Sometimes, the small flies will carry the day when temperatures are at 30 and you choose the right spot and time, one of the hatches you will see is the winter midge. They are also a favorite for trout.
As these flies float, trout get a quick attraction and head to the surface. If you can't downsize to a fluorocarbon tippet below 6x, you can use your 5x but have a soft-tipped rod with a supple spine.
---
Some popular patterns worth keeping in the box.
Some of the flies to pack are midge larva (red) and pale olive assortments from size 20 to 22, mercury blood midges as lead flies, and a few pupae.
Confirm with local fly shops about the regulations on tandem rigs. Have some adult midges like Griffiths, Matt's, and Brooks' Sprout from size 20 to 24.
English Pheasant Tail Nymphs of size 18 and 20 will surprise you as they work better than the heavier American styles. Take size 16 flashback scuds to the tailwaters and spring creeks.
A size 14 micro stone will do as smaller stoneflies hatch mostly during the winter season.
The San Juan Vernille Worm in either tan or red will a good imitation for aquatic worms which are washed away from streambeds as the water rises when dams release water on the tailwater.
Baetis and Cannon bunny duns of size 18 to 20 are good for imitating blue-winged olives in winter.
Beadhead Britelite zonkers in size 8 are among the best streamers and are perfect for fishing the tailwaters.
Dark Moto minnows in size 10 will come in handy when fishing almost dead drifts. It comes in a good color that imitates the sculpin.
---
Are you always solo or Love your Crowds?
Extremely low temperatures are what make winter and stepping out is not a good thing for most anglers.
Only a few of them find it the best time to spend time testing their outfits. The summer waters are often crowded unless you are heading to the farthest mountainous streams where you will find fewer people or be alone-it happens.
Some popular streams and rivers yield more in winter. You are likely to find crowds there and more crowds mean less fish.
Avoid areas with an elbow to elbow traffic. Fish in areas with less or no pressure. Your chances of success will be very high there.
---
If you love fishing in the Freestone Rivers, there is a high chance of unproductivity at the peak of the winter season.
At this time, the water temperatures in freestone areas are extremely low and anchor ice makes accessing the river difficult. Fish also become sluggish when it is really cold.
The option remains to adventure in tailwaters. Dams control the temperatures here.
Water below the reservoirs maintains a constant temperature and the food supply is very steady.
This means that food is in abundance all through the year and trophy trout can be targeted here.
Check the Hatches
Since most places where you will be spending most of your time is in the tailwaters, winter is welcomed by lots of midges.
Trout love these insects and are a key part of their diet throughout the colder months. Fishing amidst a midge hatch is more fun when you have your midge dries with you.
Lead your trap with a slightly large dry and then a midge dry in size 20 to 24. Fish will spot the smaller midge dry flies that you are imitating.
To identify the bugs present during this time, flip the small rocks and examine the snowy area along the river banks. During this time, a lot of reservoirs also have the Mysis shrimp.
This choice of fly is perfect for fishing the river stretches beneath the dams.
---
Try a Slow Motion and Target the Depths with Sinking Tip Fly Lines
Spooky fish are common in winter. You wouldn't want your trout to detect the fly line before it sees its food. It will take off like a beast from hell.
Using weighted flies and strike indicators will do. Also, you can add some weight to your leader and use the high-stick technique to catch a few friends.
Trout hardly chase flies in extremely cold water so dead drifts are critical.
Nymphing using the dead drift technique but if you opt to swing your flies to catch steelhead or trout, invest in a good sinking tip fly line.
Make stronger mends at the start of your cast so that the flies swing very slowly and can get deeper.
---
Mornings are for Slumber. Strike at Midday
Most of the surface activity is present in the mid-afternoon especially on days with slight sunshine.
The snowy days with no winds can be fished throughout the day. From December to February, fishing before 9:00 am doesn't guarantee as much productivity.
Fish aren't moving much until it is about 11:00 am or midday. When water temperatures rise slightly at about noon, the hatches are more active and the slight warmth attracts trout to the sub-surface.
By 3:30 fishing slows but on warm days, it could be prosperous until the dark.
---
Strategic Spots are for the Win
You should be very wise as you choose the waters to fish in. How well do you understand your water?
If you discriminate the waters, you will enjoy less and when fishing in winter, you need to have mastered this skill.
When insects are inactive, trout frequent shallow waters but head to the swifter flows when food is in abundance.
Where the water is slower at the point where shallow riffles begin to get deeper is among the best areas.
Cast your flies into the riffles to give them time to sink and naturally drop into the deeper waters.
Not every pocket is fruitful. The pockets providing some warmth to the water stretches here to activate the life of the bugs and fish.
---
The Forecast isn't Old-School
Most people don't rely on weather forecasting but a winter angler should. Check with the records and choose a day that will project higher success levels.
Slow fishing happens on consecutive cold nights whose temperatures are in their teens and those of the day are struggling to rise to their peak 30's.
Trout are slightly active when water temperatures are under 40 degrees. Vigor is witnessed from 40 to 42 degrees.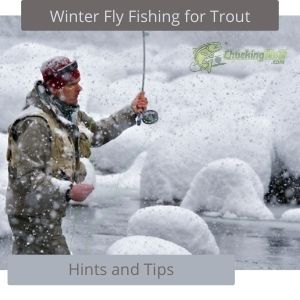 Watch for the rainy periods in winter when the temperatures during the night are in their 40's or 30's. If it rains at 45 degrees, warm water gets into the river.
The bug and fish life then gets better. This can revive a stream from a pretty long cold slumber.
---
Split Shots are a Deal
The defamation that split shots have received isn't enough to make it forgettable. Regardless of every expensive rod or reel you have for the winter, not having a split shot could be the reason why you don't get the best out of your outing.
Shots of size 4, 6, and 8 will work well depending on your water's velocity and depth. Pinch the shot on a tippet between size 6 and 8 right above your fly or tie it as a dropper between your nymphs.
Your flies will sink to depth pretty fast and will be in the strike zone as soon as possible and linger there longer.
---
What's the Most Active Trout?
Wild trout aren't as active as stocked trout in the cold weather. Even as the temperatures drop further, stocked trout remain active and keep feeding while their other sisters have totally shut down.
We suspect that this is biological and that stocked trout have less survival savvy. As the wild ones think that foraging for food is wasting energy, stockers really don't seem to give a damn.
---
A Lighter Tippet it is!
This is under the sizing down strategy of winning trout in winter. Use light tippets and size down on your fly rigs. If you fish a river normally with a 4X tippet, taking a size 5X will do.
Some anglers have deduced that shadow and light contrasts on brighter winter days combined with the clear low waters are the right ingredients for impacting shyness than these fish are in summer. A smaller tippet will aid in the presentation.
---
How Long Should you Wait between your Casts?
The toning down rule also covers the duration between each cast. An angler's casting tempo in winter matters more. Stop flogging water during this time.
Give a period 25% longer in between each cast. This allows you to take more time to watch the buddies respond to the casts.
It doesn't matter if they eat yours or they don't. The body language of a trout will notify you when next to cast.
---
Cast Downstream-It Works
Most anglers love to fish heading upstream. However, a few who have discovered the secret make most of their presentations in a downstream direction even when nymphing.
Lining trout is one of the great risk prospects in winter. When you see this buddy holding well in a run, ensure you check the sun's position and its proximity to you.
Find a good spot where you can see this friend without glare affecting your vision or your body and outfit creating any shadows. Toss your flies a few feet up the stream of your target. Strikes are extremely subtle on winter days.
Ensure that your hooks are gently set on the slightest hiccup, stall, or stagger in your fly line or indicator. Allow the flies to drift into a good zone.
Check out some of our other Buying Guides