Disclosure:
Just to be open and honest the buttons and links you click on in the website will in most cases take you to another website where you can purchase the products I am reviewing. As an Amazon Associate I earn from qualifying purchases.
September 27, 2021
Best Wading Jackets and Outfits for Winter Fly Fishing – Keep Warm and Dry
Winter welcomes swirling gusts of wind, pelting rains, and pushed of various fish species that are active in cold temperatures.
Your nearby water spot makes an ideal facility to evaluate your wading jackets and test their applicability in extreme weather.
You will be scrutinizing all aspects of your outfits and jackets from the shell fabric construction and efficiency to the pockets, cuffs, hood, zipper, seams, and hems.
Jackets and bibs form part of your outerwear. They are made from uniquely designed shells to protect the wearer from extreme rain and wind.
As part of the onion ring principle of layers, it has to be effective by ensuring breathability isn't compromised.
Why MUST you have a uniquely designed Outfit or Jacket for Winter?
All anglers need to prioritize their health before the fun. Thus, protection from weather elements especially in extreme temperatures is essential.
Most often, memorable and successful fishing excursions don't coincide with the perfect atmospheric conditions. You need to ensure that your outerwear is windproof, waterproof, and highly breathable.
Jackets, because of their pocket systems, come in handy when you need to store a few accessories, flies, tools, snacks, drinks, and personal identification documents.
Having pockets in the right areas, of the right shapes and sizes will allow for convenience and easy access.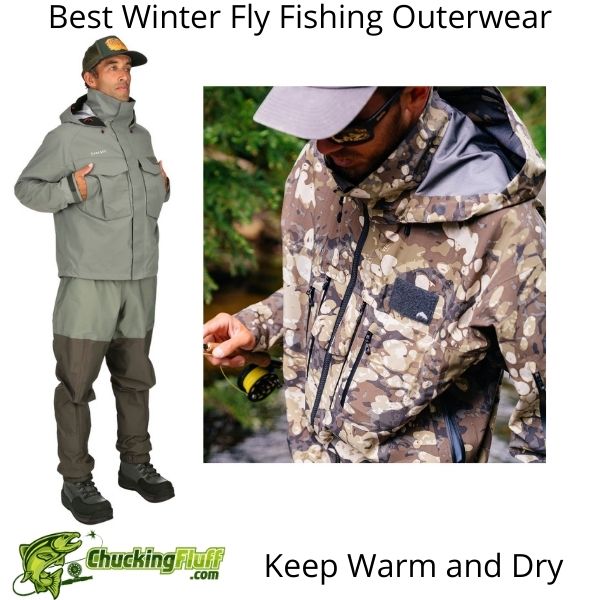 Nowadays, the choice of winter wading jackets and outfits is very wide. When narrowing down to the perfectly designed ones to suit the winter weather, only a handful match the crucial qualities (breathability, waterproofness, and windproofness).
The commonest jackets in the current market are made from Gore-Tex material. Besides being fully waterproof, they allow for body perspiration to pass through the membranes to the outer surface leaving your underneath layers dry.
Only a few manufacturers like Simms are already licensed to use the Gore-Tex technology in making fly fishing outerwear.
The other brands offer fabric technologies that give similar properties and have proven to work. Luckily, they go for way less than Gore-Tex products.
We love how modern the cuts are. If you are a veteran angler and have been in the fly fishing world for a long time, then you understand that there is a difference in winter clothing wear then and now.
The primary notable difference is the unavailability of winter wading jackets for women. There weren't any a few decades ago. However, with the rapidly rising numbers of female anglers, most manufacturers have feminine cuts to suit their body types and needs.
---
More about the Gore-Tex Fabric Technology
The waterproof yet breathable membrane that Simms uses in most of its outerwear is what we call Gore-Tex. As earlier said, some brands use similar fabric technologies for instance H2No associated with Patagonia products.
These technologies work effectively to ensure breathability, wind, and waterproofness while offering comfort, proper fit, and storage convenience.
For Gore-Tex, the breathable membrane has a very thin film with microscopic pores that allow for body perspirations to escape through them while preventing water from the outer surface of the wading jacket or outfit from sipping through.
Some of the micro-porous membranes come laminated to the face fabric. They come either in two or three-layer versions.
Specifically for Gore-Tex, Simms uses a PTFE-Polytetrafluoroethylene layer made from plastic to laminate the outer fabric. The designers then cut the jackets and outfits to shape. Gore-Tex products have fully-sealed seams to lock out any moisture.
---
What about Hydrophilic Coatings?
Hydrophilic coatings are highly dependent on the behavior of heated water molecules. As the body generates heat under your garment, it makes the perspirations go through the polymer chain in the hydrophilic coating and out to the external surface. Designers call this moisture management.
A common type of hydrophilic coating is the DWR-Durable Water Repellent coating used by most manufacturers.
This coating is used after a membrane or laminate has been used on fabric to create a protective barrier against water droplets. As a chemical treatment, the DWR coating isn't waterproof.
However, its main task is to reduce the formation of condensation in your underneath layers. This greatly improves breathability and minimal to no moisture gets to your skin.
DWR coatings wear off after prolonged use, exposure to the sun, and frequent cleaning. It needs to be reapplied to maintain its purpose.
We have a detailed section on how to go about DWR coatings on our breathable waders for winter fly fishing post. Check out how you can refresh yours.
---
Some of the overall factors to consider when selecting outfits and wading jackets for winter are:
Breathability
Movability
Dry Factor
Construction
Adjustability in specific areas
Comfort
Fit
Aesthetics
Fly fishing features
Price value
Packability
---
How to Choose the Right Wading Jacket for Winter Fly Fishing
The market is flooded and it is easier to get hoaxed. Also, counterfeits exist and it takes a keen eye to distinguish a genuine product from the fake one.
A serious angler needs to prioritize certain features for higher performance and durability. Besides keeping you dry and warm, it has to serve more purposes. We will discuss them below.
Breathability and Waterproofness Explained
These are the key components to look out for in a winter wading jacket. It will determine your comfort levels and if you will have it on for a long period or opt for an alternative. Some of the high-tech breathable fabric technologies are Gore-Tex and H2No. Wading jackets featuring either of these guarantees you more comfort because sweat and condensation can escape the jacket leaving you dry all through.
Waterproof wading jackets resist water penetration. This is possible with the help of a coating, membrane, or both that are barriers to prevent moisture from the external environment from permeating the material. This keeps you very dry, warm, and comfortable.
It is common for high-quality wading jackets and outerwear to be breathable and waterproof at the same time. Different variations exist and some fabrics end up prioritizing waterproofness over breathability or vice versa.
---
Are the numbers important?
Sure. Numbers dictate the level or extent of waterproofness or breathability. Below are the waterproofing ratings common in the fly fishing sector.
---
Breathability Ratings
5K-10K – This is the lowest breathability level and will be ideal for light rain but will get slightly clammy when doing high-intensity activities like hiking to your fishing spot.
10K-15K – Wading jackets and outfits that fall in this bracket are ideal for more adventurous anglers who go backcountry fishing and have to break trail through the snowy points.
15K-20K – When having long hikes and trips uphill or mountainous areas or trekking in warmer winters, this is the recommended level. For anglers who perspire heavily and need to keep dry and fresh, this range is perfect.
---
Waterproofness Levels
5K – On the minimal side, a jacket of this rating is considered rainproof. The only concern is that it will only stand up to light showers and nothing past that.
10K-15K – Wading Jackets in this category will withstand medium to light to medium downpours and heavy snow. However, if you subject them to so much pressure like sitting down, kneeling, heavy packs, or crashing in very wet snow, they might soak.
20K and above – If you are a back-packing angler and expect to be out in the rainy winters, this category is one to highly consider.
---
Should one then go for the highest waterproofness and breathability ratings?
There isn't any doubt that a waterproof yet breathable wading jacket is part of the essential winter fly fishing outerwear. Getting the right one is daunting for most anglers and even a worse shopping experience for newbies.
You do not necessarily have to get the highest ratings of waterproofness and breathability. Winter is varied in different months, states, and times of the day.
There are colder winters without rains, slightly sunny winters, and winters with showers or heavy downpours.
The winter conditions will highly determine the ratings to go for. Your body in terms of perspiration levels will also be a crucial determinant for breathability.
We have tried to describe each category and its ideal applications and we are sure that will be a helpful starting point. How you layer underneath will determine if you will achieve comfort, warmth, and dryness.
---
Construction
Fabric construction is classed in layers as this sits alongside their breathability and waterproofness ratings. There are three available layer types that you will find in the current market.
---
Layer Descriptions
Waterproof wading jackets will have two or three layers. This section describes the three layers so that it is easier to understand the various wading jacket construction types in the current market.
Outer Layer – This is also what we term as the face fabric and is either from polyester or nylon material. It offers first protection against the weather elements and is responsible for making you stylish depending on its color and pattern. This is the layer that is often treated with a Durable Water Repellent (DWR) coating. It means that the outer layer is water-resistant. This is very different from being waterproof.
Membrane – All the abracadabra happens here. The membranes are made from PTFE-Polytetrafluoroethylene or basically Teflon with microscopic pores to allow sweat to exit to the outer surface but prevent the entry of moisture from the outer surface into the inner layer. If the membrane is contaminated with sweat and oil, it will be less effective in performing its task. That is why manufacturers coat it with a PU-polyurethane membrane or any good oleophobic coating.
Inner Layer – The membrane and outer layer which in wading jacket design is called 2-layer laminate are bound to a high-quality mesh that improves breathability. T also protects your membrane. The mesh is used to classify the fabric. Two-layered wading jackets have a loose-fabric lining or mesh while the 3-layered ones have a more light-weight mesh. Breathability, price, and fit are what create the difference. 2-layered jackets are less breathable and bulkier though cheaper than the 3-layered ones that are highly breathable, lightweight, and more durable though costly.
---
Construction Types
2-Layered
The two-layered wading jacket has a face fabric that is bonded to a breathable and waterproof laminate. It has a hanging liner that protects the membrane.
Manufacturers don't bond or glue the hanging liner to the membrane. This means that the fit is looser and your jacket easily gets bulky. Given the two layers only, it boasts flexibility and comfort.
Despite being the cheapest in the market because of fewer construction processes and materials, the wearer has to compromise on protection, durability, and breathability.
2.5-Layered
It comes with a breathable yet waterproof membrane and a face fabric. The difference between this category and the above one is the partially-bonded inner liner. It is known for being one of the most lightweight choices than its 3-layered sister.
3-Layered
This construction consists of all layers- the outer layer, a membrane, and a fully-bonded inner-most layer. The membrane is between the two layers therefore being sandwiched and completely protected. The result is a long-lasting wading jacket offering more protection from the wind and water. 3-layered winter wading jackets are pricier because of their guaranteed durability and performance.
NOTE: While still under winter wading jacket construction, check out the seam sealing. Some come with critically or fully taped seams to cover any needle holes that could be potential causes of leaks. Fabric care is another consideration that most anglers assume. Different membranes will need different care procedures. Some such as Gore-Tex have simpler care instructions while others have complicated care instructions to maintain waterproofing features.
---
Insulation
Winter wading jackets should have insulation layers. This protects you from the cold water and wind. However, not all manufacturers include separate insulation layers in wading jackets for winter. Properly insulated winter waders can allow you to chase trout and steelhead or drift on your boats without risking frostbites or hypothermia. These layers are made from polyester or polypropylene for moisture-wicking properties and warmth retention.
Fit
You need a roomy wading jacket to allow enough space for underneath layering. The fit will go hand in hand with the cut which should allow for freedom of movement in all angles to prevent discomfort and seams bursting. This will greatly influence your comfort levels.
---
Other Fly Fishing Features
Pockets – There are very low to no chance that you will have a fly fishing vest over your wading jacket in winter. A winter wading jacket with integrated pockets allows an angler to store their fishing gear, accessories, and tools they will need when on water. Chest pockets are for your fly boxes and very necessary in this case. Fleece-lined handwarmers are vital for giving life to your frozen fingers. Two or three zippered pockets are welcome. For storing your scotch flask, tippet spools, and small accessories. A large rear pocket is perfect for stashing your rain jacket, a food tin, and a few warm layers.
Hood – A large enough hood will come in handy to cover your fishing hat or beanie. When the conditions seem unbearable, a good one should cinch down the head with the help of drawcords and should remain in place. Some designs have visors for keeping the rain off your fishing sunglasses.
Neoprene Cuffs – Water will move up your sleeves when grabbing your metalhead to get it out of the river if you don't have a wading jacket with neoprene cuffs. This will leave you feeling cold. Neoprene cuffs that are tight-fitting but comfortable are a good impassable barrier and water can't get up-sleeve.
Drawstrings and Zippers – All snaps, zippers, and hardware should be corrosion-resistant. Pull tabs on zippers are a bonus to operation. They should be large enough to be used with gloves on. Drawstrings or cords on the hood and in the bottom hem should be good quality to allow for proper adjustability, weather protection, and durability.
Attachment Points – These are D-rings for your tippet spools and net attachment, inbuilt zingers for forceps and other tools, and a hanging loop at the rear to help with drip drying your wading jacket. These points should be properly fixed to avoid damaging the wading jacket.
---
What to Look for in a Good Winter Bib for Fly Fishing
You will wear a bib over your winter wading jacket. Before we start sampling each feature, we will commence with the obvious. What type of fly fisher are you? Are you the kind that stands for hours in the middle of mountain streams to throw golden stoneflies into eddies trying your luck with trophy trout? Maybe you love being a boat mate to your captain waiting to battle your so to be new buddy. Or do you jigger or spin-cast often for largemouth bass when on a skiff? You could be the chap who spends more time wading the flats Spey-casting for some tarpons.
The choice of bib you choose to have on will depend on your answers to the above questions. The perfect winter bib should be cut and have all the features to match your type of fishing. Having a fishing bib is a way of fortifying your physical defense. The bib protects you against lower temperatures, treading water, and hypothermia. They will determine if you will have a short fishing trip of a long stay outdoors.
---
Construction
Like any outerwear, your bib should be waterproof and breathable. Different manufacturers use different fabric technologies to achieve these features. Simms has maintained the Gore-Tex and Toray Delfy Fabric technologies on its bibs for waterproofness, weight reduction, breathability, durability, and improved comfort. This technology has made the resultant garments to slide over underneath layers pretty well and offers abrasion and tear resistance.
The shell is made from nylon material and is finished with a DWR coating on most of the bibs. A good number of waders have 2-layered outer shells. Bib linings are made from polyester for moisture-wicking properties. And also finished with the DWR coating.
---
Insulation
Bibs are commonly worn in winter so insulation is one of the vital features to look out for. This is to ensure that you remain warm when fishing in colder waters. For wading anglers and fly fishers who stand longer in ice-cold water, insulation like Primaloft in the legs and upper body is necessary. Brands like Simms have more insulation in the legs and slightly less in the uppers.
---
Abrasion Panels and Reinforcement
Some winter bibs come with overlay panels with abrasion-resistance and you can spot this on the knee and seat areas. These are some of the high wear and tear areas on bibs and proper reinforcement allows them to last longer and fully perform their functions. Some panels are removable while others aren't. You will not be wearing them for leisure but support when you need to kneel to tie a fly or do other basics of fly fishing.
---
Zippers
There should be a center-front zipper to allow for easy wearing and taking off of the bib. It is also for comfort when you need a flow of air in your bb and wading jacket. Some have zippers on the pockets and others running from the ankle hem to the thigh to allow you to wear and remove your bib. All zippers should be corrosion-resistant and have sizeable pull tabs. Brands like Simms use the YKK zippers to improve water-resistance.
---
Pockets
Just like waders, bibs are also minimalistic when it comes to storage. But a good bib shouldn't lack handwarmer pockets to toast your icy fingers when not engaged. Cargo pockets will come in handy for storing fishing tools and accessories. Some high-end designs have adjustable waist cinches and drain ports. Some have thigh pockets that have plier sheaths.
---
Suspender System
Adjustable suspender systems are the best to have. This allows you to adjust your bib to get a proper and comfortable fit. They should come with durable buckles to avoid snapping when they don't need to. Also, the system should have a stretchable back panel to offer the wearer more comfort.
---
Attachment Points
First, belt loops are a bonus and will come in handy when wearing your wading belt or attaching lighter tools and accessories that you need closer to you. Some waders come with kill switch D-rings in the same areas as extra storage points.
---
Crotch Area
How well your bib's crotch area is made will determine if you will be comfortable while fishing or have to cancel what would have been a successful day out. If it doesn't have a gusseted crotch, it should be roomy enough for your personals. This is to allow for comfort and freedom of movement in any fishing position.
---
Visibility
Most anglers like to purchase fishing bibs with some sort of reflective material. Some have stripes or patches made from 3M Scotchlite or something similar to help with visibility. When fishing in the night, or when it is misty, it is easy to be noticed from afar.
---
Ankle Cuffs
Fishing bibs built with ankle cuffs are excellent and very comfortable. You can adjust the leg area and the cuffs lock out cold air keeping you warmer. Others have elastic straps to give a snug fit and save you the re-adjusting time.
---
Simms Challenger Insulated Fishing Jacket
Extreme weather is one of the challenges that anglers have to face and beat. What if you got an insulated challenger to do the job for you as you take the records? Simms has the Challenger Insulated Jacket for any angler who would like to step out in extremely cold temperatures but doesn't want to risk their health.
The designers used Simms's proprietary Toray 2-layer Delfy technology which results in a breathable yet waterproof fishing jacket. The fabric technology improves the jacket's protective functions against rain, cold, and wind. For insulation, Simms uses the Primaloft silver to retain body warmth without overdoing it. You will not sweat and end up clammy.
Nylon material helps with waterproofing and to be sure that your underneath layers will remain dry, the seams are fully taped for functionality and durability.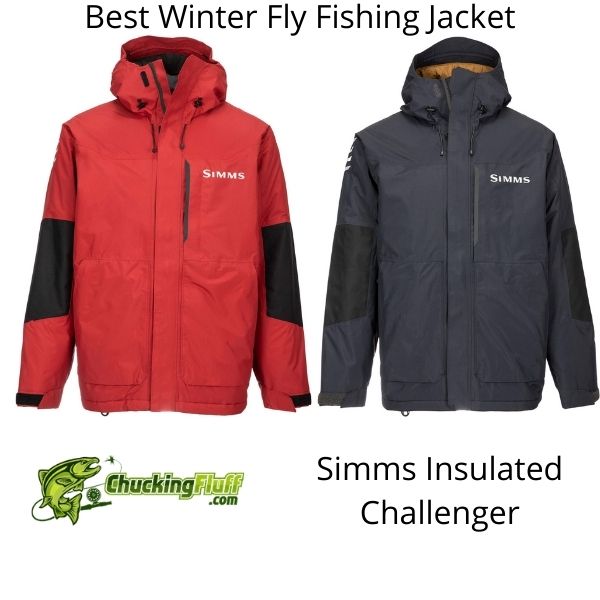 Head covering is mandatory when fishing in winter. The storm hood can be adjusted at three points. It is large enough to cover your head and forehead. It has a reflective logo for visibility to prevent accidents and make you be noticed faster in case you need help.
The center-front zipper allows for easy bib wearing and removal. It comes in handy when you need more ventilation without having to remove the whole bib. To prevent water from seeping through the zipper, there is a waterproof storm flap.
Storage is evident in the chest pocket with a removable sunglass chamois. You can access it via the zipper. Your personals and IDs can go in the inner zippered pocket. Handwarmer pockets are also zippered and have an adjustable waist cinch in them.
Sleeves are well-articulated and elbow areas have abrasion-resistant panels for support and comfort when you need to place your elbow on a hard surface. It is also for durability as the elbows are among the high wear and tear areas on wading jackets.
Cuffs are well made and adjustable to lock out any cold air and water from running up the sleeve.
The waistline is cinchable to prevent the entry of weather elements hence leaving you dry and warm for a long time. There is a kill switch D-shaped loop for safety when on water.
Check Challenger Insulated Jkt Web Availability
---
Simms Challenger Insulated Fishing Bib
If you are a Simms de-hard, you can have the Challenger Insulated Bib over the Challenger Jacket. This is a power combo that will see you spending more time out than you expected because you feel cozy and toasty regardless of the low temperatures.
The fabric construction of the Insulated Challenger bib is similar to the wading jacket as it also employs the Toray 2-Layer Delfy technology. The shell is made from pure nylon and finished with a durable water repellent coating. Its lining is from durable polyester with a DWR coating.
Insulation is done differently in the bib. Your legs and seat area are the parts that are in close contact with water either as you wade, cross shallow streams, or stand in the middle of the river to cast. The legs are made from heavier Primaloft and slightly less in the uppers.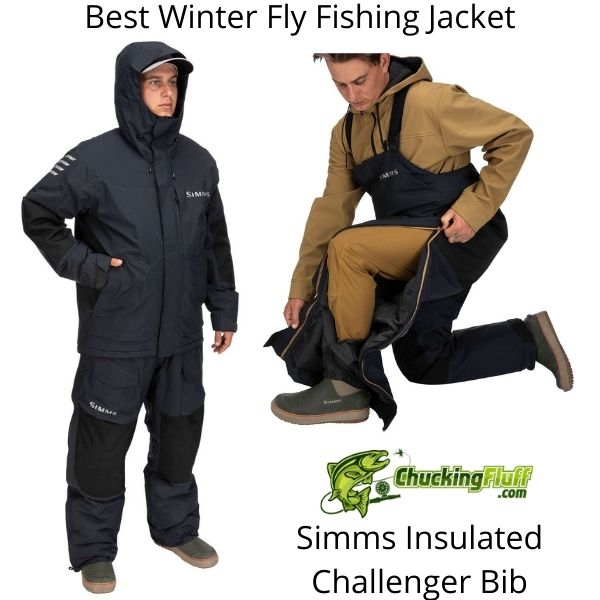 There are overlays in the cuff and knee areas for high abrasion-resistance. The seating area has reinforcement from oxford nylon for double protection and durability.
Overall, the choice of material and technology makes the fishing bib waterproof, windproof, and breathable without increasing its weight.
This one also features a frontal zipper with a storm flap. Suspenders are adjustable and the back runs higher for more comfort and a proper fit. Thigh pockets are necessary for tools and the plier sheath is for convenience.
Handwarmer pockets give life to your almost-freezing hands.
For farming bibs, wearing boots can be a problem as you will have to remove the bib. The fishing ones are superb and built with two-way thigh-high side zipper openings for easy wearing and removal.
Check Challenger Insulated Bib Web Availability
---
Simms ProDry Fishing Jacket
As one of the companies approved to use the Gore-Tex technology, Simms is proving that new technologies can create a major difference in how fly fishing gear function and last. The Pro Dry fishing jacket uses this technology for its shell. What anglers get is a waterproof, windproof, yet highly breathable. Also, besides using three layers, the jacket is lightweight but durable.
The woven backer aids in letting the jacket easily slide over your underneath layers. We marvel at the tear strength and abrasion resistance of the fabric.
Another technology is the YKK AquaGuard VISLON zippers that is a game-changer. The closure type boasts liquid repellence and smooth operation. Durability is nothing to worry about.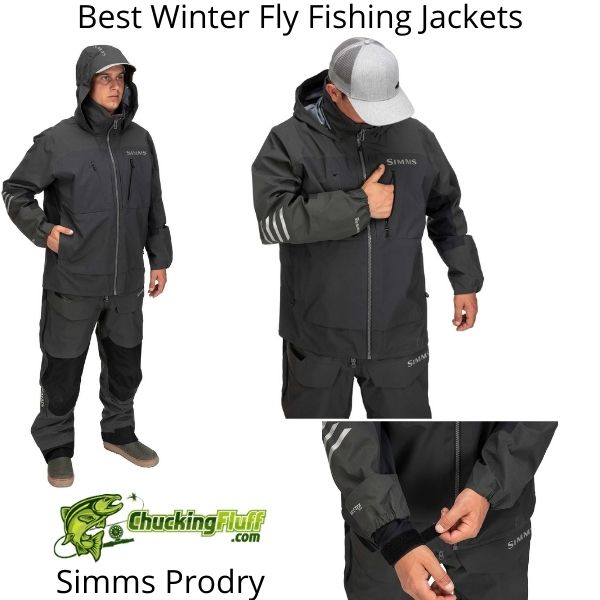 Hood designs vary but for a rain jacket to be fully functional, it has to have an adjustable one. This one has three points and comes with drain holes in the rear base of the collar to allow water to pass through and counter any saturation in the head area that can make you wet and cold. It also has a rain-gasket liner and a bonded brim. The collar is also high for weatherproofness. Being a tuck-away design, you can easily take it off and tuck when the temperatures begin to rise and you need fresh air circulation around your head.
Simms also covers the center-front zipper with a waterproof storm flap to lock out water from seeping through the zipper.
Dual chest pockets are for your medium to small fly boxes and other fly fishing accessories. They are watertight and your items will remain undamaged when fishing in the rain or if you dunk in the river. The inner stretchable pocket is accessed via a zipper and will fit your personals. Handwarmer pockets are zippered to lock out water and cold air.
Sleeves are articulated and have reflective hits on them for safety reasons. With a no-catch cuff design, you are sure of water blockage, dryness, and warmth.
The fishing jacket has a cinchable hem to lock out any water and cold air. There is a kill switch D-ring comes in handy when fishing from a boat.
Check ProDry Jkt Web Availability
---
Simms ProDry Fishing Bib
The fabric and zipper technology are similar to what the manufacturer uses on the ProDry Fishing Jacket. Only that there is a difference in the weight of the material in different sections of the bib. The fabric shell is from high-grade nylon material and tricot backer. There is a DWR coating on the bib for higher water repellence.
High abrasion areas on bibs are the cuffs, knees, and rear seat area. Simms has nylon Oxford overlays in these areas for more durability, support, protection, and performance.
While some bibs have center front zippers running from the top of the bib to the upper waist level, this one extends down to the crotch area and we find it thoughtful and convenient especially when Mother Nature calls. It is a 2-way zipper.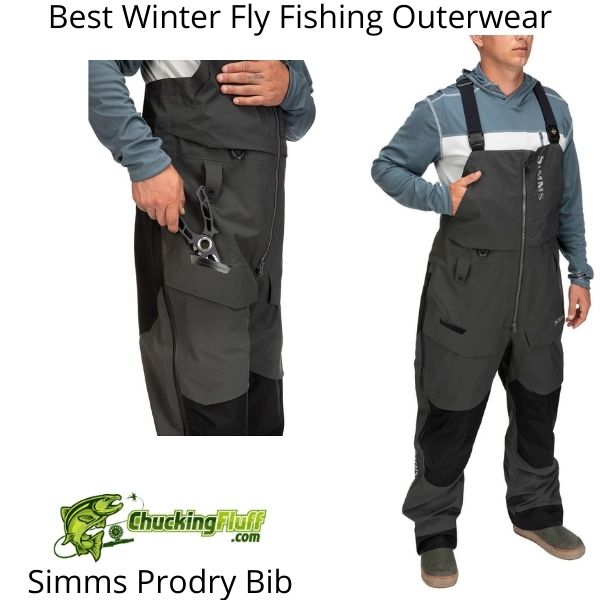 Adjustable suspenders help you to get a proper fit and the stretchy back panel is for comfort. Belt loops have a wider width and come with one kill switch D-ring for safety when fishing.
Cargo pockets are handwarmers lined with high-quality brush tricot to toast your hands and have an adjustable waist cinch inside. Drain ports allow running water to pass through and leave you dry. Thigh-high pockets are welted and top-load design. The right thigh has a plier holster for tool organization. Wearing boots has been made easy with the 2-way thigh-high side zipper.
THE ProDry bib is available in small, medium, large, extra-large, double extra-large, and triple extra-large.
Check ProDry Bib Web Availability
---
Simms Challenger Fishing Jacket
In the fly fishing sector, there isn't bad weather. If the problem isn't bad gear, then unpreparedness is what would mess you anytime. For an angler looking to step out in any season feeling protected and ready to indulge, this Challenger from Simms should be your companion. We love that it works well in any weather thanks to the new fabric technology that Simms employs for wind, waterproofness, breathability, and durability.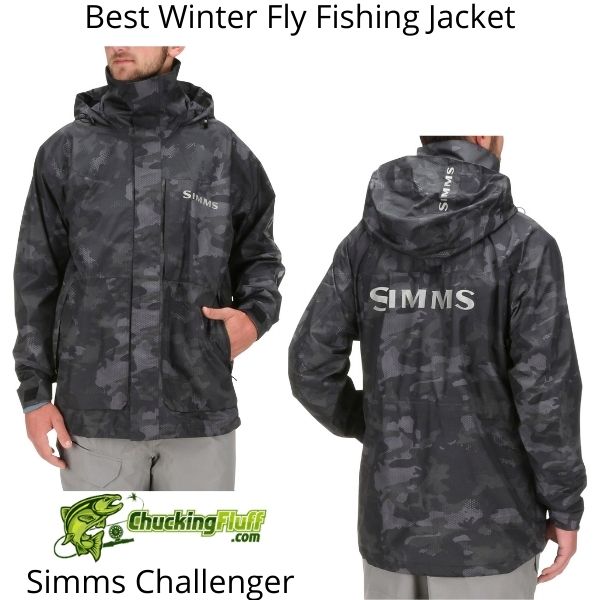 What we are talking about is the 2-layer Toray Delfy fabric technology that maintains a lighter weight while doing what it is meant to do. The incorporation of a nylon material boosts its weatherproofing features and the DWR coating seals the whole deal.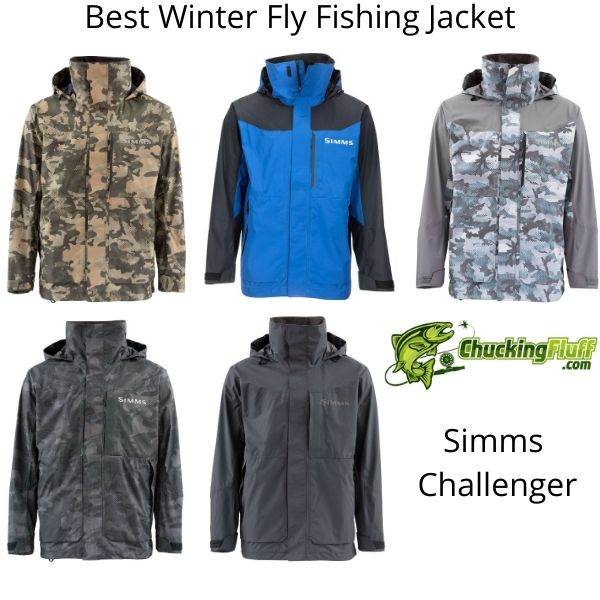 In our winter fly fishing clothing tips article we mentioned the head being one of the first parts to get colder when exposed to low temperatures. To counter this and keep you focused on the cast, the Challenger comes with a three-point storm hood that you can adjust to a comfortable fit.
Winter fly fishing outerwear with pockets makes tool accessibility easier. This one has a chest pocket with a zipper and an inner chamois for your sunglasses to protect your lenses from smudges.
When fishing from a boat or a small craft, safety is important. Even if the bib has reflective patterns or hits for easy visibility, a kill switch D-ring will come in handy for safety. This one is located at the bottom hem of the wading jacket.
Check Challenger Jacket Web Availability
---
Simms Challenger Fishing Bib
Don't confuse the Challenger Insulated Fishing Bib with the Challenger Fishing Bib. Though used for the same purpose and seasons, the construction is slightly different. The Insulated Challenger is an upgrade version of the Challenger because it features a Primaloft Insulation.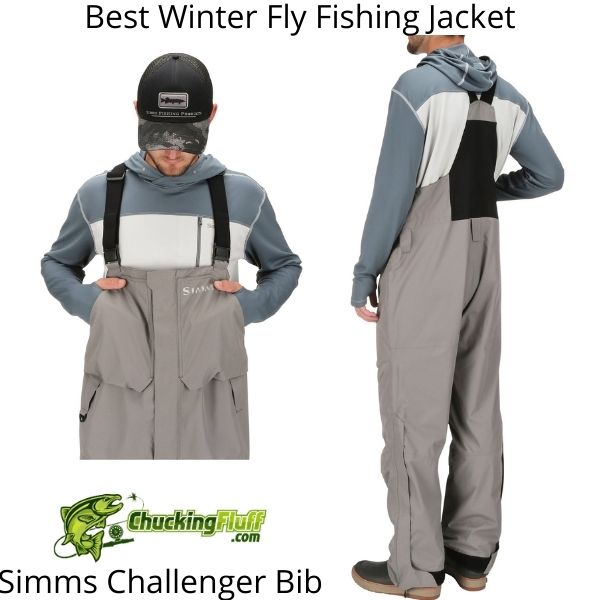 The Challenger has no insulation layer but the Toray Delfy 2-layer fabric construction works to see the bib waterproof, windproof, breathable, durable, and very lightweight. You will have to work around your underneath layer to cover up for the missing Primaloft insulation.
Chest handwarmer pockets-one on each side offer more warmth when your fingers are icy and need life for dexterity. There is a waist cinch with high adjustability inside the hand warmers to give the wearer a snug fit in the waist area. The plier pocket has a drop-in design for easier access and the drains prevent water accumulation and saturation.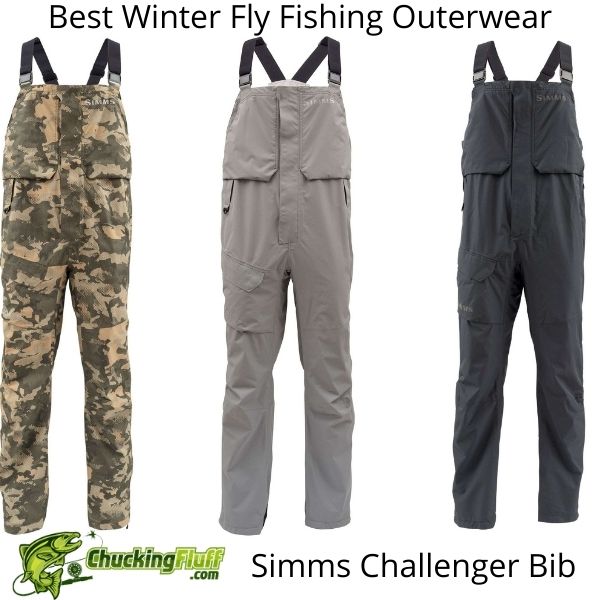 The belt loop is of good width and comes attached with a Kill switch D-ring for safety when having your boat runs. However, some anglers fishing from the shores and banks use it for tool attachment.
We love the convenience of the zippered cuffs that are more secure and allow you to stay dry longer. The zip system allows you to wear and take them off with ease.
Check Challenger Bib Web Availability
---
Simms G4 PRO Wading Jacket
We can't insist enough on the importance of breathability and waterproofness when shopping for winter fishing jackets. We know that your casual rain jacket still does the job but when doing active sports, you need a piece specifically-designed for outdoor sports and most importantly the best for adverse weather conditions.
Simms designs the G4 Pro for professional-level performance and durability. True to it, the customer feedback and rating speak volumes of how well the Gore-Tex Pro shell technology functions. Built from three layers, you can be sure to chuck more but get even more value. Field-tested for performance by Simms guides and other professional anglers, we are sure to remain dry, warm, and fresh when fishing in winter. The shoulders, hood, and upper sleeves are made from 80D nylon with a durable water repellent coating while the undersleeves and body are from 70D nylon.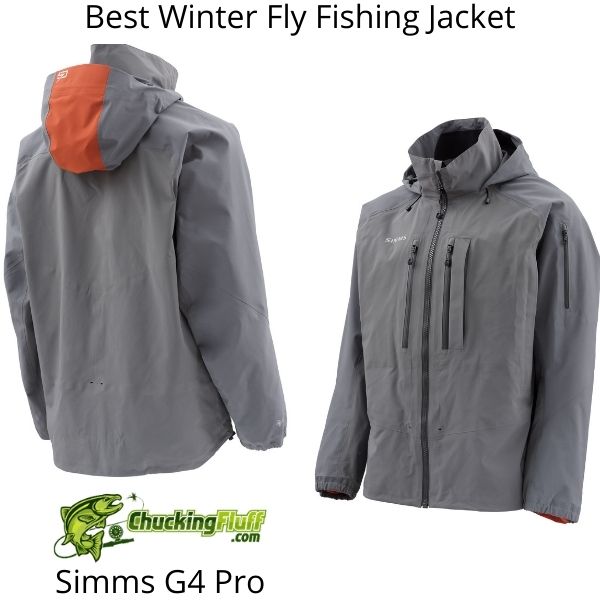 The pockets are streamlined and lay flat to allow other layers to slide over them easily. The four frontal pockets are inbuilt to counter bulk and allow water droplets to roll down the jacket without saturating the fabric-something we wouldn't want in winter wading jackets as they will become wet and cold.
You will appreciate the large back pocket that has access through the frontal handwarmer pockets. You can stash in your lunch box, booze flask, and a few warm layers to change into in case what you have on gets wet.
Its storm hood is an excellent creation with three points to help you adjust the tension and secure it to your head. The center hood panel is made from high visibility material that causes reflection to a farther distance and helps with identification when you need help and to prevent accidents. The length from the hem to the collar from the backside is more for double protection and offering more head coverage.
Cuffs boast the no-catch design and are very water-tight to prevent the entry of cold water and air. This leaves you warm and dry.
Check G4 Pro Jacket Web Availability
---
Simms G3 Guide Tactical Wading Jacket
With the response from anglers and other outdoor sportsmen who enjoy the winter, Gore-Tex fabrics are proving to be more effective. The Gore-Tex membrane makes the core of the technology as it contains about nine billion microscopic pores in every square inch. Their function will seem confusing to individuals who know nothing about fabric breathability. These microscopic pores allow for sweat and condensation from the body to escape through them to the outer surface but won't allow the entry of moisture from the outer surface to the inner membrane. This leaves the angler dry and warm.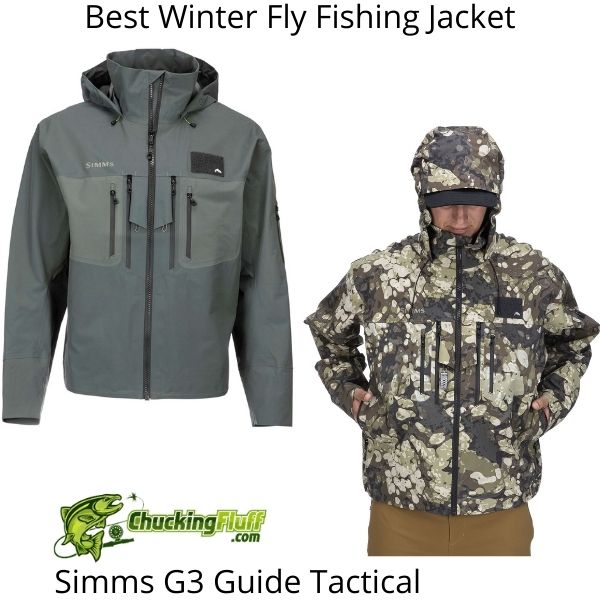 The entire wading jacket s made from a pure nylon face for high performance and durability. It also dries pretty fast.
We love how well the pocket system is arranged. There are nine pockets in total among them four zippered frontal chest pockets to fit your fly boxes. Handwarmer pockets are also zippered to prevent the inner side from becoming wet and cold. There is a zippered sleeve pocket for your sunscreen tub and small personals. The inner side has a zippered pocket and a stretch mesh pocket.
The manufacturer was tactful enough to design this jacket with YKK zippers. They operate smoothly and are water-resistant. Your pocket content and underneath layers are at a lower risk of getting wet when exposed to water for a prolonged period.
We have seen the wading jackets above with three-point storm hoods. This one takes convenience and comfort a notch higher as it has four points to allow you to get the perfect fit. You can tuck it away when the temperatures begin to rise.
The shingle cuff is water-tight and fits your wrist area properly without any discomfort. Also, you shouldn't worry about water and cold air running up the sleeve if you dunk your hand in the water. The hem closure does the same job too.
Simms builds this jacket with more attachment points for tool and accessory organization. There is one D-ring for attaching your fly net, 2 inbuilt retractors, and a fly patch.
Check G3 Guide Jacket Web Availability
---
Simms Guide Wading Jacket
Male anglers are the luckiest because it isn't difficult to find their fly fishing gear. Most manufacturers prioritize male cuts and include one or two designs for female anglers. The Men's Guide Wading Jacket is common at the shores and banks and the report by Simms shows that the reception after its launch was one of the best they have received from rain and wading jackets.
The Gore-Tex fabric technology has proven to be reliable and anglers are loving this jacket for its warmth, dry factor, ease of cleaning, and durability. Besides being waterproof, the fabric is windproof, highly breathable, and lightweight.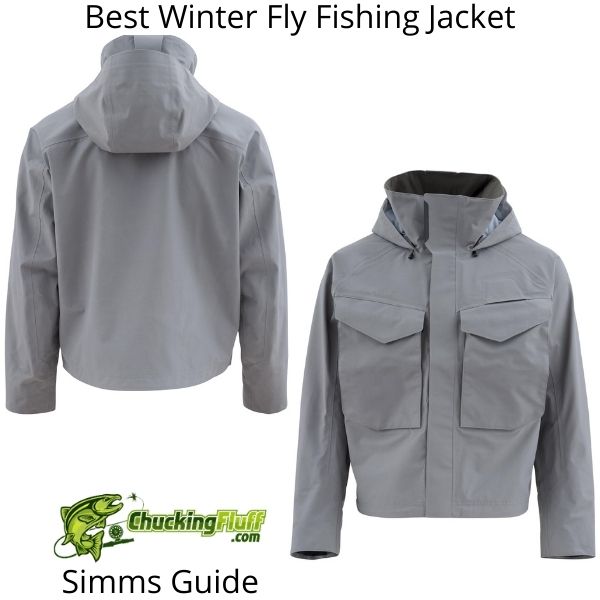 Another technology is evident in the zipper types. Simms uses the YKK AquaGuard VISLON technology to make the front zipper water-resistant. The frontal zipper is covered by a waterproof storm flap to drive away rain and water splashes.
The storm hood is large enough to cover your head and slightly extend to your forehead. It has three adjustment points to help you get a secure yet comfortable fit and prevent the entry of cold air and water. You can tuck it away when it gets hotter.
One more waterproofing feature is the watertight shingle cuffs that have a good and comfortable fit in the wrists but still locks out water and cold air. The dual drawcord at the bottom hem of the jacket also does the same thing and comes adjustable to remain fully functional.
There are two outer pockets that you load from the top and can take up small to medium fly boxes. They come with integrated retractors for your tools and accessories. Simms avails this jacket in small, medium, large, extra-large, double extra-large, triple extra-large, and 4 extra-large.
Check Guide Jacket Web Availability
---
Simms Freestone Wading Jacket
Wading and winter fly fishing need well-constructed gear to help combat the extremely low temperatures that you expose yourself to. Simms uses the Toray QuadraLam fabric technology to build the Freestone Jacket. This is a heavy-duty fabric that is waterproof, breathable, and windproof. The tricot backer and membrane layer offer more durability.
All its seams are fully taped to prevent bursting and creating potential places for leaks. We advise that you get the right size to help to prevent straining the seam sections.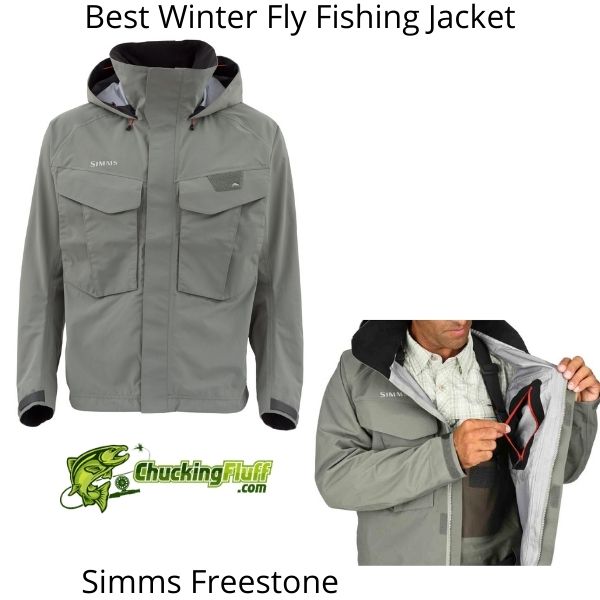 From afar, the frontal side of the Freestone Jacket almost looks similar to that of the Guide Wading Jacket. The pocket location and zipper construction look alike. This one also has a storm flap for waterproofness to cover the YKK water-resistant zipper. Zipper operation is smooth and the tab is of a good size to grip even with gloves on.
Stowaway hoods are a must-have in any winter jacket. You can have them on or tuck it away at your convenience. This one comes with three adjustable points to help achieve a proper fit and full head coverage.
A new feature that we spot on this jacket is the anti-line catch cuff tabs that allow for proper reeling and casting without your fly line being trapped in the cuffs.
For storage, there are two top-load pockets on the chest area for your fly boxes and small fishing accessories. It also comes with retractors for tool docking. There is a D-ring for attaching your net and one fly patch. Available sizes are small, medium, large, extra-large, and double extra-large.
Check Freestone Jacket Web Availability
---
Orvis Men's Pro Wading Jacket
Orvis has been in the fly fishing business for ages now and most anglers and guides trust in their products for quality, performance, and durability. The polyester material is among the best for wader construction. To make it ideal for winter fly fishing, Orvis uses a PU laminate and a durable water repellent finish on it for waterproofness without compromising breathability. The breathability rating is 15K and 20K for waterproofness.
The Pro jacket is custom-woven from three-layer shell fabric. It is washable and dries quickly because of the choice of material. The designers fully tape all the seams to lock out water and seal all the needle holes that could have been created during sewing.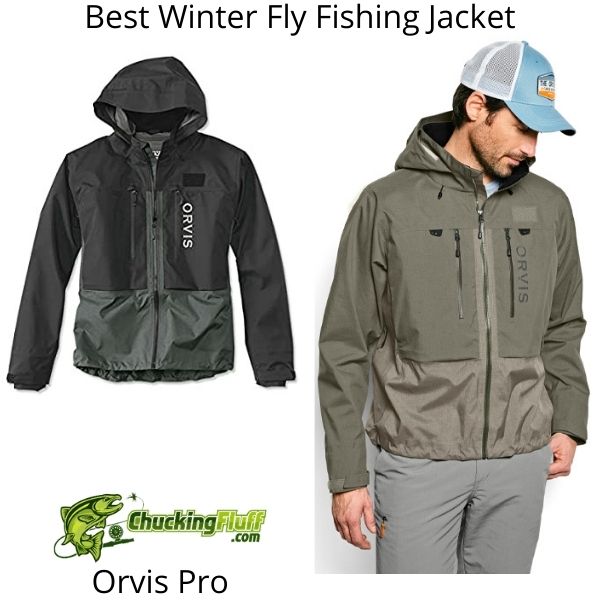 All zippers are YKK AquaGuard for water resistance and ease of operation. They also have pull tabs for a quick and secure grip.
Not all manufacturers have chin guards and Orvis makes this one from brushed microsuede for more comfort. There are side zippers for ventilation when you are feeling hotter and need an inflow of cold air. These side zippers also give the wearer better access to their waders.
The two large front chest pockets can fit large, medium, and small fly boxes. There is an inner security pocket with a zipper and another with power mesh for more space. The system advances to attachment points on various parts of the jacket. There is an inbuilt fly patch, rubberized tabs to dock your tools, and a back yoke D-ring to attach your net.
Orvis uses the Dolphin Cuff system to boost water resistance as you land and receive a fish and they prevent the line from getting trapped in them.
The hood is large enough and has a laminated brim. You can adjust it at any of the three points to secure it to your head and protect yourself against cold water and air. The adjustable hem is for a proper fit and locks out weather elements leaving you warm and dry.
Check Orvis Pro Jacket Web Availability
---
Loop Lainio Wading Jacket
Designed and manufactured in Sweden by Loop, this new brand is evidence that sampling products from other companies can land you a good one. The Lainio Jacket is an excellent outer shell that provides an eternal barrier defense system against extreme weather that you expose yourself to when throwing your flies. The design is fully functional and protects you against the rain, wind, sun, and abrasion.
This s a technical garment and the manufacturer incorporates user-identified features for outdoor use. It is designed from a three-layer Polyamide fabric for weatherproofness and high breathability. Loop rated its waterproofness at 20K and breathability at 15K.
We love that this is a 3D design to give an optimal fit to the wearer. The storage system is well organized to ensure that all pockets are easily accessible and functional. The three chest pockets are for your fly boxes. It also has a tool pocket and fleece-lined handwarmers. The handwarmers are accessed via YKK zippers for water repellence. You can stash your smartphone and car keys in the arm pocket.
The hood is very spacious and comes with an inbuilt wire to allow it to extend over your cap with ease. This prevents water from getting onto your sunglasses and your face. It has an elastic cord to allow for proper adjustment on both the back and front sides for a perfect fit.
Loop did a good job by including two press buttons at the front. There is one in the bottom area and another in the middle to keep your jacket fully open for proper ventilation minus the jacket flapping anyhow. The rear area has a hidden D-loop for net attachment.
Check Loop Lainio Jacket Web Availability
---
Loop Rautas Lightweight Jacket
Loop calls this the hiking jacket. If you have gone hiking, you know that you need to pack very light to avoid your load from wearing you down earlier. Anglers to experience hiking phases, especially when going in search of mountainous streams and rivers. Doing this in the winter will need you to have a well-designed and light one to match the two needs-hiking and winter fly fishing.
This is one of those highly-packable winter wading jackets that you would love to own if you are a backpacking angler. Your backpack will be carrying extra layers, food, drinks, tools, accessories, and a few personals. Everything needs to fit in and not be so heavy for you to carry on long treks and hikes.
As lightweight and packable as it is, the design doesn't go in the way of breathability, wind, and waterproofness. The construction is from a light-duty 3-layer polyamide fabric hence its low weight of 420 grams. It protects you from the effects of low temperatures as you hike and fish.
Ventilation zippers on the sides right under the armpit areas were thoughtful to allow free inflow of cold air when your underneath layers because warmer than you need them to. Unzipping the panels allows for ventilation without removing the whole jacket on unzipping the frontal closure. You can also access the inner side of the jacket through the side panels.
The front area also has two buttons like those in the Lainio jacket-one in the bottom and the other in the middle. These are also for ventilation. This wading jacket has a breathability and waterproofness rating of 15K and 20K respectively.
From the cut to the 3D design, anglers will get a perfect fit as long as they pick the right size of jacket which is available in small, extra-small, medium, large, extra-large, double extra-large, and triple extra-large.
The hood is well attached to the wading jacket collar and allows you to adjust it with one hand as the other prepares to cast. Cuffs are elastic and come with thumb grips to prevent the jacket from running up your arms exposing you to the cold.
There are two chest pockets for your fly boxes and a hidden toolbar on the left chest area. All zippers are YKK for water resistance.
Check Loop Rautas Jacket Web Availability
---
Orvis Men's Clearwater Wading Jacket
The Clearwater product line from Orvis is popular for its affordability, functionality, and performance. While some high-end wading jackets for winter cost over $600, if you are a smart shopper you could land something good for way less.
Orvis brings affordability closer with its Clearwater winter wading jacket that boasts 20K waterproofness and a breathability rating of 15K. This proves to you that it does the job as an expensive jacket would. The jacket has a three-layer fabric shell construction consisting of a nylon shell, a polyurethane membrane, and a nylon tricot backer for durability. The shell is finished with a durable water repellent finish to repel water from its surface. Jacket sizes are available in small, medium, large, extra-large, and double extra-large.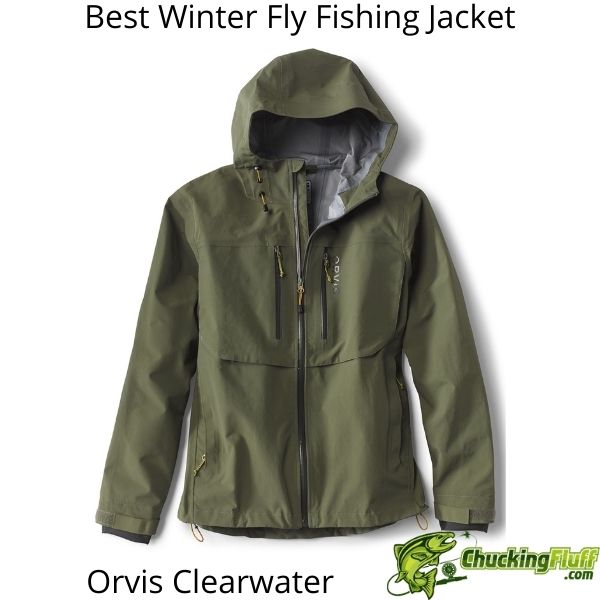 All seams are fully taped to make the weatherproofing features better and to prevent bursting. The front closure has a YKK AquaGuard zipper for water resistance.
There are two large frontal pockets on the chest area for storing your fly boxes and handwarmer pockets to toast your icy hands. The jacket comes with a yoke D-ring at the backside for net attachment
You will not experience water seeping through your cuffs as you land and release fish because of the integrated Dolphin Skin Cuffs that lockout water without causing any discomfort in the wrist area. The hem is adjustable to give the wearer a secure fit.
The storm hood is adjustable at three points and has a laminated brim. When the temperatures begin to rise, you can tuck it away to prevent the wind from blowing it to obstruct your view while fishing.
Check Clearwater Jacket Web Availability
---
How to Care for your Fly Fishing Bib and Wading Jacket
Fly fishing in winter will make you understand how important your bib is. More so, a warm and comfortable one that will serve you longer will be the best bet when making a purchase decision. Care and maintenance will influence its durability and performance. The good news is that these garments aren't high-maintenance.
First, you need to know that these outerwear don't need to be washed often as you do to your underneath layers because of their construction. Unless they get extremely dirty, you can try other means of dirt removal. Some anglers wash theirs twice monthly in an active season of fly fishing. Washing it isn't rocket science but requires you to have the right requirements and timing to avoid damaging your garments. Products like fabric conditioners and bleaches are not used in the cleaning of these garments.
Before anything, check on the tag of your garment to see the basic garment care instructions. All manufacturers have this on the garment and packaging.
---
Care Instructions
Wash your jackets and bibs separately from other clothes with clean water below 104 degrees F. For washers, this is the warm setting but some advanced ones can get slightly over.
Ensure to use a normal or mild detergent that will be gentle on the Gore-Tex, DWR, or PU laminate. We have some listed on our Winter Fly Fishing Waders article. Anything stronger will wear off the water-repellent coating.
After the wash, put them in the dryer for less than 10 minutes. This should be on the lowest setting of the machine. This is meant to dry the straps and reactivate the DWR coating. Ensure to check after every two or three minutes to prevent the insulation from clumping together.
Drip dry your bib and jacket for the safety of their material. Some anglers use fans to quicken the task.
Garments are heavy-duty as fishing bibs and winter wading jackets can also break down from improper cleaning procedures. Ensure to stay away from industrial washers if you need yours clean and intact. These machines though efficient, are rough on wader jacket and bib fabrics.
Avoid dry cleaning these two garments as the chemicals used are harsher and will damage fabric laminates and coatings.
Never heat-dry bibs and jackets as the high heat damages insulation in the shortest time possible and they won't be as high-performing as before.
---
Wrap Up
Storage of winter fly fishing outfits and jackets will influence their durability and performance. After properly cleaning these garments, ensure that you choose the perfect place to store cold weather outerwear. It should be in a cool, dry, clean, and dark area. Most anglers opt for the attic, basement, or garage.
As long as your chosen place has no moisture problems, you will not risk damage by rust, mold, and mildew. The area should be moth-proof because these pests are drawn to synthetics too in as much as they are by silk and wool. If you can't get mothballs, get lavender or cedar to keep away the tiny buggers. Vacuum storage bags are among the best storage solutions for winter bibs and jackets as they save on space and are more efficient. Ensure to avoid drawing the bags so tightly to avoid deforming the shape of your bib or jacket.
Any angler who fins shopping for the right winter outerwear will find lots of help here. We like to make detailed guides with vital shopping pointers and product lists in various price ranges. This allows an angler to easily find a good product within their budget. Some garments come with warranty programs. This comes in handy when you need repairs on damaged bibs and jackets or a replacement of a faulty one. A few manufacturers charge a small fee on repairs and the amount varies from one brand to the other. Checking manufacturer websites will help you with return procedures. After a purchase, ensure that you take proper care of your garments to prolong their lifespan and maintain their performance.
"Check out some of our other Buying Guides"