Disclosure:
Just to be open and honest the buttons and links you click on in the website will in most cases take you to another website where you can purchase the products I am reviewing. As an Amazon Associate I earn from qualifying purchases.
September 16, 2019
Redington Crosswater Breathable Chest Wader Review – Popular Entry-Level Choice
Do you know how it feels to step on red hot charcoal with bare feet? Excruciating, right? The reverse happens if you land your hands on Redington apparel, especially their selection of breathable waders. The experience is beyond expectation and keeps blowing you more surprises with each wading session.
Just like the Palix and Sonic Pro, the Redington Crosswater Wader is a perfect example of affordability, great workmanship, functionality, and durability. The Crosswater has strived to live up to the brand's reputation hence the immense love from anglers from all corners.
No one objects to other types of weathers but breathable waders rank first on best fly fishing waders for comfort and performance. Whether you plan on angling in summer or winter, breathability is a crucial aspect to consider as you make your choice. Neoprene might serve you well but not better than what the likes of HDZ and Sonic Dry would.
Polyester as the main material used in construction results in very lightweight and packable waders. Surprisingly, they need very little room for storage. It is a bonus to you if you plan on combing bushes along the streams or hiking to your fishing hole. Above the 3-layer fabric construction, Redington uses the Durable Water Repellent finish (DWR) which is a fluoropolymer treatment that prevents the entry of moisture but allows has moisture-wicking properties to leave you cool, dry, and warm.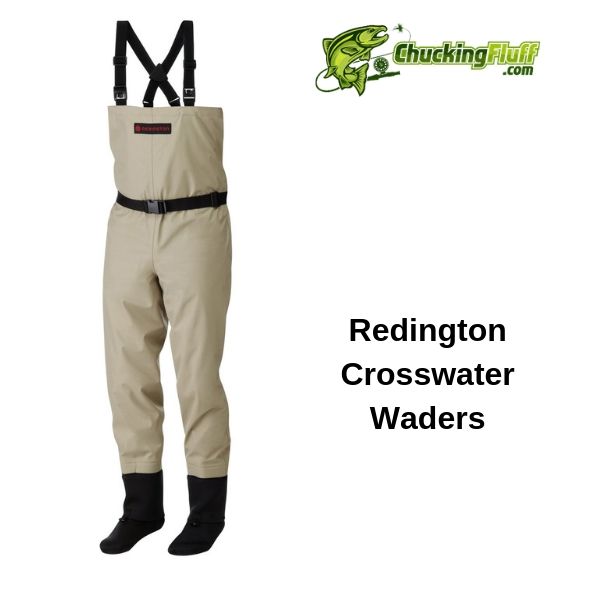 ---
---
As Patagonia uses the single seam construction which is epic and fully reliable, Redington takes a further step to ensure that their products are sellable and high-performing.
Seams on the Crosswater waders are well-stitched, taped then glued with high-grade fabric adhesives. It could be a standard procedure in the fly fishing manufacturing sector and nothing special about it but the result is worth the struggle and procedure. A look at the fabric in combination with the seaming depicts durability. Don't look at the low price tag and think that it is crappy. You fail!
When you purchase a pair of fly fishing waders at about $120, you don't expect to get royal quality but a good product that takes up the challenges and abuse of usual angling and there is every confidence in the ability of Redington Crosswater Fishing Waders to live to that effect.
Another streamlined fit like the Rio Gallegos Regular waders, this one doesn't have too much space to make it baggy for your liking. The fitting is remarkable, comfortable, and doesn't limit mobility and flexibility. The waders allow for underneath layering if you feel like popping out in the winter season. Rock a t-shirt and these waders in spring. It isn't offensive.
Having them on for many hours is very pleasant. Depending on your metabolism rate, perspiration may be high or low. Regardless, the moisture-wicking properties sort this out unnoticeably. You don't feel the current that much if you layer underneath. It sounds like a problem but isn't. Remember, getting the right size to achieve a great fit is important.
You only feel the cycles if you get a baggy pair of waders. After a long session of angling, whatever is supposed to be dry really is. This is a great feature of the Redington Crosswater Wader. It takes the shortest time to drip off the water and remain as good as new.
Note: Because of the low price tag, don't render these waders cheap in quality and craftsmanship. They are excellent waders in their range that do what they have to do.
Scroll down to learn about the wader's special features, their upsides and drawbacks, what customers have to say about this wader, and questions that need precise answers.
---
Key Features of the Redington Crosswater Fishing Wader​
Material – Crosswater waders have been developed with high-quality 100% polyester fabric which is enhanced with the 3-layer construction. This is geared towards comfort, warmth, performance on the water, and durability. Redington hasn't been able to disclose the weights of each layer and specialty polyester material used but uses a DWR coating on the layers for waterproofness and high breathability rates. Still, on the DWR finish, you will often expose your waders to excess brutality that makes the coating wear out. No worries, you can select high-quality and reliable DWR coating spray to revive its functions to ensure you experience performance as usual while angling.
---
Fit – These waders fit comfortably though they don't give that premium feeling as their brothers such as HDZ and Sonic Pro feel. No fuss though. The quality of the straps and buckles is noticeable and comfortable. Sizes are available from small to double extra-large with more variation on the sizing chart to ensure that there at least is a size for all anglers.
---
Location for Use – You might be setting your foot on shallow waters for the first time as an angler or are a vet in the game and feel like you can go further towards the other side of the waters. No limits. Depending on the type of weather, these breathable waders are usable in any freshwater spot. You can gamble on salt water but proper care and maintenance are what will bail you before damage occurs.
---
Zipper – Redington uses YKK Aquaguard zippers to access pockets. The manufacturer saw it wise to ensure you are safe than sorry. Saline environments easily corrode normal zippers reducing their effectiveness and functionality. Do you see how nearer to superiority these waders are drawing?
---
Seams – The Company stitches all seams, tapes them very well and uses good fabric glue to ensure that there are no chances of seam bursts or blows. This translates to functionality and durability.
---
Wader Style – Simple stockingfoot waders here that run up to the chest. Neoprene booties have a very high density to allow for performance, compaction, and additional warmth. They easily fit well in any wading boots of your choice.
---
Belt – Redington adds a durable belt which comes with loops to hold it in place. This is a unique feature since most companies don't incorporate the loops in their waders. The belt secures the waders to your body and for anything, if you have a few spare D-rings, you can attach your accessories on the rings and let them hang as you cast.
---
Pockets – The front side has a small pocket for simple storage and Redington also provides a flip-out pocket. The chest pocket has drainage holes to allow for the safety of the pocket contents from damage by water.
---
Gravel Guards – There are attachable gravel guards and this is an item less to worry of. Stones and grit are very irritating when they find their way in your boots. They are experts at damaging and creating holes in them too.
---
Customer Thoughts on the Redington Crosswater Wader​
The extra-large size fits perfectly and the stockingfoot has ample size and length. So far, they have proven to be lightweight and are very packable.
If you plunge in the water and take time to gain stamina, the current takes your legs and fills them with water. The good news is that they take a very short time to drip water and dry then you can quickly swing back into action.
There is plenty of room underneath for layering though this doesn't mean that they are baggy. When the chilly season sets in, do it as your life depends on it.
Everything about these waders is lovable but the shoulder buckles have been reported severally as very flimsy and break with the slightest twist.
Performance is admirable. They can't be compared to the famous Simms G3 because of rigidity and insulation but for the billing price, it deserves a hat off.
In as much as insulation is not well-covered during manufacture, you can sort this out by layering anyway, breathability is high and the resulting comfort and dryness are unspeakable.
Nothing much on abrasion resistance and endurance but so far, the waders can take much and with a few uses now, there isn't any noticeable wear or tear marks.
---
---
Pros

– Things that shine on the Redington Crosswater Waders​
Available in a wide range of sizes
Easily convertible to waist-high level
Gravel guards come with hooks
Has a chest and flip-out pocket
Comes with YKK zippers
Wading belt comes with belt loops
High-density booties
Highly breathable
Leak resistant
Durable construction
Lightweight and highly packable
Cons

– Things that are not so cool!
Slightly oversized booties
Not enough pockets for storage space
Can be slightly tight for huge buddies

No handwarmer pockets
---
FAQ's – Questions about the Redington Crosswater Fishing Waders
Q) Any size with welded or sewn seams?
A) None. Redington stitches, tapes, and glues all seams for functionality and durability.
Q) Are the neoprene booties comfortable and safe for use in salt water?
A) Not a problem at all. If float tube fishing you can do it. Otherwise, as you wade with boots covering your booties and the inner gets in contact with salt water, there certainly is no big deal.
Q) There is no visible chest pocket. Could it be misinformation?
A) The chest pocket is on the inner side though it flips out. It is about 7 by 6 inches. Not large and spacious.
Q) Is the Redington Crosswater Wader insulated? Can they be used in winter or very cold water?
A) These aren't insulated. You can use them in colder waters if you have a few layers underneath. Otherwise, you will freeze and drop dead.
Q) Are the booties that baggy that one might find problems getting proper boots?
A) They are slightly oversize and before you get matching boots, you need to have tested the waders first.
Q) Are the booties fully attached to the wader legs or they are removable?
A) These come fully attached. What you will keep wearing and removing are the separate wading boots you have.
---
Final Verdict on the Crosswater Chest Waders
A spade is a spade and not a rather big spoon. Don't be over expectant of a product in the low price category. Do this to avoid disappointments. What you need to focus on is if they do their job or not. Now that the Crosswater Waders are cheap, they aren't counterfeit or crappy. You can confirm this from customer reviews online.
In fact, they are among the BEST CHEAP breathable fly fishing waders in the market today. Sounds strange, right? You must have gone through our detailed review above and noticed that it features all the crucial features of right wader. Though Redington terms it as an entry-level wader, many skilled anglers have attested to its performance and durability.
There have been a few reports on clumsy buckles. I don't know if it is a defect in workmanship or improper handling by users. Not so many critics though. But hey, for their value, they deserve some honour. You will have seamless fun fishing in these waders and will last a number of seasons.
The set of features these waders come is comparable to most of the waders that cost quite more. Their versatility is what strikes many. You can fish in any kind of water without being afraid of damage. So far, these waders are rating highly on the web and are a sure deal if you are just starting off your journey or are looking to shop on a budget.
Enough of the talk and get down to placing your order. Many anglers own the Redington Crosswater Wader and this means the demand is high. Not sure of the supply though.
If you are unable to find it because of stock depletion, Compass 360 Deadfall STFT Chest Waders, Frogg Toggs Canyon II STFT Breathable Chest Waders, 8 Fans 3-Ply Durable Men's Breathable Waders, Frogg Toggs Hellbender STFT Breathable Chest Waders, and Ouzong 3-Ply Breathable Unisex STFT Waders are option B's to consider if not looking to deviate from your budget.
---
---