(Euro/Czech Nymph Style)  Czech nymphing is not like your usual nymphing style. Its roots are in Eastern and the Middle parts of Europe. Some of the best Czech competitors took this style as part of an experiment and perfected it to what it is now. There are special rods like the Moonshine Rod Co.
The Epiphany Series (Euro/Czech Nymph Style) Fly Fishing Rod for this style. The principle of Euro/ Czech nymphing is fishing in short distances done under the fly rod's tip. The line hangs beneath the rod's tip and most of the time; the end doesn't touch the water. You can use two to three nymph flies of different weights.
Czech nymphs are normally weighted flies you tie on grub style hooks. They imitate freshwater shrimps or the case-less larvae of the caddis flies. Patterns used are super flashy are between size 8 and 16. They make the body from synthetic or natural dubbing.
Their backs are made from high-grade latex strips or any other material that has the same characteristics as latex. Colored wire or monofilament is used for ribbing. Real Czech nymphs are tied very thinly for them to sink quickly.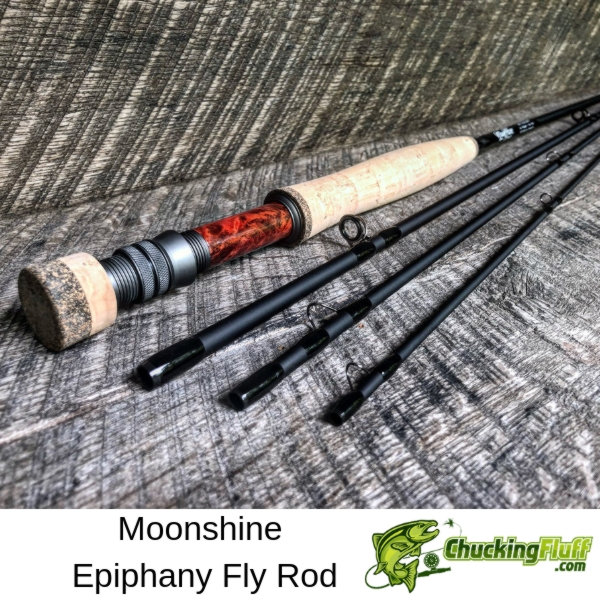 Moonshine rods came up with an Epiphany Series of rods for this specific nymphing style. The graphite rod is highly durable to endure the hardship of all times. Its resistance power is responsible for high performance.
At 10 feet, this nymph rod is slightly higher than the standard rod length to serve its purpose diligently. It comes with a fighting butt that is removable. If you are still in the amateur phase, you can try removing the butt to get your balance better. Though it is flexible with or without the butt but your abilities will tell which setup you belong to.
Since the Epiphany series rod was released into the market in 2017, it has been put to different tests to gauge its functionality and performance. From weight, wiggling, measuring performances at various distances to poking, you can rely on it to perfect your nymphing skills.
The Epiphany has two categories of rods each with its rod weight, line weight, and rod length. The swing weight is excess since they are some of the lightest Czech nymph rods. The lightweight nature makes these rods seamlessly fun to fish with and a welcome reprieve from heavier rods that anglers are used to.
Any rod in this series scores highly on matters sensitivity and casting. It is interesting on the deflection board and is one of the best casters. The rod is over the edge with all the amazing features. The reel seat, grip, wraps, and guides that are lightweight are flawless. 
---
Main Features of the Epiphany Series (Euro/Czech Nymph Style) Fly Fishing Rod
Rod Specification –The Moonshine Rod Co. The Epiphany Series (Euro/Czech Nymph Style) Fly Fishing Rod is categorized into two. Some with the fighting butt and the others with the down locker. In terms of sizes, there are two rods for each category. The 2wt 10ft and the 3wt 10ft 6in. General rod weights range from 2.8 oz. to 3.6 oz.
Rod Action – With a medium-fast action, it is one of the best rods to use. You can change techniques at will and the forgiving nature of this rod allows a beginner to practice more. You don't have to pay so much attention to timing but it shouldn't be ignored either. The tip is softer to ensure it protects the tippet from unnecessary breakage.
Materials – Epiphany Series rods have blanks made from high-quality graphite. Graphite makes this rod lighter compared to those that are made from bamboo and fiberglass. They are stronger and versatile. Wraps and other components in the reel seat are made from anodized titanium. This makes them highly resistant to rust and corrosion.
Guides – In total without the tip, there are five guides. When the tip is included, 6 more are added making them 11. The stripping guide is made from high-quality material and well-finished to take up the line as it gets into the guides during casting. Snake guides are long-lasting and very light.
Sections – All rods in this series are 4-piece rods but have an extra tip added. This sometimes makes anglers call them five-piece rods. The extra tip saves you the hassle of separately purchasing another if you need more than one. Sectioned in this manner, it is easier to store this rod in its rod tube and transport it to your desired fishing point.
Handle – High-grade cork grips are of a reasonable size to fit in your hands without causing fatigue. The finish is well-done to prevent the grip from sliding off or causing blisters. With all these, you can fish long hours.
Reel Seat – The reel seat is made from anodized titanium with a wooden insert. Anodizing adds to the reel seat's strength and durability. It is protected from corrosion and damage by rust. You can use this fly rod in both fresh and saltwater environs with no issues. For maintenance, give it a quick rinse under tap water to flush off sand, grit, oil or scum and let dry before storing in the rod tube.
Tube – Moonshine gives a hard and well-embroidered rod case that has 5 compartments. This is for rod and extra tip storage. The rod tube fully encloses the rod pieces protecting them from falling off, or getting damaged as you travel. You can throw it at the back of the truck or put it in your backpack and it will be safe.
Warranty – A lifetime warranty is a bonus to the original owner because you don't have to cough out the initial amount to purchase another rod. Moonshine Rods will repair your rod for you are a very small fee and have it delivered. You can read more on the warranty terms, and conditions and estimated time of repair on their website
---
Customer Thoughts on the Epiphany Series (Euro/Czech Nymph Style) Fly Fishing Rod
The fly rod's craftsmanship is great, and it works well too. Moonshine Rod Co. The Epiphany Series (Euro/Czech Nymph Style) Fly Fishing Rod of 2wt can handle larger fish easily and you need not be forceful when landing fish.
Tippets are well-protected from damage and the rod does everything that a Euro nymphing rod is supposed to do.
Epiphany rods are excellent when you strictly go Czech nymphing. Some may use it for dry flies. For this, you will be forced to swap leaders and a 5 weight or 6 weight fly line may be needed to fully load and cast the rod.
At 10 feet, this is a great length for Euro-style nymphing. The butt is lying more on the 5wt so there isn't a problem when fighting fish. There are very many brands of fly lines you can pair the Epiphany rods with.
This specialty rod covers more water where you stand. Its tip is sensitive and you can never miss the tick feeling when casting with it.
Although adjusting to the Euro nymph style fishing rods is tough, it will take some time and practice unlike using versatile rods like the Redington VICE. Generally, it works wonders when used correctly.
---
Pros – Things that shine on the Epiphany Series (Euro/Czech Nymph Style) Fly Fishing Rod
Generally lightweight
Comes with an embroidered 5 compartment rod tube
A specialty rod
Used in fresh and salt water
Durable construction
Lifetime warranty
Comes with two tips
Models with removable fighting butts available
High-quality graphite
Anglers of all abilities can use it
Matte black to prevent spooking fish
A wide variety of fly line brands to choose from 
Cons – Things that are not so cool!
The range of selection depending on line weight is limited to 2 options only.
Doesn't work well with dry flies
---
FAQ's – Questions about the Epiphany Series (Euro/Czech Nymph Style) Fly Fishing Rod
Q) Which rod weighs 3.1 oz.? I have been using many rods around this weight and would like to try a specialty rod
A) The Epiphany 2wt 10ft with fighting butt weighs 3.1 oz. There are two more which weigh 2.8 oz. and 3.3 oz.
Q) Is the reel seat made from composite plastic or aluminum?
A)The reel skeleton is made from anodized aluminum and the insert from hardwood.
Q) Are the Epiphany rods fast, moderate or slow action?
A) Moonshine designed these series rods to be moderate-fast action but lie more on the fast side.
Q) What are the total number of guides on the fly rod?
A) The rod alone has 5 guides when you include the tip which has 6 more guides, the entire setup totals to 11 guides.
Q) What is the purpose of the down locking reel seat on the 3wt 10ft 6in Epiphany rod?
A) Since you will not need a fighting butt on this one, the downlocking reel is for balancing the length of the fly rod.
Q) Does the Moonshine Rod Co. The Epiphany Series (Euro/Czech Nymph Style) Fly Fishing Rod finish have a lot of glare on water?
A) No, matte black is used on the fly rod to reduce the glare on water so it doesn't spook fish
Q) Is this a five-piece fly rod?
A) This rod is a four-piece rod but comes with an extra tip and the rod tube too has five sections-the extra is to store the extra tip
Q) Can this specialty fly rod be used in saline environments?
A) Yes, the anodization process on the reel seat and other components make this possible.
Q) Is the rod easy to use as any other rod?
A) Not exactly. If you have never gone nymphing, you will need more practice to perfect the art of Euro nymphing. For the action, it is manageable and more forgiving.
---
Final Verdict
Whether or not it is your first specialty rod, it will blow you away. It might not hit you that the backbone is as punchy as it is unless when in your hands. The rod packs well and hits exceptionally above its class. You will love it for the sensitive tip section that lets you feel the lightest take.
You can easily cast out to reach anything a little far away. Epiphany rods compete with similar specialty rods 3 or 4 times their price. The rod's ability to wrestle big fish excellently like a gorilla is out of this world. If you are up for the Euro nymph game, this should be among your first grabs.
New methods of fly fishing can be daunting to try out. A determined angler will need a couple of lessons. The rod's section is amazing and aesthetics are on point. Once you have popped a few nymphs into the run, there definitely will be a fish on the next one.
Your skills may need to be sharp during a battle so that you don't find yourself on the losing end. All the good stuff make this rod more worth than its price. It gives many years of catching fish and rod bending fun.
Epiphany rods are sold out quickly for one reason-they are phenomenal. To avoid missing out on one or two pieces, preorder as early as possible. For the reason of more demand, you might find the Moonshine Rod Co.
The Epiphany Series (Euro/Czech Nymph Style) Fly Fishing Rod out of stock.  Redington Classic Trout Fly Fishing Rod, TFO Temple Fork Lefty Kreh Professional Series II Graphite Fly Fishing Rod, Temple Fork: Finesse Series Fly Rod, TF 05 89-4F, Orvis Clearwater 5 weight 9 ft Fly Rod, TFO BVK Series Fly Fishing Rods or Douglas DXF Fly Fishing Rod DXF5904 9′ #5 will be good options within the same price range and unmatched performance and durability. Time to nymph!
Check Epiphany Amazon Price
Check our Fly Rod Review List
Still need Help Check this Rod Guide