Disclosure:
Just to be open and honest the buttons and links you click on in the website will in most cases take you to another website where you can purchase the products I am reviewing. As an Amazon Associate I earn from qualifying purchases.
March 4, 2019
Redington VICE Fly Fishing Rod Review – Great Power beyond Price
Many anglers love the heft of a classic rod and the Redington VICE Fly Fishing Rod is your ultimate choice of a stick. Redington offers all the proportions a caster will love in this type of rod. Satisfaction from its use is derived from the performance characteristics and modern materials used in craftsmanship.
Redington is an acclaimed manufacturer of fly fishing gear, equipment, and apparel. The company puts great focus on design and production to make spending longer hours on water more fun.
The VICE has some of the advanced features that you will not spot in many rods. Its blank is made from multi-modulus carbon fiber with fast action. The recovery levels are to the best levels and accuracy and control are a surety.
Both amateurs and veterans can count on it. Unlike medium or slow action rods, you can throw some of the tightest loops, make the longest casts of time and work perfectly with heavier flies even in windy conditions.
Redington never gambles with durability and quality. Deeper into aspects that ensure you spend on the best of the best, the components are undeniably reliable. They are of saltwater grade meaning they are resistant to corrosion and rust when exposed to the harsh environs like saline waters.
Quite a fantastic option for rookie saltwater anglers or fly fishers who are visiting saltwater regions for the first time. The components add to the rod's durability. It doesn't matter if you are in pursuit of cutthroats or bonefish, it has your back.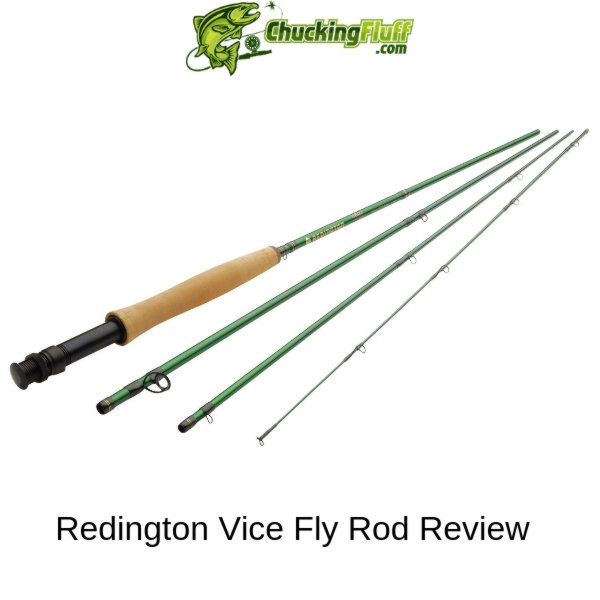 Strength is no doubt as it handles a steelhead's brute force. The sensitive tip cushions a fine tippet extremely well. If you want something longer for easy line mending you don't need to go farther. Its deep green color with gold trims will put you over the top. You know it doesn't have to have an awesome-looking fly rod.
[button link="https://amzn.to/34UPgJi" type="big" color="red"] Check Amazon Vice Rod Price[/button]
The black anodized snake guides are worth a second glance- if style, class, and aesthetics are not your concern, this one will draw your attention. Reel seats that are laser-etched are a rare feature on most high-end brands.
---
Main Features of the Redington VICE Fly Rod with Rod Tube
Rod Specifications – The VICE is available in different line weights for different fishing applications. You can choose from 3 weight to 9 weight in terms of line. Rod lengths vary from 7.5 feet to 10 feet. You can get the rod in overall weight ranging from 2.3 to 4.2 oz.
Rod Action – As a fast action rod, the rod has great power and very little flex forcing the angler to master timing skills and have good fishing techniques. The rod is stiff to the advantage of the caster- you are able to catch fish quickly and if you love playing larger species, it works excellently. Fast action rods are good wind-cutters and are ideal for longer cats.
Sections – Redington designed the Redington VICE Fly Fishing Rod w/ Tube as a four-piece. Such rods pack down easily and nicely in the rod tube. This makes it a good option if you are a 'backpacker' angler. While in its Cordura it fits in the backpack relieving you of the transportation and safety stress.
Materials – The blank is made of multi-modulus carbon fiber which is the influencer of great control and accuracy. The line recovery rate is also on another level. The uniqueness of the material gives the rod a distinct appearance that is difficult to replicate, great strength and weight in comparison to other materials like wood, high stiffness, guaranteed flexibility, and corrosion resistance.
Reel Seat – Its reel seat is made from anodized aluminum etched with a laser. The matt black color goes well with the rod's dark design. Anodizing makes the real stronger and durable. Its ability to withstand corrosion and rust when in areas with saltwater is worth beholding. This feature makes the VICE rods all-purpose in terms of environmental use. To identify your rod, check your model reference on the reel seat.
Guides – A ceramic stripping guide in matte black adds to the rod's castability and allows for the fly line to pass through easily during a fight. Anodized snake guides too in black have great functionality and performance. Anodization strengthens these guides allowing them to withstand the effects of exposure to saltwater environs.
Handle – Depending on the model in terms of size, there are those with reversed Half-Wells grip handles and the others with full wells with fighting butts. The smaller sizes from the 3wt 7ft 6in to the 6wt 9ft rod have the Reversed Half-Wells while the remaining sized have the Full Wells grip with fighting butt. Both types are durable and comfortable to touch. You can use the rod for longer hours without feeling fatigued or having blisters on your palms.
Rod Tube – Redington issues a durable Cordura rod tube that you are to use for storage. It offers maximum travel protection. The tube is dark green and it blends well with the rod's color scheme. In-built rod dividers are for separating the rod pieces to maximize protection from unnecessary breakage during travel
Warranty – Remington's lifetime warranty on the VICE is fantastic if your rod develops problems affecting functionality.  Damage as a result of normal use is not covered. The limited warranty only covers the original owner and repairs are at a small fee. More on the terms and conditions can be found on the manufacturer's website.
---
Customer Thoughts on the VICE Fly Fishing Rod
The rod has an excellent fast action that will make average casters love it for practicing to sharpen their timing and fly fishing techniques. It is great as you easily place the fly at your aiming point.
For a mid-priced rod, Redington scored highly on the VICE. It fishes superbly and is easy at any distance. The soft tip gives the rod good presentations.
Aesthetic wise it isn't a throw like the normal rods. The blank, guides and real seat finishes are way above the standard rod quality.
Despite the alignment dots on the Redington VICE Fly Fishing Rod w/ Tube being hard to see, with time you will learn to align your dots with ease and more quickly.
You can compare this rod to a $600 fly rod in terms of casting. It is lightweight and relatively fast. For heavier line weights, it casts heavy stripper flies straight into the wind easily.
It shoots more line very accurately and if you love fast action fly rods, this one in a mid-size line weight will do you extra good than you thought.
There have been a few complaints of the rod tip breaking. I think this could be as a result of handling but either way, less than five reviews of the same doesn't make it unreliable.
---
Pros

– Things that shine on the Redington VICE Fly Rod with Rod Tube
Very accurate
All-purpose use
Affordable
Fast action yet very manageable
Balanced weight and feel
Aesthetics on point
Comes with a durable Cordura rod tube
4-piece rod excellent for traveling anglers
Variety of weights and lengths to choose from
Cons

– Things that are not so cool!
The rod is a little clunky when casting at short distances
Compared to most steelhead rods, it is heavier though if weight isn't a deal-breaker, it is an all-day-option.
---
FAQ's – Questions about the VICE Fly Rod with Rod Tube
Q) Durability as a major aspect- do you think this rod can last more than ten sessions?
A) No doubt- as long as care and maintenance on your part is not ignored. The construction is top-notch with the multi-modulus carbon fibers for double strength of the blank. Other components are anodized to add to durability.
Q) What can you say about the ease of use?
A) This rod can be used by anglers of all levels. There are alignment dots for easy setup and the fast action is a good aspect to learn on timing and techniques.
Q) How heavy is the 7wt rod?
A) The 7wt 10 ft weighs 4.1 oz., the 7wt 9ft weighs 3.6 oz. while the 7wt 9ft 6in weighs 3.8 oz.
Q) Which rod lengths and line weights have fighting butts?
A) Rods from 6wt 9ft 6in to the 9wt 9ft have fighting butts while the smaller sizes don't.
Q) When using the VICE for trout which line is most advisable to pair this fly rod with?
A) You can use the Scientific Anglers Mastery MPX and it works exceedingly well.
Q) What is the accuracy level at 45 feet?
A) It is a big hit and such a trout distance it allows an angler of any level to hit the target.
Q) For areas with the unbearable wind, can you recommend this fly rod?
A) As a fast action rod, it cuts into the wind with ease unlike rods with more flex.
Q) Are there Redington VICE Fly Fishing Rod w/ Tube above 4.0 oz. general rod weight?
A) Yes, the 9wt 9ft, 8wt 10ft, and 7wt 10ft are. 4.1 oz., 4.2 oz., and 4.1 oz. in that order of listing.
---
Final Verdict
The VICE's blank construction gives it a fast yet very manageable action and a good power reserve that allows an angler to cast on days when the wind decides to have the day. Its midsection is solid and still powerful.
It casts large flies over greater distances that is why you will not love it for shorter distances. You can transition with this fly rod from making fly fishing a hobby to a lifestyle. It is unbelievable that it is worth more than it is priced. It gives you an addiction you would want to counter and every angler would certainly love it.
Classy componentry allows for versatile environmental use without any damage. Anodization combats agents of corrosion and rust making it long-lasting. To ensure you don't compromise on durability whatsoever, give your rod a quick rinse using tap water.
Laser engraving is a situation-saver when you quickly need to find your rod among others at the shores. Such a grab-and-go and a good way to allow you to spend more on water. The rod speaks for itself on matters of aesthetics. If you are an angler who loves the class and looks alongside performance and functionality, there are no second thoughts here.
The blank is excellent for long-distance casting. At shorter distances, you will feel it heavier than usual. It doesn't matter whether it is cold or hot, it shoots farthest. The recovery speed when windy is great and you have no excuse going out even in a cyclone.
This rod is quite forgiving but not as much as medium action rods. It favors intermediate anglers more with a strength specifically designed by Redington. Overall, the accuracy from mid-length casts to longer ones is to the highest levels.
Much said, there is a need to put this 'POWERSTAR' to test. Pre-ordering is a good option if you want it for your next session. What if you need a VICE urgently and can't find any model in the stores? Check out alternative rods whose performance and durability are in comparison and still in the Redington VICE Fly Fishing Rod w/ Tube price range.
Douglas DXF Fly Fishing Rod DXF5904 9′ #5, TFO BVK Series Fly Fishing Rods, Orvis Clearwater 5 weight 9 ft Fly Rod, Redington Classic Trout Fly Fishing Rod, Temple Fork: Finesse Series Fly Rod, TF 05 89-4F, TFO Temple Fork Lefty Kreh Professional Series II Graphite Fly Fishing Rod and the Moonshine Rod Co. The Drifter Series Fly Fishing Rod. Price, Power, and Performance guaranteed!
[button link="https://amzn.to/34UPgJi" type="big" color="red"] Check Amazon Vice Rod Price[/button]
[button link="https://chuckingfluff.com/best-fly-fishing-rods-comparison-and-beginners-guide/" type="big"] Check our Fly Rod Review List[/button]
[button link="https://chuckingfluff.com/how-to-choose-fly-fishing-rods-a-few-things-for-you-to-consider/" type="big" color="teal"] Still need Help Check this Rod Guide[/button]