Disclosure:
Just to be open and honest the buttons and links you click on in the website will in most cases take you to another website where you can purchase the products I am reviewing. As an Amazon Associate I earn from qualifying purchases.
January 29, 2021
Simms Prodry Fly Fishing Suit Review – Full Protection
By around 2011, the first collection of the Simms ProDry gear was out. The collection has undergone several upgrades over the years. In July 2020, ICAST held a virtual event for the 2020 product releases and it was based on industry admission.
I know you understand that it was due to the Covid-19 pandemic that a walk-in event wasn't held.
The Simms ProDry Fishing Bib and Simms ProDry Fishing Jacket
were among the year's products.
Simms has a range of new products yearly to aid in outfitting anglers for the next seasons. The company swears on product excellence and customer satisfaction and to date, the two missions have worked in its favor.
From the first release of the ProDry rain suit almost a decade ago, the jacket and bib earned a reputation of being the ultimate solution for foul weather.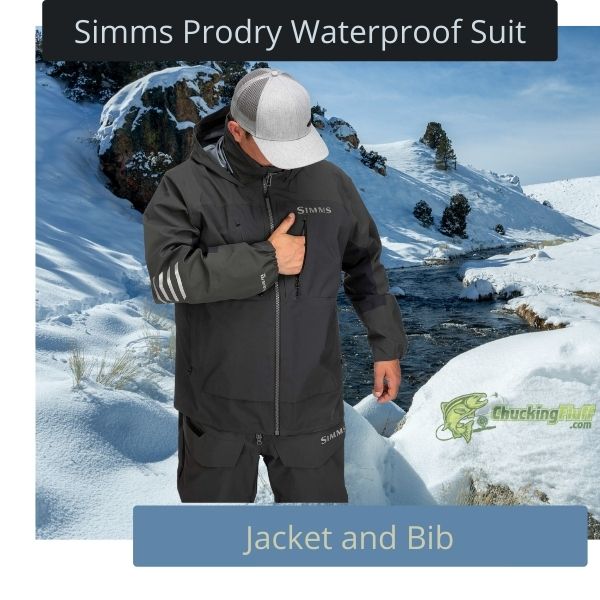 Anglers are adventurous and lookout for good deals like you do when you walk into IKEA or the dollar store. They stopped viewing it like any other gear but considered it a critical gear for missions embarked on by a few.
Simms didn't rest on their laurels because technology and great performance run in its DNA. This is what led to the evolution of the ProDry Bib and Jacket to what it is now.

The guys at Bozeman have invested their thoughts and time to re-design, re-develop, and field test the new ProDry collection in rough seas, high winds, torrential downpours, and choppy waters. What we have now is the third iteration for 2020 after the revamp that was released for 2016.
The New ProDry rain suit has a few aspects of the original design released in 2011. However, some of the changes visible are advancements in fabric performance and durability, better design innovations, and greater improvements in tactical features.
One of the development highlights on the ProDry combo outfit is the fabric. This is the most noteworthy and biggest improvement that focuses on the heart of the suit. Both the jacket and bib use two highly performing fabrics from Gore-Tex.
Breathability is at its Best
Breathability is at its best levels as expected from Simms. The current version is more durable and waterproof compared to the two previous versions of the ProDry gear.
Anglers who live in the rain forests agree that their fishing holes are some of the best areas to test the rain suit for performance. Such areas aren't wet, they are seriously saturated but the ProDry stood by its name.
Conditions here do not warrant inferior gear lest you get soggy, freeze, and turn into a block of ice before you can cast twice or thrice.
Check ProDry Jkt Web Availability
Check ProDry Bib Web Availability
Simms ProDry Fishing Jacket Review
While the new jacket has the DNA of the original Simms ProDry Fishing Jacket, there are new modifications that create the difference in performance and durability.
Simms went for the best Gore-Tex fabrics to use on the jacket. In high wear and tear areas like the shoulders, hood, and top section of the arms, the manufacturer uses a three-layer Pro shell fabric but with a heavier denier for incomparable ruggedness.
Other benefits of the new construction include a
superior fit,
a wide range of motion,
and optimum comfort.
You can agree that the two fabrics have worked together to give higher mobility and durability levels.
Simms updated the adjustable hood at three points.
The re-engineering makes it a hood for speed and is attached to the jacket in the neck seam. It was thoughtful for the designers to add drain holes in this area.
This gives the feeling of a well-designed exhaust system that allows air and water entering the hood to the neck area to have a drainage path. When not using it, you can neatly tuck it away into the collar to prevent the wind from blowing it to your face.
You will appreciate the generous on-body storage system that comprises handwarmer pockets, two spacious zippered chest pockets. In one of them, there is a drop-in pocket for your sunglasses and a tethered chamois to clean your pair.
The cuffing system isn't what used to be in the older design. Simms has engineered it for the best waterproofing. The new shingle cuffs are watertight and lockout all moisture and cold air from seeping through.
Regardless of whether you are in torrential rainfall or releasing a fish back to its home, it functions exceptionally. Although Simms has maintained the Shingle cuffs from its original ProDry Jacket, the new one has an inner portion made from a high-quality stretch fabric to give the watertight seal in the wrist area.
---
Key Features of the Simms ProDry Fishing Jacket
Material and Fabric Technology – The entire jacket utilizes the three-layer Gore-Tex Pro shell fabric. However, the hood and upper body have it in 80 Denier for higher abrasion resistance while the lower body has it in 70 Denier because the section isn't prone to high wear and tear. The layers are finished with a DWR coating to improve their weatherproofing features.
Hood – You will appreciate the new storm hood with three points for adjustment and drain holes at the base of the rear collar. Water and wind getting into the hood pass to the neck area for drainage. The collar is designed to be high for ultimate weather protection. It is a tuck-away style of the hood when not in use.
Pockets – All pockets are accessed via durable zippers to prevent soaking their contents. Chest pockets are large enough to accommodate several fly boxes. One pocket has a drop-in section for your pair of sunglasses and a chamois. The inner stretch woven section is for storing your vital items and other essentials. You can toast your hands in the handwarmer pockets when not engaged. If you often don't use them, they could act as extra storage space for small blunt gear.
Cuffs – The new shingled cuffs are another highlight of this jacket. They are built with a stretchy material on the inner side to make them completely watertight. It is also a no-catch design and don't have to worry if your running line lands on the cuffs.
Sleeves – Sleeves are well articulated to give an excellent fit in the arms while allowing for reasonable space for underneath layering. They have reflective hits for safety when trekking, in bad weather, and in case of an emergency when you need rescue.
Hem – Its hemline is pinchable to lock out all weather elements. It is adjustable to allow you to get a proper comfortable and functional fit in your waist area. There is a kill switch D-ring for safety when drifting or fishing from a boat.
Sizes – You can find the jacket in small, medium, large, extra-large, double extra-large, and triple extra-large.
---
Application of the Simms ProDry Fishing Jacket
Fishing jackets are among the stand pieces you must own for weather protection. The ProDry is a great wind blocker, beads down rain droplets pretty well, and is usable in choppy seas, and open water areas.
Because of its sturdy construction and technologies, it has proven to work well in saltwater areas.
Pros – The Good about the Simms Prodry Jacket
Lightweight
Waterproof
Breathable
Excellent wind blocker
Available in auburn red, carbon, and admiral blue
Numerous sizes available
Ample storage
Excellent cuffing system
Cons – The Concerns though not Deal-breakers
From the customers' thoughts and reviews, we haven't gathered any concerns or downsides of the newly improved ProDry jacket. We will make updates if any comes up.
---
Simms ProDry Fishing Bib Review
Gore-Tex fishing bibs have evolved and aren't as heavy as they used to be in the past. Older designs were almost the weight of a Helly Hansen coat from rubber.
The Gore-Tex Pro shell is lightweight to allow for easier mobility, more comfort, and full functionality. The ProDry bib boasts high waterproofness levels as long as it isn't punctured.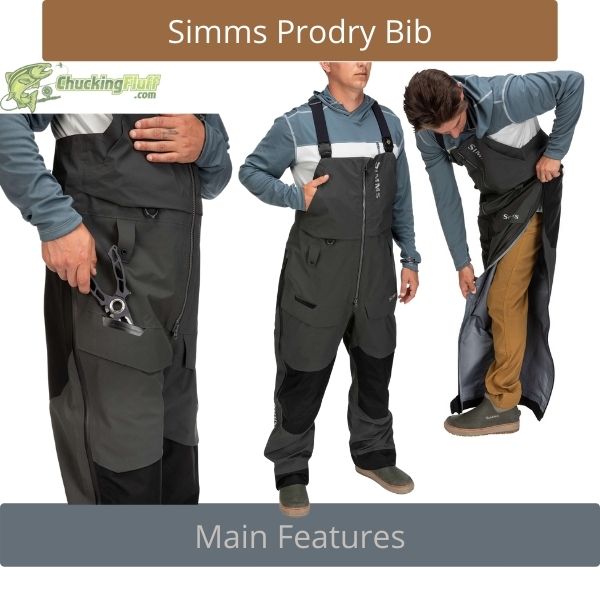 It will be so nice to pair your jacket with this matching bib to create a top and bottom suit. The bib has the high wear and tear areas well done for functionality and durability.
Like what you spot on the Simms Challenger Insulated Bib, the knees come with overlays for the comfort and longevity of your suit. This addition doesn't affect your layering space in the knees.
You can do all angler-possible movements without feeling constricted. Anglers with arthritis, knee hernias, and such health issues will find this so helpful to their health.
Overlays are also in the bottom section of the cuffs for comfort and to slow the wearing process. You will appreciate the full length of the frontal zipper that runs from the top of the bib down to the crotch area.
If you have ever been abruptly summoned by Mother Nature for a call and didn't have a convenient bib, it must have been the greatest regret of your life.
The stretchy back panel and adjustable suspender system are for a secure fit and comfort.
Bibs, just like chest-high waders don't have as many pockets as you would find in a fishing jacket or vest. The ProDry Jacket is what offers more on-body storage.
The bib is built with handwarmer pockets for days when you don't have your jacket on. Some anglers use them as extra storage areas for small accessories that they need closer when not thawing their fingers.
There is a top-load thigh pocket with an inbuilt plier holster on the right side.
For function and ventilation, Simms designs the two-way zippers that are thigh-high from the leg cuffs. A fisher can now put on their bib without removing deck boots.
---
Main Features of the Simms ProDry Fishing Bib
Fabric Technology – The fabric technology of the bib takes the same approach like that of the wading jacket with even the weight of the denier throughout the bib. Here, Simms uses 80D and adds a durable water repellent coating on the layers for excellent waterproofing.
Overlays – You will spot overlays in the knees, cuffs, and seat area for improved abrasion-resistance. These overlays are made from high quality pure 275 gsm of 6.6 2-ply oxford nylon.
Central Zipper – There is a 2-way full-length central zipper that runs from the top of the bib to the crotch area. Wearing and removing your bib has never been easier. This doesn't come with a storm flap. There are thigh-high zippers on both legs for proper ventilation when the temperatures increase and to allow you to wear and remove your boots without removing the bib.
Suspenders – Its suspender system is adjustable and the stretchy back panel ensures that the bib fits properly, is secure, and offers enough comfort throughout your fishing session. Belt loops are wider to allow your belt to easily pass through. It comes with a single kill switch D-ring for safety when on a boat.
Pockets – Simms designs the new Simms ProDry Fishing Bib with cargo handwarmers to thaw your hands when dexterity has been affected. You can access the waist cinch through the pockets. The pockets have drain ports to allow beaded water and wind to escape through. It is built with top-load thigh pockets and there is a plier holster on the right thigh pocket.
Leg Panels – Leg panels are well articulated with the woven Oxford nylon material for abrasion resistance in the knees and the bottom hem.
Sizes – You can buy the bib in carbon or black and each color comes in small, medium, large, extra-large, double extra-large, and triple extra-large.
---
Applications of the Simms ProDry Fishing Bib
By the time we are putting up this review, winter hit different parts already and due to the Covid-19 restrictions, not so many anglers are fishing.
However, if you are, this ProDry bib will be a good pair to have alongside its matching jacket or another that works equally well. Whether you are fishing from a boat or by the shores, it renders commendable service in terms of weather protection and comfort.
---
Pros – The Good about the Simms Prodry Bib
Lightweight
Breathable and waterproof
Easy to clean
Available in various colors and sizes
Comes with handwarmers
Excellent leg ventilation
Functional central zipper
Cons – The Concerns though not Deal-breakers
Cons – Concerns but Deal-breakers
No disappointments or concerns have been registered on the design, cut, features, or performance of the New ProDry fishing bib.
FAQ's – Questions about the Simms ProDry Fishing Bib and Simms ProDry Fishing Jacket
Q) Do you think this rain suit can be protective enough for us in the Pacific Northwest?
A) We understand that the rainfall there is wind-driven and water often finds how to get to almost all nooks and crannies as it sneaks down the neck if you remove your hood. Securing the bib and jacket in the waist hem and hood area will keep you warm and dry.
Q) Could you give the rough weight of the Men's jacket?
A) The men's jacket weighs about 20OZ.
Q) Can you completely detach the hood from the jacket?
A) Unfortunately, the wood is fixed on the jacket though is adjustable and can be neatly tucked away when it isn't in use.
Q) How long can the jacket go?
A) If you are asking about its length, this one reaches the hip and is slightly longer than the Simms Challenger Insulated Fishing Jacket.
Q) Do the zippers rust after prolonged use?
A) These are AquaGuard Vislon zippers made from high-quality nylon material so they won't rust or corrode. They are also water repellent and will lock out water longer than other zippers.
---
Final Verdict of the Simms Prodry Suit
You might have read our Simms Challenger Insulated Fishing Bib and Jacket Combo Outfit Review. It is famous for function and affordability. For anglers who are shopping for high-end rain suits that offer more value, the ProDry collection is not a regrettable purchase. The jacket complements the bib well but either of them can be used with other gear and still meet your needs.
How well the manufacturer has re-engineered the rain suit over the years is what fascinates us. Everything is better than what was in the original design of the ProDry jacket and bib.
But since its first release, Simms's intention for this collection was to offer the fervent angler a higher-performing, angler-driven, waterproof, rugged combo outfit.
If you are the type that won't let the weather dictate your day's activities, you won't go wrong with this one.
The upgraded version has proven to be efficient for day-long endurance in nasty environments. To give it some TLC, a proper wash with the right detergents will do.
It is useless to invest heftily in such a rain suit and ruin it because of ignorance. Simms has an entire section on its website on bib and wader care especially those with the Gore-Tex technology and durable water repellent coating.
Head over and pick all the dos and don'ts on how to care for your Simms ProDry Fishing Bib and Simms ProDry Fishing Jacket.
Would you like to look for alternative fly fishing bibs, jackets, waders, and other gear? We have a detailed buying guide section on our site with products ranging from the budget-friendly category to the high-end options. Your cart has been empty for a long time. Filling it today won't hurt.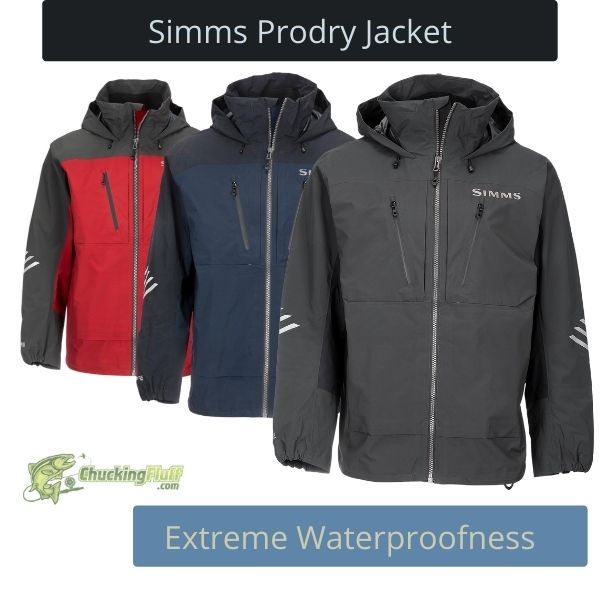 Check ProDry Jkt Web Availability