Disclosure:
Just to be open and honest the buttons and links you click on in the website will in most cases take you to another website where you can purchase the products I am reviewing. As an Amazon Associate I earn from qualifying purchases.
January 3, 2017
Deeper Smart Sonar PRO+ Fish Finder Review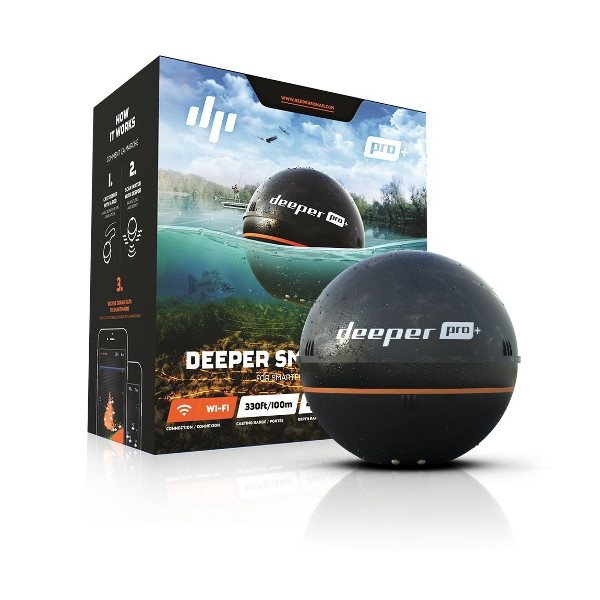 ---
Wifi up to 100m, castable, mountable, fast transfer speed
---
Robust sphere will take a bit of rough treatment
---
There are many fish finders on the market for twice the price and not nearly as good.
---
Overall, we have to say this sonar is worth more than the actual price that we see it on sale for.
A bit about the Deeper Pro Plus
The manufacturers behind the Deeper Pro+ are none other than Deeper UAB which is a Lithuanian company that designs, develops and produces up to date electronic devices for sports and outdoor activities. The products that it manufactures are now retailed in over 50 countries globally.
Their first product was smart wireless sonar for anglers' which is praised for revolutionizing fishing and consequently received various awards and prevalent applause from the angling community.
---
Sale
Deeper PRO+ Smart Sonar Castable and Portable WiFi Fish Finder with Gps for Kayaks and Boats on Shore Ice Fishing Fish Finder
HIGH SPECS AND ROCK SOLID CONNECTIVITY: Casts out up to 330ft and scans down to 260ft. Precise 0.5in target separation. Compatible with iOS and Android devices. Syncs to phone/tablet using its own Wi-Fi (like a hotspot). No internet or cellular data needed.
BUILT-IN GPS: Create bathymetric maps from the bank, boat, canoe, kayak. Access all your scans, maps, points of interests, photos and notes on the Fish Deeper app and web platform.
REAL-TIME DATA: Two beam frequencies with 15 scans per second. View depth, see bottom structure and consistency, vegetation and fish.
BOAT AND KAYAK FISHING: Deeper Pro Plus fish finder is a great addition to your boat or kayak accessories. Installs in seconds, no cables, wires, or external batteries needed. No drilling required.
RECHARGABLE BATTERY: Charge it as needed with a micro USB B type cable. Included in the box.

The Deeper fish finder manufacturers are also official members of American Sport fishing Association (ASA) and The European Fishing Tackle Trade Association (EFTTA).

They are regularly seen at numerous events and exhibitions such as China Fish, ICAST, CES and EFTEX .

Some of the important awards that the Deeper Manufacturer has won include the CES 2016 for the award of the Best of Innovation in Wireless Handset Accessory category, and also another award of AFTA which was the Best Fishing or Boating Accessory and Fish Alaska Editor's Choice.
---
The manufacturer is also behind the Deeper Fish finder mobile app which has now become prevalent among numerous anglers globally and at present, it is the most prominent and sought after fish finder app with several hundred thousand downloads on Google Play and App Store.
---
What is Deeper Smart Sonar Pro Plus?




It is an intellectual sonar apparatus which is sphere-shaped. It is portable enough to fit in a back pocket and is also light by weight since it is approximately weighing 100 grams which makes it light enough to cast with most fishing rods.
It uses Wi-Fi connection to transmit much more precise data to a smartphone or tablet. Deeper Smart Sonar PRO+ also comprises of a GPS receiver which is exceedingly accurate and functions by facilitating the device to create bathymetric maps while fishing onshore and offshore as well.
This therefore makes the Deeper Smart Sonar PRO+ the sole existing castable echo sounder that lets the user get access to precise data and fish finding characteristics and features which were in the past, only accessible on the comforts of boat-mounted consoles that were quite costly.
It has superior scanning frequency proficiencies which in point of fact enable the device to capture faster-moving objects and the scanning resolution measures the smallest of objects.

The Deeper Pro Plus has some really great features that actually make it stand out as an advanced fish-finding piece of equipment. The key features of this tool include:
1. Wireless Wi-Fi connection
The wireless connectivity is beneficial whereby a Wi-Fi internet connection or mobile data at your fishing point will not be necessary since the Deeper device has an internal Wi-Fi access point that is meant to be connected to a smartphone or a tablet. Wi-Fi range reaches up to 330ft/100 m.
Furthermore, the Wi-Fi connection allows the user be able to make the most of both the distance between the Deeper Pro + and the device user and the accuracy of data transferred to the user's tablet or smartphone device.
2. Higher Scanning Capabilities
PRO+ has extensive water clarity and it is complete with advanced scanning resolution and a protracted 8 times dynamic range that correspondingly enables the capture of smaller underwater components and allows a much more precise discovery of those matters. Moreover, it can also be used to track objects that are of extreme depth .
It has scanning capabilities of 2 feet by 0.5 meters up to 260 feet by 80 meters allowing the user to be able to fish in a variability of differently sized water areas. This makes it possible to use the Pro Plus in different types of water environment from the streams and ponds to large lakes.
3. Interior GPS Receiver
The Deeper PRO Plus comprises of a high precision interior GPS receiver that allows the user to be able to map the bottom most contour features in the water and the fishing areas by creating bathymetric maps while still fishing onshore.
This feature enables the user to be able to observe the environments beneath the water and also of the whole fishing site to decide the best prospect for the most favorable fish bite.
4. Bathymetric Mapping
With the Deeper Pro Plus, all the bathymetric mapping may be documented and retrieved at any particular time to expand the efficiency of choosing the fishing location, which then enables the user to create components of unrestricted information and development the user's own considerably exact maps.
It can also be used for navigation when using a boat in a watery and wild topography. The offline maps are typically characterized by the underwater investigation and steering.
5. Color Mode
There is an assortment of colors to choose from gauging the best appropriate screen color mode consistent to the period and brightness of day. Generally, the color screen mode of the day and night encompasses heightened color palette intended precisely to surge target split up and cause the reduction of the underwater interference.
On the device, the day and night screen colors do not make a distinction of the vegetation or the fish. This is because of the simple reason that they are based on the high concentration of the sonar device signals as it is characteristic for professional boat fishing equipment.
The typical screen color background which offers a full-blown color palette to recognize all-encompassing underwater action. The orange to yellow color collection show fish- the more the yellow intensifies, the more intense the sonar signal, the darker shade of brown to orange scale shows the bottom of the water and therefore, the more intense the orange color, the more intense the sonar signal. The blue color depicts a water surface and the green color shows underwater vegetation.
6. Flexible For All Fishing Types
This device can be used in all fishing types of environments including Kayak Fishing, Ice Fishing, Boat Fishing and Shore Fishing as well. For the user practicing shore fishing, the Deeper Pro Plus is simply tied on to the fishing line, casted and pulled towards the user.
The sonar beam will then begin to scan what is beneath the water. While Ice fishing, the user ought to flash a conventional ice fishing Flasher Screen to be able to show the surroundings underneath the ice. The Zoom feature lets ice anglers to extend the water location so that it can have emphasis on objects of your preference on the Vertical Flasher for enhanced real time fish tracking.
The Amplitude Scope Mode supports Deeper PRO+ to trail the progress of the slightest decoy or bait in the nick of time and the Split Screen function transfers both Regular and Ice Fishing Flasher Modes on one display of the smartphone or the tablet.
For Kayak Fishing the user is meant to bring into play the versatile Flexible Arm Mount to secure Deeper PRO+ device outside the kayak so that there is enough space for paddling and fishing.
The Boat Fishing user is not left out, you can turn on your smart phone or tablet and attach it to the device and move with the boat.
7. Deeper Pro Plus App
The app can be downloaded for free then connected to the device. It is an app which is compatible to both Android 4.0 (or higher) and iOS 8.0 (or higher) operating systems. When the Deeper Pro Plus device connects to the app, it shows clear crystal pictures with two dissimilar visibility settings.
The general setting, which can also be referred to as the basic setting is meant for fishing areas which the user is more acquainted to. It simply displays the depth of the water, clearly showing and mapping the contours of the river bed/ lake bed and draws attention to any fish.
The detailed setting is much more suitable for unfamiliar water locations, so that the user of this device is able to sight see beneath the water surface with precision. It has a camera which is connected to the smartphone camera app in order to take photos and shots of the user's catch.
100g Castable Sonar

GPS shoreline

80m depth range

Bathymetric Mapping

Free App, download to any screen size

Wireless Wi-Fi connection
Check out the user manuals for more up-to-date info
---
Customer thoughts on the Deeper Pro Plus
Users of the Deeper Pro Plus have got a fishing device that has surpassed their expectations. Most online customer reviews are an exact representation of what it does. That is not to say it is perfect, but you can be guaranteed that a few hitches will not ruin your fishing day out.
The Wi- Fi connection is amazingly reliable to say the least. It is efficient in both freshwater and saltwater environment, save for the fact that the user may not be able to see water temperature and GPS location on the history tab.
This sonar is designed to give the user a connection range of about 100m or 330 ft. Compared to its counterpart that uses Bluetooth connection, Wi- Fi connection is superior and reliable.
Wi- Fi connectivity issues can be resolved by re-launching the app. Weather conditions such as a cloudy day, if your boat is rocking fast or turbulent waters are some of the reasons for unstable Wi- Fi connectivity.
As a testament to its ingenuity, this sonar device is great for all fishing conditions. Ice fishing and even fishing in murky waters with this sonar device gives clear bottom contour mapping data.
Higher scanning frequency and high image resolution enables the scanner to transmit accurate information both onshore and offshore.
Fast moving objects are easy to capture with its ability to execute 15 scans per second. The Deeper app which displays the sonar data is easy to use and has great features that help you archive mapping data for later reference.
A number of users have also applauded this device for instantaneous transfer of information. Implying that as soon as the Deeper Pro Plus device is casted out and hits the water, it begins sending information on the smartphone screen.
This then makes it possible for the user to see the water temperature, the depth, and whether the nature of the bottom looked hard or soft and if there were any weeds in the water area.
By slightly whirling in the device the display keeps updating on the screen as the device continually scans the water underneath it.
Other users have had a bad experience with their phones draining power quicker than they want to be out there fishing. Phone battery drainage is directly influenced by display screen brightness, use of Wi- Fi and Bluetooth, and the general frequency of use of the phone.
It is recommended that while using Deeper devices, turn off all other background applications to prolong battery power. This include decreasing screen brightness and turning off Data.

---

Alternative Product from Deeper

Sale
Deeper PRO Smart Sonar Castable and Portable Smart Sonar WiFi Fish Finder for Kayaks and Boats on Shore Ice Fishing Fish Finder
HIGH SPECS: Casts out up to 330ft and scans down to 260ft. Precise 2.5cm target separation. Compatible with iOS and Android devices.
REAL-TIME DATA: Two beam frequencies with 15 scans per second. View depth, see bottom structure and consistency, vegetation and fish.
GPS MAPPING: Create bathymetric maps from the boat, canoe, kayak. Access all your scans, maps, points of interests, photos and notes on the Fish Deeper app and web platform.
4 SEASON FISHING: Versatile fish finder suitable for any season and fishing type. Great for on shore fishing, ice fishing, boat and kayak fishing.
EASY TO INSTALL: Great addition to your boat or kayak accessories. Installs in seconds. No drilling, cables, or wires required.
---
FAQ's – Questions about the Deeper Smart Sonar PRO+ Fish Finder
Q) What is the material used to make the fish finder?
A) ABS is what is used here and if you are looking for something durable, you found it already.
Q) What are the other items it comes with in the packaging?
A) The package has a Neoprene pouch, the Deeper Smart Sonar PRO+, a USB wire and attachment bolts. Basically almost everything you need,
Q) Can I use it without network connection?
A) The connection type required for it to function is wireless WIFI or bluetooth.
Q) What connection range is ideal for me to get the best out of this fish finder?
A) This goes to a maximum of 330 feet (wifi only) and it will depend on the smartphone model and the operating system you are using.
Q) Now that the power adapter is supposed to be bought separately, can I know the output and input needed?
A) Input AC 110V/240V and an output Micro USB OF 5V 450Ma
Q) I am using a Microsoft phone is its compatibility guaranteed?
A) Unfortunately this fish finder is compatible to iOS 10.0 and Android 4.4 devices onwards. You might have to change to any of the two.
Q) Is the battery rechargeable or not?
A) The lithium polymer battery is rechargeable.
Q) I am about to purchase it. Are there limitations to the types of fishing?
A) No limitations at all. You can go boat, shore, kayak or ice fishing at will.
Q) Are the GPS scanning dependable?
A) It is very dependable because about 15 scans are sent in every second and the separation distance of the target is very small-1.3 cm and the WIFI connection works ten times faster than Bluetooth connectivity.
Q) How deeper can it go?
A) The depth ranges from 2 feet on the minimal and 260 feet maximum
---
Final Verdict
This fishing device is definitely a game changer in fish finding and this is a must have device for a fisherman, both the professional and casual fisherman. Offshore and ice fishing experience just got better.
From the comfort of your tablet or smartphone, you can access accurate echo-sounder data from the deck or in your boat. The zoom feature on the app makes it possible to enlarge the area of focus making it possible to track fish in real time and bait it with outstanding accuracy.
This sonar device is an amalgamation of latest sonar technology that helps you get to the fishing hotspots in an easier and timely fashion.
Its functional features increase your fishing efficiency by a great margin through putting together relevant data. Appropriate use and combination of this data is essential for a great fishing experience.
This includes and is not limited to the weather forecast, day and night color mode on the screen, offline maps, images generated by camera as well as social media sharing.
Furthermore, its functionality is least dependent on additional devices whereas you can use your phone for display of sonar data through the Deeper app.
While Wi- Fi connectivity is required, the device has a Wi- Fi within it to give the access point that establishes a connection with your phone.
By design this device is small and its light weight makes it easy to cast in the waters. You definitely wouldn't want to feel like an Olympic athlete participating in a disc throwing competition.
Deeper PRO+ weighs approximately 100 grams and it is easy to use with a standard line and rod. You certainly have to add this device to your fishing gear to have a splendid fishing experience.
Last update on 2023-10-03 / Affiliate links / Images from Amazon Product Advertising API
This product presentation was made with AAWP plugin.