Disclosure:
Just to be open and honest the buttons and links you click on in the website will in most cases take you to another website where you can purchase the products I am reviewing. As an Amazon Associate I earn from qualifying purchases.
July 25, 2019
Orvis Clearwater Fly Fishing Vest Review – Classic Look, Upgraded
You are all psyched for your next fly fishing trip. You have a fully functional fishing outfit, a pair of the latest fancy glasses, a high-end carrying case, and maybe the best boots that money can buy. Do you think you are set? Certainly not. There is so much you are missing.
A storage system that will carry all your gear and equipment is as important as that expensive wader, a pair of sloggers or waterproof pants in tow. Something good like the Orvis Clearwater Vest is what you need. Though many anglers may look at it as a silly purchase that your old uncle or grandpa has, it remains as useful as ever.
The best news is that nowadays, these fly vests aren't your grandpa's style anymore. They are more performing, fully functional and better than ever. If you doubt if they can take your angling experience to the next level, please try this one from the award-winning Orvis. Orvis scooped about three awards in the 2017 IFTD.
Among them are best men's wading boots, best women's waders, and best women's outerwear. The company has been doing exceptionally well since its launch. Some of their other quick selling fly vests are Ultralight Vest and Orvis PRO Vest.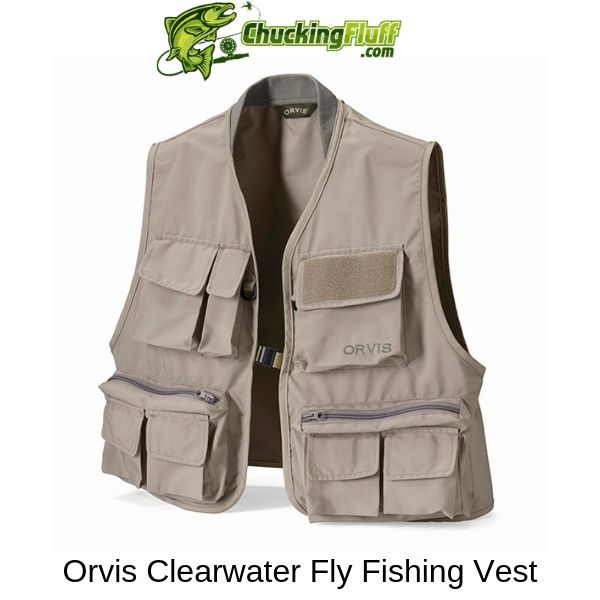 ---
---
Orvis' Clearwater Vest offers everything with regards to storage and is available for all anglers. It is crafted with plenty of pockets and has enough compartments to help you organize your gear and keep them closer at hand.
The fly vest is lightweight and an excellent choice for anglers who love to go on adventure and explore. So far, Orvis is the longest and continually operating angling business worldwide.
The company knows what it is doing when it comes to gear and equipment production. Previously, the Clearwater Vest came in a couple of versions.
The very first one was the standard vest which was just the bomb and was convenient to everyone. More versions are the loaded, mesh, and trout unlimited which too, have a good reception in the market.
Each version has standard features of the general Clearwater vest but a few tweaks here and there bring about the difference. What is in this review is the Loaded Clearwater vest which has special features and is loaded with goodness.
In the past it had a bunch of tidbits and was ready to use. You could take it out of the packaging and go angling immediately.
There was a mini nipper, a floating combo pack, a mesh leader wallet, 3 SS knotless leaders, a drift strike indicator, a lock and load fly box, a wire cord zinger, an SS tippet material-40m spool, a tungsten putty, two rising trout sections, and a micro scissor forceps. This was quite something for the money.
There are anglers who are fairly rough on their angling equipment. You will be lucky enough to have this fly vest which holds up well to all the abuse thrown at it. Until now, I think you know that this an essential feature of an excellent fishing vest.
Its construction is durable and the mix of material is a big deal to its performance and longevity. There is more about this fly vest that will interest you.
---
Key Features of the Orvis Clearwater Vest
Material – Orvis was smart enough here to combine two high-quality materials to come up with a superb fly vest. Polyester is 65% and cotton takes the rest.
Polyester brings in water resistance, abrasion resistance, lightness, and breathability. It also dries quickly unlike wool or fleece. Cotton adds comfort to the fly vest, it breathes pretty well, can highly withstand heat when the afternoon sun decides to descend on you.
Another bonus to this fly vest with the inclusion of cotton on the inside is that its resistance to static electricity build-up is on another level.
---
Pockets – You might think that 12 pockets are less but these ones are enough for what you need for a day out. Coming in a mix of sizes, there are some for larger gear and others for the smallest equipment you will need on water.
Everyone needs the rear cargo pocket for a snack or a raincoat in case the heavens burst. You will have to invest in waterproof pouches for your valuables because the fly vest is water resistant and will offer protection for a short period only.
---
Closure – Durable zippers on the pockets allow for smooth operation. They are well made to allow for use in all environs without fear of damage. Some pockets have flaps. Flaps are rated among the most reliable closures for outdoor gear that are often exposed to brutality.
The front closure isn't the usual zipper you see on most of the fly vests. This one has a high-quality buckle that can be opened and closed even with one hand.
---
Attachment Points – The front section has mini D-rings that you can attach your accessories for easy accessibility. The rings are made from high-grade material and hardly break.
At the back is a Tri-ring net for your fishing nets. Having everything closer is a good idea to maintain focus and to spend more time to cast instead of wading out every time to grab something.
---
Design – This one takes the traditional design. It is almost exact but a few improvements here and there pushes it to modernity.
There is no mesh in the fabric construction so it qualifies to fall in this category. Something you must love.
---
Ventilation – This one doesn't have a mesh fabric. This doesn't mean that it fails on the ventilation part. It still keeps you cool and dry through the front closure that remains open and allows for air movement. This is a unique way to add class to this ancient-style fly vest.
---
Recommended Use – Its versatility will amaze you. Orvis has worked very hard to see any buyer of this fly vest get more use for. If you love other outdoors sports that need you to have a vest on for protection or storage purposes.
Grab this one without second thoughts. His saves you money and having to find storage space for other specialty vests.
---
Available Sizes – The Orvis Clearwater Vest is available in various sizes. The manufacturer had all ages and gender in mind during designing and construction. There available sizes are small, medium, large, extra-large, and double extra-large.
There is sizing information on the manufacturer's website. Check your measurements along those on the chart to ensure you are ordering the right fit.
---
Customer Thoughts on the Orvis Clearwater Fly Vest
The design is classic and will serve you well and for a longer time if you take good care of it. (Mine has been there for more than two decades).
You will enjoy the fly vest for a longer time than most of those found in the current market. Its fabric construction and material blend is of better quality. Ensure you follow the manufacturer's laundering and maintenance instructions to ensure durability.
Orvis products are high quality and this one is not an exception. You will love how lightweight it is even when fully packed. This one will surprise you. The front closure though not a zipper will serve you well and he style ensures ventilation is well taken care of.
With all the stuff that this fly vest can be put through, it still holds up very well. I doubt it can wear out because it is well-built.
The fly vest fits very well but turns out slightly shorter than the rest of the models of the Clearwater vest. This isn't a drawback as such, not unless you are very tall and your measurements exceed those on the sizing chart.
The collar is softer and this makes it comfortable to wear unlike other vests that have low collars. Looks like this new redesigned vest is better than the previous model.
---
Pros

– Things that shine on the Orvis Clearwater Fly Vest ​
Spacious pockets in varied sizes
Easily operated nylon buckle front closure
Many attachment points
Comfortable to wear
Nylon rib-knit collar
Easy to launder and maintenance
Available in various sizes
Durable fabric construction
Cons

– Things that are not so cool!
Some people may dislike the front nylon buckle closure
No mesh fabric to maximize on breathability when it gets hotter
Comes in one colour which is limiting
---
FAQ's – Questions about the Orvis Clearwater Fly Vest

Q) Does the front closure buckle resist corrosive agents?
A) Yes. The buckle is made from nylon which is corrosion and rust resistant. You can have it one without worrying about damage.
Q) Does the back pocket have a zipper? And if yes, on which side?
A) The rear pocket is accessed via a zipper which is placed horizontally on the upper back.
Q) Is there a warranty on this fly vest in case of need for any repairs or replacements?
A) There is no clear information on whether or not a warranty is available. However, you can communicate with the manufacture on this.
Q) How big is the rear cargo pocket?
A) This one is bigger than the older version and can fit a rain jacket, two or three large food tins, and a large fly box.
Q) What are the dimensions of the Orvis Clearwater Vest size XL and XXL?
A) Size XL is 4-48 and XXL is 50-52.
Q) Does this fly vest have a knife lash tab anywhere on it?
A) No, his isn't available at the moment. However, you can sew in one if it is possible as long as it doesn't alter the performance of the vest.
---
Final Verdict on the Clearwater Fly Vest
If you are a particular fan of the Clearwater loaded fly vest, you know that it is has a time-tested design that is unbeatable. This fly vest has been proven to work effectively without any issues. It is very lightweight and comfortable to have on for a very long time.
With a new collar design you need worry not. The ton of pockets is an ideal solution to the problem of gear and equipment storage. You can stash in everything you need for a memorable fly fishing trip. Your range of motion is limitless and tackle accessibility isn't a big deal like before.
The Orvis Clearwater Fly Vest is a staple in the angling world and has been there for many years. It is true that old is gold. When compared to most high end fly vests, this one still performs best. You will love all the features and simplicity of the design.
If you wear it down to your local river or fly fishing hole, you will look like the pro there even if you are not. Well, quite a good way to build confidence though. For a nicer personalized touch, you can embroider your fly vest for a few extra bucks. This is an individual choice though.
The best doesn't have to cost an arm and a leg. This fly vest is very affordable and is something every angler will love for its functionality and sophistication. It has been around for many years now and is still high in demand.
Grab one for yourself or gift a fellow angler. In case you find it out of stock, there are other vests in the same price point as the Orvis Clearwater Vest.
The Fishpond Flint Hills Vest, Elkton Outdoors Fly Fishing Vest, Anglatech Unisex Fly Fishing Vest Pack, NorthStar Sports Sandy Point Mesh Deluxe Fly Fishing Vest or NRS Chinook Fishing PFD will serve the storage purpose similarly. Others in the list offer even more. Clear your storage worries with the Clearwater Vest.
---
---