Disclosure:
Just to be open and honest the buttons and links you click on in the website will in most cases take you to another website where you can purchase the products I am reviewing. As an Amazon Associate I earn from qualifying purchases.
February 23, 2019
Patagonia Tough Puff Hoody Women's Jacket Review – Warmth, Protection and Style
Patagonia doesn't need an introduction anymore. It is among the reputable and top-rated manufacturers of fly fishing gear, equipment and apparel. The zeal and dedication to improving how outdoor gear is designed and manufactured gives them a legendary crown.
Their expertise can be seen in the Patagonia Tough Puff Hoody Women's Jacket. If you haven't spotted a few on streams, rivers and the coast, you aren't fly fishing with the avid anglers. Puff jackets are becoming common these days and terming them as ubiquitous won't cut it that much. They have earned prevalence.
Puff jackets from Patagonia Womens range provide warmth, protection from weather elements and are packable. Any angler needs such a workhorse when getting on the water.
The Tough Puff comes as an all-purpose and intent jacket. It is an upgrade of the Nano Air which is another that had a great reception after its release into the market. Taking a rather new and advanced Tough Puff Insulation technology, all the jacket's strong points are dependent on it. This allows the jacket to do some things that others in its category or higher can't.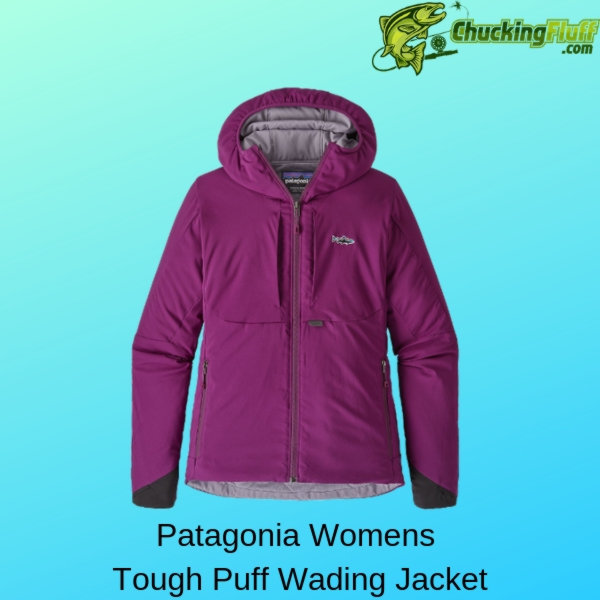 It remains one of the warmest jackets after a brutal winter and full autumn. Synthetic insulation has proven its greatness in beating the cold seasons. From a few reviews, it turns out warmer than its predecessor-the Nano. Additionally, the use of heavier fabrics in the lining and the outer shell makes it a top insulator.
FullRange is highly water repellent just like Primaloft and has a greater heat-retention capacity no matter how much you expose it to water. There have been great improvements on the Durable Water Repellent-DWR finish on its outer shell.
Before the Tough Puff, the Nano Puff had a great water repellent rate then. The Nano would offer more protection in light showers or drizzles. However, the new Tough Puff will come in handy and replace rain jackets. It will keep you warm and dry longer in a downpour.
Very few manufacturers consider stretch as a factor when designing wading jackets. Anglers rejoice at the freedom of movement and that is what the Tough Puff does. The insulation, lining fabric and shell fabric are designed with a stretch effect and it moves each time you move.
The Capilene lining in the Tough Puff is superior and makes the jacket surprisingly breathable. Great remarks on how well the lining wicks away moisture from the angler's body to the outer shell.
Now you can confirm that besides provision of sufficient warmth in seriously cold temperatures, your freshness and dryness is well sorted. The overview is crucial, but it is among the efforts of Patagonia to build the Tough Puff to fully suit angler's needs.
---
Main Features of the Tough Puff Hoody Women's Jacket
Material – The outer shell that weighs 2.5 oz. is 100% polyester designed with a mechanical stretch. The stretch is important you allow the wearer to move when the wading jacket moves. A Durable Water Repellent finish on the surface is for weatherproofness. A 2.3 oz. lining in the Patagonia Tough Puff Hoody-Women's Jacket is made from 100% polyester double knit and works in conjunction with the 60g FullRange insulation made from 100% polyester stretch.
Waterproofness – DWR finishes repel water and snow effectively. The finish increases the contact angle that is created when water droplets contact a textile. Increased surface tension results in a microscopically spiky surface which allows the water droplets to slide off rapidly preventing absorption into the fabric.
Breathability – The outer shell and lining combined with the DWR, saturation of the outer shell are countered as moisture is wicked away from the body and expelled without leaving you clammy.
Cuffs – Elastic cuffs gives a classic look. Its protective function is so far the best like the Velcro and Neoprene cuffs. Wind, water and snow don't get up sleeve because it comes in a right fit that is comfortable at the wrist area. While the wrist cuffs are streamlined, the inner side of the arms have a DWR finish for least water uptake.
Pockets – Too many pockets make a jacket bulky but this one has only four for female anglers to make use of. There is a vertical chest pocket on each side for storing your fly boxes. Lower hand pockets on each side are for warming your hands when the weather gets iffy. Pockets are accessed via weatherproof zippers. You are sure that their contents are dry and undamaged.
Hood – The hood has an elastic band at the front to protect your head from the cold, and wind. High-quality elastic is used to ensure that the hood isn't blown off by strong winds or on a boat at high speed. The extended inner collar cushions your neck against the adverse weather elements.
Seams – All seams are fully sealed to ensure maximum water tightness. In case you encounter broken seams after several uses, mend them or if you feel it will be unprofessionally done, seek help from an attendant at a fly fishing store.
Zippers – The frontal zipper and those on pockets are weatherproof to keep your torso area and pocket contents free from exposure to weather elements. Pull tabs are durable and sizeable to give you a good grip even when you have gloves on.
Attachment Points – From the Patagonia website, there are two models of this jacket. No major difference in the feature. One model has hook points attached to the underside of the left pocket while the other doesn't have.
Bottom Hem – The bottom hem fits perfectly The DWR finish extends from the outside to the inside to prevent water from getting upwards.
Sizes – You can have this jacket is extra-small, small, medium, large and extra-large. Colors available are drifter grey, ink black and Geode purple. The regular fit goes to hip length so your upper body is fully covered. You can have heavy mid-layers and still feel comfortable. You can compare your body measurements to a chart on the Patagonia website to find what fits you.
Warranty – Patagonia issues a lifetime warranty to the original owner of the Patagonia Tough Puff Hoody-Women's Jacket. Any defects in construction will be sorted out after signing the warranty forms. Other repairs resulting from day to day usage and wear and tear will be worked on at a small fee.
---
Customer Thoughts on the Tough Puff Hoody Women's Jacket
The soft material and how well water beads off the polyester material is epic. It offers the wearer maximum protection against the rain and keeps you dry in a storm.
The jacket packs nicely into the pack and is very light in weight. The stretch design allows for full mobility while casting.
Even with hard use, it will take years before water beads off the sleeve. In fact, the design that makes it have a slip through the finger to prevent the jacket from running up the arm is an excellent idea by Patagonia.
If you are always cold when on water, owning this jacket will keep you warm and dry. It doesn't feel like you are wearing a baggy outdoor coat.
The Tough Puff will impress any female who is a minimalist. The pockets are few but spacious and you can have a small bag for your cumbersome gear.
Wind blocking becomes a small issue on gusty days but on breezy days, there is nothing to worry about. Looks like its major aim was insulation and dryness.
The fit, especially the relaxed fit has a reasonable length and allows for layering and drapes well. So far, it is the best wading jacket for women you can own.
Capilene linings are some of the best, especially for sweaty people. The moisture wicking action is fast and you can be guaranteed dryness on a hot day.
---
Pros

– Things that shine on the Tough Puff Hoody Ladies Jacket
Lightweight and packable jacket
Durable construction
Lifetime warranty
Elastic durable cuff style
Guaranteed insulation and waterproofness
Weather resistant zippers
Stretch mechanism
Spacious pockets
Abrasion-resistant jacket
Cons

– Things that are not so cool!
The number of storage pockets is minimal and you might look for somewhere safe to store your valuables as you fish.
One model of this jacket lacks attachment points. However, you can modify your own without tampering with the jacket's performance
---
FAQ's – Questions about the Tough Puff Jacket
Q) How heavy is this jacket?
A) The jacket weighs about 18 oz.
Q) Does recycled polyester work better than the non-recycled one in the fabrics of the jacket?
A) Durability is guaranteed considering that the resultant jackets are abrasion resistant and highly weatherproof than their predecessors, you have nothing to worry about.
Q) Is the Durable Water Repellent finish reliable or it needs polishing often to avoid saturation?
A) Currently, Patagonia uses Perfluorinated Compound PFC-free chemistry and do away with the PFC that had chemistries because of environmental conservation and sustainability.
Q) What is the importance of the double knit lining?
A) Double knitting makes the Patagonia Tough Puff Hoody-Women's Jacket stable and avoids rolling. It also gives the jacket a crisp and structured look.
Q) Are the handwarmer pockets lined with fleece for those who don't love gloves?
A) The insulation lining is used inside the pocket and will keep your fingers warm when you don't have gloves on.
Q) How is the jacket in terms of moisture management?
A) The middle layer is made of 100% polyester Capilene lining that wicks away moisture from your body and expels it to the exterior shell.
Q) Does the jacket dry quickly when submerged in water for long hours or during laundry?
A) It dries well when at room temperature. Simply squeeze out water and in less than an hour, it will be completely dry.
---
---
Final Verdict on the Women's Patagonia Tough Puff
It is about time to wrap the ribbon around the edge of the board. From the detailed review, the Tough Puff has proven to be slightly better than the Nano Air jacket. The major advancements are in the shell fabrics and tough lining.
Patagonia feels indebted to female anglers and has designed this jacket in the best way possible to offer more than a protective function. You will love the bevy of fly fishing friendly features like the spacious chest pockets. With good organization, one pocket can fit several fly boxes and make access easy. Who doesn't like spending more time on the water?
It is a joyous feeling to a woman when they know that they are well-protected. The longer cuffs have high-quality elastic that seals out water leaving you dry and warm. Even if you dunk your wrist in water, the water uptake is almost negligible. The hoody is a killer.
It is roomy to allow you to have your winter beanie or baseball cap underneath. It can't be blown off by the mightiest winds because the elastic has a very good grip.
Expect to see more of the female anglers in Tough Puff jackets and you shouldn't be the odd one out. To avoid missing out one of Patagonia's best in the female outwear category, pre-order yours for early delivery.
If you miss the Patagonia Tough Puff Hoody-Women's Jacket from your nearest store, you can settle for one of the alternative jackets within the same price range. Simms Womens Guide Wading Jacket, Orvis Womens Pro Wading Jacket, and the Patagonia Womens River Salt Wading Jacket are high performing jackets like the Tough Puff. Most of the other alternatives are unisex and you can rock any. You might have to slightly adjust your budget depending on what you choose. Still unsure Check our Wading Jacket List for more options.
---