Disclosure:
Just to be open and honest the buttons and links you click on in the website will in most cases take you to another website where you can purchase the products I am reviewing. As an Amazon Associate I earn from qualifying purchases.
January 6, 2020
RIO Technical Trout Fly Line Review – Lightest of Presentations
RIO, Scientific Anglers, Airflo, Orvis, and Cortland are household names when it comes to the manufacture of the best trout fly lines that the angling industry has ever had. RIO Products isn't in the limelight for the first time. The brand presented its In-Touch sinking line in the EFTTEX 2012 show where it took the crown.
In 2013, the revolutionary Perception floating trout fly line took the Best New fly line in the same EFTTEX awards. These are just a few. Recently the RIO Technical Trout Fly Line did the brand proud yet again by coming top in the 2019 EFTTEX Awards Best Fly Line category. If you are a lover of the fabled trout rivers like Delaware, it is crucial for you to be outfitted with the right gear for freshwater needs.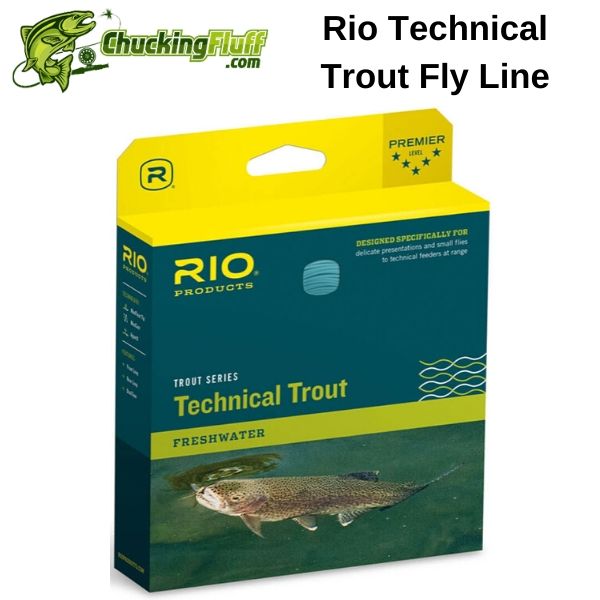 Rio Technical Line Amazon Price

Over time, many of you will have had a chance at least to play with several rod and line combinations but still haven't tried the Technical Trout Line. With recent tests, despite the type of fly rod that you pick, you will reach for this line if looking to present to spooky trout. If you share in these sentiments, let us know in the comment section.
Without any hesitation, if you'd like to test a dry fly line that can still do nymphs, get the Technical Trout Line. This line blends control, presentation, and castability like a few of the lines in today's market and matches with about any fly rod that you throw the line with.
Everything great about this fly line stems from the taper. The front taper is long and yields very soft landings. Another benefit is very delicate presentations compared to many lines in its category. The first 20 or so feet taper down enough to ensure light presentations without compromising the weight you require for control and castability.
With a well-planned out cast, the fly line and leader open out with a rather dainty plop of your fly unlike the shoot and plummet that are in lines with heavier fronts and short heads. The fly line feels more like a very long bullwhip rather than a sock that is full of quarters. However, instead of the sharp crack at its end, the zeal and energy at the peak of your cast make the leader straighter while the front taper falls onto the water gently.
The Technical Trout shines in the almost mid-foot range. Its long head is also a plus when throwing longer casts. At about 47 to 50 feet, the head is such a pleasure on almost all rod actions. With the right outfit and some more practice, a novice or amateur can learn how to shoot the entire fly line consistently on a casting pond.
You will require about 15 to 20 feet of the fly line out beforehand then the rod can start to load. As a result of its lengthy front taper and back weight distribution, picking up and shooting is possible while you mitigate the punchiness. It is a breeze to do aerial mends, the reach, and wiggle castings because of the heavy back taper.
---
Key Features of the RIO Technical Trout Fly Line
Line Color – Technical Trout fly line colors are meant to look extremely beautiful as well as outperform when on water. The front taper, body, rear taper 1 and part of rear taper 2, are sky blue to avoid spooking the fish as the fly line is in the air and when it lands on water. For the other section of the rear tapper 2 and the running line, RIO designs it in peach to enable casters to see their fly lines better when in air and on water which aids in mending and casting performance.
Front Taper – Basing on the weight-forward trends and lines, in this case, the Technical Trout has it in 10 feet. It is longer to create additional heft that makes casting very easy and in the wind, there is nothing to debate since it has proven to be a cutter. Due to the additional weight in the front areas, casts are longer.
Double Taper fly lines are also available for good weather and their abilities to be reversed is a deal-breaker for trout fishing. These lines allow for lighter touches when casting and when presenting flies though prove difficult to cast with in wind. As well, it is even more difficult to control shorter tasks.
Back Taper and Head – Technical Trout WF lines boast of longer heads and back tapers. This is to ensure that an angler has more control of the loop as they cast at longer distances. Other advantages are ensuring very precise casts to the rising fish. Weight distribution in these areas is even and well on point and makes it a breeze to turn over the long leaders especially for technical feeders at a range.
Specialty – Specifically a freshwater line, RIO avails these fly lines for trout hunters. Because of its design, it is meant for delicate presentations and majorly for small flies like dries and nymphs. So far, the fly line sticks to its description and it is performing phenomenally.
Coating – For superior performance and casting, RIO Product manufactures this fly line with a supple core slick coating to allow for memory-free angling. The hydrophobic coating repels water allowing the line to behave well and as it enhances functionality, it boosts durability.
Overall Length – The RIO Products WF Technical Trout Fly Line comes in four sizes. The WF3F, WF4F, WF5F, and the WF6F. WF3F has a total length of 80 feet which is slightly shorter than the standard fly line length. It still does very well. The rest sizes measure 90 feet.
Loops – Built with two loops, one at the front and the other at the end, the loops are well done and bullet-proof welded to ensure faster rigging. Until now, there have been no reports of the loops malfunctioning.
Line Profile – Each fly line size of the RIO Technical Trout Fly Line has its profile. The WF3F has a head of 45 feet and the rest for the running line. Sampling the common WF5F Size, the front taper measures 10 feet, 17 feet for the body, 13 feet for the rear taper 1, and 12 feet for the rear taper 2 making the total head length 52'. The running line is 38 feet.
---
RIO's Technical Trout Fly Line from RIO Products on Vimeo.
---
Dimensions of the RIO Technical Trout Fly Line
| | |
| --- | --- |
| Line Aspect | Result |
| Total Length | 90 ft |
| Head Length | 52 ft |
| Belly Length | 17 ft |
| Running Line Length | 38 ft |
| Taper Profile | Fine Front Taper |
| Loops | Both ends |
| Sizes Available | WF3-6 |
---
Customer Thoughts on the RIO Technical Trout Line
If you love fly lines that can switch from one fly style to another and allow you interchange techniques, this Technical Trout will serve you well for your freshwater adventures. It performs its tasks equally well regardless of whether you have a nymph or dry fly on it.
Throughout your casting stroke, this line maintains superior loop stability and the long head shoots the line with very little effort. At 52 feet of head length which is more than many of the trout lines, it is less stressful to mend the line at greater distances to ensure that your fly floats drift-free.
The fly line is very sensitive in the hands giving an angler better feel of their favourite fly in water detecting subtle bites.
The fly line boasts of less stretch giving a fisherman more direct power as he sets the hook. It is difficult for fish to discover what is coming.
The hydrophilic line coating which could be as a result of the use of the MaxCast technology by RIO repels water leading to a high floating and farther-shooting line.
Having the Technical Trout in a double taper option is a good choice. However, if you want an all-rounder line that does well in all conditions including strong winds, the weight forward will do it for you.
For possible and repeated float-down favourite fly landings in a feathery manner and accuracy, the fly rod is worth giving a try.
---
Pros – Things we like about the RIO Technical Trout Line
Delicate presentations
Available in four different weights
Long and fine front taper
Lighter presentations
Works well with nymphs and dry flies
Long back taper and head
Greater loop control
Casts well for distance
Turns long leaders with ease
A double taper line is available
Made with cold water and supple core coating
Cons

– Things not so good
We are yet to learn of any downsides of this fly line from testers, reviewers, and current users. If there are any defects in material, craftsmanship, and performance, please share with us. We will update our readers as soon as we spot any.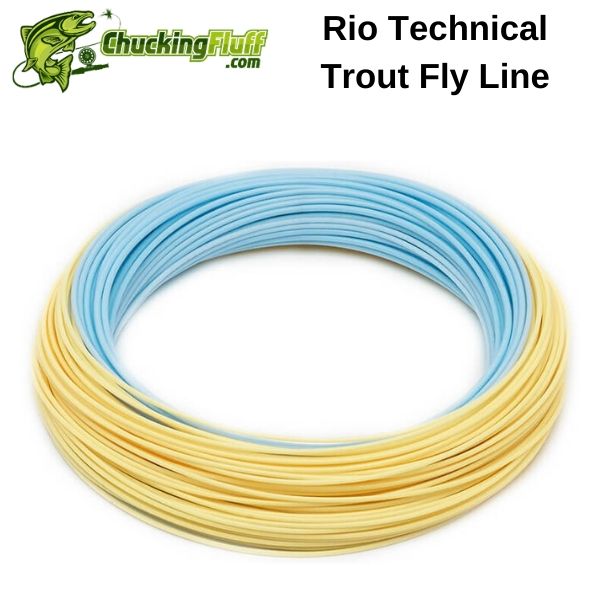 ---
FAQ's – Questions about the RIO Technical Trout Fly Line
Q) Does the fly line have a sink rate? If any, please highlight.
A) The fly line has no sink rate. It full floats.
Q) How heavy is the full head weight of the Technical Trout which is WF5F fly line?
A) The WF5F has a full head weight of 150gr which is equivalent to 9.7 grams.
Q) Do you have to pull out the fly line and stretch it further often as you cast?
A) No. RIO manufactures this fly line with its proprietary technologies that ensure it is free from coil memory and isn't affected by very cold temperatures.
Q) Why does the line have difficulty casting in the wind and making shorter casts?
A) These are a few challenges of the double taper technical trout line and not the weight forward option. You might be using the DT fly line.
Q) Does the fly line attract a lot of dirt when on water prompting one to clean it often?
A) No. The MaxCast technology used during workmanship greatly reduces the instances of dirt adhesion.
Q) Which size of RIO Technical Trout Fly Line has the longest head length?
A) This will be the WF6F which has a head length of 54 ft. after the WF5F which measures 52 feet.
---
Final Verdict on the RIO Products Technical Trout Fly Line
Trout are very shy fish species. The only way you can be successful in catching them is by choosing the best fly line setup. Without this crucial step first, regardless of the type of technique or bait you use, it will all be in vain. Technical Trout is undoubtedly the best choice for now for a few reasons. Trout are quite fearful that is why RIO chooses the best material.
The fish have startling eyesight that is perhaps the best among all fish species. They boast of similar viewing ability as humans and have a better ability to detect and see ultraviolet frequencies. To ensure that the guys don't see the line when in the air or on water, RIO has it in sky blue and peach colors. Trout are less likely to notice the line.
With regards to line weight, overall, you are not limited to any rules. Go for whatever you think will work well for your situation. The line's weight will be dependent on your fishing location and how heavy the trout are. When it comes to strength, light is superb for trout but light could be thin and weak. At this point, you have to think twice. Consider how light and strong the line is and think about the trout's weight. This will be a major opening to which line to go for. Well, you already know about the combo to pick for this fly line. But do you know the characteristics of the fish you intend to hunt? Trout is quite specific but catching it allows you to find out more about it. So get your hands on the Rio Technical Trout Fly Line and share your experience with us in the comment section.
There is more on trout lines on our site. Head over and fill up yourself!