Disclosure:
Just to be open and honest the buttons and links you click on in the website will in most cases take you to another website where you can purchase the products I am reviewing. As an Amazon Associate I earn from qualifying purchases.
March 20, 2021
Best Fly Tying Kits and Tools for Beginners
If you don't know the tricks ad tips of tactfully shopping for your fly fishing gear and equipment, the sport can turn out very costly and draining.
Fly reels and rods are easy to come by but there is very little information on the best fly tying kits and tools.
This is because most anglers prefer to buy already-tied flies to save them the hassle of tying unyielding ones.
Fly tying kits come with almost everything you require to commence your fly tying journey. You could choose to do it to save money or to make money.
A good kit should come with necessary material, equipment, and detailed instructions for tying common streamers, emergers, dry flies, and nymph patterns.
The full package offers an angler the convenience of materials and tools they require to popular fresh and saltwater patterns.
They are handy for beginners but even guides use similar ones to tie their favorites.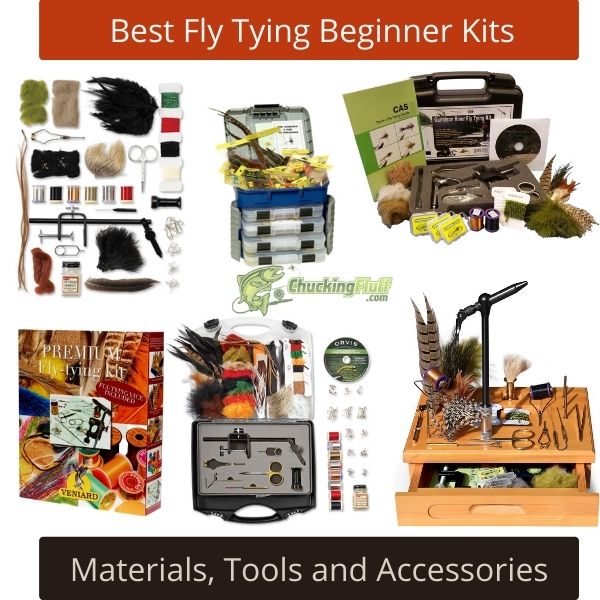 Catching fish on flies is one of the most thrilling and rewarding techniques of fishing even if others exist. Artificial flies entice slow rises of trout, he runs of Muskies, gentle sips of grayling, and explosive strikes of largemouth bass.
Many anglers say that tying flies is just as satisfying as hooking one. The fly tying art involves putting together a few primary elements of a fly including the hackle, body wing, and tail to create a complete artificial fly.
Upon learning and mastering the basics, you can identify numerous easy patterns to tie.
Fly tying kits come with a fly tying vise, bobbin, scissors, holders, threaders, hackle pliers, stackers, and teasers among others.
This guide will explain the contents of the best fly tying kits, necessary tools required, the importance of a fly tying kit, how to choose the best one in the market, and mini-reviews of some of the best fly tying kits you can purchase.
5 Benefits of Buying A Fly Tying Kit and Tying your own Flies
Should I learn the basics of fly tying and try out the skill? This is a common question among novice anglers.
Usually, the main reason behind fly tying is linked to saving money. It sure is a valid aspect because the prices of these tiny things aren't cheap as a good number will snag in the river bottom, stick in tree branches, fall apart, or go with an escaped fish.
Besides the cost-saving reason, there are more that might make you change your mind from purchasing ready-made flies to tying your own.
Just like hooking that trout, tying flies is rewarding.
Some anglers begin fly tying at the onset of their fly fishing classes and others much later. Regardless of the time you commence your practices, it is fulfilling to catch a fish on a fly you tied yourself.
Most fish are highly discerning and luring them to a trap you made and they get hooked is the romantic aspect of fly fishing.
It sure is an accomplishment.
Fly patterns exist in millions. Published recipes don't exceed those kept secret and others that haven't been tied but linger in the imaginations of numerous fly tyers.
If you tie flies, you are exposed to a lot of freedom to try out any pattern as long as it will hook a fish. If you don't tie any, you are limited to those that are available for sale.
Fly fishers who have been in the sport for ages now and don't tie flies can agree that they have met guides and other angling buddies with flies they haven't seen in the market before.
Creative fly anglers have learned to substitute fly tying materials, change their dimensions, and adapt color schemes from a single pattern to the other. They can do anything they want because they are limitless.
Since fly tying gives you all the freedom you need to experiment with your fly tying kits and tools, you are at a competitive advantage.
You can make anything that can land that buddy. As other anglers are throwing size 16 Adams to species that are used to seeing this drift over 50 times and have landed in the trap, what you creatively make is UNIQUE.
Fish might not have a Ph.D. in anything but they can identify what almost cut their lives short. What happens when you come with a different trap they've never seen before or isn't so common to them? They will love it, get enticed, and definitely eat their meal.
Networking is Best to Learn How to Tie Flies
Learning how to tie flies puts you in the ranks of fellow and better tiers. It allows you to be on the same table with tyers and anglers you never thought you'd meet before.
This could happen through fly tying events, contests, forums, and other online groups. People in these groups share a lot of information on flies, tying, new spots, and overall angling.
Youtube has loads of videos on fly tying and you can learn to tie almost anything with channels like Davie McPhail.
More Fun, More Bucks
Fly tying is creative and if all rivers dry up, a fervent tyer will confess that the art is as thrilling as casting their combos.
Your imagination is limitless if you are a tyer and this can make it addictive. Such a good addiction can turn out into a money-making venture.
Craft unique flies and sell them to adventurous anglers. You never know what this could turn out to be. Maybe the biggest fly shop in your state?
I actually fed my early fly fishing adventures by tying flies for my local fly shop. I would sit and tie flies all afternoon before heading out in the evening to fly fish myself for the evening rise.
"Check out some of our other Buying Guides"
The Contents of a Fly Tying Kit
​
There is so much that goes into an excellent fly tying setup. It might be daunting for novices and gift-givers.
Not to worry as this section explains the tools to look for in the best fly tying kit before you can consider other aspects like the budget and quality.
Initially, fly tyers would hold hooks with their hands. Watching this today is amazing but doing it isn't.
Nowadays, hooks go as far as size 24 and others 32 and you wouldn't think of tying flies without a vise.
The best fly tying vise is easy to use, will securely hold the hook, and can be adjusted to any hook size.
Most tyers use lever-action vises also known as parallel clamps. If you will be targeting large bass, pike, or saltwater species, get a good spring-loaded vise.
Each type of vise comes with the characteristics that will make it relevant for its needs.
Vise Mount
These exist in two versions – base mount and C clamp. C clamps are excellent for use at home use or if permanently working from a station.
You can attach it to anything that has a lip. Use base mounts when traveling.
Scissors
Any fly tyer looking to perfect the skill must have various fly tying scissors. The vital aspect is to have the extremely sharp with finer points for great close-up tasks.
Usually, fly tying scissors are smaller than basic or domestic scissors. Those with tungsten blades are even better.
Blades could either be straight, serrated, or curved depending on the pattern's cutting requirements.
A typical tyer will have at least two scissors. One will be a workhorse for cutting through tougher materials like tinsel, hair, and feather stalks.
The other will be for more delicate tasks such as trimming hackle. The latter is the one with smaller yet finer points.
Have a razor blade just in case you will be using gel spun silk or modern Kevlar.
Bobbin Holder
Some anglers tie flies by unspooling a length of the thread but it is more beneficial to own a bobbin holder. It keeps the tension and reduces wastage.
Despite holding your thread or silk while tying, it will maintain tension to avoid feathers and furs from springing loose.
Hair Stacker
Hair stackers are used when tying stimulators, elk hair caddis, and bushy flies. Tyers use them to even hair tips on the flies.
This gives your flies a fuller ad more even look. It is usable on any hair or winging type. You must have this when tying deer, elk, moose, squirrel, and calf.
Threader
We know that it is possible to thread your bobbin by hand. But why do this when a threader can make things easier for you?
It isn't a necessity but having it makes tying fun and less effortless.
Whip Finish Tool
Its look might not associate it with fly tying but it prevents your fly from completely unraveling when fly fishing. It helps you tie decent knots.
Some anglers can tie flies without this it but having a whip finisher tool makes things easier and quicker.
Hackle Pliers
To grab a feather and twist it around a shank or a body, you need a hackle plier.
You could use your fingers but these pliers give excellent grip and allow you to strategize the position you lay it. It is a necessity when tying some flies.
Dubbing Twister
Like in its name, that is what the tool is used for-tying the dubbing and twisting it.
You need to make durable dubbings and this tool helps you make loops of thread and pass them through the twister.
Dubbing Needle
Depending on the type of fly, a dubbing needle might be needed or not.
It has a bent tip to allow the needle to apply the right amounts of head cement on flies. You can also easily tease out dubbings using the bent tip.
Thread
Some of the most popular types of fly tying threads are Kevlar, nylon, and polyester.
Polyester and nylon are cheaper and strong making them the best choices for fly tying.
Kevlar is tougher and doesn't stretch. If you don't have the mastery of it, it will be a pain to use it.
However, it is excellent for larger flies of those made from synthetic material.
The common thread colors are
Grey
Red
Cream
White
Brown
Olive
Black
Hackle Gauge
Hackle gauges measure the lengths of feather barbs and will come in different sizes and lengths.
For instance, a dry fly will need a specific length of fly or hook size. It is optional but excellent if you have one.
Craft Knife
Not all fly tying kits come with craft knives but it is a necessity when you want to cut foam sheets when tying ants and beetles.
Razors can be used in place of craft knives but can be messy.
Organizers
These are travel caddies, kits, or storage boxes specifically designed to hold all your fly tying materials and tools.
Some Flies a Beginner can Start Tying using a Fly Tying Kit
Wooly buggers
Pheasant tail nymphs
Clouser
Griffith gnats
Mickey Finns
Hares Ears
Ants
Beetles
Elk hair caddis
Eggs
Stimulators
Blue-winged olive
How To Choose The Best Fly Tying Kit for Beginners
If you are a novice fly tyer regardless of your angling level, consider a fly tying kit that comes with a detailed how-to guide.
Such guides approach the tying procedurally from one step to the other.
By then, you will be having all the necessary tools and this will quicken your learning period. Here are a few more crucial factors to consider when selecting the best one for your needs.
Your Work Area/Station
That is the simplest we'd describe it as. Some kits have the basic equipment you require while others come with extras like vises and tying materials.
If your main work area is in the home where pets and children are everywhere, you have to be careful about hook and needle storage.
The safety of others is the priority.
If you are a traveling angler and will be tying your flies on transit, ensure that you get the best kit for a traveling angler as some equipment in there is different from what is in other kits.
Quality
There is usually no gamble on quality especially if you are looking for the best fly tying kits and tools that last.
Before adding it to your cart, thoroughly scan each tool and ensure that it doesn't look l8ike it has been built from very cheap plastic.
Whether you intend to tie flies on a long-term basis or occasionally, you need a durable pack that can make thousands of flies.
Intended Hook Sizes
Knowing the types of fish species you will be dealing with allows you to identify the hook sizes you need for them.
Certain vises support small to medium size materials and hooks and others that are versatile.
Some kits are mainly for wet and dry fly fishing for trout, others for Spey fishing for salmon or steelhead, and many more.
Tool Selection
Before anything, list down your most essential tools and those that you can do without.
As you pick out your fly tying kit, check that it contains all the necessary ones you prefer before purchasing it.
It will be extremely annoying to spend money on a kit that lacks the basic tools for your fly tying activities.
The Budget
Fly tying tools can be costly when purchased as individual pieces. This is why manufacturers designed kits to allow a tyer to have access to most tools without breaking the bank.
These kits are manufactured by various companies and each prices its products differently.
Overall, fly tying kits range from $55 to $250. So selecting one within your budget will help you get the necessary tools to kick-start your journey.
Instructions
If you don't intend to pay for fly tying classes at your nearest fly shop, that means that you plan to self-teach.
A great kit comes with detailed instructions on how to tie your flies, safety tips, and how to care for the tools.
Others add a DVD for guidance on your fly tying journey.
Tool or Kit Organizer
All your tools and equipment will have to be neatly stored to avoid safety problems if you work around children and pets.
Also, it is for your convenience when looking for any tool. You can easily if you properly organized and stored your tools.
A good fly tying kit should come with an organizer.
Fly Tying Kit Reviews
Hareline Fly Tying Material Kit with Premium Vise and Tools
Hareline has been in the fly tying space for a while now and so far, so good.
This kit from its warehouse is one of the best for novices to hone their skills to expert tyers.
The kit consists of 48 materials, a vice, and other vital tools you need to kick-start your fly tying journey.
Tools and materials in this kit are of premium quality and promise functionality and durability.
The manufacturer includes all hooks a beginner needs and packs more than enough Veevus thread.
You can use this pack to tie up to a thousand flies. If you had no clue how to start, use the 60-page fly pattern book that contains 20 patterns with guided instructions.
If you have the basic tools and don't need another kit, this company has a separate material kit that you can order.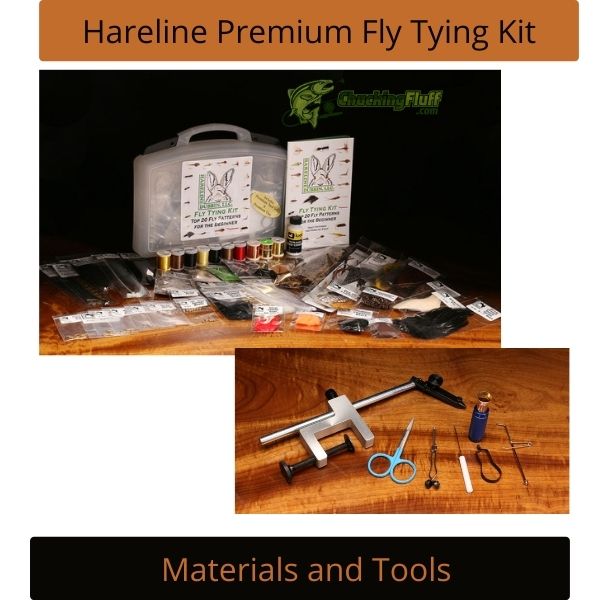 Tools and materials in the Kit;
C-clamp vise
Scissors
Bobbin
Hackle pliers
Hair stacker
Half hitch tool
Bodkin
Whip finish
Materials in the Kit
Partridge feathers
Pheasant tail
Peacock herl
Hare's mask
Rabbit strips
Marabou
Dubbing in several colors
Thread in several colors
Wires
Beads
Wet and dry fly hooks in different sizes
Hackle
Chenille in multiple colors
Deer hair
Elk's hair
Turkey
Check Hareline Premium Web Availability
Orvis Premium Fly Tying Kit
Orvis is a household name in the fly fishing gear and equipment business. Being in the industry for over a century, you can agree that they have mastered the art of customer satisfaction.
Most anglers love and swear by Orvis's fly fishing tackle and this one doesn't count out. As an overall favorite for most anglers, it boasts quality and it begins with the excellent and catchy fly tools organization in the case.
It might be nothing to others but tool organization is one of the considerations of a good fly tying kit.
The guys at Vermont took the kit a notch higher by including materials that can tie over a dozen fly patterns (16 as stated by Orvis including 8 common and simple patterns and 8 guide-approved patterns).
We estimate it at 160 flies or thereabout and comes with an instructional DVD with precise tying instructions for various fly patterns.
The 8 basic patterns are a Chernobyl ant, elk hair caddis, rusty parachute, beaded Sili Prince, SOS nymph, Klinkhammer, and woolly bugger.
The 8 guide-approved patterns are pearl flash zonkers, parachute emergers, fur ant, hollow egg, zebra midge, BH lighting bug, San Juan worm, and black rubber leg stone.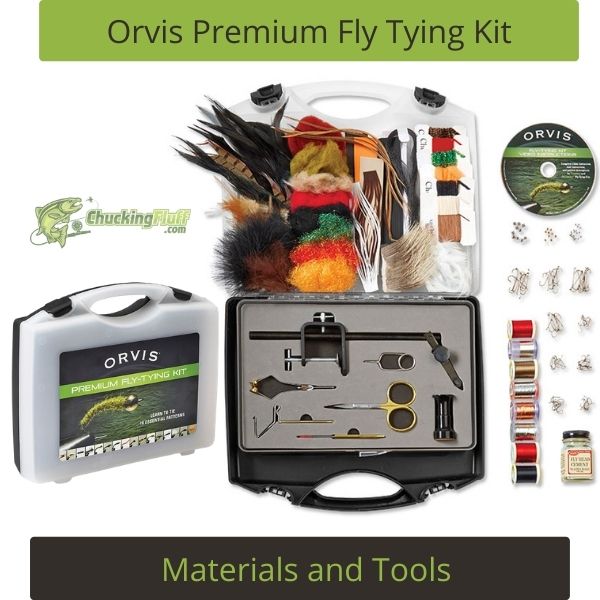 Tools Included;
Vise
Scissors
Bodkin
Bobbin lined with ceramic
Whip finish tool
Hair stacker
Hackle pliers
Half-hitch tool
Check Orvis Premium Web Availability
Hareline Fly Tying Material Kit
You must have read of the Hareline Premium Material and Tool Kit for fly fishing above. Still, from the same brand, is a MATERIAL ONLY KIT.
This one from the Oregon-based company has been nicely done and is excellent for novice and amateur fly tyers. You will love the detailed instruction booklet with clear steps on how to tie about 20 different trout flies that expert anglers and guides swear by worldwide.
The skills you learn from this instructional booklet are a solid foundation for when you will need the flies for bonefish, pike musky, bass, steelhead, and salmon.
Its materials are also first-rate from the dry fly hackles to the different threads, hooks, and dubbing. The material selection is diverse and of excellent quality.
Some materials come spooled but the rest that aren't are in smaller quantities compared to what you'd purchase in a fly shop.
This isn't a downside as most manufacturers downsize on the materials when compiling a fly tying kit and it makes sense considering the much they go for.
Until you'll have practiced enough and identified the patterns you need to tie, then you can purchase these materials in large amounts.
Some of the flies covered by the instructional booklet are black gnat dry flies, Griffith gnats, black ants, light Cahill parachutes, Adams, elk hair caddis, Comparadun, beaded head bunny leech, bucktail streamers, TP's little nymph thing, Darian Kool Kat soft-hackle, pheasant tail nymphs, hare's ear nymph, woolly burgers, woolly worms, girdle bugs, partridge and yellow soft hackles, beaded head caddis, brassies, and San Juan Worms.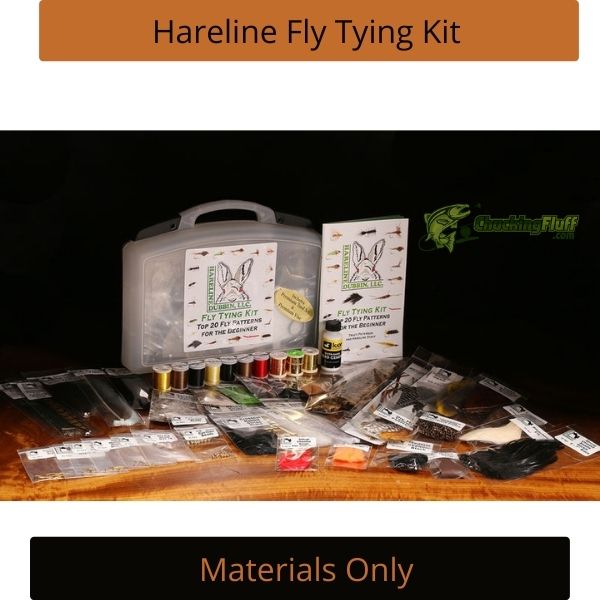 Contents of the Kit;
Beads in two sizes
Hooks in six sizes
Spools of different Veevus thread (6)
Gold, copper wire
Silver gold Mylar tinsel
Pearl Krystal flash
Yellow flash
Parapost wing
Sparkle emerger yarn
Chenille in three colors
McFly foam
A half-size hare's mask
Dubbing in 5 colors
Elk's hair
Rubber legs
Rabbit strips
Comparadun hair
Crosscut rabbit strips
Turkey tail feathers
Marabou feathers
Keough saddle feathers
Hareline's drink coaster
Loon water-based cement
Bucktail hair in two colors
Peacock herl
Grizzly cape in half size
Partridge soft-hackle feathers
Ringneck pheasant feathers
Saddle feathers
Tailing feathers
Check Hareline Web Availability
WAPSI Deluxe Fly Tying Starter Kit
It might be offering fewer tools and equipment than most kits in this buying guide but for an angler who is still figuring out whether or not fly tying is something they can involve in occasionally or long-term, it will do for a start.
Minimizing the tool selection doesn't rubbish it as the materials are high quality. It comes with the basic and essential tools a novice would need.
The kit comes with materials that can tie 17 fly patterns with step-by-step instructions from the DVD.
Fly patterns that can be worked on using this kit are poly spinners, San Juan worms, fur ants, brassies, poly caddies, stretch tubing scud, woolly buggers, foam beetles, beaded head caddis, clouser minnows, deer hair bugs, cone head leeches, green weenies, soft hackle wet, CDC emergers, cone head rabbit streamers, and all-purpose nymphs.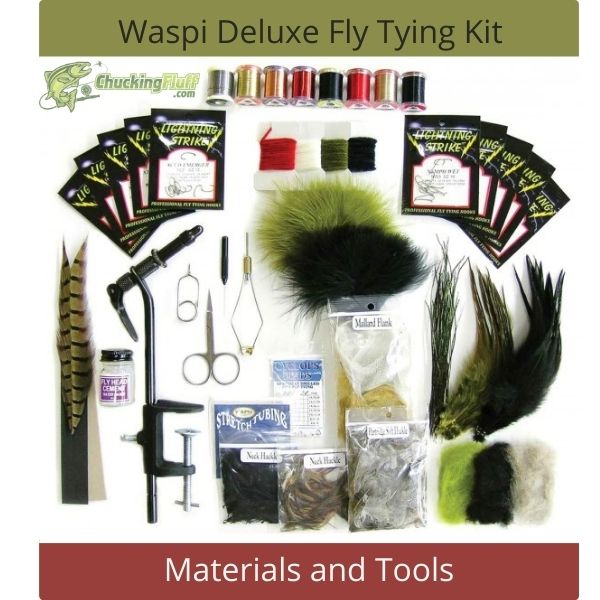 Kit's Contents;
Scissors
Head cement
Hackle pliers
Bodkin
Bobbin
C-clamp vise
Check Waspi Deluxe Web Availability
Umpqua Beginners Fly Tying Kit
Umpqua Feather Merchants are tied to the waters and their flies and tools are made and tested on the waters.
Being in business since 1972, the company has been crafting high-quality, top-rated flies that anglers use worldwide and swear by.
The company distributes its flies and tools to wholesalers and retailers who then sell to anglers.
Starting the company with pro tyers like Mike Lawson, Larry Dahlberg, Randall Kauffman, Lefty Kreh, Dave Whitlock, and others, most of their time was spent on River N Umpqua to rigorously test their crafts before making them available to anglers for use.
Currently, the company has over 240 tyers who are behind the creativity of their packages.
This is evident in their fly tying starter kit for beginners that contains high-grade tools and materials.
The necessities are packed in a durable carrying case that you can pack up when traveling.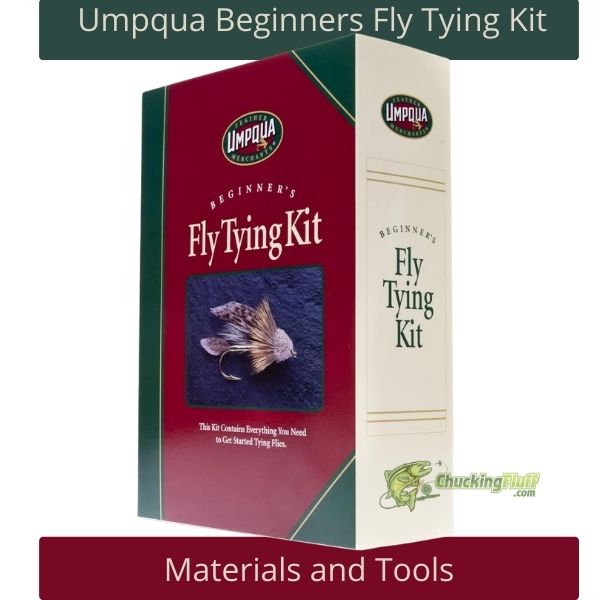 What's in the Kit?
Instructional manual
Vise
Sample flies
Hare's ear
Tacky wax
Bucktail pieces
Turkey quill
Calf hair
Assorted dubbing
Strung saddle hackle
Deer body hair
Mallard flank feathers
Assorted marabou
Metz dry fly hackle
Peacock herl
Assorted chenille
Thread
Floss
Tinsel
Head cement
Assorted hooks
Scissors
Hackle pliers
Bobbin
Check Umpqua Beginners Web Availability
Umpqua Deluxe Fly Tying Kit
Tying flies successfully needs you to have an interest in it first, get the basic materials and tools then begin practicing to perfect your skills.
That is how renowned fly tyers began. Umpqua has three kits already in the market and this is the second one in our guide.
If you don't want a starter pack, the deluxe will come in handy. Being deluxe doesn't make it sophisticated as it is recommended for tyers of all ages and skill levels.
If you are looking for a great gift idea for a tyer, the deluxe kit should be on your list of considerations.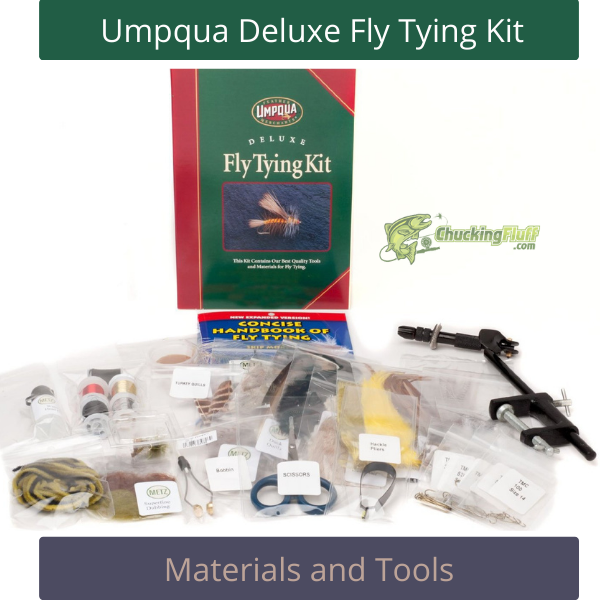 The Contents;
Instructional book
Sample flies
Tinsel
Head cement
Thread
Floss
Assorted chenille
Metz dry-fly hackle
Peacock
Assorted marabou
Deer body hair
Mallard flank feathers
Strung saddle hackle
Calf hair
Assorted dubbing
Bucktail pieces
Turkey quill
Metz beginner vise
Scissors
Bobbin
Hackle pliers
An assortment of Tiemco hooks
Check Umpqua Deluxe Web Availability
Scientific Anglers Fly Tying Kit
The Scientific Anglers Fly Tying Kit seems to be having most of the basic tools you need to start tying flies.
We understand the hassle that comes with walking into a store and singularly selecting tools to tie various fly patterns.
While it is time-consuming and you end up getting tools and materials of different qualities, the total cost of everything you get will be higher than purchasing a fly tying kit.
Besides coming with a good assortment of tools and materials, the manufacturer packs an instructional DVD to keep you on the right track.
The DVD covers all the basic tools and materials and how to use each. Everything comes in a sturdy case that is portable for a travelli8ng angler or tyer.
You might not make all the fly patterns on the internet, in books, and those in your imagination but you can tie a plethora of common flies.
The core factor behind the manufacturer of this kit is to lay the foundation and give you an idea of how to tie streamers, nymphs, wet, and dry flies.
It will be a good one for bass, trout, panfish, and many other species.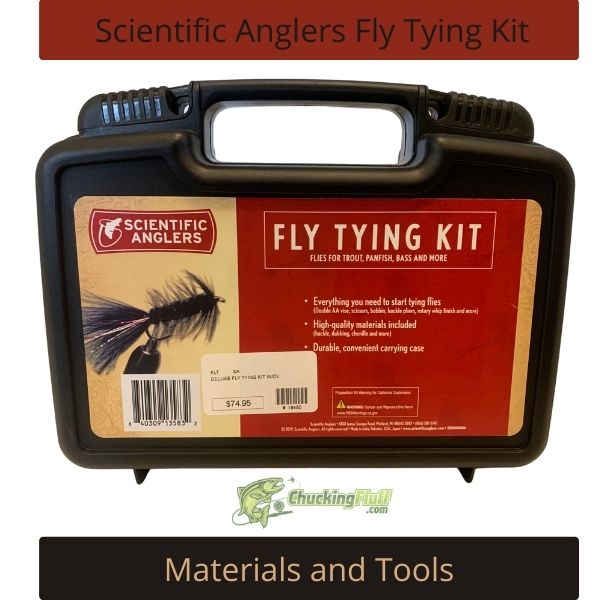 Tools and Materials;
Marabou
Hackle feathers
Dubbing
Wire
Tinsel
Thread
Hooks
Scissors
Hackle pliers
Bodkin
Threader
Bobbin
Deluxe vise
Check Scientific Anglers Web Availability
Orvis Encounter Fly Tying Kit
The Encounter line of products from Orvis is popular among anglers because it is among the most affordable.
You must have come across the Encounter fly rod, fly reel, fly line, combo, waders, and wading boots but probably didn't imagine there could be a fly tying kit in this collection.
There isn't one but several Encounter fly tying kits.
What we are describing here is the Encounter fly tying kit that teaches you how to tie eight basic guide patterns.
The materials are enough to tie 80 flies-ten from each of the 8 patterns.
Tim Flager puts together the instructional DVD that talks about each tool and how to use it, all materials in the kit and their use, and detailed tying tutorials.
The eight guide-proven patterns you can learn to tie are zebra midges, San Juan worms, fur ants, rusty parachutes, elk hair caddis, BH caddis larvae, pheasant tail nymphs, and woolly buggers.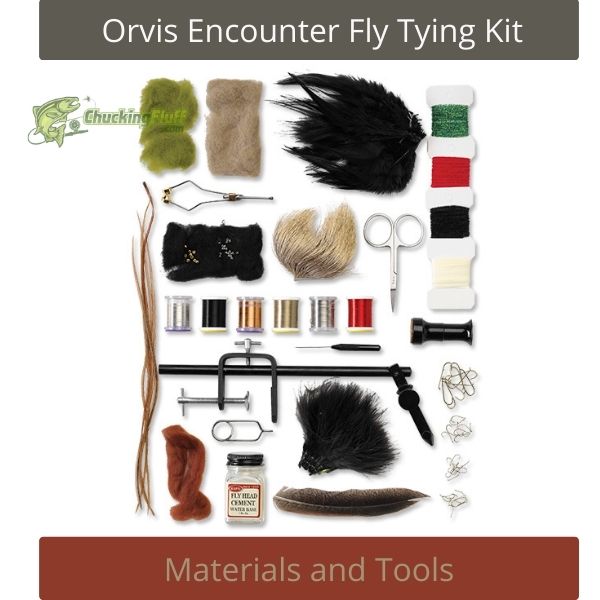 What's in the Kit?
English hackle pliers
Head cement (water-based)
Beginner's vise
Spooled materials
Hair stacker
Scissors
Ceramic bobbin
Check Orvis Encounter Web Availability
Gunnison River Deluxe Fly Tying Tool Kit
It is sometimes called the Gunnison River Deluxe Fly Tying Tool Kit and is a tyers' favorite because of how affordable it is.
Packed with the essential tools and materials you need both beginners and amateurs can tie streamers, dry flies, and nymphs with ease.
All the steps are well explained in the instructional booklet and you can keep them for reference when the need arises.
Containing a fly tying vise and a set of five vital tools, you can use the materials in the pack to craft over 30 killer flies without sourcing for extras.
It might not give as many flies as the Orvis Premium or Encounter kits but for a starter, it gets the job done.
You get a sturdy heavy-duty carrying case to store your tools and materials. It is compact and weighs about 4lbs making it highly portable for traveling anglers and tyers.
Fly options you can tie with this kit are parachutes, elk hair caddis, Adams, pheasant tails, rock worms, and wooly buggers.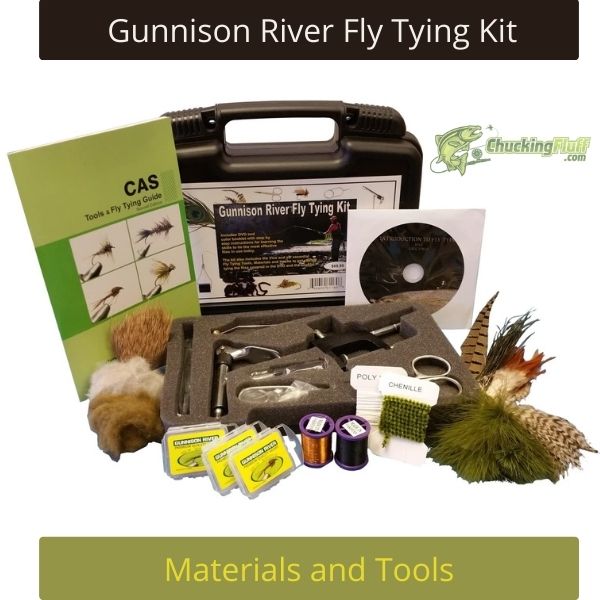 The Contents;
Instructional booklet
Vise
Scissors
Whip finisher tool
Hackle pliers
Fly tying materials
Check Gunnison Web Availability
Creative Angler Wooden Fly Tying Station with Tools and Materials
Improper storage of fly tying material and tools can lead to their loss or a high risk of injuries and accidents.
A beautifully organized station will make a perfect place for you to design your flies.
This kit from Creative Anglers encompasses all your tools and materials for making various flies and houses them properly to keep everything clean and easy to access.
The manufacturer packs a detailed instructional booklet and 12 different tools together with the basic materials a tyer will need.
It might not be as comprehensive as an expert tyer would want but for an advanced fly tyer, there is much more you can experiment with what is in the station. Novices will need to separately purchase basic tools.
If you are into aesthetics when it comes to selecting tying stations, this one might interest you.
The wooden finish is elegant and the station has dedicated sections to allow for proper tool and material organization. The kit is lightweight and easy to move around with.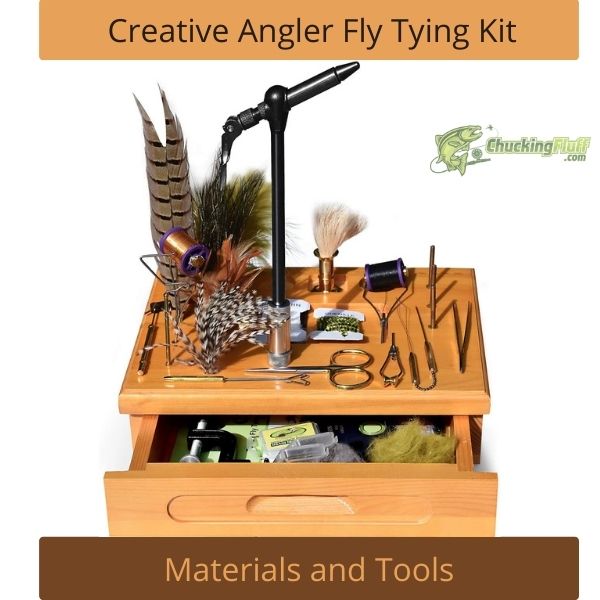 Materials in the Kit;
Grizzly hackle
Saddle hackle
Dry fly hooks
Rotary vise
Marabou
Pheasant tail nymph
Poly yarn
Dubbing
Peacock herl
Elk hair caddis
Copper wire
Black thread
Chenille
Veniard Premium Fly Tying Kit
Almost clocking a century since its establishment, Veniard has been manufacturing and supplying high-grade materials to fly tying companies and individual fly tyers.
Hardly do you come across one kit can carry materials to make over a thousand flies. This one does and has proven to be one of the best fly tying kits for tyers of all levels.
The kit has been upgraded and the new version caters to both traditional and modern fly tying trends. With plenty of materials, there is everything for both a novice and a pro tyer.
You will notice that the kit includes new materials in the market as the dynamics of fly tying and fly fishing are welcomed almost every season. Some new options include cactus, Krystal, and glister.
Veniard packs hooks of most sizes and all of them are high-grade to achieve full functionality and longevity.
Some of the flies you can design with this kit are muddler minnows, bibios, holographic crunchers, diawl bach, CDC shuttlecocks, shipman's emergers, gold ribbed hares ear nymphs, popper hoppers, glister damsels, among others.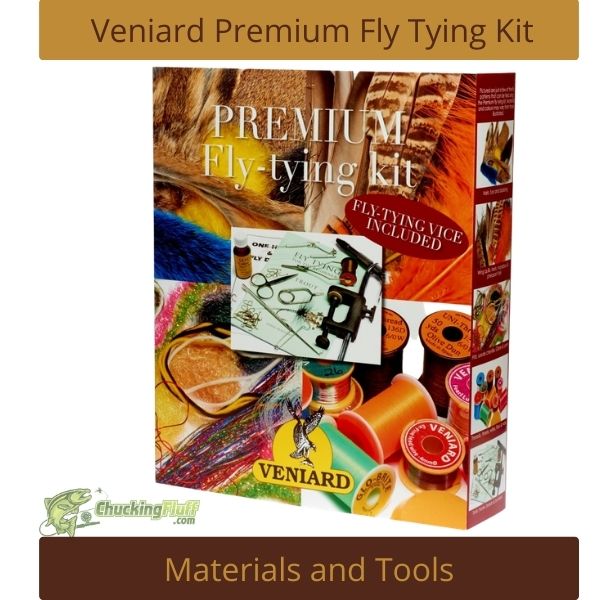 Materials Included;
Furs – rabbit zonkers strips, squirrel tails, hares ear, fur dubbing, and deer hair
Feathers – peacock herl, mixed turkey marabou, hen pheasant wing quills, hackles, gray duck wing quills, golden pheasant tippet, English partridge hackle, dry fly quills, cock pheasant tails, cock hackles, CDC, and black cock cape half
Spools – threads, two-tone mylar tinsel, silver wire, pearl mylar tinsel, lead wire, holographic tinsel, gold wire, Glo-Brite multiple yarns, Glo-Brite floss, and cactus chenille
Synthetics – suspender balls, super stretchy floss, suede chenille, seal fur substitutes, plastazote, magic glass, Krystal flash, ice yarn, braid, and glister sparkle dubbing
Beads – damsel eyes, silver, and gold
Tools – wax, cellire varnish, scissors, head cement, hackle pliers, dubbing needle, bullet bobbin holder, and assorted hooks
Booklets – A beginner's guide to fly tying and 101 fly dressing patterns
NB: Older versions of the Veniard Premium Fly Tying Kit didn't include a vise. Currently, the manufacturer includes one.
Veniard Pinnacle Fly Tying Kit
Veniard terms it as comprehensive and most anglers and fly tyers agree. The Pinnacle is well-liked and has been highly recommended for both pro tyers and novices.
This can be a great buy if you are looking for a set for the long-term. This is a fly tying kit with a carrying case, basic, and extra tools and material.
Allowing you to craft hundreds of patterns, you can do so much including creating a part-time job out of it.
The tools and materials are of high quality and for an angler looking for functionality and durability, this might be the best tying kit to invest in.
The basic tools are for novices to kick-start their journeys and with practice, you can design punchy flies that fool almost any type of fish.
You don't have to always fish with the old common flies. Try out new combinations and name them after yourself.
You will love how compact yet sturdy the carrying cases are. They are extremely lightweight and you can go with them anywhere.
Backpacking anglers and tyers shouldn't worry about portability and space as it weighs 4.32kgs when empty and 5.5kgs when full.
The dimensions are 41 by 41 by 28cm. The sturdiness of the case is sufficient to protect your tools and materials from misplacement and breakage.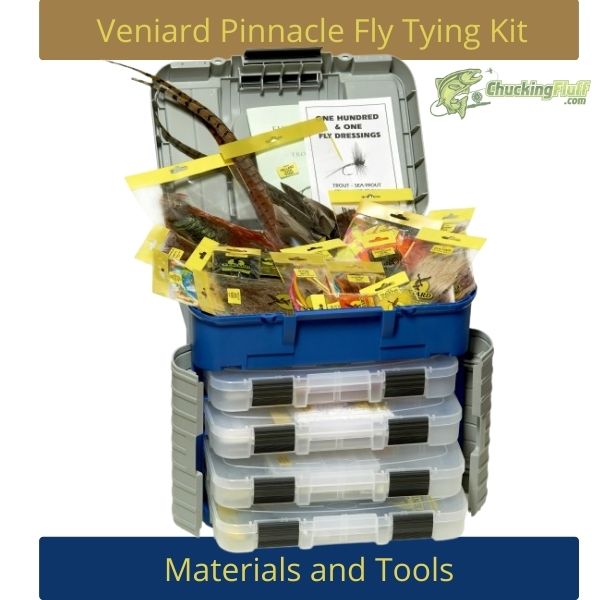 Materials Included;
A beginner's guide to fly tying for trout
101 fly dressing book
Guinea fowl
Parachute Antron
Goose biots
Squirrel tail black
CDC feathers
Braid and lurex
Pearl film
Suede chenille
Hen pheasant wings
Mallard wings
Fly tyers wax
Glo bright floss
Multi yarn
Krystal flash
Ostrich
Golden pheasant body, skin, and head
Peacock eye
Thread
Peacock herl
Mixed squirrel tails
Gray mallard flank
Lead wire
Deer and elk hair
Holographic chenille
Mylar piping
Magic glass glister
Bronze subs
Scissors
Hackle pliers
Whip finish tool
Dubbing needle
Bobbin threader
Bobbin holder
Cactus chenille
Gold and silver wire
Cock pheasant center tails
Uni flex
Holographic tinsel
Cock hackles
Booby eyes
Suspender balls
English and French partridge
Hare's mask
Seals fur substitute
Beads
Fly bodies
Streamer and nymph eye
Thin skin
Cone's heads
Rayon floss
Closed-cell foam
Teal flank
Marabou
Hooks
Super-standard lever vise
Uni two-tone Mylar tinsel
Tool Packs
Tool packs in this case come with fly tying material and tools. Others have tools only, some have materials only, and other a mix of the two. They will be packed in sturdy storage cases or bags for easy and safe storage and handling.
Loon Outdoors has cut its section in the fly fishing industry by solely focusing on fly tying. Made by anglers for anglers, their flies have proven to be the real bait for almost any kind of fish.
What you have to do is match the flies to the happening hatch, get your presentation skills right, go armed with the right combo, and wait for that guy to land in your trap.
Going for less than 120 bucks, it sure is worth every coin spent on it. It might not be as comprehensive as other kits in this review or the market but every tool feels solid and durable.
Their weight is reasonable and won't be an issue for traveling tyers. Rated as excellent for anglers of all ages, you can be sure to move a step farther in your fly tying skills.
Handles on most tools feel smooth and nice. We haven't heard reports of any of them causing blisters as the finish is excellent for good grip.
Packed with two types of scissors, they come already sharp, precise, and comfortable to hold. A smooth bobbin is everything you need together with a comfort aspect to allow for proper spool holding while offering enough tension.
The whip finisher is simple and a great choice to use when learning the tasks it has to perform.
With a large handle, your fingers will find comfort in it. Loon adds a base to the whip fisher.
You can spot a sharp blade for finishing flies and clipping any loose threads without getting another tool. This is an innovation that most manufacturers are yet to find as useful to the tyer.
Most fly tyers underrate the bodkin but it always comes in handy when you understand its use and the convenience it offers.
The dubbing spinner and brush feel sturdy and well-crafted. The packaging is simple yet very functional for tool and material safety, storage, and ease of transportation.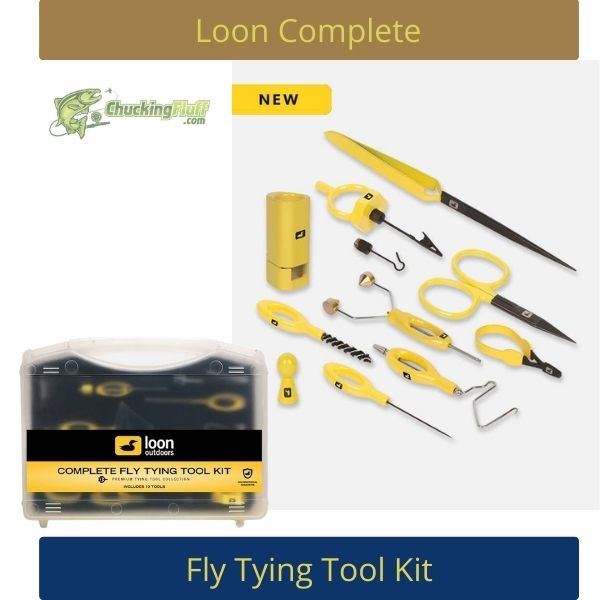 What's in the Package?
Vise pawn
Ergo multi-purpose scissors
Ergo multipurpose bobbin
Ergo whip finisher
Ergo Bodkin
Ergo Hackle pliers
Zippy hair stacker
D-loop tweezers
Gator-grip dubbing spinner
Ergo dubbing brush
Loon UV Fly Tying Kit
Individually purchasing the UV resins from Loon Outdoors is extremely costly hence the availability of a UV fly tying kit to subsidize the cost.
The package has been recommended by many pro fly tyers for being good for small flies.
You can use it on bombproof threadheads and wing cases of nymphs and the kit works well.
The thick comes in handy when tying huge flies for pike but once you master the art of using the resins, you will find yourself using them on 99% of flies you tie.
The thin one will penetrate in almost any material and you only need a tiny drop that goes a long way.
Some anglers have learned to use as little as possible by using a toothpick to apply very little resin when sealing flies.
You will love the manufacturer's environmental concern as the glue is eco-friendly. This is in the company's core values.
The resins dry pretty fast and will not tack when exposed to the right light. You can purchase the UV mini light from Loon Outdoors to help with the curing process.
The three thickness options are versatile and considerate to allow the tyer to use the correct consistency for the right place.
You get a bench UV light in the package and the design will be a more compact style of the famous Loon Outdoors Infiniti.
This is a torch to cure the tying resins in less than 15 seconds. It has been built with a functional zoom knob to allow for enough focus and broadening of the light in various situations.
It comes with one AA battery that powers it ad it should last a little longer before replacement.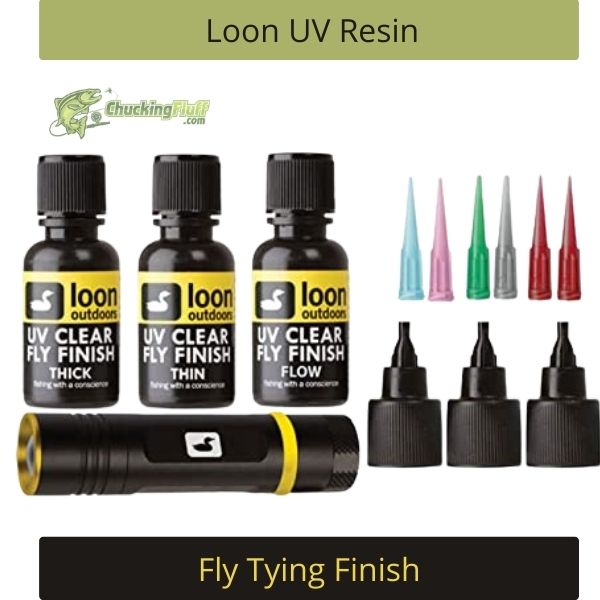 Contents of the Package;
Loon Outdoors UV Clear Thick Fly Finish
Loon Outdoors UV Clear Thin Fly Finish
Loon Outdoors UV Clear Flow Fly Finish
Loon Outdoors UV Bench light
Needle tips
Orvis Encounter Vise and Tool Set
First, it is important to keep in mind that the Orvis Encounter Vise and Tool Set is different from the Encounter Fly Tying Kit and the Encounter Super Slim Fly Tying Tool Set.
The product here is very affordable as Orvis understands that a fly tying hobby doesn't have to puncture your pocket.
Consisting of the most basic tools, the other additions can be made as separate purchases depending on your preference.
The C clamp is very sturdy and limits wobbling during fly tying. Get the right surface to clamp it to and you will not regret it.
Regardless of whether you are a hardcore fly angler or not, tying flies for your use is very therapeutic.
To others, it is a way to relax and have fun as they pass time and the Orvis Encounter Vise and Tool Set will be a good point to start from.
We'd like to keep you aware of the counterfeit kits similarly branded as the Orvis Encounter Vise and Tool Set but aren't from Orvis.
There has been a complaint raised by a tyer who purchased the kit and had a whip finish tool that couldn't spin smoothly.
It could crate spots as you spin and will refuse to bind. This freed up after some time of use.
The vise came with jaw tips that were often misaligned and the user had to manually adjust them.
Tools came with rust that affected performance and durability. This is a single complaint out of the many reviews of this product by different users.
Ensure that you scan the product code for authenticity. In case you buy a genuine Orvis Encounter Vise and Tool Set and it comes with such issues, immediately reach the manufacturer for help.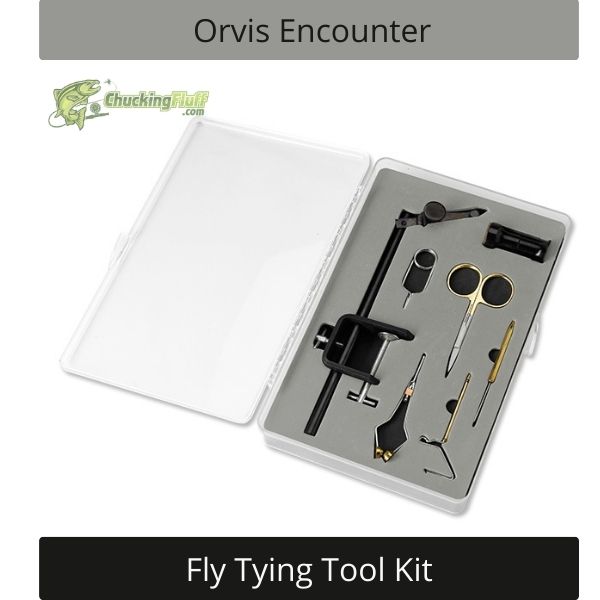 Tools Included;
C clamp vise
Ceramic bobbin
Scissors
Bodkin
Hackle pliers
Whip finish tool
Kit Pouch/Table Tidy
Fly Tying Kit pouches and bags are a traditional way of organizing your fly tying tools and materials but still comes in handy instead of dumping everything into a crowded box or single-pocket bag.
There is so much that goes into a good kit pouch or bag but there are some basics that you need to consider for function and durability.
Consider the material used to make the pouch or bag. It should be durable, easy to clean, and almost puncture-resistant as you won't be carrying cotton balls but sharp tools and materials.
Zippers are another primary concern as most of them easily fall apart and expose the pouch content risking loss or accidents.
A good kit pouch should have sturdy yet smooth-operating zippers.
The YKK design is preferable because they are strong and rustproof. Their durability is guaranteed.
Size has always been a priority. If you have fewer tools and materials you often carry around, get a small-sized pouch or bag.
Otherwise, if you will be carrying long capes a bigger one will be ideal to fit all your long accessories and tools.
Divided sections or pouches will be necessary for organizing tools and materials. This will make access easier, save your time, and energy.
Also, items like hooks and beads that are tiny and could get lost or cause injuries need dedicated spaces.
Some pouches have Velcro to secure tack fly docks or pedestals. Ensure that they have been properly sewn to prevent snapping.
Other aspects like color, appearance, design, and aesthetical features are your personal preference.
Fly fishers are an adventurous lot and are always looking for something. Mostly, it is an untraceable needle or hook that could have disappeared in chaos on your desk or bench.
You could have been tying your dry flies and after three days of a break, you can't locate your tungsten beads to start on your favorite nymph pattern.
Don't you think this trend had to change? We think it definitely needs to get better for the better.
Instead of embarking on an annual organization contest each time, a table tidy or work center will make you feel a lot better than you would without one.
Owning one means that you are in full control of your space and can quickly scan through the center and pick what you need.
When selecting the best table tidy, consider the size of your table and the available space you have on it.
This allows you to get a tidy that can comfortably fit on your desk/table/bench without extending over the edge and cause obstructions of potential points of being pushed or knocked down.
Still, on size, the number of tools you have and the amount of material will influence your selection.
A novice tyer with fewer items can work well with a small to medium table tidy. A Commercial tyer or a pro fly tyer with plenty of materials and tools will need a bigger organizer to allow everything to be within reach.
Size too should be reasonable to allow you to handle and transport the tidy with ease. It shouldn't get in the way of portability if you will be packing it for travel.
The material is your preference but it should be durable and easy to maintain. Depending on your taste, its aesthetics could be or not be a consideration.
Some manufacturers have them from wood, heavy-duty plastic, solid metal, laminate, glass, or acrylic. Others have a combination of different materials in one product.
Since it is a tidy, it has to be well-sectioned to accommodate different tools and materials for easy access, prevention of damage, and injuries.
For instance, there has to be a section for tools, head cement, holders for threads, flies, hooks, and wires.
The sections should be reasonable to allow for a good amount of working space.
The working space has to be spacious to allow an adjustable C-clamp that can be used by tyers of both right and left-hand ability. If it can hold a UV light torch too with the clamp there, the better.
Check its feet as they should be able to support the weight of the tidy and have it steady enough to prevent slipping.
This could lead to loss of materials and tools, damage, or accidents when the table tidy falls off the desk.
N/B: Always confirm in the product description if the fly tying kit pouch/bag or table tidy comes with any tools or materials.
What we have in our guide is the tidy and pouch without any material or tools. Others come with a few basics and this will have an impact on their overall prices.
Orvis Fly Tying Center
Fly tying enthusiasts need to keep their fly tying tools and materials properly organized on a workstation and should be in a ready-to-use style.
It isn't easy to commence on a new pattern when you have to find your bobbin threader from your toolbox, your scissors from the cutlery drawer, and everything misplaced or in crowded boxes.
It is easy to be injured by sharp tools or find threads and other materials tangled.
To counter such problems and save your time and energy, Orvis designed the Orvis Fly Tying Center which is a perfect organizational solution while providing you with enough working space near your tools and materials.
Besides organization, the work center makes it practical to store everything you use without risking loss or destruction.
The size of the fly tying work center is reasonable. Overall, it measures 12 by 21 inches and when the other placements and dividers are added, you are left with a working surface of 12 by 15 inches.
The rectangular shape allows for storage and organization at the width sections and leaves the center for your tying tasks.
The space fits a vise and it can be clamped. Your bobbin cradle can freely move. If you will be tying flies at night, there is enough space to clamp it.
The accessibility of materials is nothing to worry about. Its clamp can be used by both right and left-handed tyers as it can be adjusted to any side.
While other working centers don't allow you to separately organize and store your materials, this one does as each item has its place to save you the hassle of looking for accessories you need.
If you have used the center before, you know that it is a good way to reduce clutter. It prevents materials from stringing out across the desk.
There are 10 holes in the arm section for your tools. Have your threads, wires, and similar things held by the seven pegs and head cement in the jar hole.
Tyers are used to tossing their scraps in the garbage bins. This center can be used to organize your scraps as you might need them for some patterns.
Having your leftovers well-stored allows you to retrieve them easily and saves you the stress of regularly purchasing fly tying materials.
Built with rubber feet, your center can't slide on benches and desks. This helps to keep your station steady and intact, prevent tool and material damage or any accidents.
The material used to make the work center might not be a concern to some tyers but to those who mind durability, function, and aesthetics, the stained red oak Orvis Fly Tying Center will be a sure bet.
The wood is on the base area with the arms crafted from high-grade laminate. There is a cardholder to hold sticky notes with tying recipes.
Your hooks and flies can go on the magnetic strip. This only comes as a work center and materials and tools aren't included in the package.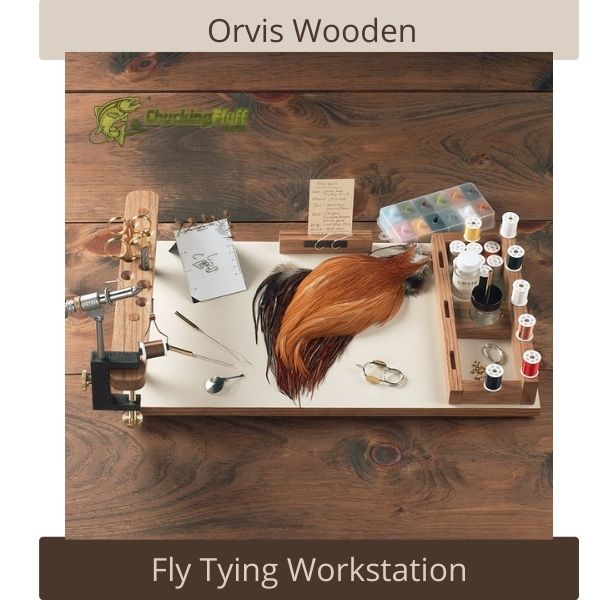 What's in the Package?
Work center only
Work Center Features
Rubberized legs
Stained red oak base
Laminate arms
10 holes for tool storage
Cardholder for recipes
Magnetic strips for hooks and flies
Check out our Orvis Fly Tying Work Centre Review for more info.
Fishpond Tailwater Fly Tying Kit
Shopping for the best pouch for your fly tying materials can be daunting as these aren't your common sling or fish pack. Neither are they made like your usual hand pouches.
Most anglers have been through the doubts of what to get. There are so many manufacturers of fly tying pouches and travel bags like Zephr, BW Sports, Tigofly, XFishman, Cascades, Baoblaze, and FishPond among others.
FishPond designs this one from high-quality material as expected of them and it is worth the purchase.
Both traveling and non-traveling anglers will appreciate the need of having one as it helps with organization, storage, and ease of transport.
We understand there are crucial factors to consider when purchasing fly tying pouches and bags but your personal preferences and tastes will come in.
The Fishpond Tailwater Fly Tying Kit is a simple and convenient way to store your tailwater lures, baits, and flies together with the necessary crafts, tools, and materials you need.
The bag's interior has four spacious see-through pouches for larger tools and material sets. The storage compartment is large and well-padded to offer more space for your necessities.
Designed with a tool station and a spool tray for your threads, it can hold a pedestal base.
You can remove the tying center and do away with the bead and hook sections if you can work without it.
Its compact design allows it to be packed into a travel pack, day pack, backpack, suitcase, be tied on a boat, raft, or kayak.
The exterior pocket is sizeable and easy to access. It comes with twenty spool inserts, a tool page with slots and a pouch for resin, lights, and brushes, and YKK zippers.
This doesn't come with any tools or materials.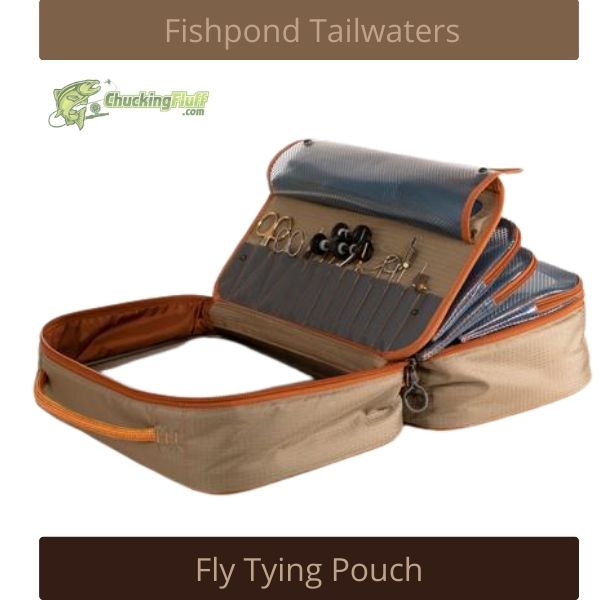 Bag Features;
Exterior pocket
4 spacious inner mesh pockets
Padded pocket
Pedestal insert
Velcro tie-downs
Spool inserts (20)
Tool page with slots
Removable tying pad
YKK Aquaguard zippers
FAQ's on Fly Ting Kits and Tools for Beginners
Q) Which is considered the hardest fly to ties?
A) From our analysis on a fly tyers' forum, the majority complain of the down east flies. Muddlers have been pointed out too. However, everyone knows their tying abilities and what could be difficult to you could not be the same for the other tyer.
Q) How can I start fly tying?
A) Actual fly tying starts when you can use the tools and materials from a fly tying kit to come up with a fly. It isn't a must that what you tie should catch a fish. Even if it doesn't, you would have buried the fear and identified whether it is something you can proceed with or not. If doing this solo, invest in the best fly tying kit and tools and use the instructional video or booklet that comes with it to start. You can use other resources like YouTube or pay for fly tying classes at your nearest fly shop or club.
Q) How do you differentiate wet fly hooks from dry fly hooks?
A) Wet fly hooks have standard wires with standard shark lengths so that they can slightly sink. Dry flies are mostly tied onto hooks of standard length made from very light wire
Q) What is a Pull pinch vise?
A) Pull pinch vises have pinching jaws that are pulled shut when you wedge its jaws into the vise's body. You can spot the locking lever at the rear of the body of the vise.
Q) Which type of light should I have in my working center?
A) The basic types of lights that could help are a small-sized incandescent lamp, a small LED light, and a UV torchlight for sealing your flies when using resins on them.
Q) What should be the best material for a tube in a bobbin?
A) Go for one that is made from high-grade metal or ceramic. Usually, a thread is abrasive and after some time, a cheap metal could wear out and cut your thread during wrapping.
Q) How old does fly tying date?
A) The recent history of tying flies dates back to the 1800s.
Q) Can I use superglue in the place of head cement?
A) Good-quality head cement will protect threads without it wicking into materials that you don't intend to. There are some instances where you can use superglue but not as often.
Wrap Up on the Best Tying Kits for Beginners
Before wrapping up the article, it will be great to briefly talk about fly tying materials even if the topic wasn't mainly about it.
We thought it wise to talk out some of the fly tying materials as some fly tying kits include them as part of the package.
For the basic tying materials for a novice, those we list will give a starter a chance to make numerous fly patterns that are acceptable for use worldwide.
You will not need all the listed materials right away. It will be better to pick the easiest patterns for you to tie and ready the necessary materials before proceeding to more advanced patterns.
Some patterns you can commence with are woolly buggers, hare's nymphs, pheasant tail nymphs, Royal Wulfs and Adams. Below are some of the primary fly tying materials.
Feathers
Fine and good quality necks of various sizes of feathers that have been plucked and matched as per size. The popular variations are dun, white, clack, furnace, and grizzly. Until you have mastered aspects to look out for, avoid buying whole necks. They are costly.
Rust, olive, brown, or black goose biots
Tail feathers of turkeys
Peacock herl
White, olive, brown, or black marabou
Quail or partridge back feathers
Pheasant tail feathers
Furs
Bleached and natural elk hair
Natural deer hairs-long are for spinning and short ones for hair wings such as Comparadun and caddis
Zonker strips or center-cut rabbit strips in rust, olive, natural, brown, or black
White calf tails
Squirrel tails
Some sections of the hare's mask
Other Crafting Materials
Purple, white, orange, white, green, yellow, or red floss
Pink, yellow or red egg Glo-bug yarns
Pearlescent Mylar
Olive, rust, tan, brown, cream Antron yarn
Copper and brass wires of different sizes
Krystal flash
Red yarn
Copper and brass bead heads in different sizes
Lead dumbbell eyes in varied sizes
Twisted rope, flat, or oval gold tinsel
White, olive, brown, or black chenille
Materials you can pick around the House
Colored rubber bands
Tan, clear, or white plastic shopping bags
Comb your imagination for the rest!
Some Extras to have
Pheasant skin
CDC
Micro-fibettes
Turkey flats
Guinea feathers
Wood duck
Rainy's float foams
Larvae lace
The cold season has been around and with the number of COVID cases rising worldwide, many are most likely having a lot of time on their hands.
This is probably going to happen for a long time. Despite the anxiety and uncertainty, how are you spending your time?
If you have been thinking about crafting your flies, this could be the best time to start. You can binge on YouTube or Vimeo videos on how to tie flies and see if it is something you could do.
Read through our reviews and comb our website to learn about various flies and what fish species they attract.
Proceed to select the best fly tying kit that will suit your needs as you start on your journey.
If you aren't confident enough to do this alone, with the help of fly tying books or instructional videos it can be possible.
In case you have purchased a few kits and tools and noticed that fly tying isn't your thing, there are numerous organizations you can donate them to.
Check with groups that serve youth and teen programs, cancer patients looking for fun things to do, veteran organizations, and other groups or individuals that will love to tie flies.
Share with us in the comment section the kits you have used and still use to date, why you prefer them, tools you love and those you can do without, and anything on fly tying.
Last update on 2023-09-28 / Affiliate links / Images from Amazon Product Advertising API
This product presentation was made with AAWP plugin.