Disclosure:
Just to be open and honest the buttons and links you click on in the website will in most cases take you to another website where you can purchase the products I am reviewing. As an Amazon Associate I earn from qualifying purchases.
November 8, 2023
Can I Practice Fly Fishing in the Backyard?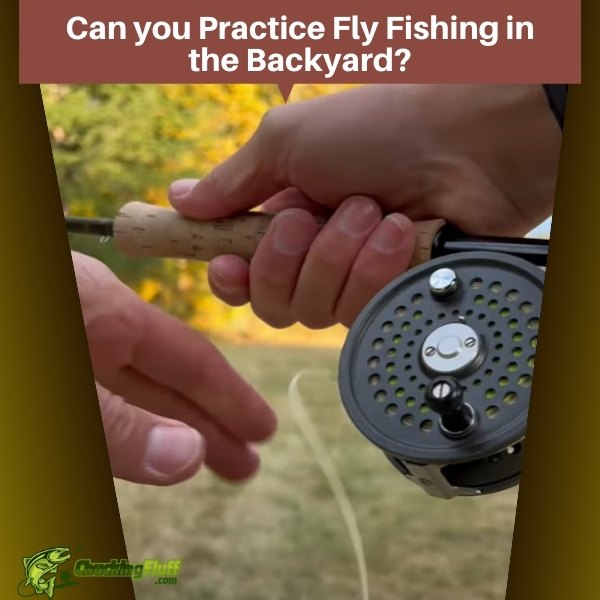 Most fly fishers aren't the kind that introduce themselves claiming that their abilities are inborn.
We didn't know a fly and rod were something until we were introduced to them, wore our determination hats, and kept on with the frequent practice sessions.
There are guys with eye problems who fish better than chaps with absolutely perfect vision.
What do we say about them?
They are acing it because they sharpened their skills and are now good at it.
You are probably asking so many questions as a novice and one could be:
Can I Practice Fly Fishing in the Backyard?
Yes, with or without a fly, you can practice how to cast in your back or front yard if it is spacious enough.
The crucial gear to have is a good fly rod, line, and leader, meaning you don't necessarily need a fly to practice.
You want to focus more on improving accuracy when casting.
No water body is needed either – the grass is just fine and the more you can practice how to cast and see where your line lands, the better you'll get at it.
---
Can I Practice Fly Fishing in the Backyard?
---
It would be best to learn how to make forward and back casts with your simple gear.
You want to learn how to cast your gear forward and see where and how far your line lands.
See if it is moving straight so that you can pick areas to improve.
Once you are good with front casts on the grass, proceed to backward casts and casting at side arm angles at the same time.
Ensure both casts are going straight and with time, you'll learn how to join them among other techniques.
---
Master the Grip
---
One of the crucial things to learn is the grip.
The easiest way for novices is to hold the fly rod with the thumb directly on top of your rod grip and opposite the target.
Avoid exerting so much pressure on the cork as it will lead to finger and arm fatigue.
You want to avoid excessively losing grips as this will make it hard for you to get in a catch when on the water.
Make the grip reasonable, comfortable, and more natural.
Practice how to tighten the grip when stopping the line.
Gripping the rod tightly affects your casting results and the aches that come with it are hell.
Your feet should be shoulder-width apart from each other when standing as you practice.
As you keep practicing, you will learn the right wrist movement, and how to make low and sidearm casts as you learn from the performance.
---
Watch Your Line Control
---
Fly fishing requires you to retrieve your line with the hand unless you have landed a thing and that is why it is essential to work on your line control in the backyard.
It mightn't sound important but is worth practicing if you want to nail the skill.
Pro anglers recommend pinching the fly line below where the index finger of the casting hand is then pulling with the other hand.
Always remember only to work with enough fly line for your backyard's distance and that of your potential water so that you get the real feeling on the ground.
---
Explore with Different Fly Fishing Techniques
---
Fly fishers who have been in the industry know that the techniques are numerous and you can't apply all of them in one spot.
The water, weather, fish species, and other aspects are determinants of the fishing styles you will use.
Even as you sharpen your casting skills, that is just a bit of what fly fishing is about.
Get into your angling kit and see all the flies, tools, and stuff you'll be using.
Do you think you'd love some knots here and there?
Maybe a triple surgeon or cinch knot is what you'll need tomorrow for an exhilarating experience.
Once you are done with trying out a few techniques for a start, it could be time to adventure in the water.
You will need a good set of flies for that area, season, and fish you want to catch.
The excitement as a novice might push you to carry hundreds at a go – we've been there, done that!
It is a nice way to equip yourself as you experiment with what works, and where.
If you've been practicing fly fishing in the backyard without some gear, it wouldn't be challenging with one or two additions.
---
FAQs – Can I Practice Fly Fishing in the Backyard?
---
If you have been wondering if casting in the backyard is possible you now know that nothing can stop an angler from being in their feelings when they need to.
Let's jump onto some burning questions anglers ask about fly fishing and how you can practice it.
---
Q) Do I Have to be in Proper Fly Fishing Gear when Practicing at Home?
A) Anything from a bathroom robe and flip-flops to pants and a light vest can do – there are no limits on what you should wear when practicing fly fishing at home.
But, doing it on the water will require you to be in the right fly fishing gear and apparel for safety, comfort, and functionality.
---
Q) What is the Right Distance to Start with When Fly Fishing on the Grass in My Backyard?
A) It is advisable to begin with the simplest for short games; 20-40 feet should be ideal for a start.
---
Q) Which Casting Motions Are Good to Work with Backyard Fly Fishing?
A) Divide the motions by starting with forward casts and a few back casts before advancing to side arm angles like the pros.
---
Wrap Up
---
Can I practice fly fishing in the backyard?
Nothing should stop you from practicing how to cast in your backyard.
Get into whatever clothes and pick your gear!
While practicing, it is advisable to be with a knowledgeable person in the sport to guide you.
They'll help with learning the grip and line control, teach you a few basic and advanced casting techniques, and watch the line movement for you.
Once you are comfortable fishing for grass insects and ants, get onto the water and see what the real deal is like.