Disclosure:
Just to be open and honest the buttons and links you click on in the website will in most cases take you to another website where you can purchase the products I am reviewing. As an Amazon Associate I earn from qualifying purchases.
June 30, 2021
Simms Headwater Pro Stockingfoot Chest Waders Review
Of all the wader makers in the current market, Simms has held a higher reputation.
This came after the release of the Simms G3 waders that swept almost all anglers off their feet to what they termed as a gold standard.
Since its launch, this hasn't changed.
It might interest you to check out the new Simms Headwaters Pro Stockingfoot Waders that took the place of the Headwaters wader which was Simms's value-priced option.
Besides borrowing some features from its predecessor the Headwaters, a good portion of the design is lifted from Simms G3 Guide waders which is another high-end best-seller.
This is evident in the reinforcement in the lower leg using another layer of the Gore-Tex fabric, the fit, and patterning.
If we were asked to name them, we'd call them the G3 Lite waders because of the bunch of similarities.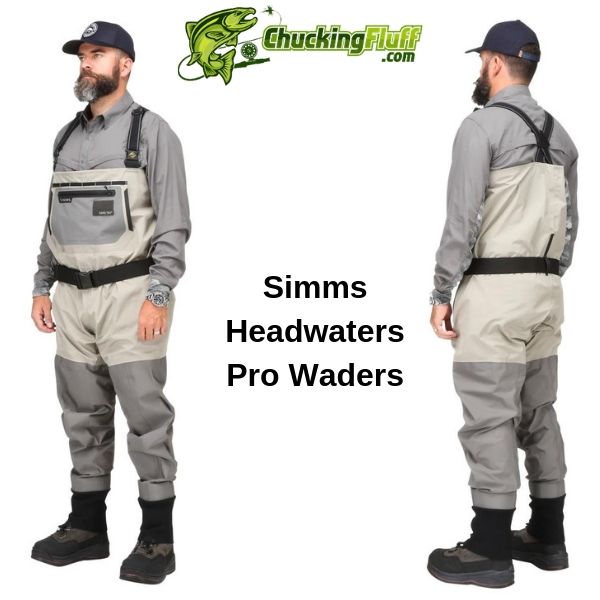 Check Simms Pro Web Availability
Simms Headwater Pro Construction
The design is well-traveled and comes in a full length.
A good number of guides and anglers have had these waders for several seasons.
They have racked up so many days in this gear from early spring days when ice is flowing off the snow to hotter days.
Anglers hop from creek to creek and they have remained unshaken and pretty comfortable.
Breathability is on the highest levels as you expect to remain dry and free from accumulated sweat on extremely hot days.
Gore-Tex is winning the battle of waterproofness.
Having been tested in winter, these Headwaters Pro Waders will keep you toasty unless you want to live dunked in water like a fish.
The storage system isn't something we can complain about as it is enough for what you need for a day.
We love the small Velcro patch that works individually as a fly patch or can be used as an alternative for patch fly boxes.
Anchoring your forceps, lanyards, and other accessories are possible, thanks to the row of attachment points that prevent wader puncturing.
The inner side has a zippered carrier that you can synchronize to a Tippet Tender pocket (optional) that has two mesh holders for your tippet spools, a docking point to attach your nipper retractor, and a pocket that fits a fly box.
You will appreciate the generosity of the pocket that counters the need to wear a pack or vest if you want fewer layers.
Durability
In all the models of Simms Waders, including this one, the repair section has a learned team that works to ensure durability and function in all gears.
All stress points on the Headwaters Pro are well-reinforced.
The team patches over internal seam tapes and this, together with how strategically they have placed their seams will help achieve toughness and durability.
Neoprene booties are among most anglers' favorite feature on these waders.
After several seasons, guides deduced an improvement in the quality of neoprene that Simms uses on the booties.
You too will love this new stuff as it is suppler without compromising thickness.
They hit the correct spot in terms of comfort.
Your feet will remain dry and happy even after being in the neoprene for three days consecutively.
We appreciate the improvement in the shoulder straps compared to what was there in the Headwaters waders.
These are thicker and stretch more.
Most anglers say that they are easier on their shoulders especially when wearing a pack over the waders.
The adjustment is enough for the size.
Check Simms Pro Web Availability
Key Features of the Simms Headwaters Pro Stockingfoot Waders
Material and Fabric Construction – Apart from Cordura fabric waders which are the toughest and of the highest quality, another good one is the Gore-Tex fabric.
The fabric is numerous microscopic pores to allow moisture and perspirations from the inner side to escape through while preventing water from the outer surface from seeping in.
This is what enables the waders to be highly breathable and waterproof.
The specific one for these waders is the Gore-Tex Pro wader laminate for double performance on the water.
Simms designs the Headwaters Pro with three layers in the uppers and the lowers for excellent weather protection.
---
Pockets – You will access the zippered chest pocket from the top.
It is spacious enough to accommodate several fly boxes of different sizes.
Handwarmer pockets are for livening your freezing fingers when your hands aren't engaged.
Some anglers use them as extra storage space when they have neoprene waterproof gloves.
You will notice a smaller Velcro patch that works perfectly as a good fly patch on its own or you can use it for your patch fly boxes.
The inner side has an attachment zipper where you can attach your Tippet Tender pocket and comes with two holders for your tippet spools, a docking area for your nipper retractor, and a pocket to fit a fly box.
---
Suspender System – The elastic suspenders are 1.5'' and have opposing buckles to allow for waist level conversion of the chest waders when the situations allow for it.
We love its elasticity and how well the system is thicker, stretches more, is easier to operate, and more comfortable when you wear a pack over it.
---
Wading Belt – Simms features a 1.5'' wading belt to pass through the inbuilt low-profile belt loops.
Some anglers use the loops to attach D-rings and other attachment points for tools that they need near them for easier access.
Just remember not to attach anything heavy on the loops as they could damage them.
---
Seams – To achieve better mobility, create an excellent articulated fit, and maximize durability, the designers reinforce the seams at the front and back of the leg areas.
All seams are well-taped and fully sealed to prevent any leaks or chances of seam bursts.
---
Zippers – Zippers are made from high-grade nylon incorporating the YKK Aquaguard technology that counters corrosion.
This improves their durability while maintaining function and ease of operation.
---
Booties – You will love the anatomically designed neoprene booties that have been designed from a more-improved material compared to the company's previous waders.
These are more high-quality, suppler, and just the right thickness for comfort.
The abrasion-bucking inbuilt gravel guards have boot hooks to secure them to your wading boots and prevent the entry of sand, grit, and gravel that can damage your waders.
---
Sizes – The team at Simms's Montana factory design these Simms Headwaters Pro Stockingfoot Waders in fifteen sizes in different length and inseam variations.
This offers a wide range for anglers to choose the sizes that best fit them.
Pros – What Shines on the Headwaters Pro Stockingfoot Waders
Available in numerous sizes
The sizing chart is dependable
Durable construction
Generous pocket system
Comes with a quality wading belt
Newly-improved stockingfeet
Reinforced seams in the leg areas
Numerous attachment points
Cons – The Concerns though not Deal-breakers
For the price the waders go for, the pouch should have been part of the package and not a separate purchase.
Customer Thoughts on the Simms Headwaters Pro Waders
We love how the knee areas have extra space to allow for crouching and bending without feeling constricted.
Guys with arthritis and those with knee hernias but love to go out regardless will be pleased by the comfort the waders offer.
This was so mindful of Simms.
With so many sizes of these waders available anyone would think that it can be tricky to get what perfectly fits them.
After purchasing three pairs of different sizes, the sizing chart has proven to be true to size.
They might not be as sturdy as the G3 Guide waders but they have been able to take quite an amount of abuse and endured the hardships of different terrains.
Breathability and waterproofness are on the higher side.
These are some of the crucial features we were looking out for because of the fear of frostbites when fishing in winter.
The organization in the chest area is something admirable as you have your tools and gear where they need to.
Space in this area is generous enough to allow for proper underneath layering when temperatures fall below a reasonable mark.
How low profile the zippers and handwarmer openings are will amaze you as they don't catch oars, fighting butts, or your fly line.
Make use of the numerous loops that you can use to attach your pliers, hemostats, zingers, and other lighter gear.
This addition has made the waders work as a mini working bench.
FAQ's – Questions about the Headwaters Pro Stockingfoot Waders
Q) What is the claimed weight of these waders as I will be traveling by air and would like to estimate the freight charges on all my luggage?
A) Simms in its product description mention that the waders weigh about 43 oz. which is reasonably lightweight.
Q) What is the customer repair warranty of these wades like?
A) First Simms has a straightforward warranty system and the service has been reported as splendid. These waders come with a lifetime warranty on defects in materials or craftsmanship. Damages that are intentional or due to continuous use can be sorted at a small fee. Leaks within the first year after purchase will be repaired at no cost.
Q) Is there a replacement policy on these waders?
A) Replacement on these waders is unquestionable and is from 60 days after purchase in case you notice that yours are leaking.
Q) Is tumble drying safe for these waders?
A) Do not tumble dry your waders if you are looking to achieve durability. Excess heat in the tumble dryer will damage the seams. Air dry your waders starting with the inner side first then the outer.
Q) Which bleach can I use for tougher stains?
A) You can't use bleach on the waders or any product containing bleaching substances. Your Simms Headwaters Pro Stockingfoot Waders would rather remain functional than sparkling yet damaged.
---
"Check out some of our other Buying Guides"
---
Conclusion on the Simms Headwater Pro Waders
The Headwaters Pro Stockingfoot Waders are applauded for their high comfort levels.
Once you put them on, you might think that they miss something.
They feel lighter than most waders in their category.
An angler who wore them in the Colorado Canyon when it was snow and his thermostat was reading 10 degrees agrees that it is toasty if you layer properly underneath the waders.
Its comfort levels have gone past its weight and feel.
Anglers have long days in the backcountries hiking and traversing paths to reach their favorite holes.
They tend to ditch their beanies and a few other layers because of the rising temperatures.
The breathability levels of these waders will keep you comfy from your chest to your feet while maintaining the right amount of warmth as you wade in frigid water.
Light, breathable, yet warm, the waders have the best control methods of dealing with elements and regulating your body temperatures.
Days on the water are variable and each brings different conditions and what an angler should value most is excellent performance like what the Headwaters Pro has to offer.
All the design features increase the functionality of these waders.
Companies manufacturing waders struggled over the past years with finding the right sizing and shape of booties.
They mustn't be too small to be constrictive and restrictive neither should they be too big and bulky for anglers to feel neoprene clumps in them.
Simms has excellent mastery of the booties and whether they are dry or wet, they can glide out and in of your boots with ease.
The Simms Headwaters Pro Stockingfoot Waders feature a brilliant design with angler-relevant features.
We appreciate the reduced bulk as it adds to the comfort of the waders.
They live up to the company's reputation and give Simms the status it deserves.
Do you feel like you can check out more backup waders?
See our buyer's guide to point a few that you can add to your cart.
Engage us in the comment section if you have any questions.