Disclosure:
Just to be open and honest the buttons and links you click on in the website will in most cases take you to another website where you can purchase the products I am reviewing. As an Amazon Associate I earn from qualifying purchases.
April 21, 2021
Perception Pescador Pro 12 Fly Fishing Kayak Review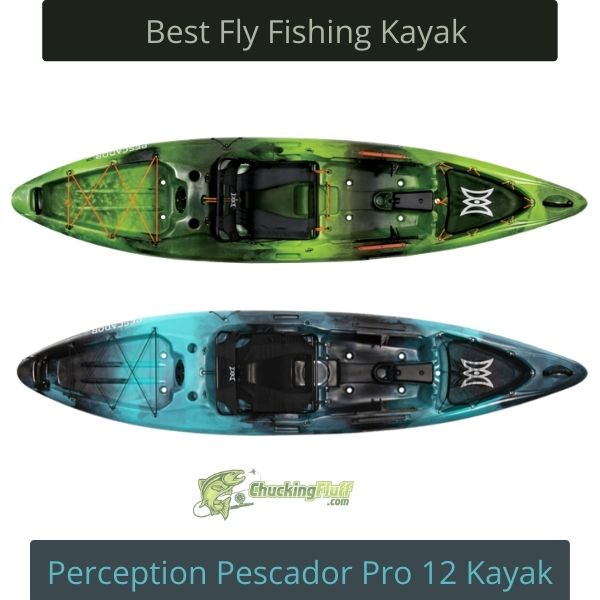 Perception Kayaks has been in the kayak manufacturing business for almost six decades now.
The company is famous for its high-quality and durable kayaks that focus on safety first before the fun.
Kayaking anglers in South Carolina agree that its Greenville workshop is a hive of activities and what comes out of it is pure gold.
This is evident in the Perception Pescador Pro 12 Kayak.
Designed and field-tested in the USA before being released to other consumers, the Pescador Pro 12 has been crafted with the needs of the modern angler in mind.
First, the kayak comes in three primary colors-grasshopper, salsa, and dapper.
These colors might be the conventional types common to most people but the salsa is a reddish-yellowish-orange one.
The dapper takes a black and blue color while the grasshopper is black and lime. We love their fairness in the eye.
Slightly into its Specifications,
Any angler who has fly-fished from a kayak before will attest to the versatility of the Pro 12.
The 12' long and 32.5'' wide kayak is roomy enough for both tall and short adults to fit in and fish comfortably.
We can describe its design as one with an open top. Your legs will be out and with plenty of freedom of movement.
Perception Kayaks put more emphasis on creating a water machine that can be rapid yet very easy to control.
How well the top is open allows the user to store their fly fishing tackle without creating unnecessary protrusions.
The designers build it with four carry handles-there are two, one on each side of the seating space.
One is at the rear and the other at the front of the kayak.
The handles at the front and rear are for dragging the kayak into the water and out.
It will be more comfortable to carry the kayak using the handles on the opposite sides of the seating area.
The kayak comes with a skid plate that prevents damage as you drag it. Transportation doesn't have to worry you anymore.
Both the rear and front areas have ample storage space. The open space will fit basically everything you need for a full day's trip to the wilderness.
Anything you store in the open storage will be properly secured by the durable bungee cord. Use it to fasten the tackle and essentials on board.
Creativity is at its best when you closely examine the kayak's seat. It takes the style of stadium seats and can be removed if need be.
The stadium-style gives the angler two sitting positions. You can slightly recline it or have it in an upright state.
Most anglers find the upright state more natural.
If you will be paddling longer than usual, take the reclining position same as when you are out to relax on the water.
Reclining the seat of the Perception Pescador Pro 12 Kayak allows the angler to stretch their feet forward and have them on the footrest which is also fully adjustable to reach any height you want.
It takes a minute to alter the seat's positions and this doesn't have to inconvenience you in any way.
Crafting the seat from mesh-like fabric was the best thing ever done for reduced weight and comfort.
The seat material looks like those on high-end camping chairs.
Like the rest of the kayaks from Perception, aspects of durability have highly been considered.
The kayak has been built with UV, abrasion, and impact resistance. This means that direct exposure to adverse conditions will not affect it.
Check Pescador Amazon Availability
Key Features of the Perception Pescador Pro 12 Fishing Kayak
Overall Design – This is a sit-on-top kayak from the Pro series that allows the angler's feet to be out and exposed to the open.
Such designs offer more freedom of movement and space to cast anyhow and in any direction.
---
Kayak Specifications – The Pescador Pro 12 measures 12 feet lengthwise and 32.5 inches in width.
The deck height is 14.5 inches and when empty, it weighs 64lbs.
The manufacturer recommends that you shouldn't overstuff it to exceed the maximum capacity which is 375lbs.
---
Material and Construction – Pro 12 kayaks are built from high-quality polyethylene plastic to withstand adverse conditions while keeping them intact.
It is a one-piece kayak boasting abrasion, UV, and impact resistance.
Its hardware is made from brass and stainless steel technology. Instances of rust and corrosion are very minimal.
---
Areas of Use – Stable, fast, and built to track true and straight, the kayak can cover waters on ponds, lakes, and flatwater rivers.
For lakes and ponds, it excels in recreational fishing. Take it to the slow-moving waters on streams and rivers and it will not disappoint.
It has proven to work for calm coastal fly fishing and anglers have given a shot at ocean fishing and it didn't disappoint.
---
Seat – Pro 12 kayaks are fitted with stadium-style seats that come with removable aluminum frames and double-layered mesh fabric padding for comfort and all-day fly fishing.
You can adjust the chair to two settings depending on your situation- a recliner and an upright position.
Guides recommend having plugs into scupper holes that are beneath the seat for a dry and more pleasant journey.
---
Handles – The kayak comes with four handles. There is one on each side of the seating area.
This will come in handy when you need to carry your kayak and you have no one to help.
The other handles are at the front and the rear of the boat to help with dragging the kayak out and into the water.
Thanks to the skid plate, the chances of kayak damage as you drag it are countered.
---
Foot Braces – Foot braces will offer more comfort and a good posture for paddling.
This allows you to conserve energy while on the paddles.
Footrests are adjustable to suit any foot length when you are seated to relax.
---
Storage – The bow tank is sizeable and properly covered with a good stretch mesh for keeping your catch and gear in place.
You can pack your paddles here. The rear has an extremely spacious tank well with bungee cords.
It can take up a tackle crate and extra gear. Perception Kayaks include a recess under the seat to fit a tackle box.
Another angling-specific feature is the two eyelets around the seating area for tying more small accessories and tools.
There is a horizontally built 5-inch deck plate behind the chair for storing dry goods.
However, its angle and position make it difficult to use when fishing from the Perception Pescador Pro 12 Kayak.
There are two in-molded rod holders for your fly rods.
There is a low-profile center pod in the cockpit area that is ready for your fishfinder and will properly fit your transducer battery.
You can store more tackle in the two YakAttack gear tracks found in the cockpit gunnels.
---
Warranty – Perception Kayaks backs this kayak with a five-year limited warranty and the angler must have valid sales receipts for eligibility.
However, accessories, outfitting, and parts are only warranted for a year against manufacturing and material defects.
There are warranty terms of use on the manufacturer's website that you can read through to be sure.
Check out some of our other Buying Guides
Pros – The Good about the Perception Pescador Pro 12 Fishing Kayak
Backed by a five-year limited warranty
1 warranty on parts and accessories arriving with defects in material and artistry
Perfect for calmer waters
Corrosion-resistant hardware
Impact, abrasion, and UV-resistant construction
Removable stadium-style chair
Two seat settings
Comes with foot braces
Adjustable footrests
Outfitted with the YakAttack Gear tracking system
Plenty of storage space
Fish finder-ready
Four carry handles
Cons – The Concerns though not Deal-breakers
If you don't have excellent agility and balance, fishing while standing on this boat is going to be a difficult task.

There are smaller unplugged holes that pool water in the storage well and it will be a bother drying the kayak completely.

The kayak tracks well without a rudder but has room to attach one. However, the manufacturer doesn't include it as part of the package.

Customer Thoughts on the Pescador Pro 12 Kayak
We love the savings on the weight that have been influenced by the light pared-down hull. The replacement of the bow hatch with something better like a gear well came in handy for extra storage.
Nothing annoys like a pair of foot braces that slip. Perception tried on this one as you can be confident on the pegs even when you are straight from a wading state.
The underside of your kayak will impress you more than the top because of the cut hull that comes with channels for proper tracking. Thanks to the multi-chine profile of the hull, secondary stability isn't anything to worry about. Even with such a profile, maneuverability hasn't been affected.
For calmer waters, the kayak has proven to perform exceptionally. Many anglers have also tested it in the strong winds and currents and recorded good results.
Neither is it too fast nor too slow-just the perfect speed for fly fishing. The length of the hull makes it straightforward and effortless to paddle. As you work on the water, the kayak will glide smoothly on the water.
It isn't easy to come across a kayak that can last years even when exposed to the adversities thrown to it by Mother Nature or an inconsiderate user. This one is leak-proof, impact and UV-resistant, buoyant, and follows all the regulations of the US Coast Guard.
FAQ's – Questions about the Perception Pescador Pro 12 Kayak
Q) Which great fish finder can I pack when going fly fishing on this kayak?
A) If you can get your hands on the Striker 4 Garmin finder or anything similar, that would be perfect.
Q) Does Perception Kayaks add supper plugs to the package?
A) Unfortunately, these have to be separate purchases though they don't cost much.
Q) What is the measurement of the hatch opening for dry storage?
A) This area has a diameter of 5 inches.
Q) Are the foot rails made from metal?
A) No, these are made from a plastic material.
Q) Can one have pedal drives on this kayak if they have spare ones?
A) The Perception Pescador Pro 12 Kayaks aren't designed to be used with pedal plugs.
Q) Does it have space for a bait tank?
A) Sure. The stern tank well will be appropriate for this. However, it doesn't come with an inbuilt bait tank.
Wrap up on the Perception Pescador 12 Kayak
The kayak packs pretty well into its size as it isn't compact nor overly large.
When spending time on your own, it is easy to move back and forth courtesy of its weight and the inbuilt carry handles.
The kayak is a perfect option for both rookies and advanced anglers.
The space will carry you away as you can store more than you require as long as you don't exceed the maximum carrying capacity of the boat.
All the angler-friendly features come together to give you an incomparable fly fishing experience.
For flat and calm waters, there is nothing that this kayak can't do in terms of maneuverability, stability, and performance.
We attribute this to the hull design and the excellent load distribution.
If you are an agile angler who has a mastery of balance and paddling, you will find this an interesting one.
You will love how responsive the kayak is to your paddle strokes.
Gaining momentum and streamlining it isn't a problem thanks to its tracking keel that holds it effortlessly and straight on course.
The narrow yet sharp bow tip cuts through the water minus any friction and together with the inbuilt buoyancy, staying afloat as you fish will be fun.
Whether it is for recreational or casual fly fishing, the Perception Pescador Pro 12 Kayak gets the job done!