Disclosure:
Just to be open and honest the buttons and links you click on in the website will in most cases take you to another website where you can purchase the products I am reviewing. As an Amazon Associate I earn from qualifying purchases.
February 5, 2021
Best Cassette Fly Fishing Reels – Changing Situations
Conventional fly fishing reels have been the talk of town since their invention. Since then, they have taken over the fly fishing sector as some of the best and well-performing options.
However, something interesting is coming up and we are elated at the number of anglers embracing it-the cassette fly reels. These reels have recently been gaining popularity among fly fishers.
To understand why the craze is all over, we have to evaluate the reel designs and comprehend how they are used.
But what is a Cassette Reel?
Cassette reels make use of cheaper polycarbonate or die-cast spools and can be changed to allow anglers to use different fly lines with different densities on the same reel.
The majority of these cassette reels will come with two or three spools. Extra spools and carrying cases are available for purchase if you need to build a collection.
These are mostly used by competition anglers, backpacking, and other travelling fly fishers. Most of the reels are budget-friendly but you can purchase a few in the high-end category.
Ancient reels were designed and machined from cast iron, aluminum blocks, or solid steel. Individual parts like the spools, drag, and reel will later be put together.
Spools that are either machined or cast cost lesser than what was in the traditional fly fishing reels. How anglers use reels is what led to more manufactures designing cassette reels.
We haven't statistically found the numbers of fishermen that fish rivers and still waters but we assume that each side has a considerable number.
A stillwater angler will pack two fly lines while those fishing from a boat will pack three or more. The fly line aspect is what prompts us to dig deeper into the benefits of cassette fly reels.
Traditional fly fishing reels come with either a machined or cast spare spool. Cassette fly reels on the other hand use polycarbonate cassette spools that cost almost half of those metallic options on traditional fly reels.
A newly-improved cassette spare spool will go for $10 to $15 which is about 20-25% the amount for a traditional spool. New designs of cassette fly reels have one or two extra spools.
This allows the angler to carry two to three fly lines- a floating line, an intermediate line, and a sinking line to use depending on the conditions. Carrying these set of lines all together is associated with most stillwater fly anglers.
For anglers fishing from a boat or those in contests, the cheaper cassette spare spools make it ideal for them to carry several lines. Some have as many as five to have lines with varied midge tips and sink rates.
How Cassette Fly Reels Came into Existence
If you have read fly fishing books written over two centuries ago, you know that traditional fly reels made from metal were invented about that time-in the 1800s.
The types of fly lines that were available then were very few and there wasn't much to select from and build a collection. The majority of anglers didn't find the need to change fly lines while on set.
Fly lines at that time were crafted from natural raw materials like silk or horsehair. After fly fishing, an angler would unreel the line then wound it on a drier.
This was to allow for even air circulation in all strands of the line. If they needed to reel in a new fly line, they'd pick from another drier.
After the Second World War, anglers started using fly lines coated with a polymer. The newly-developed fly lines were made from better quality inorganic materials.
This didn't need the fly fisher to keep drying them in between sessions. New spools invented at about the same time were designed with ventilation to allow moisture to escape through.
Manufacturers also designed series of fly line tapers and various densities. This made fly reels with changeable spools available to the market.
The current market has so many fly reels with extra spools that are quick to change.
You can carry your spools and lines separately to load when on the water or pre-load the spools and have them set for action.
The reason they are called 'quick-change' is that you can easily unlatch the spool from your reel and replace it with a loaded one in less than a minute.
You will spot anglers with spare spools at the banks and shores. Though efficient and quick, it becomes daunting to carry a collection of extra pre-loaded metallic spools because of the extra bulk and weight.
---
The Birth of Cassette Reels
STH Reels, a company in Argentina introduces the first collection of cassette reels in the 1980s.
The manufacturer drifted from the conventional reel design with changeable spools they came with clear cassettes from plastic that could be altered within one spool.
The first design has the cassette fly reel in four different sizes. For each reel piece you buy, it was packed with three cassettes.
Anglers took it as purchasing a conventional fly reel with two spare spools. You could add extra cassettes to your system for cheap as the cost of one didn't exceed 10 dollars.
What fascinated most anglers about these cassettes is their lighter weight and reasonable handle without any bulk.
You could pack two cassettes in a space that could take only one conventional spool.
In short, the cassette fly reels had solved the issue of increased bulk, greater weight when it came to packing extra fly lines, and the high cost of traditional spare spools.
The STH cassette fly reels got an overwhelming reception from anglers who were looking for a change. Some anglers got pieces for fishing on lakes while others opted for Spey options.
Anglers who still own the first collection of fly reels from other brands today say that the reels are loaded with different fly lines and the systems are running pretty fine like before.
One problem that the manufacturer recorded with the first STH cassette reels was with the larger size for steelhead.
Overall, besides other problems that anglers faced with the reel, the primary was the quality and weakness.
After a while, the company stopped manufacturing these reels. Anglers who did various kinds of fishing noticed that the reel holding the cassette wasn't properly made.
After the failures of the STH cassette fly reels and them not manufacturing another batch or type of the same, Hardy that has been in the market for over a century launched the Demon Cassette fly reel.
The Demon came with everything honey and milk that wasn't present in the STH. The machining was elegant with a sophisticated look.
Its drag operated smoothly and was the right amount. They came in many sizes including the Spey and lake size.
Demon reels worked pretty well and after Hardy saw its success, the company launched the ASR-assisted spool release reels.
You will love how practical the Hardy ASR cassette reels came in five different sizes ranging from 4 weights to 11 weights.
To change the cassette, you had to remove the spool from your reel then adjust a small lever inside the spool. An inbuilt spring will eject the cassette.
Other companies like Orvis, Waterworks Lamson, Greys, Wychwood, Pflueger, Islander, and Aventik began designing these reels for convenience.
Some manufacturers have them in very basic yet practical designs while others have a few tweaks and twists here and there to make the reels extremely high-performing in their categories.
An example of an advanced cassette reel is the Greys GTS700 which was one of the best reels in this category in 2017 after its launch.
It features tiny red dots that are plastic-like lugs that act like line identifiers. An angler is to push the dots into the fly line weights and type sections on their cassette.
It made angling using multiple spools and lines easier as you didn't have to mark your spool or cram the fly line color to identify your lines on the spare spools.
Though simple, this feature is brilliant and the engineering makes the cassette reel angler-friendly.
Check out some of our other Buying Guides
Benefits of Cassette Fly Fishing Reels
Reduced weight
Cassette fly fishing reels are known for being lightweight and a perfect option for kid anglers and novices who are learning the skills of casting.
The weight aspect begins from the processing of the reel and spool. These reels are either CNC machined or die-cast.
Hardy was the first company to introduce die-cast reels back in the 20th century. Cast reels, because of the manufacturing process can have flaws in their components because of introducing other particulates and gasses as part of the casting.
When contamination occurs, the subjected area becomes weak. It is easy for cast aluminum to dent or crack if exposed to brutality. The material is inferior to bar stock aircraft-grade aluminum.
Machined reels are made from bar stock aircraft-grade aluminum and anodized for corrosion and rust resistance.
The machining process makes reels lightweight yet sturdy. Composite is another lightweight material with advancements in technology, resultant reels are sturdier, unlike the previous reels that could break or crack when exposed to extremely low temperatures.
However, composite reels experience the same issues like that of cast reels because of the molding process. Some of its enemies are torque and temperature.
Most manufacturers build cassette spools from polycarbonate. This is a type of hard plastic that is lightweight yet functional.
Overall, plastic is lighter than metal and for manufacturers that use metal on spools, most of them are machined to help counter the weight.
Each brand has a proprietary protective coating to go on the reel to cushion it from corrosion, denting, and cracking.
These coating technologies could be similar across brands but how thick the coating will be will determine its toughness.
Weight reduction is evident in the frame designs. Most cassette reels eliminate bulk and excess material by making the reel frames with multiple holes.
The more and bigger the porting, the lighter the fly reel. In this review, you will notice that majority of the cassette reels have large arbors- these are the cores of the spools.
This adds to the lightweight nature of the fly reel.
Even with the reduced weight of the reel, when loaded, it should balance your chosen rod in the hand where you hold the handle.
This makes the rod feel quite light and counter any heavy feel in the tip from the whole combo. It might be a matter of preference as some tiny reels can feel quite fiddly if the angler has larger hands.
Affordability
From the history of cassette fly reels, we deduced that most manufacturers have these reels made in the simplest designs to allow all anglers to afford them.
There are a few high-end reels though they aren't as expensive as conventional reels.
Most manufacturers use die-cast aluminum to build these reels. Die-cast is a mass production method that uses molten aluminum or alloy to inject or pour into molds.
This is the steering force in reducing the cost of production and purchase of such reels. This is the same for composite reels.
A blend of a die-cast reel and a polycarbonate set of spools makes the cassette reels even cheaper. This however doesn't mean that the cheaper reels are crappy.
They are meant to be affordable but high-performing though their durability isn't compared to that of CNC machined pieces.
---
Extra Spools at No Additional Cost
For a long time, most fly reels would have a replacement spool either as part of the package at a subsidized cost or to be separately bought.
An angler could remove the entire spool and could replace it with a spare one. Most brands have now developed modern takes on extra spools thanks to the competition fly fishers who could be armed with over 20 fly lines and reel spools.
The cassette reels were developed for this type of convenience. Nowadays, manufacturers pack two or three extra spools and others are available as separate purchases.
---
Options to Experiment with Fly Lines
An integral part of casting your favorite flies at different fish is your fly line. Fly fishers have a wide range of fly lines in the market for various fishing situations.
Every fly line has a line weight regardless of its purpose. For more compatibility, it is advisable to match your line weight to that of the rod you need to use the line with.
This is to allow for easy delivery of power of your strokes to the line.
There are numerous types of fly fishing lines that you can wound on your spool including floating, intermediate, sinking, nymphing, dry fly, streamer, popper, euro-nymph, or glow lines.
If you are a fan of competition angling, you must have seen contestants with more than three spools all with lines. This is one of the admirable versatility aspects of cassette fly reels.
Check out some of our other Buying Guides
Best Beginner Cassette Fly Fishing Reels
Orvis Clearwater Large Arbor Cassette Fly Reel
The Clearwater collection by Orvis is known for its lower price on reels, lines, rods, and jackets. However, does the collection live to Orvis's reputation?
Thoughts from guides and customers who have used or still use this reel confirm that it offers great value for money. The reel is designed from black die-cast aluminum for function, style, and aesthetics.
Because of the choice of material and crafting, it turns out to be an extremely lightweight cassette fly reel functional for any fly fisher.
What strikes us as a cool yet high-performing feature is the Rulon to Stainless stacked disc drag system that comes with a positive click style drag knob to allow for consistent settings.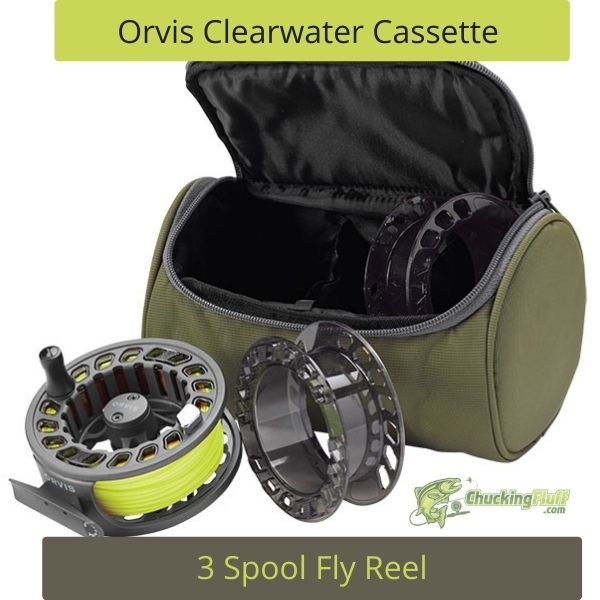 Unlike most reels that use the one-to-one surface contact, Orvis drifted when designing the Clearwater cassette reel. Its discs are stacked and designed from a mix of Rulon and stainless steel.
With an extended surface area, the drag gets smoother and more durable. In the long run, it virtually counters startup inertia.
Also, heat is distributed on multiple surfaces instead of one contact surface this eliminates any stick-slip issues brought by higher heat levels in the high-speed runs. You won't need any lubrication for disc material.
It goes for much less but it looks, feels, and performs like a high-end option. You will love the convenience and versatility of the cassette spool. Any angler can quickly change the spool to move from using a floating line to a sinking, or intermediate line.
Reel conversions are possible on either side-right or left. The Clearwater cassette fly reel in size IV handles lines from 6 to 8 weight.
The large arbor allows for quicker retrieve rates, reduced line memory, greater reduction in the reel's overall weight, and lesser drag tension compared to a medium or small-sized arbor.
Each fly reel you buy will come with two extra spools at no additional price. Orvis stocks the cassette spools at less than $10 minus delivery charges. The weight for the Clearwater cassette fly reel in size IV is 6.9 oz. with a spool diameter of 98mm. Orvis gives a Cordura reel case for reel storage and safety.
Check Orvis Clearwater Cassette Web Availability
Waterworks Remix Fly Fishing Reel
As the best all-round entry-level fly fishing reel, Waterworks Lamson designed the Remix and Liquid reels to take after the Konic reels by offering excellent value and function.
This cassette reel got its name from the combination of die-cast spools and a machined frame. The Remix 3-pack fly reel has four sizes-3, 5, 7, and 9 weighing 4.29oz., 4.54oz., 5.49oz., and 7.07oz. consecutively.
Its drag is enough to stop a fish when paired with the right rod weights. There is little start-up inertia and doesn't take as many turns of the knob to move from 0 to the maximum point.
As you reel in and out, you will notice that the reel sounds like any other from Lamson. It has an incoming and outgoing click.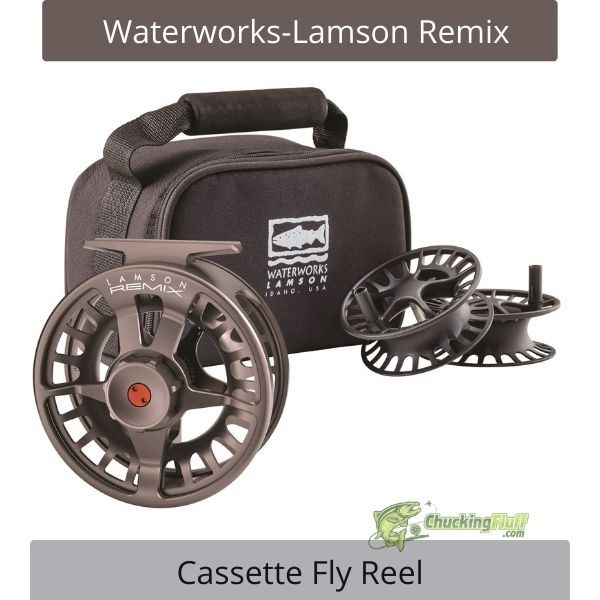 Lamson built the Remix with a larger arbor. The reel picks up line pretty well and the lines have very little line memory. The overall look and feel of this reel aren't badly off considering its price point.
The spool doesn't come anodized. Instead, it is cast and well-painted to give it a decent look. It might feel odd but it works well when you test it on the water. As an entry-level cassette fly reel, it is a good upgrade from the Lamson Konic reel.
You can't compare its handle to that of the Litespeed in terms of quality and craftsmanship but it is flat and lengthy enough for comfort. This one features an oversized drag knob to make it easier to grab even with wet hands.
It has a quick change spool that is manageable though not as easy to work on as the reels with a single button release.
As you continue to fish with the reel and spools, you will notice slight scratches on the spool as is normal with die-cast gear. Waterworks has a lifetime warranty on this reel though issued to the original owner at $20.
This reel comes as a 3-pack. You get a reel and two spare spools. If you own the Remix HD or the Liquid Fly Reel, the spools on the Remix 3-pack are compatible with them. 
Check Remix Cassette Web Availability
Hawkridge Alize Cassette Fly Reels
Hawkridge Sport Fishing is an established tackle manufacturer with only three reel collections in its catalog. The Colorado Reel, Magick Reel, and Alize Cassette Fly Reel.
The British Company designs the Alize fly reels with a large arbor to reduce the reel's overall weight by increasing the outer and inner diameters for quicker line retrieval rates, minimal to no line memory, and reduced line tension.
A single Alize cassette fly reel comes with three clear spools for the adventurous angler who would like to carry more lines to play with without having to pack extra reels.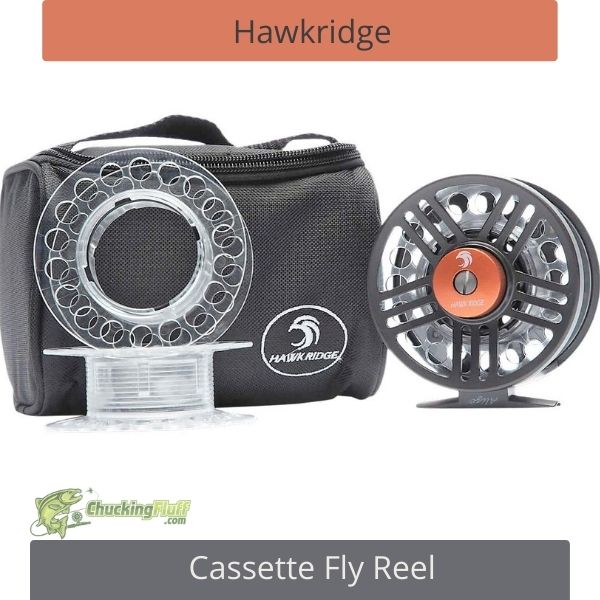 One can hold your floating line, the other an intermediate line, and the third a sinking line. Or you can have all of them with sinking lines of different rates and tip sizes.
Spools are designs to be quick release for convenience and to save you time. The stunning cosmetics are evident on the Gunsmoke satin-like paint and burnt orange knob for adjusting your settings.
The drag action is extremely smooth and consistent. The graphite knob and counterbalanced frame are functional.
It sports a primary shaft roller clutch bearing and a disc drag system with precise settings to full lock. The fly reel has been programmed for the left-hand retrieve but conversions are changeable from the right-hand side to the left and back.
Hawkridge supplies each reel with three cassettes packed in a padded Cordura carrying case for proper storage and transportation. The reel is only available for line rating 7/8.
Check Alize Cassette Web Availability
Wychwood Flow Cassette Fly Fishing Reel
The Wychwood Flow Cassette Fly Fishing Reel was listed in the EFFTEX 2011 product list for the 2012 fishing season. This was the first collection that was highly anticipated by anglers.
The manufacturer wanted to make this reel accessible and affordable to all fly fishers. This helped to draw anglers more because of the brilliant quality. The reel is available as a combo kit.
Trout anglers will love the stylish Wychwood Flow Cassette Reel as despite being budget-friendly and a perfect beginner's option, its smoothness and balance with a fly rod are decent enough.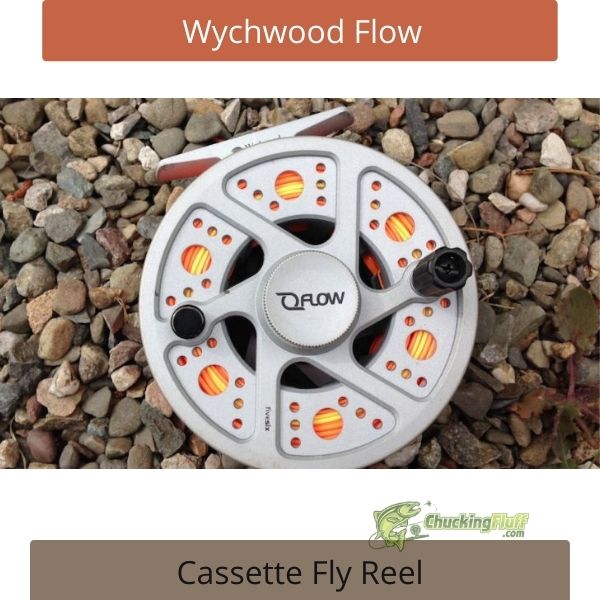 Wychwood Game designs the Flow reel in two sizes-5/6 and 7/8. The former weighs 6 oz., with a backing capacity of WF6/100 yards on 20lbs while the latter weighs 9 oz., with a backing of WF8/100 yards on 20lbs. both sizes come in either Titanium or Platinum.
Designed from pressure aluminum, it is lighter compared to most cassette fly reels. However, when compared to machined fly reels, it is weightier.
Although the quality is good, you will notice a few tiny imperfections as the norm of die-cast reels. If very tiny, it is nothing serious that can compromise the performance of your cassette reel.
You will spot a Rulon drag partially sealed in a casing to lock a reasonable amount of dirt out. Because of the partial openings, dirt could get in and affect your drag.
The drag knob is reasonably sized on the rear of the reel and has grip-lines to allow for operation with wet hands. Its pressure application is fair and doesn't produce too much sound.
It comes with a reel case to protect your reel from dirt and dust. The manufacturer programs the reel for the left-hand retrieve but you can convert the sides to your convenience.
Check Flow Cassette Web Availability
Z Aventik ECO Cassette CNC Machined Aluminum Fly Reel
Aventik Sports has been in the business since 2015 and despite still being new in the market, it is working round the clock to provide anglers with tackle they need at affordable prices.
Currently, the company has three branches, and looks like business is thriving for them-Eupheng, Riverruns, and Aventik.
The ECO CNC machined cassette fly reel offers the best value and is built with multiple spools to allow anglers to exchange fly fishing lines pretty fast depending on the conditions at hand.
Like a few other brands in this review, the spools are transparent and made from quality polycarbonate. The spool material is known for excellent shock absorption. Also, it doesn't break easily.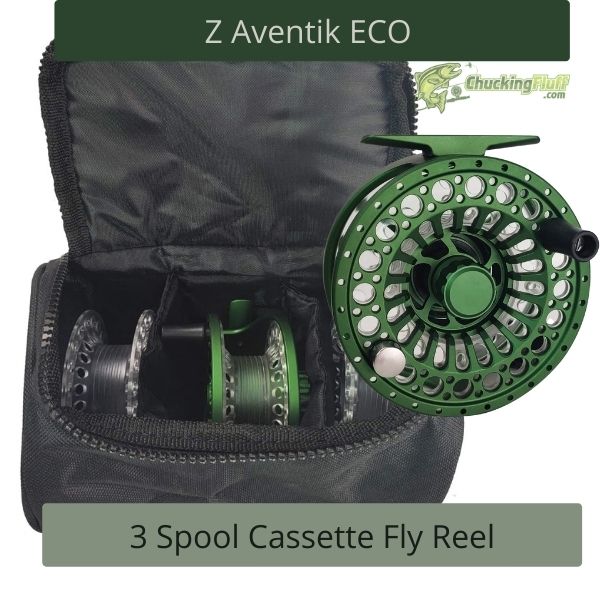 The most lightweight, durable, and costly material and processing used when designing this reel is machining bar stock aluminum.
The resultant metal is anodized to make the reel corrosion-resistant, more durable, and functional in saltwater areas.
You will appreciate the stainless steel reel components as they are high-performing, don't rust, and are more durable. The manufacturer packs two extra spools with each ECO cassette fly reel that you purchase.
This totals to three spools that you can wound on a floating line, intermediate line, or sinking tip. If you will be casting where fish feed deeper, you might want to try sinking lines of different rates. The option to carry the spare spools is innovative to save you the weight of carrying two more fly reels.
With each line you have on the reel, the reel is designed to help you easily identify the floatability rate and weight of the fly line on every spool.
The look and feel aren't off considering the price point of the reel. You can catch most fresh and saltwater fish species from trout, buffalo, smallmouth bass, to crappie and others as its drag settings are ideal for almost all fishing situations.
Check ECO Cassette Web Availability
Best Intermediate Cassette Fly Reel
Wychwood Truefly SLA 2 Cassette Fly Reel
Design specifications will determine the outcome of your cassette fly reel and on the Truefly SLA 2, the manufacturer outdid himself.
The first version of the SLA 2 was something to reckon with considering its reception by the market at that time. The new design has, however, surpassed the expectations of anglers.
Aesthetics are well in place considering the great reduction in size and refinement on the end product.
Overall, the upgrades on the SLA 2 cassette fly reel have made it reasonably light to allow proper balancing on fly rods. The new reel is lighter than its predecessor by more than ½ an ounce.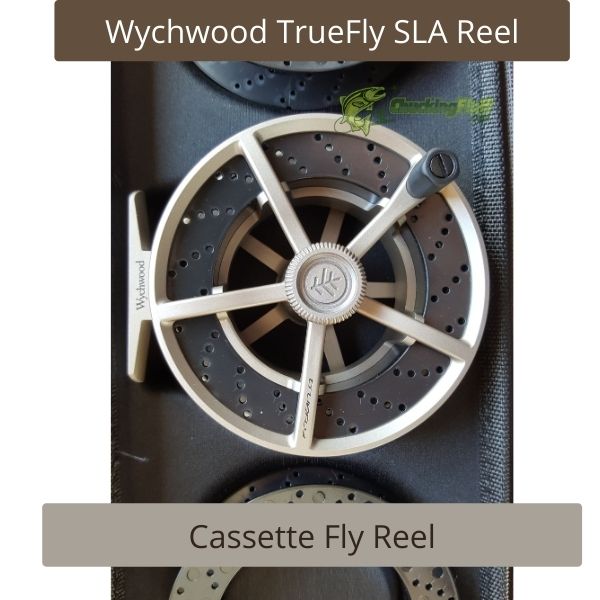 The manufacturer was tactful enough to do away with as much material from the cage and frame without getting in the way of function.
The die-cast material might be delicate to handle because of the manufacturing process but with proper care and maintenance, it can last you longer than you expect.
Wychwood Game has been producing fly reels and other fishing tackle for more than 25 years and so far, there is immense progress between its first collections and recent releases.
It designs this cassette fly reel with a Rulon drag system though seals it partially. Semi-sealed drag systems have their challenges but we are excited that the upsides exceed the cons.
The spool is snug and compression fit. One of the latest advancements when the company made an overhaul of the previous design is the drag knob and sculpted spool releasing system. They have been designed to offer more comfort and function.
You can purchase this fly reel in silver or subtle champagne. Both colors have a warm satin-like finish. Wychwood Game packs the reel in a newly-designed protective carrying case molded from EVA.
It also packs two extra polycarbonate spools for line changes depending on the fishing conditions.
The Truefly SLA 2 cassette fly reel comes in three sizes. Size 56 has a capacity of WF6 +75 yards, WF8+100 yards for size 7/8, and WF11+200 for size 9/11.
Check Wychwood Truefly Cassette Web Availability
Maximumcatch Cassette Fly Reel
Owning nothing apart from a few tools and having his company's roots from a garage, the brand has tremendously grown. The Maximumcatch product catalog is wide to cater to the needs of fly fishers of all skill levels.
Its cassette fly fishing reel combo is worth every coin spent on it. The manufacturer packs three extra cassette spools with every cassette fly reel you purchase. There isn't any need to look for extra reels to hold different lines as the three come at no added price.
You will love how simple it is to make reel conversions from the left to the right hand and back. An angler needs to flick the release handle to make changes. If you love to experiment with different fly fishing lines, this reel combo works to your advantage for fly and game fishing.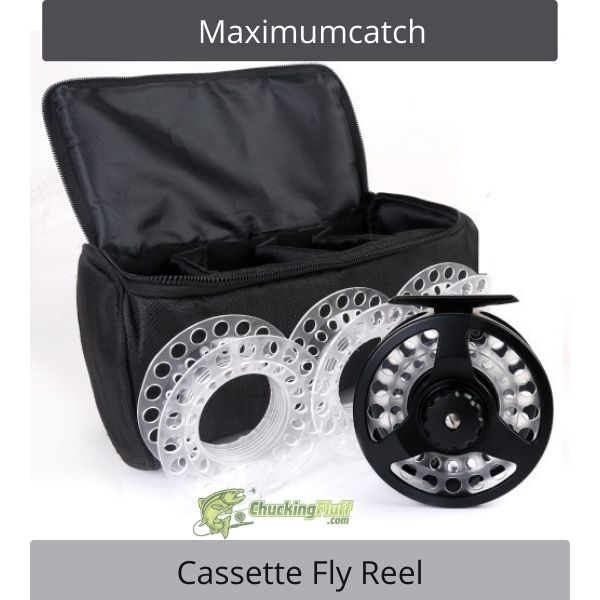 Its frame is made from die-cast aluminum for reduced weight. Spools are from quality plastic hence their cheaper price. Built with a central multiple disc drag system, the drag is smoother and extremely durable. Start-up inertia is lower and the disc system doesn't need lubrication.
The large arbor increases retrieves while greatly reducing line memory. MaxCatch Fishing packs each cassette fly reel in a zippered carrying case with interior dividers to protect your fly reel and fly line.
This reel combo comes in two sizes-5/6 and 7/9. Size 5/6 weighs 164 grams with an outside diameter of 88mm and an inner diameter of 68mm. The width is 28mm and the line capacity is WF6 +75 yards with a backing of 20lbs.
Size 7/9 weighs 180 grams with an outside diameter of 95mm, an inner diameter of 75mm, and a width of 30mm. The line capacity is WF8 +100 yards with a 20lbs backing.
Check Maximumcatch Cassette Web Availability
Greys GTS 500 5/6/7 Cassette Fly Reel
If you have fished the Greys GTS 700, you can agree that the GTS 500 is its cheaper sibling. The two use the same cassette mechanism but the 500 is designed from a cheaper version of die-cast aluminum.
The 700 on the other hand is from machined aluminum hence its less weight, sturdiness, and resilience.
Size 5/6/7 cassette reel from Greys targets stillwaters-just as the 7/8/9 does. The former works perfectly on stillwaters because it is slightly on the bigger side for most of the river angling done in Europe.
It features a large-arbor fly reel for quicker line pickups, greater retrieve speed, and minimal to no line coiling when compared to other reel sizes. The GTS 500 is compared to its rich sibling the 700.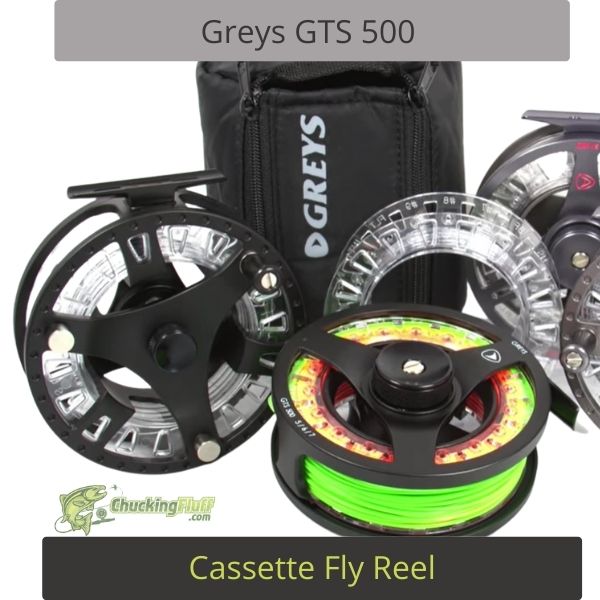 However, this isn't very considerable as the weight is the correct amount to balance any average fly fishing rod. The 500 weighs 216 grams with a diameter of 104mm and a capacity of 90 yards for the size 5 line and 70 yards for the size 7 line.
The captive nuts on the 500 and 700 fly reel are properly lubricated to allow for easier and quicker spool replacement. Even kid anglers can ace the changing process.
If you will be fishing from a boat using this reel, expect its edges to change to silver because of the boat rash. Avoid pairing the reel to extremely lighter rods as it imbalances the rod because of the greater reel weight.
The spool on the GTS 500 comes with a fitted spool and two extras. Spools are designed from polycarbonate plastic instead of aluminum. This is the reason for their reduced weight and cheaper price.
To change the spool, you will spot a captive nut at the center of the reel. Loosen the nut and pull out the spool's metallic part with its cassette attached to it then pull the cassette off.
The smaller lugs on the reel's cassette couple up to similar perforations in the reel. Once you push the two, reattach your reel and tighten the nut.
Greys gives a padded reel case to anyone purchasing the GTS 500 5/6/7 or 7/8/9 reel. The case can fit the reel and two extra spools.
The reel is built with a dual Rulon to Stainless stacked disc drag with a large drag knob for easy adjustments. As you pull out the fly line, the click sounds are audible. The sounds are loud but not irritating.
Waterworks Liquid Cassette Fly Fishing Reel
Over the years, Waterworks Lamson Liquid reels have had an awesome reception because of their reliability. The design is smart, fully functional but at a very affordable price.
The manufacturer pressure casts aluminum to build the reel's frame. After malting the aluminum, it is poured into a mold hence the reel's shape-these aren't carved.
Doing this cuts the manufacturing process by almost half thus its affordability. This doesn't mean that the reel isn't strong-try it! The reel has a polyurethane finish for durability.
You can adjust the drag system infinitely as it doesn't produce any clicks as you turn it. The dial adjustment is smooth and you need to set it where the resistance is enough.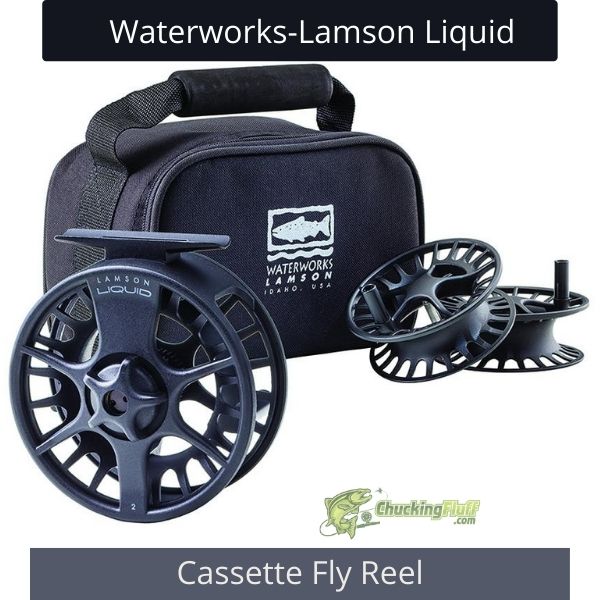 Unlike the majority of cassette reels that use stacked discs in this review, this one uses a cone shape-like system as the primary braking mechanism. This type of drag system is pressed fully into the housing to fit a tiny space hence its strength.
This is common in all Waterworks Lamson reels. It is fully sealed to lock out any inhibitors that can interfere with the smooth operation. The large arbor is for quicker retrieves, less line memory, and reduced drag tension.
You can pair the Lamson Liquid with rods to comb small streams, catch bluegill, muskies, or use it as a backup reel and rod combo. The two extra spools make it the Liquid 3 Cassette Combo packed in a foam case.
An angler's approach to water widens once they have options to carry more lines and spools without going bulky on reels. You can choose to go with different floating and sinking rates or choose the lines depending on the fly types available and relevant for your fishing area. The spools work with floating, intermediate, sinking, nymphing, dry fly, streamer, popper, euro-nymph, or glow lines.
The Lamson Liquid Cassette Fly Reel is available in four sizes-3, 5, 7, and 9 with diameters of 3.34'', 3.61'', 3.85'', and 4.65'' consecutively. Reel weights are 4.20, 4.65, 5.20, and 6.70 in descending order of the line sizes.
The backing capacity for reel size 3 is WF4+100 yards+20lbs., size 5 is WF6+100 yards+20lbs., size 7 is WF8+200 yards+20lbs., and size 9 is WF10+250 yards+30lbs.
Check Liquid Cassette Web Availability
Best Advanced Cassette Fly Fishing Reel
Snowbee Spectre US Cassette Fly Reel
Most cassette fly fishing reels are made from die-cast aluminum hence the budget-friendly prices. However, there is a handful made from CNC machined aluminum like the Spectre from Snowbee.
Machining these reels make them sturdier, more durable, and better performing compared to their die-cast counterparts. Also, you will notice a difference in the price of the cast and machined cassette fly reels.
While machining can come with extra overall weight on the reel, Snowbee designs it uniquely to shed most of the bulk while maintaining excellent balance on your fishing rod.
The Spectre cassette fly reel is available in two sizes-5/6 and 7/8. The two sizes allow for an angler to explore a wide range of angling applications.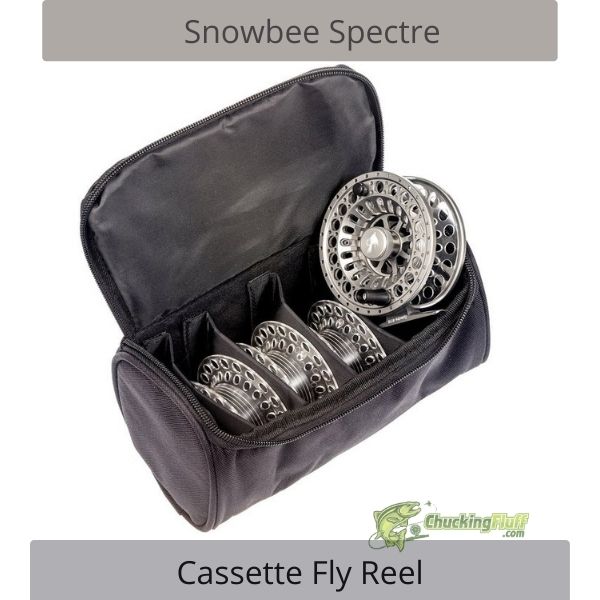 You will spot large arbors on both reels to improve the retrieval rates, eliminate line memory, and offer excellent and more consistent drag. For durability, reduced weight, and function, the team builds the reel's arbor from high-quality aircraft grade bar stock aluminum.
The cassette fly reel sports a multi-disc stainless and cork drag system for extra smoothness and greater performance. Its primary spindle is pooled with a well-built one-way roller clutch system. An angler can instantly control the drag when your new buddy takes you on a battle.
Snowbee builds the reel with a quick-release captive spool to allow you to quickly change it. The manufacturer designs the spool cap for convenience to prevent it from coming off completely to avoid losing it. You can convert the fly reel to the right-hand side and back to the left.
We appreciate that the reel is usable n saltwater areas thanks to the extremely hard paint on the frame's surface for chip and corrosion resistance.
If you love to explore slightly big rivers, the Spectre cassette fly reel in size 5/6 will be ideal for you when paired with a 9ft fly rod with enough backing capacity for the small stillwaters.
Size 7/8 on the other hand is perfect for bigger rivers chasing salmon or sea trout with a single-handed rod. If you want a good-quality fly reel with a more powerful drag system, this size will work well.
You can purchase any reel size in black or gunmetal silver. Each reel you purchase comes with four clear spools. One is fitted on the cassette reel and the three are spares. Snowbee packs each reel in a case with inner dividers and a handle for proper organization, storage, and transportation.
Check Spectre Cassette Web Availability
Greys QRS 5/6/7/8 Cassette Fly Fishing Reel
The Greys Quad Rating System Cassette Fly Fishing Reel is excellent for avid anglers who like to tone down on the equipment and gear they pack but love to adventure different fishing conditions.
It looks basic but is built with excellent features like the quick spool change. You will be fishing a sinking tip this minute and the next a floating or intermediate fly line.
Why the QRS? The strategy used by Greys in this system boosts the efficiency of fishing using this fly reel. You could alter your lines to four sizes with a simple flick.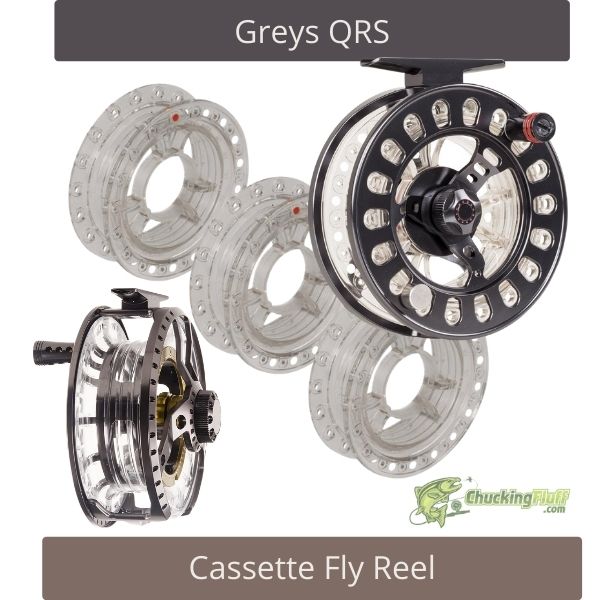 Most competition anglers opt for this cassette fly reel because they carry lots of fly lines to fish their favorite flies at different depths. An intermediate line could be working at the moment but since water conditions are dynamic, force you to change to a sinking line when fish start going deeper.
This flexibility is important besides reducing the load you need to pack and carry to your fishing destination.
Greys was thoughtful about the design of the QRS reel to ensure that it has a correct weight to power ratio. First, the designers craft its frame from good quality bar stock aluminum and fit a clear lightweight polycarbonate spool.
It is a large arbor fly reel for faster retrieves every time you turn the handle of your fly reel. This raises your chances of landing fish. An angler can easily strip the fly line from the reel to cast and enjoy minimal to no line coiling.
You can add extra backing to the spool when a game fish stages a fight or bolts off.
Even with enough backing to play a spooky fish, controlling the line leaving your spool is crucial. The Rulon disc drag system is made from sturdy plastic to dissipate heat and reduce increasing pressure to the required amount to allow the drag to release just enough friction.
You will be impressed by the QRS cassette fly reel as it comes with four cassettes. Two cassettes are for each size of the line. The manufacturer also includes line ID pins.
The 5/6 line size has a backing of WF6+50m and will work well in bigger stillwaters when fishing in the wind or throwing weightier flies. Line 7/8 has a capacity of WF8+100m and works excellently for salmon.
Check QRS Cassette Web Availability
Hardy Ultralite ASR Fly Reel
A lot of effort went into crafting the new Hardy ASR fly reel and from the reception it got, the manufacturer deserves a thumbs up. The reel was under the product list for the EFTTE 2016 show under the best fly reel category and it took the award home before being launched officially in September that year.
The renowned brand has been in business since the 1800s and for a company to stay afloat for this long, it means business and nothing but good business.
The ASR-assisted spool release reel is the reel definition of Ultralight. The reel has undergone different stages of manufacturing and testing to ensure that its weight is way lesser than the company's previous reel models.
However, what seems to be their punching point is the spool release system and upgraded drag mechanism. The two are impressive and for the much the reel goes for, it is a win for any cassette reel lover.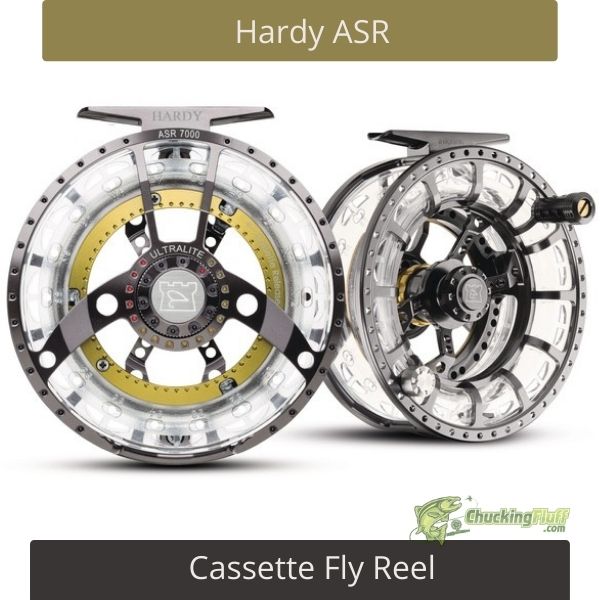 The reel is made from a lightweight alloy of aluminum and finished with a lustrous titanium finish. For class and style, it doesn't miss the mark. It is packed in a neoprene bag for protection from dust then boxed before it can reach your destination.
It features a switch click mechanism. An angler has to flick the reel's switch and pops out the spool to allow for a quick change. The quick-change style will come in handy when you are in a hurry yet want to maintain focus and hook that master in competition angling.
The switch is good quality and not a part that you can accidentally flick and panic when in action. It locks pretty well in the composite spool and has a click to put it in place.
The composite spools are lightweight, stronger, impact-resistant, durable, and boast an excellent weight to strength ratio. They are also weather-resistant and can work in either fresh or salt water areas. Its spools are cheap and have line markers to prevent overfilling.
Hardy builds the reel with a single-turn 340 degrees disc drag that acts as a traffic light with numerous dots to allow the angler to select the right resistance amount. It might look basic but this is what will determine if you will win a fight and pull that chap out of the water or it will overpower you and bolt off.
The Hardy Ultralite ASR reel comes in five sizes-4/5, 5/6, 6/7, 7/8, and 9/10/11. The gear ratio for all the sizes is 10:1. The reels weigh 6.20, 6.60, 6.80, 7.20, and 8.80 respectively.
Fly line capacities are WF5+50 on 20lbs, WF6+50 on 20lbs, WF7+65 on 20lbs, WF8+100 on 30lbs, and WF12+150 on 30lbs in descending order of the reel sizes.
Check Ultralite ASR Cassette Web Availability
Wrapping up Best Cassette Fly Fishing Reels
How long your cassette fly reel will survive on water and when stored will go down to its materials and how you take care of it. However, there are specific design aspects of the reel apart from the material that influences the lifespan of your reel.
Some of the aspects to look out for are how your handle is fixed to the spool. Is your drag knob wiggly? The material of the spindle and whether it is soldered, screwed, or attached differently will impact its durability.
One simple rule of reel examination that goes a long way is that if its components are well secured to prevent dropping, it might remain high-performing for a long time.
Making lighter reels has been a race in this industry for a very long time. Most anglers think that the lighter the reel, the better. However, it is not always about your reel and spool weight but how well your reel and rod balance when put together.
Choosing an extremely lighter reel might throw most of your rods off balance completely if the ratio of your rod and reel weight don't complement each other. Sometimes, a slightly heavier cassette fly reel will fish and cast well.
Cassette reel utility has been applauded as since Hardy launched the Demon Series and other manufacturers took after it, the response has been overwhelming.
The various drag systems in reels have the guts needed to stop a fish. And from our review above, you can agree that different manufacturers use different drag systems in their cassette reels.
This ranges from the Rulon to stainless stacked disc drag to the sealed conical drag system among others. Most disc drags require less maintenance because of the seals and has a greater tension range.
Depending on the type of drag system, there is a place and time for each to function as it should or even better. Some aspects to determine the drag system of your cassette reel is a personal preference, size of fish, species, and fishing environment.
It is advisable to choose a reel with low start-up inertia, smooth drag, and sealed drag to prevent losing a fish and having to palm your reel to add more drag when the guy threatens to bolt or go under the boat.
For overall utility, it is difficult for a disc drag system to be beaten by the other types. You might still love your click and pawl reels because of how well they balance your rods and fulfill your dire need for tradition but they need a lot more TLC.
Most cassette fly reels have large arbors and their line retrieval rates are faster. This makes line management easier in stressful situations like when the fish decides to turn and run.
These large arbor reels have been built to hold much more backing for an average fly fisher regardless of whether you are fishing in fresh or saltwater. It is important to understand that the thickness and length of a fly line might cause its backing capacity to slightly change.
For instance, a sinking line with a narrower diameter could increase the backing capacity quite more as it occupies lesser space on the reel spool.
Not all anglers are fascinated by cassette fly fishing reels. If you are among those that prefer conventional reels, you will have a plethora to choose from the buying guide on the site among other crucial gear and equipment that you might need for your net fishing trip.
FAQ's Questions about Cassette Fly Fishing Reels
What is a Cassette Fly Reel?
A cassette fly reel is one where the inner lightweight spools are easily removed and replaced with another so fly anglers can carry extra fly lines easily.
What is the Difference between a Fly Reel and a Spool?
A fly reel is the complete workings, cage, spool and handles whereas the spool is the inner part that holds the fly line and can be interchanged with other spools with different line densities.
Do you have to use Backing on a Fly Reel?
The backing is not necessary but highly recommended as a large fish that wants to run will take line quickly off the reel. Typically 100 ft is recommended to be added to your fly line.
What is a Large Arbour fly reel?
A large arbor fly reel is one where the center spindle is larger than a couple of inches making the fly line less inclined to have memory coil. It also improves line retrieval speed.