Disclosure:
Just to be open and honest the buttons and links you click on in the website will in most cases take you to another website where you can purchase the products I am reviewing. As an Amazon Associate I earn from qualifying purchases.
December 7, 2017
12 Best Flies for Winter Stillwater Fly Fishing
As mentioned in a previous article Stillwater winter fly fishing can prove to be challenging.
To help assist us in getting more takes from trout that are feeding we need to incorporate some flies that are better suited to winter fly fishing.
In this post, we find out about those patterns that prove to be better during the winter months.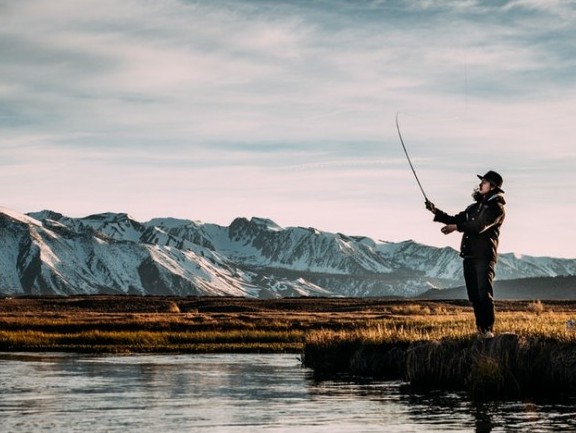 Winter Stillwater flies how to present them.
In winter fly fishing trout will normally be swimming very slowly and not inclined to chase after lures or flies very well.
In this instance we have to slow down the retrieve and how we present the flies to the fish.
If you can see trout feeding or cruising try to cast in front of them and draw the fly past their path.
This way you will induce more takes.
Half the battle is getting the fly within a close distance to a cruising trout. Next, we look at the best patterns to use.
A common mistake in winter fishing is going too deep.
Trout will look for food namely the insects that live there and they will be looking for warmer water.
The water closest to the bankings is usually best and where it slopes gently and not straight down.
This gives trout a way to sulk off into the deep if disturbed and where the water can warm up on the better days in the sun.
Another thing to look out for is the activity of birds.
Wading birds will usually be in around the weed beds and it's here that there will be most of the insect life.
During the winter the weeds will below the surface and not easily noticed so looking out for the birdlife and where they are feeding will help your catch rate.
---
Winter Stillwater flies group one – Nymphs
Nymphs are one of my favorite patterns for Stillwater fishing all year long.
However, nymphs in winter can be special. Insects like the Corixa, Shrimps and Hoglouse are usually still active and patterns that imitate them are good ones to have in the box.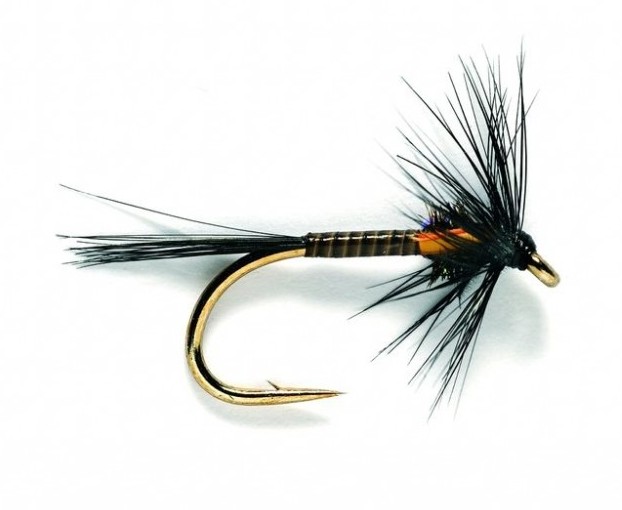 Cruncher fished slow and not too deep.
Team it with a black buzzer for a great effect.
A top floating fry or bite indicator
and let it hang down a few feet.
Let it drift around in the wind and keep an eye on the takes.
Gold ribbed hares ear will imitate a shrimp and also fished slowly with a figure of eight retrieve.
Dawl Bach fished like the cruncher nymph above on the drift a few feet down.
---
Winter Stillwater flies group two – Damsels
If the nymphs are not working a Damsel is a good fly to have in the box.
They are good all year round but especially in winter when the trout are slower moving the extra movement of the marabou tail can help entice takes.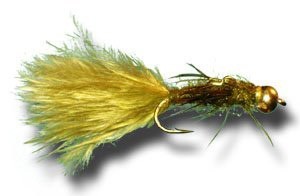 My favorites are Olive Damsel
(well most damsels are olive or have an olive tail) however one with a tail at least as long as the body.
A simple figure of eight or slow retrieve should work.
I sometimes like to put in short twitches to draw the fly up and then let it sink with a pause this mimics the swimming of a nymph insect. (hook 10-12 long shank)
Orange and olive damsel. As the olive damsel but sometimes the olive will not work so changing to orange helps mix things up abit. (hook 10-12 long shank)
Gold head Damsel. Something to take the fly down quickly if required.
The extra weight of the gold head will help sink the fly to lying fish if they are not cruising the margins.
(hook 10-12 long shank), patterns like the humongous are great in this as the head allows for dipping motion which give extra movement.
---
Winter Stillwater flies group three – Worms
In Winter a staple diet for trout is bloodworms
as they will usually be plentiful in the soft mud around the edges of the lake.
Trout will root them out when they are on the move.
It is a good idea to have some of these in your fly box.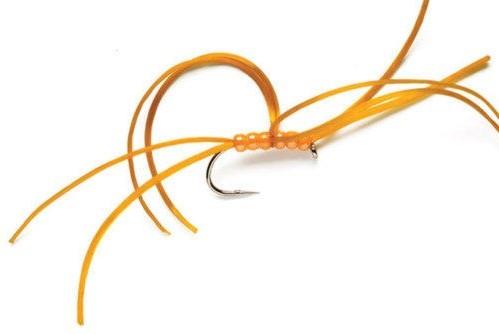 There are many blood worms on the market and you can always tie a few yourself but ones with plenty of legs to pronounce the movement will work better than the plain old red dubbing over a hook.
My top three are the apps bloodworm.
Comes in several colors blood red and orange being the most productive. (10-12 grub hook)
The bloodworm nymph (hook 10-12 short shank)
The last is the blood worm with marabou tail. (hook 10-12 short shank)
---
Winter Stillwater flies group four – Buzzers
Buzzer fly fishing is one where you let the buzzer drift around in the current very slowly watching the indicator for any twitches or movement which usually indicates a take.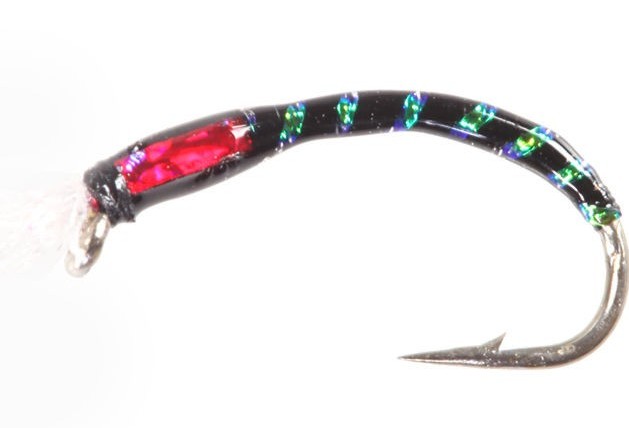 Buzzers will hatch on the better days in winter especially in the warmer water if you can find it.
Trout will be waiting close by for them to hatch and sip them down as they emerge.
Black Buzzer epoxy (10-12 grub hook)
Black Buzzer shipmans (10-12 grub hook)
Black Buzzer JC cheeks (10-12 grub hook)
I know they are all black but usually black works best for me in winter, you can always try different colors to see how you get on in you home waters.
---
Summary – Top Tips to Fly Fish Stillwater in Winter
Do a bit of recon, check for birdlife, cruising fish, structures
Don't wade in the water as fish may be close to the edge
Cast out close to start with as fish may be feeding in the margins
Don't fish too deep as warmer water will be at the top
Slow everything down as fish will not chase
Be patient there will not be a feeding frenzy as in summer.
Drifting flies can produce some good action
Keep warm after all it's winter
There you have a few tips and a dozen fly fishing patterns
that should help you out in winter Stillwater fishing.
Would be happy to hear from you on patterns that you would include in this list.
Tight Lines!
"Check out some of our other Buying Guides"