When I first started fly fishing all those years ago there was no such thing as barbless hooks for trout fishing, well not that I noticed anyway. Most of your catches were kept back then however as time has progressed things have changed.
It is now more the norm to release your catch back into the ecosystem you caught it so future anglers will hopefully have the pleasure of partaking in the sport. The only thing that wasn't kept back thirty years ago was the small under sized fish that were deemed by the fishing agencies to be returned.
When I think about it, some of the small trout I caught back then went back bleeding and probably swam off to die. Well I was only starting out back then and didn't know anything about barbless trout flies. All the flies I tied were on fully barbed hooks as this was the norm. So my question is; barbless hooks are they good for fly fishing? Let discuss to see the differences.
Many tackle changes over the last thirty years!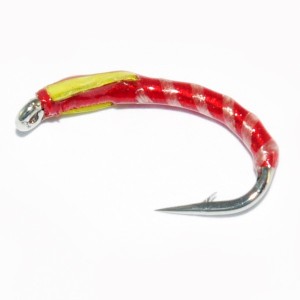 Fly fishing in general has under gone many changes over the last thirty years. Tackle improves every year. Fly rods are much stronger and lighter, same with fly fishing reels. Fly lines are now made with poly-coated layers with braided cores and the terminal tackle, the flies, are now made with chemically sharpened points hooks. To top this off barbless trout flies now are more common.
The barb when first conceived was to hold the fish in place so it could not fall off the hook and escape. This was very important back when things got started as fishing was more of a necessity for feeding the family than a sport as it is today.
The barb was made with a slit made cut into the hook and pulled out from the wire body. As the fish was hooked the flesh would not be able to slide back off as the barb would hold it in place. Either that or the flesh would be torn and leave a hole if forced too much.
Flies are dangerous and can sink in deep!
This is the same for catching yourself or your buddy with a fly, as a barbless hook can be slid out with out too much hassle or pain, were as a barbed hook will be painful and leave a scar if pulled straight back out. What is normally done is the hook is pushed round in a curve to protrude out the other side so the barb can be cut off.
Barbless hooks were brought into existence to aid catch and release tactics and leave the fish relatively unharmed as it swam away. In fact a trout for instance can be shook off a barbless hook without having to remove it from the water at all. This can be done fairly easily once you know what your doing so it is then not handled and is not stressed more that required.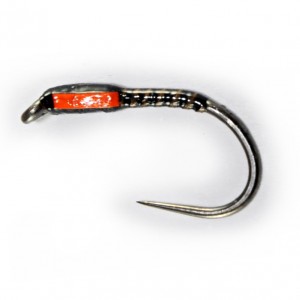 Some fly fishing anglers who grew up with the old barbed hooks and the plan to kill all they caught are mostly put out when asked to use catch and release tactics, as its a new way of fishing to them. There is a lot of complaining that the hooks are not good enough and fish will get off etc etc.
At the end of the day we all want to land our trout for picture opportunities and to give us that satisfaction of actually catching your prize so some do not like the fact that occasionally fish or trout will get off.
However I have seen this happen with barbed hooks too so I am not convinced that its down to the way the hook is finished but the way the fish is played.
A great tip I picked up when using barbless hooks is to twist the hook point a few degrees to either side to make is sit slightly off the straight. This for me not only aids in hookups but helps me land more trout also.
I find that when I am fishing barbless hooks which is basically all the time I occasionally loose the odd one but if I keep constant pressure on the trout and play with tension I can usually land more than I loose.
I do not think the removal of the barb has dampened my enjoyment of fly fishing and the fact I can release trout and salmon without harming them too much so they can live to fight another day is more important to me than loosing the occasional one.
Fishing for future generations!
I want to be able to see future generations fly fishing as I walk my dogs along the waterways knowing I did my bit to help that happen. I would really hate it if we were to totally kill of sport species in waterways just to satisfy our blood lust for a sport that doesn't warrant it.
Lets face it we can all go to the store and buy our fish for dinner when ever we want helping the local economy and keep our fishing spots for another day.
What do you think, are you a fan of catch and release tactics? Do you think barbless hooks for trout fishing make you loose more catches? Do you have a favorite hook brand that works better for you. Please share in the comments section below.