Disclosure:
Just to be open and honest the buttons and links you click on in the website will in most cases take you to another website where you can purchase the products I am reviewing. As an Amazon Associate I earn from qualifying purchases.
July 29, 2021
Best Fly Fishing Reels – Buying Guide and Reviews
Introduction to the Best Fly Fishing Reels on the Market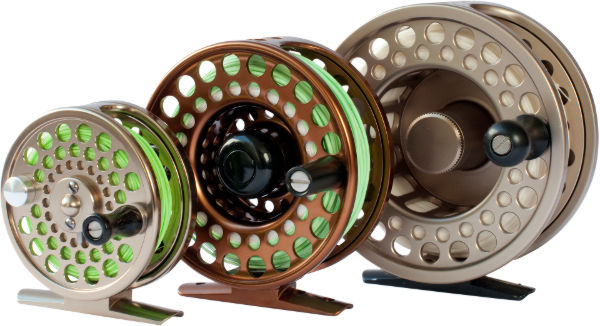 When you are planning on buying a fly reel for your fly rod you should keep two things in mind:
1. The fly reel should generally function well
2. The fly reel should function well with your fly rod
Choosing a fly reel with great options and features is the easier of the two criteria to match.
Fulfilling the second criteria is a little harder because you really have to research the fly reel and fly rod to see if they are balanced together.
So let us help you with your quest on finding the best fly fishing reels for your fly fishing rods.

| | | | |
| --- | --- | --- | --- |
| | | | |
| | | | |
| 2. Lamson -Waterworks Guru 2 | | | |
| | | | |
| | | | |
| | | | |
| | | | |
---
Best Fly Fishing Reels Over $150
Fly fishing reels in this price range generally have better fit and finish and most of them come with bigger spools and arbors in order that you can easily reel the fish in.
Additionally, they are lightweight but without damaging the structure and integrity of the reel, plus they have smoother drag systems.
They run effortlessly without sticking – and without any form of hiccups that can be sufficient to break your tippet and lose your fly which leads to losing your fish and potentially the catch of a lifetime.
They are also rust-resistant, which protects your drag system for a smooth run.
The manufacturers of these reels, protect the drag system from all kinds of things, sand, grit, moisture, even impact.
---
1) Loop Opti Dryfly Fly Fishing Reel
Loop Opti Dryfly Fly Reel is a general-purpose trout fly fishing reel. Its big size allows for 4, 5, and 6 weight fly lines.
In terms of weight, it is light for casting the entire day.
It doesn't matter if you like fishing streamers from your boat, sipping rainbows or drifting dry flies. This reel is the perfect fit.
The arbor is large in size which results in less reeling while greatly increasing the retrieve rate and bigger coils of the fly line getting off the reel.
Machine aluminum makes the reel light in weight and has better corrosion resistance because it has undergone a special treatment-anodization- which makes it stronger and more consistent throughout casting.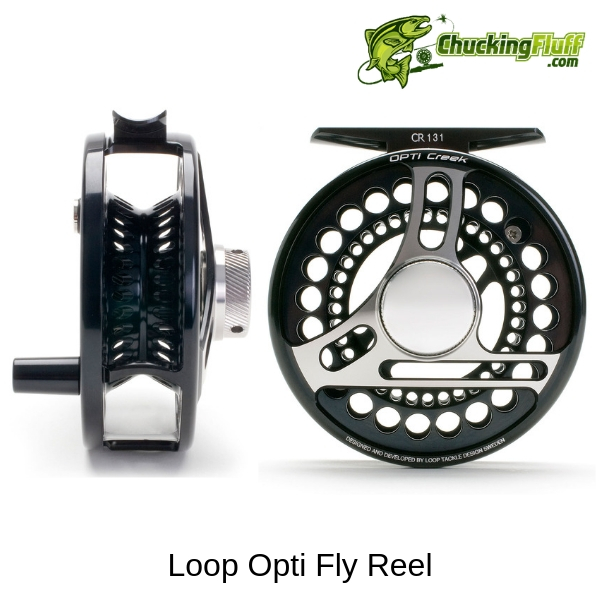 The reel has a power matrix drag system that is sealed to prevent dirt, dust, sand and water from affecting its performance.
It is adjustable as well. Its brake knob is of a good size to allow for gripping and is used the same way a car's foot brake is used. The operation is simple and easy.
This reel can be used on either side to mean conversions from the left hand to the right hand and vice versa are usable.
The spool and frame are made from machined aluminum to withstand all kinds of physical impact subjected to it in the course of fishing.
Down to dimensions, the reel has a diameter of 4.02'', a capacity of WF5 190 yards 20lbs, its width is .79'' and it weighs 4.76 ounces which is light.
A limited lifetime warranty will take care of the repairs and replacements if need be.
Its sole purpose is trout fishing so if you are not a fan of trying other kinds of fish, it will serve you diligently.
Otherwise if you are experimental, adding a versatile reel in your collection will do more good. This doesn't mean that it is unreliable.
Undecided check our full review for more details on the opti fly reel.
---
2) Waterworks-Lamson Guru Fly Fishing Reels
If you are in the market for a workhorse of a reel the Lamson Guru II is right up your street.
The Torrington roller clutch provides instant torque transmission without backlash and without damaging the line and leader.
This series of reels are well known for presenting notable quality at an inexpensive price.
Waterworks-Lamson keeps the tradition of excellence with its Guru II Fly Reel, a slick and fashionable reel with a flavor for adventure.
The C1 design group at Waterworks-Lamson has improved Guru's big arbor spool geometry, ensuing in enhanced retrieve rates.
They've additionally opened the porting to reduce weight and improve line drying, integrated the counterbalance, and delivered a curved cross-section arbor for structural firmness.
Fully produced within the US, the Guru II features a clear type 2 anodized finish, ensuring that this reels appearance is slick, modern and remains reliable for years to come.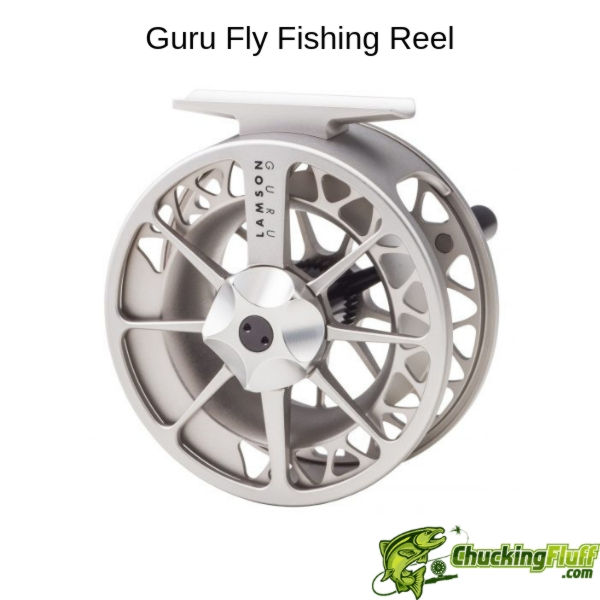 Features including:
Conical drag system that gives you an extra smooth drag that has enough punch to stop a car.
It has a large arbor to increase the retrieval rate that you will love and offers consistent drag torque every time.
The machined aluminum structure and open spoke layout give great strength and styling you will be happy showing to your fishing buddies.
Made in the US reliability you can trust.
6 sizes 3 wt to 10 wt to cover all possibilities
I know you will love the Lamson Guru II fished by many fly fishing anglers who have vouched for the reel's good points in their reviews with a near-perfect score. Not many reels are this good at this price.
Spec: Size 7-8 • 5.08oz • 150yds 20lb backing • Sealed drag
Check our In-depth Review

Check Amazon Availabilty
---
3) Ross Reels Animas Series Fly Fishing Reels
Ross Reels Animas Series Fly Fishing reel has proven features to out-perform and its Excellency to tame wild trout is undeniable.
It doesn't let the wild fish roam. On the contrary, they submit to your hand with a smooth drag system. Read more on the features of this reel below:
The one-piece frame and spool are fully machined and can hold up well against the abuse that an agile angler can dish out.
Something dependable. Its Delrin 500AF drag system with Teflon is very durable and self-lubricating and is maintenance-free. The reel performs in both salt and freshwater environs.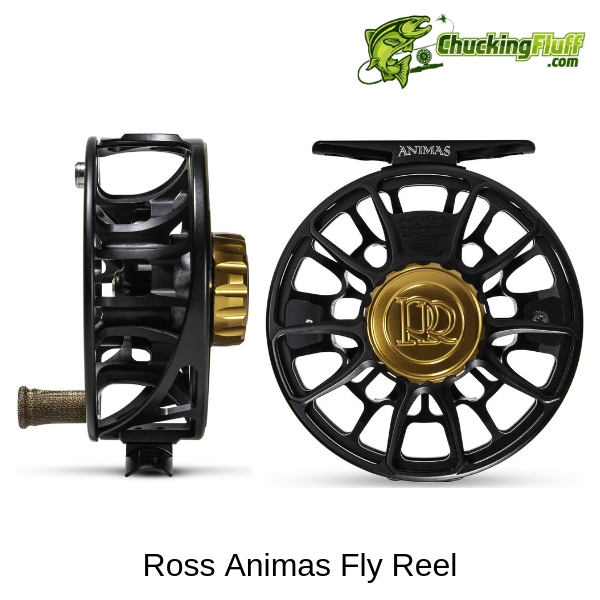 The quick-release spool is easily switchable when the line change is on track.
Its handle is well designed, soft to touch and comfortable. It has a reverse taper which increases comfort and control when fish tries to relent.
The reel can be operated on the left or on the right-hand side. Conversions are easy to make.
6061-T6 proprietary aluminum alloy is used to make the reel making it tough and durable.
Being an alloy, it withstands physical impact without affecting quality and performance.
Ross Reel designed these reel series with a bell-shaped ultra-large arbor which takes all the advantages of a large arbor design to extreme levels and holds all the backing well.
There is a lifetime warranty on this reel which is a juicy deal. You know how expensive repairs, servicing and worse, a replacement can drain you.
Luckily, Ross Reels has this well taken care of. The series has different sizes of reels depending on the sizes: size ¾ 4.3 ounces, size 4/5 4.5 ounces, size 5/6 4.9 ounces, size 7/8 7 ounces and size 9/10 8.5 ounces.
The Animas Series by Ross Reels has a solid performance and the manufacturer's history of producing excellent bomb-proof reels that are mid-priced makes it a go for reel.
---
4) Redington RISE Fly Fishing Reels
The rise series is Redington's go-to, reliable fly fishing reel for consistent outcomes every time.
This reel can offer the salt or freshwater fly fisher with everything they want, and the best part is that it's able to do it at a price that won't cost a fortune.
The Rise offers a basic, no-frills and reliable experience, with a degree of sophistication that comes from Redington.
One of the predominant benefits of this reel is its durability. It can be dropped, knocked, hit, trodden on, thrown, and abused in just about every way you think of and the machined aluminum will resist it.
An additional advantage of this reel is its price tag – Redington is a brand regarded for its reliability and affordability, and the Rise collection seems to be another example of this.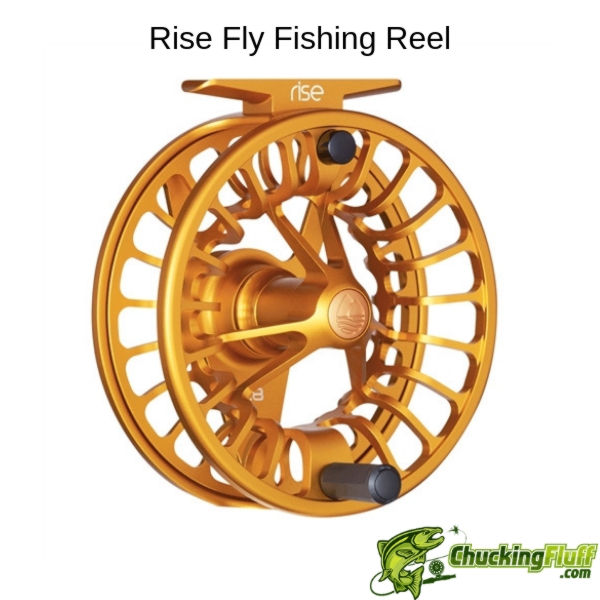 Features including:
CNC machined, anodized 6061-T6 aluminum design with quick release spool
Ultra-large arbor design for quick line retrieve
Compact and smooth carbon fiber drag system
Twin molded, soft-touch ergonomic handles
Easily adjustable drag with the large knob.
Convertible from left to right
Comes with a nylon reel case
Lifetime warranty – sign it up on the website to make sure though
This is a reel you may take anywhere and assume it to carry out its duty, despite the conditions.
What's even better, the rise series is protected by means of a lifetime warranty from Redington, providing you with peace of mind while doing the thing you love.
Spec: Size 7-8 • 5.5oz • 200yds 20lb backing • Not sealed drag
---
5) Orvis Hydros Sl Fly Fishing Reels
The Hydros SL grants a 12% increase in line retrieval rate, has a narrow spool to dispose of line stacking and gives increased backing capacity.
Additionally, it has a fully sealed drag mechanism. This means that it's ready to move to fish on salt.
Smooth and clean start-up inertia is a trademark of the high-quality, high-end production and overall high-performance reels.
The Orvis Hydros SL, can provide what it promises with this reel, and does so at a price that is only a small fragment of the price other competitors with similar performances ask for.
Further to the Hydros SL's speedy line pickup, Orvis designed the spool with a deep, barely V-cut spool that holds a generous amount of backing and resists line stacking quite properly.
This is especially welcomed when putting the Hydros SL on a double-handed rod.
In particular, whilst fishing cumbersome Skagit heads which can consume up the head area on a spool and make it prone to stacking line.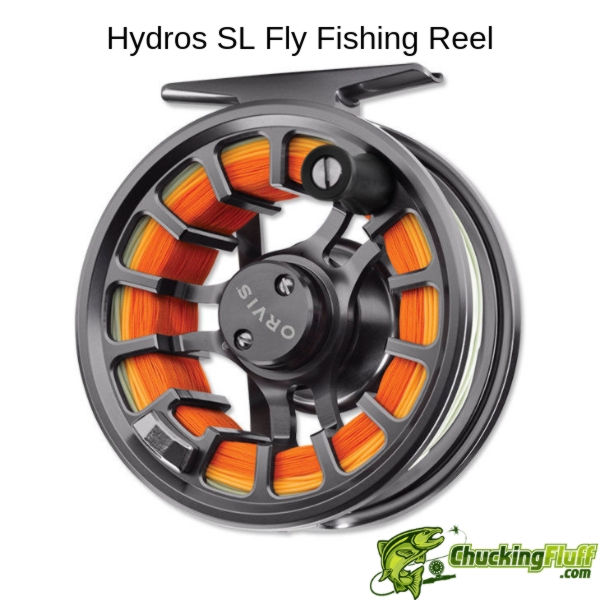 Features including:
Large arbor reel
12% increase in line retrieval from the previous Hydros thanks to super large arbor
Fully sealed drag-clutch bearing
Narrow spool for less line stacking and increased backing capacity
Ergonomically designed asymmetric drag knob
3x stronger drag with zero start-up inertia
The whole lot of the Hydros SL's design and production seems first-class.
The reel's bar stock aluminum is beautifully anodized in a black colour, the body and spool have tight tolerances and the reel's drag handle of is ergonomically designed, smooth-to-take hold turns very smoothly.
Spec: Size 7-8 • 5.9oz • 100yds 20lb backing •  Sealed drag
Check Web Availability

Check Our Hydros SL Review
---
Best Fly Fishing Reels Over From $100 to $150
There is not really a big difference between the reels between $100 to $150 and the ones that go above $150.
The most noticeable difference is that when you buy a more expensive reel, you are 100% sure that it will serve you for years to come.
With the cheaper ones about half the time, you buy them based on luck.
You might buy a reel that will serve you for years, but on the other hand, you may get a reel that will break down after a couple of months.
Furthermore, with reels in this price range, you can't get as big of a catch as with the high-quality ones.
You must set the drag lightly at the beginning and whilst the fish gets in line with the reel, you need a clean transition out of your hand to the drag on the reel.
If you set your drag too tightly, you increase the risk of breaking it off. So while that is possible let's look at some of the best possibilities.
---
6) Orvis Clearwater Large Arbor Fly Fishing Reels
It is a solid aluminum big arbor fly fishing reel that is lightweight enough for balancing properly with your favorite fly rod and without a doubt the best quality-price fly reel around.
Years spent in layout and improvement and with an effective inline, Rulon to stainless, stacked disc drag which can hold its ground against the high-performance machined reels.
The all-new Clearwater Large Arbor charges appreciably less than its machined counters, however, it doesn't have only the look, but the guts of a higher-priced model.
IT can transform without problems to both left- or right-hand retrieve, the Clearwater fly reel has a positive click drag knob for stable settings each time.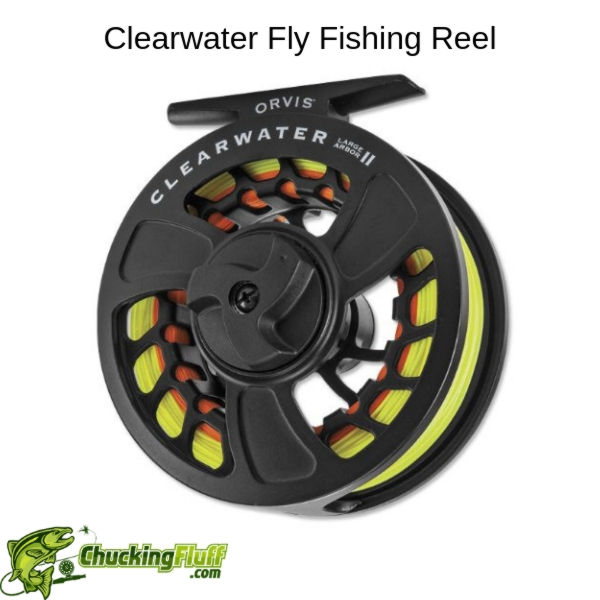 Features including:
Powerful inline, Rulon® to stainless, stacked disc drag
Easily Interchangeable from right to left
High performance, affordable price
Cast aluminum machined
Large-arbor for speedy line pickup
Click-drag knob feels positive
Whether or not you're seeking out your first huge arbor, fishing on a budget, or need a spare or two inside the bag, you will love the brand new Clearwater.
Its big-Arbor can deal with anything a machined reel can and absolutely changes the competition in die-cast reels.
This price range is great for beginner to intermediate fishermen but experts and advanced might want to continue shopping.
Size 7-8 • 6.3oz •  100yds 20lb backing  • Not sealed
---
6) Redington Behemoth Fly Fishing Reel
The unique design of the Redington Behemoth Fly Reel is not a mistake. Its aesthetics combined with durable construction makes the reel capable of doing great in the water.
This reel works well with 4 and 5 weights and has enough strength to wrangle all types of fish.
This reel has a carbon fiber drag system which so far is the most powerful and effective in its class.
It is adjustable too. With a large arbor, it quickens the retrieve rate and greatly reduces line memory to give you the best experience as you fish.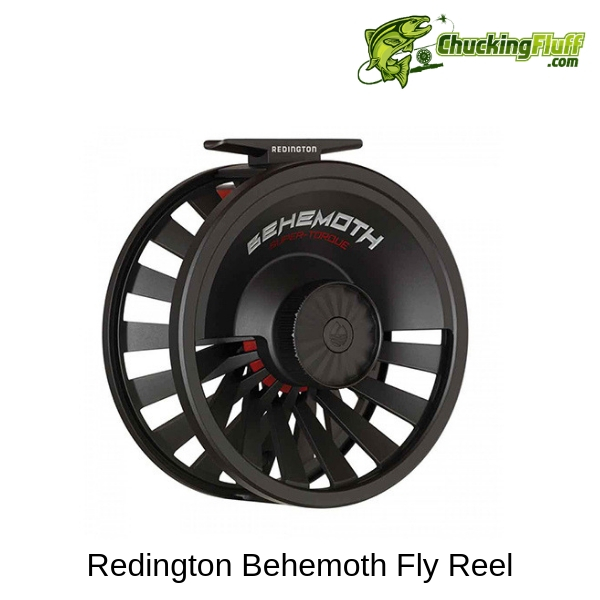 Its drag knob is designed to be bigger than the usual size for easy adjustment and a good grip.
Conversions from the left-hand side to the right-hand side and from the right-hand side to the left-hand side are not complicated.
Unmachined Die-Cast construction is a unique feature and makes the reel durable despite the conditions it is exposed to.
The V-spool is deep. This attribute increases the backing capacity of the reel.
Ergonomics is on point with the handles twin molded and finished to give you comfort when holding the rod. The handle is safe and gentle on your hands.
The reel has a diameter of 3.4 and a backing of 125 yards 50lbs. It is not heavy and weighs 5.2 ounces.
You can find this reel in O.D green, black, gunmetal or desert.
Redington includes a nylon reel case that can be used for storage and protection against environmental effects like sand and dirt or exposure to water when not in use.
You get a lifetime warranty upon purchase that caters for all the servicing, repairs and replacement.
Count on this reel for reliability, strength, performance and is suitable for any angler. It is an all-season reel and its stunning look is a bonus to it.
---
7) Piscifun Platte Fully Sealed Drag Large Arbor Fly Fishing Reels
The Piscifun Platte Fully Sealed Drag Large Arbor Fly Fishing Reel Fully is fully sealed with carbon alloy. It doesn't require much maintenance except simple rinsing after use. The sealed drag is protected from sand and small gravel and has an ample drag strength.
Requiring no preservation besides simple rinsing for each clean and saltwater fishing.
Sealed drag and near machining tolerances-Sand and small gravel couldn't locate its way into the reel.
The click drag and retrieve provides accurate and repeatable drag settings making a very subtle click in and outgoing. The drag system has a larger working surface for more easy adjustment while fish is on the line and better dissipation of heat and smoothness.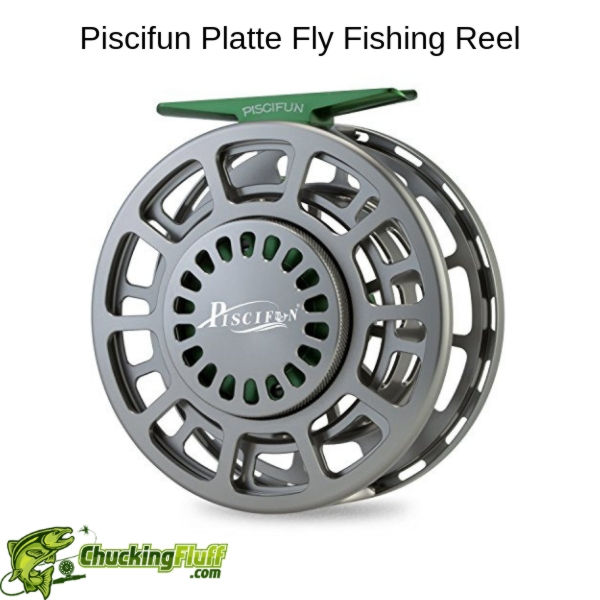 Features including:
Solid CNC-machined aluminum alloy construction provides increased corrosion protection
Multi-disc cork and stainless steel drag system
Clicker Drag design offers accurate adjustment
Sealed o-ring screw cap resists dirt and grit and lost as well
Hard anodized finish offers long-lasting performance for abrasion resistance
Large-Arbor Design reduce line memory while also facilitating lightning-quick line pickup.
Fully sealed carbon to stainless drag system resists dirt and grit.
Knurled Drag Knob for easy gripping
Quick, easy left/right conversion
Manufacturer's a lifetime warranty
The Piscifun fly reel has strong and yet lightweight, well ventilated spool for drying the line and reducing weight. With the large arbon design the retrieve rate is increased, holds more backing and pics up fast to give you the edge you need to reel in your catch.
Spec: Size 7-8 • 7.9oz •  125yds 20lb backing • Sealed drag
---
8) Orvis Battenkill Fly Fishing Reels
Easy layout and wonderful creation make this the right click-and-pawl fly reel for almost any freshwater fishing scenario.
A minimalist's dream, the all-new Battenkill features a classically styled, yet technically more advantageous, four-position click on-and-pawl drag system.
This system is adjusted internally and is designed to work in tandem with the palm of your hand on the scorching screechy runs.
Designed with a slender spool for less line stacking on retrieving and a larger spool diameter for faster line retrieval.
The extremely-lightweight fly reel design balances and matches accordingly on shorter rods.
Machined from heavy-duty bar-inventory aluminum for added resilience. It adjusts from left or right retrieve without problems.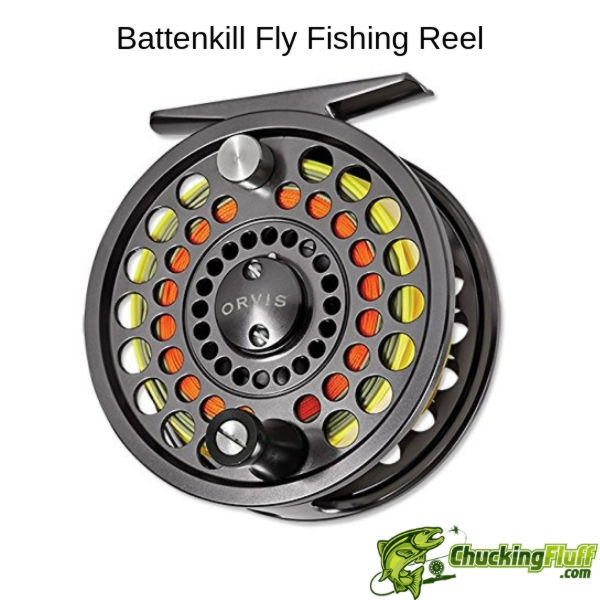 Features including:
Four-position click-and-pawl drag system
Classic styling
Narrow spool means less line stacking
Large spool diameter for high retrieval rate
Ultra Lightweight design balances with shorter rods
Easily adjustable left- or right-hand retrieve
Laser-engraved logos
Machined from heavy-duty bar-stock aluminium
This newest Battenkill Disc version is true to its predecessors in looks and performance, but updated with the newest design enhancements and an appreciably more effective drag. Under the mid sized arbor is the identically sealed drag machine found in the Hydros SL including six combining carbon and steel drag surfaces. The positive click drag is simple and easy to alter and adjust to the fishing situation.
Spec: Size 7-8 • 5.9oz •  125yds 20lbs backing•  Sealed drag
---
Best Fly Fishing Reels under $100
These reels are probably the cheapest you will find. In this price range, you cannot expect great durability as you can expect from the more expensive types of reels. They do not give you great backing capacity or drag as smooth as you would want it to be.
Additionally, under some pressure the strength will probably fade and most of all, in it's not a sealed drag system, saltwater will damage it. Another thing that will protect your reel is if it's anodized or not. Needless to say, the higher the quality of the reel, gives you a better-anodized surface.
The very important thing is even though most of them are lightweight, they are not as light as the higher-end ones are. Finally, when you want to clean it from saltwater, you can't take them apart and put them back together as easily as the more expensive ones.
---
9) Redington Zero Fly Fishing Reels
Speaking of the layout, the reel holds a ported spool for weight reduction and to help keep your backing and line dry. Along with this porting, the face of the reel has a unique minimalistic design which could only be done by using the use of die-casting instead of CNC, the usual approach used in the fly reel industry.
The handle counterbalance is part of the spool, in place of a small aluminum button at the reel's face, this doesn't only aid in weight reduction but also compliments the aesthetics of the reel.
The primary part it plays is as a river reel that is available in sizes for 2-3 wt lines and 4-5 wt lines. The drag is a simple spring-loaded clicker. One of the large selling factors of the reel is the weight. The 4-5 is only 3oz. It does feel distinctly light within the hand making it the lightest available in its class and price variety.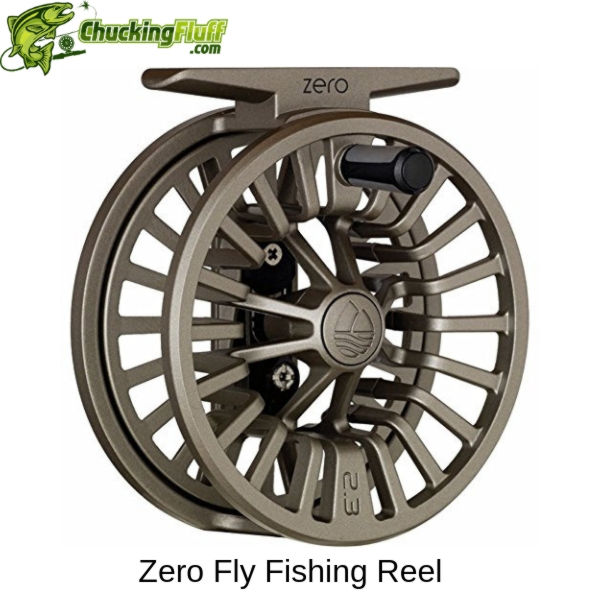 Features including:
Lightest reel in its class
Super-lightweight design with quick-change spool
Unique die-cast construction
Large arbor design speeds retrieve and reduces line memory
Spring loaded, clicker drag system
Besides all the great features it has, users have been complaining for quite a few things. It is quite discouraging that you cannot adjust the drag setting and the default is a little too weak.
Additionally, when pulling the fly line to quickly, it will cause a backlash that could result in a cut if you are not being careful. Other than that if you are careful the fact it is really light you will love it on a small river outfit searching for wild trout etc.
Spec: Size 4-5 • 3oz •  100yds 20lbs backing •  Not sealed drag
---
10) Piscifun Aoka Aluminum Fly Fishing Reels
The fly fishing reels from Piscifun Aoka is remarkably designed with aluminum body and cork disc drag system.
They're remarkable value for money fly reels and feature a mid-arbor layout that minimizes line memory and aids in quick, immediate pickup.
The Teflon drag system assures easy drag with the help of a click-drag and with a silent retrieval. The frame of the reel is strong and full machined.
The Frame is fully machined alongside oversized handle and die-cast spool.
As far as the drag system goes, it includes cork or Teflon for smooth drag aided by a one-way clutch.
The line memory is reduced and ensures that there is an instant line pick up with mid arbor design.
For a quick and efficient spool release, the release button is easily reached.
On the other hand, the factory settings are done for left-hand retrieval and making the change to a right hand it's quite a hassle as you have to unscrew two screws on the release button first.
The drag is extremely smooth, but in order for that to work, you need to set the adjustment just right. There is also an integrated click-drag with a silent retrieve.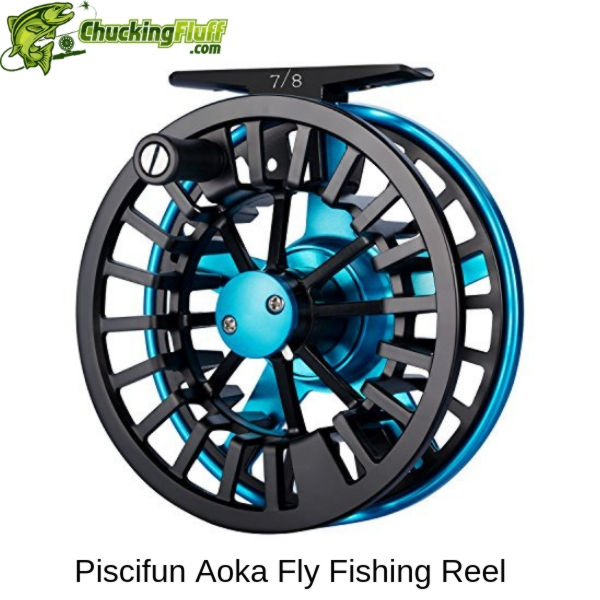 Features including:
Cork/Teflon disc drag system with one-way clutch bearing
Mid-arbor Design – Reducing line memory and quick line pickup.
Silent Retrieve and quick spool release with moderate conversion to opposite hand retrieve
Cast spool and oversized handle
Some other clients comment that after a few weeks of use some internal parts started coming loose every few times out.
This damaged the reel such that it wasn't doing its job as it should.
Another problem that might occur is that there can be a gap between the line spool and reel frame that "grabs" the fly line as you strip it.
Spec: Size 7-8 • 6.1oz•  125yds20lbs  backing •  Not sealed drag
---
11) Piscifun Sword Fly Fishing Reels
The Piscifun Sword Fly Fishing Reel is made to last and will last you for a very long time, even if you often go fishing.
Additionally, it was made to resist corrosion. Besides corrosion, because of the iodization of the surface, it has been made to resist a wide range of different environments.
You can get quick drag reaction thanks to the steel drag system and the one-way clutch bearing of the reel.
It was CNC machined with an aluminum alloy resistant to impacts.
Compared to the other products in its category, the Piscifun Sword Fly Fishing Reel is very lightweight and easy to handle.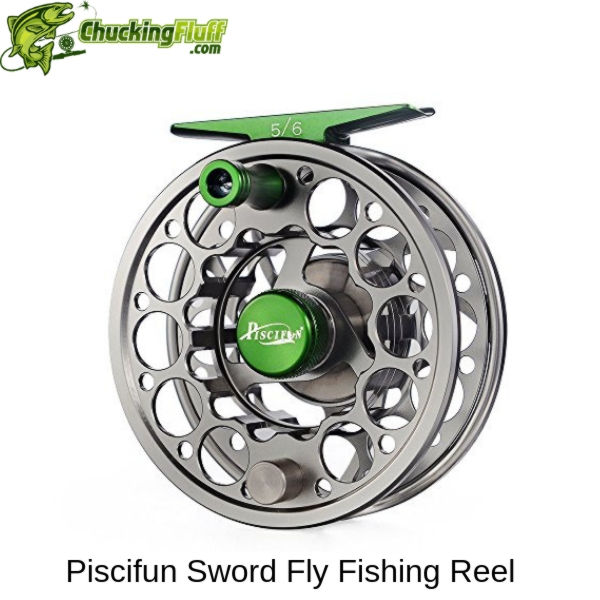 Features including:
Smooth drag – Multi-disc cork and steel drag system with one-way clutch bearing.
Accurate click drag and silent retrieve.
Solid and lightweight – CNC-machined 6061-T6 aluminum alloy for durability;
Corrosion resistance – Anodized surface for protection
Forged and tempered for even better strength and rigidity.
Mid-Arbor design – Facilitating lightning-quick line pickup.
By factory settings, the Piscifun Sword Fly Fishing Reel is preset to left-handed retrieval.
You will have to contact the manufacturer to get the guide if you want to change the retrieval to a right-hand model.
Besides that, you will have to use pliers to swap the reel to the other side.
Additionally, the drug adjustment dial can be difficult to handle or get to the right setting.
Because of its complexity, the drag system is very hard to take apart and clean.
The manufacturer did not include instructions that would show customers how to take it apart and clean it out.
Spec: Size 7-8 • 6.1oz •  125yds 20lbs  backing •  Not sealed drag
---
Best Saltwater Fly Fishing Reels for the Money 
Fly fishing in saltwater has its own set of conditions that need to be covered when choosing a fly reel to use.
The sea is very corrosive to metal and the conditions usually have wind blowing at you in some way or another.
Also some of the target species in saltwater are larger than their freshwater cousins and so a larger reel is required.

Three areas to make sure you cover in saltwater are;

a) The fly reel needs to have a good drag system ideally sealed, one that will allow you to fish for tarpon as well as striped bass etc a quick turn knob that allows for the full release to full tighten in one turn.

b) Large reel to hold a lot of running line and to match an 8+ weight setup. A large arbor may be better to allow quicker retrieving but a mid arbor will allow for more line especially the backing to be added.

c) Anti-corrosion properties are probably the main areas to look out for when buying a saltwater fly reel.
Make sure the anti-corrosion properties are in place, reels made from materials especially metal that has not been protected corrode very quickly in saltwater conditions.
Ideally, a sealed drag system is essential because sand and sea salt can get into the mechanism and cause you problems with the tension control which you don't want when fishing for large prey.

The top two reels for saltwater fishing recommended by Chuckingfluff are the Guru II and the Piscifun Platte.
These have a large arbor are anodized and have sealed drag systems and should give you a great experience in saltwater fly fishing.
---
Things to Look Out For When Buying Your Fly Fishing Reels
First, you need to make sure that the line rating of each rod and the reel match accordingly.
For example, you wouldn't want to pair a 4 wt trout fishing rod with a 7-8 wt reel that is supposed to manage to tackle large trout and bass.
Second, you want to make sure the fly reel and your fly rod are paired together within the correct position.
In case you are left-handed, it's most likely you would want to buy a right-facing reel.
However, that depends on what feels comfortable to you.
Ideally, at least you need to purchase a reel that can be easily changed from the right to the left and back.
For these reasons, many fly rods are sold together with the fly reel and the fly line in outfits.
Purchasing this kind of bundle is great for beginners and people who are on a small budget.
These outfits are great and perfectly balanced so there is no need to worry about the setup.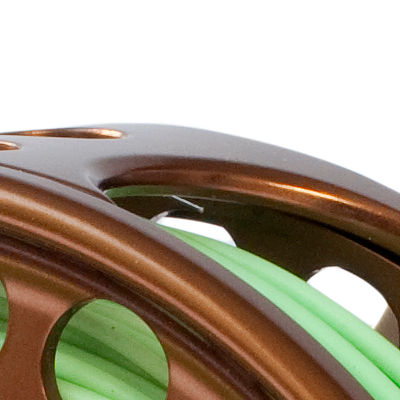 However, for those that want to take the extra step and improve their gear, they should buy their fly rod and fishing reel separately.
You are open to a much larger market and have more flexibility in getting the perfect setup for your type of fly fishing.
Some of the options available in fly fishing reels are; The drag system, start-up inertia and reel weight, which are all important features that you should use to measure the quality of a fly reel.
The drag system is the resistance that's being put upon the spool to stop the line from being stripped away when the fish takes the fly.
Light drag systems place little drag at the reel spool, and whilst a fish begins to take the line, the line will place no pressure on the fish and the addition on your fingers will be required to slow the stripping fish down.
On the other hand, if the excessive drag is placed on the spool, there is a risk that the leader or tippet will break.
A good reel will have the ability to release drag to low and tighten up to high so you have the option within easy reach, usually a large cog on the outside of the spool.
The better quality reels have the cog nicely positioned with only a slight turn being required to loosen or tighten the drag.
It takes a bit of practice to get used to what to aim for but usually fishing with it for a few weeks will let you know the right and wrong settings.
Start-up inertia is the resistance to movement that takes place the moment a fish starts to take the fly.
Until the fly is taken the reel is at rest, it doesn't flawlessly begin to spin at top speed once the fly is taken.
Start-up inertia measures the drag that happens when the reel is spinning at top speed – in terms of the automobile industry, start-up inertia essentially measures the time it takes to go from 0 to 100km per hour (60 miles per hour).
I feel it's more important that a reel's drag does not stutter than have low startup inertia however when using a fine tippet for fast taking fish like tarpon low inertia can mean the difference in the leader breaking or the hook setting.
Matching the reel weight to your fly rod is really important, now more than ever, when everyone out there wants to buy the lightest fly rod available.
Even though it may seem pointless, it is not. When you cast, you lift the entire weight of the fly rod, reel and fly line.
Naturally, you would want to lift less weight so you go out and buy lighter rods that let you fish for longer.
As a result, reels have gotten lighter in order to match the rods.
It is really important to check the weight of the rod first and then see if the reel matches it.
If a reel is heavy it will cause the rod tip to lift too easily causing imbalance, the same for a heavy rod and a light reel the tip will be too heavy making casting much harder than it needs to be.
Ideally, you want to hold the rod in your hand in the casting position and the rod should ideally feel balanced (not wanting to tip in any one direction).
Not after a Fly Fishing Reel?
Check out some of our other Buying Guides
Conclusion on the Best Fly Fishing Reels on the Market
Here you go! A selection of some of the best fly fishing reels on the market.
At first, make sure that you understand the different types of reels out there.
Learn how to match your reels to your rod. Picking out a great reel will be as good as you let it be when you match it with your rod.
Reels ranging from the best and highest In quality to inexpensive ones.
If you are a beginner I hope this article will help you with choosing your entry-level reel.
If a seasoned angler, I hope this article was helpful in choosing which reel you want to add to your collection.
Any burning questions don't hesitate and ask them in the comments section or contact me here.
I know this list is not complete as there are loads of many other reels on the market that are equally as good or better than some listed here.
My aim was to give newbies a chance to start off with a decent reel before wasting money on poor gear.